As far as weekends go, let's just say JEGS and Jeg Coughlin Jr. are trending upward.
At the JEGS-sponsored Route 66 NHRA Nationals – the first time the company ever sponsored a pro event – where the JEGS Allstars race for sportsman racers was taking place, Coughlin picked up his first win in four years.
How's that for an absolute perfect weekend? Coughlin was well aware of it, with the veteran fully realizing how rare it is for the stars to align quite that perfectly.
"This is very satisfying, especially with this being the JEGS Nationals," Coughlin said. "The entire weekend was an absolute homerun for our company, from the JEGS Allstars to the national event itself, we are extremely pleased with everything."
There wasn't a thing that went wrong for Coughlin during the weekend, which provided the recipe to break a winless streak that had stretched to 74 races, an almost unfathomable number considering Coughlin's track record.
But like the rest of his Elite Motorsports teammates, things have come around in a major way this season. Coughlin was the last to break through, knocked off Greg Anderson in the final round after Anderson went red, but he hopes it's the start of something big.
He has dominated Route 66 Raceway to the tune of six victories – the most for any NHRA driver – and was impressive on Sunday, running low E.T. throughout eliminations before capping off his 59th career victory with a 6.574 at 210.67.
Amazingly, Coughlin is the eighth different winner through the first nine races this season, and that's a list that doesn't even include Anderson, Jason Line and Drew Skillman.
The top 12 has been insanely competitive, as Coughlin scratched to 10th with the win. But that also makes days like Sunday that much sweeter for Coughlin, who
"We've been fortunate enough to visit the winner's circle quite a bit over the years and today is one of those days I won't forget," Coughlin said. "We've got an unbelievable team with Elite Motorsports and this year we've come onto a great stretch. I was aggressive and stayed consistent, and my team gave me a great car and we were low E.T. four rounds in a row. I think we did it in grand style to break that ice (regarding the winless drought."
CAN'T-MISS NEWS
MILLICAN STAYS HOT: This winning is starting to become pretty easy for Clay Millican. Doing it at the place where he grabbed his first Top Fuel win made it that much sweeter.
Millican won his second straight race by taking out Leah Pritchett in the final round with a 3.894 at 289.32, continuing that momentum from his win two weeks ago in Topeka. A consistent Millican is an absolutely dangerous Millican, and he moved to second in points.
With the continued recent struggles of standouts like Tony Schumacher and Antron Brown, Millican has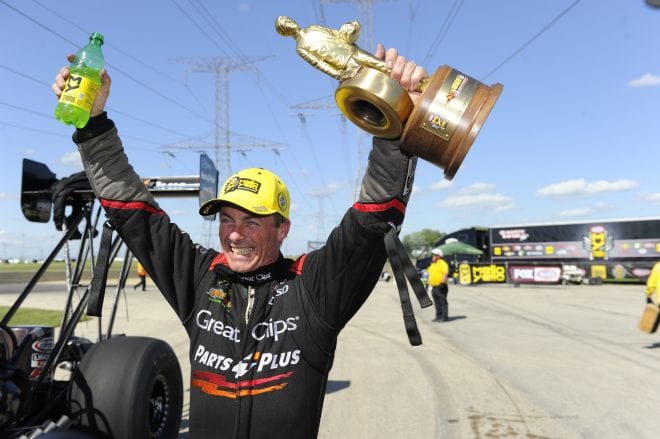 taken advantage, giving the team confidence heading into the summer when the likes of Brown and others will surely put things together.
But Millican and his team, led by crew chief David Grubnic, have shown they are going to be around for the long haul this season, and now that he's rattled off a pair of wins in three weeks, Millican is ready to keep those good vibes going.
"It took me 19 years to get that first (win), then less than a year to that second one and less than two weeks to get the third," Millican said. "I like this trend. This place is really special and my team gave me such a good car. It wasn't necessarily my best weekend, but it was certainly pretty cool to have the team pull together and just keep turning those win lights on."
HIGHT FINALLY COMES THROUGH IN CHICAGO: Before Sunday, Robert Hight had 41 Funny Car victories, but none had come at Route 66 Raceway. That changed this weekend, when Hight finally broke through in Chicago in a matchup of the past two world champions.
Ron Capps recovered from his big explosion in the first round of qualifying, but Hight took the win light in the final round with a 4.073 at 310.63, breaking through in his fourth final round of the year.
Hight wasn't exactly lights out throughout the weekend, qualifying just 12th, but things came together at the perfect time, giving John Force Racing three straight wins and a bright moment despite John Force's crash in qualifying.
Force recovered and raced impressively (see below), but Hight edged out Courtney in the second route en route to the victory.
"I always thought Chicago might have my number because this is my fourteenth time racing here and I have never won this race," Hight said. "I have been in a couple finals and John Force has kicked my ass a couple times. I finally got it done today in Chicago. That is big because as a driver you want to win at every venue you go to. There is not a better place than Chicago. I can't believe this place is 20 years old. I remember rolling in here as a crew guy and thinking look at how amazing this stadium is. This is one of the top spots in the country."
SMITH GETS FIRST WIN SINCE 2016: Matt Smith had a drought of his own to deal with in Chicago, as the two-time Pro Stock Motorcycle champion had not won since 2016. That changed on Sunday, as he edged out LE Tonglet with a 6.816 at 195.86. It got hairy for Smith near the finish line, but he kept at it to earn his 19th career victory.
"We always run good here in Chicago and I knew we had a good bike," Smith said. "We were the quickest bike every round and that's just a testament to my crew. I'm just very excited. We were just trying to win a race and this was big for us."
FEELS LIKE THE FIRST TIME: Drivers like Chuck Ulsch and John DeFlorian have tasted their fair of success over the years in different series. But winning for the first time in the PDRA felt just as good for both Ulsch and DeFlorian, as well as Mike Oldham, as all three drivers won in Martin, Mich.
Ulsch has been impressive early this season in Pro Boost, advancing to final rounds at the first three races, finally breaking through at U.S. 131 Motorsports Park.
"For us to be in three finals at the first three races of the year, this is really a dream come true," said Ulsch. "We certainly didn't expect to go to the first three finals. I was starting to think this win wasn't going to happen, but it just started coming together this race. I guess the third time's the charm."
DeFlorian beat world champion John Pluchino in the final round to grab his first PDRA victory, while Mike Oldham, who drove 18 hours from Florida to race, defeated the other Pluchino, Johnny, to claim his first Pro Outlaw 632 win.
"It feels unbelievable to finally win one of these races," DeFlorian said. "This is one that just wasn't happening. We struggled for over a year and I got to a point where I was thinking maybe I'm done or my day was gone. I'm so excited to get here and finally hold that trophy."
HARRIS TURNS BACK THE CLOCK: It wasn't Jason Harris' first win, but it felt like it after going cold following a 2014 PDRA world championship in Pro Nitrous. Harris won six races that year, and finally got back to his winning ways by taking another victory in Martin, this time over Jim Halsey in the final round.
Harris went 3.724 at 201.52 mph to claim the win, one that allowed Harris to breathe a massive sigh of relief.
"It's been a long time coming," Harris said. "We've struggled for the last couple years. We've got a good package and a good team put together right now with Danny Perry and the Boone family. Everybody's really been standing by me, even through my bad years. We came here and consistency was the key."
FURTHER VIEWING
Force gets emotional
John Force had to deal with another crash this weekend, the fourth time he's had to endure that already in what has become a frustrating 2018. In true Force fashion, the legendary star delivered a poignant message to, well, his car.
As expected, the words from Force were powerful.
"This race car will not ever beat me…" @JohnForce_FC

16x may have taken a hard hit into the wall, but he's not ready to give up on his best friend. @JFR_Racing pic.twitter.com/3CgzI8Mev7

— #NHRA (@NHRA) June 3, 2018
Sensory (and cuteness) overload!
Enjoy this, little man.
⚠️Cuteness overload alert ⚠️ Watch as little @NHRA fan Sterling "Hot Rod" Jones experiences Top Fuel for the first time. #adorable #NHRAonFOX #Route66Nats pic.twitter.com/UzOUT8KAS8

— Don Schumacher Racing (@shoeracing) June 2, 2018
Part II
Enjoy this, Noah Gragson.
Hey @NoahGragson how's @NHRA treating you? pic.twitter.com/6EthsZiV1b

— Toyota Racing (@ToyotaRacing) June 2, 2018
Drag Illustrated Live Episode
Wes Buck with Drag Illustrated Live Episode No. 101! Some more CABO talk, plus Wes reveals the cover of Drag Illustrated 133, and is joined by sportsman standout Dan Fletcher, Tommy D'Aprile and more. Check it out!
Capps and Company Recover!
Ron Capps advanced to his first final of 2018, but not before his team had to deal with some adversity right off the bat this weekend. They handled it in championship fashion and nearly had the storybook finish to go with it.
🔥😳@RonCapps28 goes KABOOM in Q1! @JEGSPerformance #Route66Nats pic.twitter.com/wLNJpncQXl

— #NHRA (@NHRA) June 2, 2018
Johnson Goes Boom
This explosion from another Don Schumacher Racing car came at the wrong time, as Tommy Johnson Jr. exploded in the first round of eliminations, putting an abrupt end to a weekend where he had high hopes.
Torrence Looked Good Early
The weekend ended miserably for Steve Torrence, who kept his points lead despite a first-round loss out of the No. 1 spot. But before that major upset, Torrence dipped into the 3.60s, setting the track record at Route 66 Raceway.
ON SOCIAL
Congrats, Chicago Winners!
Great Weekend!!!
Thanks to everyone one of the @stringerperformance team !!! #stomponthatloudpedal @PartsPlusHQ @GreatClips @strutmasters @WeldRacing @ssidecals pic.twitter.com/fi6dtwGhEG

— Clay Millican (@ClayMillican) June 4, 2018
Congrats to the champ, @roberthight7000, on his FIRST win of the season! @JEGSPerformance #Route66Nats pic.twitter.com/3uB4NRi6LX

— #NHRA (@NHRA) June 4, 2018
You couldn't have written a better ending… a win for @Jeg_Jr at the @JEGSPerformance #Route66Nats! pic.twitter.com/HSEXXhEEin

— #NHRA (@NHRA) June 4, 2018
How good does it feel to get back to the Winner's Circle, @MattSmithRacing?! @JEGSPerformance #Route66Nats pic.twitter.com/IBfd9Msyup

— #NHRA (@NHRA) June 4, 2018
Thoughts and Prayers to John Collins
It was a rough weekend for Tommy Johnson Jr. on the track, but he quickly found perspective after he learned that crew chief John Collins' mom passed away. Our thoughts and prayers go out to Collins and his family.
My thoughts & prayers go out to my crew chief @johnc186 for the loss of his mother. You can have a bad day at the race track and then life puts things in perspective. Hug your loved ones & never forget what really matters.

— Tommy Johnson Jr. (@TommyJohnson_Jr) June 4, 2018
John Force Reaction
Several standouts from across motorsports weighed in on Force's passionate words after his crash, showing us one more way just how big his impact is in the sport.
This man is my hero! There's nobody more passionate about driving a funny car than him. Stay up my friend! 💪🏼 #hero #funnycarsaintfunny https://t.co/2M0dQh1BRY

— Alexis DeJoria (@AlexisDejoria) June 3, 2018
I said 4-5 years ago and i will say it again.. This man inspires me to LOVE racing. @JohnForce_FC passion and love for racing is the greatest of all time….. https://t.co/Wdk4K5bE6I

— Kenny Wallace (@Kenny_Wallace) June 3, 2018
Not a lot of racers with this much passion left. Man has seen it all. 🙏 https://t.co/0O8qBEXCvF

— Clint Bowyer (@ClintBowyer) June 3, 2018
Love him or Hate him..
He is the Dale Earnhardt of Drag Racing. https://t.co/R1JOEM9z3E

— jesse james (@popeofwelding) June 3, 2018
JEGS AllStars Crowns Winners
The JEGS AllStars event is an awesome race within a race deal at Route 66 Raceway and the extra step JEGS takes to make it special for everyone involved certainly deserves recognition.
Division 4 also deserves a hearty congratulations for winning in another talent-filled all-star race.
Winner, Winner, Division 4 takes the #JEGSAllStars trophy! ⭐️@JEGSPerformance #Route66Nats pic.twitter.com/M7Kz5fV33O

— #NHRA (@NHRA) June 2, 2018
Congratulation to the WEST REGION Top Alcohol winners Shane Westerfield and Joey Severance! #JEGSAllStars ⭐️@JEGSPerformance #Route66Nats pic.twitter.com/9ab3IW2Kf9

— #NHRA (@NHRA) June 2, 2018
Nitro Flames
Nothing like some massive nitro flames to light up the night sky.
Awesome shot by @rebilasphoto of my Dad & I racing under the lights last night in the 2nd qualifying session! We are back at it for day ✌🏻 of qualifying! #AdvanceXForce #HeaderFire #Blur #FatherDaughter #FridayNightLights pic.twitter.com/MqXWJpw9gf

— Courtney Force (@courtneyforce) June 2, 2018
Bowling Shoes and No Firesuit
I tell you what, the Kalitta Motorsports team gets to do some pretty cool things leading up to a race. First it was stepping into the octagon with UFC fighters in Vegas, and now it's going bowling with PBA bowler Sean Rash.
Norwalk is coming soon – how about basketball with LeBron?
Thank you to @Sean_Rash for hooking these racing folks up with some sweet @BowlwithBruns bowling balls!😁 Had an awesome time learning from you, we can't wait to put the new skills to use!🎳 Make sure to tune in to #NHRAonFOX at 5:30ET on Sun for the full segment! @PBATour @NHRA pic.twitter.com/Q9tGy3V1IY

— Kalitta Motorsports (@TeamKalitta) May 31, 2018
FINAL THOUGHTS
It's easy to forget how much these wins mean to everyone. Jeg Coughlin and Robert Hight have 101 combined wins, and both reacted as if they won their first Sunday afternoon. Even with that success, it still meant a great deal and shows just how difficult grabbing a win is. It didn't stop there, either. Check out the reactions from the Division 4 drivers at the JEGS AllStars race or how pumped Matt Smith was to win his first race of the year. Heck, Clay Millican won two weeks ago and he celebrated Sunday like he had not won in months.
Don't forget about guys like Ulsch and DeFlorian, too. A pair of genuine guys who love the sport and enjoyed every bit of their first PDRA victories this weekend.
Then again, that's why the race and why we watch. Chicago gave us a great start to this four-race stretch and the atmosphere is going to be electric this weekend in Richmond. That's a fanbase ready to welcome back the NHRA and I can't wait to see it.