Despite some struggling car counts, the National Hot Rod Association has been having a big year in 2016 so far. That trend continued last weekend at the NHRA Four-Wide Nationals at zMAX Dragway, where a sold-out crowd converged in the heart of NASCAR country to witness the four-wide drag racing spectacle. The weekend proved to be successful for powerhouse teams and single-car teams alike.
The trophies have been handed out, the nitro thunder has been replaced by the rumble from NASCAR dyno rooms, and the teams are rolling to Houston for this weekend's NHRA SpringNationals. It's time to recap some of the best moments from the NHRA Four-Wide Nationals.
Best "Little Guy" Performance: Tim Wilkerson

The nitro classes had yet to see a repeat winner in 2016 until Tim Wilkerson crushed it in Funny Car eliminations at Charlotte. Wilk's 3.934 ET in the opening quad set the tone for the next two rounds, where he finished first with a 3.997 and 3.967. Wilkerson tunes his own car with support from car chief Richard Hartman. The Springfield, Illinois-based team doesn't have any teammates or technical alliances, which is a rarity in this era of professional drag racing.
Tuner of the Weekend: Alan Johnson

Nitro tuning legend Alan Johnson might not have his own stable of cars in competition, but he's proving that he doesn't need his own team to maintain a dominating presence in Top Fuel. The Four-Wides was another big event for AJ, who tuned Steve Torrence and Brittany Force to two of the first four event wins of 2016. Torrence qualified number one for the third time this season with a 3.736. Force was the quickest car in all three eliminations rounds, including a 3.764 in the final quad to take down Antron Brown, Doug Kalitta and Clay Millican for her first Four-Wide win and second career win. Her first-round elapsed time, 3.734, was good for low et of the event.
Best Adaptation to the New Pro Stock Rules Pt. 5: KB Racing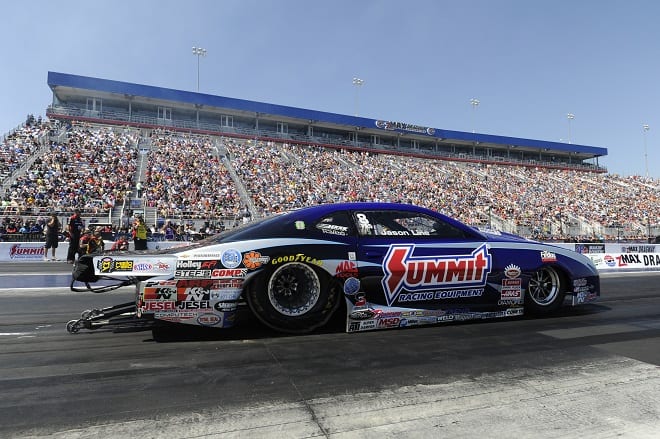 The KB Racing cars of Greg Anderson, Jason Line and Bo Butner have swept the event at the first four races of the season, so it should be no surprise that one of their drivers won the team's home race. Anderson qualified number one with his 6.576. Line and Butner were close behind in third and fourth with their identical 6.584s. They had the chance to have all three cars in the final quad after the trio made it out of first round, but Anderson encountered troubles in the semifinal quad. By the time the final four EFI-equipped Pro Stockers crossed the finish line, it was Line taking the Wally and Butner coming in a close second. Line captured low ET of the event with his 6.555 in the opening round, while top speed went to Anderson's 211.99 mph lap.
Best Rookie Performance: Megan Meyer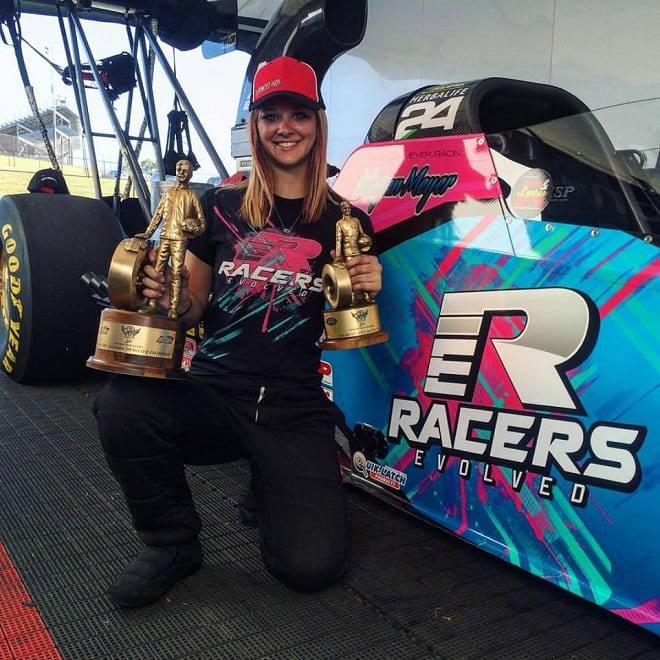 A/Fuel rookie Megan Meyer and her family-based team continue to impress in their quest for the Lucas Oil Series Top Alcohol Dragster national championship. With father and A/Fuel legend Randy Meyer making the tuning calls, Megan qualified number two and marched through eliminations, clicking off a 5.308, a pair of 5.281s, and a 5.325 in the final round to claim her first national event win in just her second national event start. Meyer had the better light in all of her pairings. This was her fourth final round in five races, which date back to her regional debut last summer.
Team Who did the most with the least (crewmembers): Kris and Kevin Hool
If you've never seen a winner's circle photo from one of Kris Hool's national event wins, know that Kris and his brother, Kevin, know how to get it done with a lot less help than most of their competitors. Getting the occasional hand from another team's crew member or even a fan, the Hool brothers managed to take home the Top Alcohol Funny Car Wally this weekend. The combination of Kevin's strong tuning in the opening two rounds and Kris' psychic reaction times in the late rounds proved to be too much for some of the quickest and fastest guys in the class.
Best Fashion Statement – Mark Lyle t-shirts

The absence of late NHRA chief starter Mark Lyle continues to affect the racing community in the weeks after his unexpected passing. Funny Car team owner and crew chief Jim Head took it upon himself to have a huge batch of Mark Lyle tribute t-shirts made up for all of the drivers to wear during pre-race ceremonies on Sunday.
Wildest Wheelstand – Marie Ferriolo
Super Stock Cobra Jets weren't the only Mustangs hiking up the front end this weekend. Top Alcohol Funny Car pilot Marie Ferriolo was heading for the Carolina blue sky with this incredible wheelstand during qualifying.
NHRA Photos