The National Hot Rod Association rolled into Sin City last weekend with a full head of steam after thrilling events at Pomona, Phoenix and Gainesville. All eyes were on The Strip at Las Vegas Motor Speedway to see if another first-time Top Fuel winner would be crowned and if a Pro Stock powerhouse would maintain their domination. How would the Funny Car class perform in the desert after seeing class records fall just a couple weeks prior? All of those questions were answered definitively over the course of the weekend.
The payouts have been distributed, the winner's circle confetti has blown off down the strip and the teams are already heading east to start preparing for Houston in two weeks. It's time to recap the 17th Annual Denso Spark Plugs NHRA Nationals.
Best Adaptation to Pro Stock Rules Pt. 4: KB Racing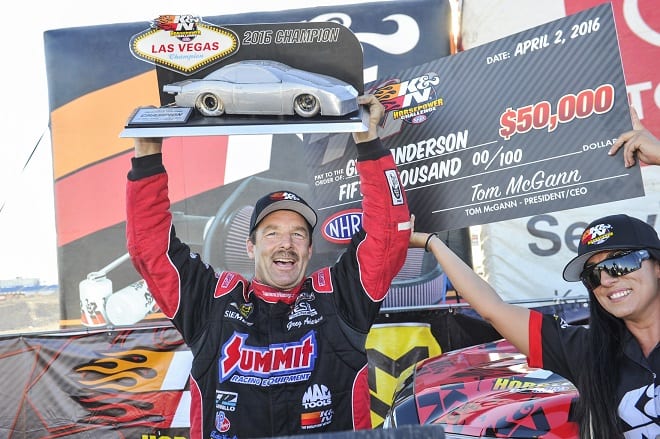 We're now four races into electronic fuel injection era of NHRA Pro Stock Racing and KB Racing is showing no signs of releasing their grasp on the class. The three KB cars qualified in the top three spots for the fourth consecutive race, with Jason Line (6.687) being followed by Greg Anderson (6.692) and Bo Butner (6.693) as the only three drivers in the 6.6s during qualifying. For the third race in 2016, all three drivers also advanced to the semifinal round and made it an all-KB final round after Line stopped Erica Enders and Butner defeated Anderson. Butner red-lit away a 6.709 elapsed time in the final round, allowing Line to grab his second win in four final rounds. The only place where KB Racing didn't dominate was the K&N Horsepower Challenge on Saturday. Just kidding – it was an all-Summit final round there, too, with Anderson taking the $50,000 payday and Cold Hard Art trophy after Line was unable to stage.
Biggest Upset(s): Worsham Racing
Reigning Funny Car world champion Del Worsham and his father, Chuck, entered the multi-car team ownership game at the end of 2015 when they added a former Morgan Lucas Racing Top Fuel dragster to their longtime Funny Car operation. Both cars escaped a challenging first round this weekend. Steve Chrisman started things off with his E1 win over Winternationals winner Steve Torrence, then Funny Car rookie Jim Campbell kept it going when he moved on over Tim Wilkerson. Both drivers were unable to move on to the semifinals, but making the turnaround with two cars was a feat in itself for the small, part-time operation.
Most Emotional Moment: Alan Reinhart's Tribute to Mark Lyle

The NHRA and its teams were faced with the emotional challenge of racing for the first time since learning of the tragic passing of Chief Starter Mark Lyle last Monday. Loved and respected by everyone he came in contact with, Lyle passed away while attempting to save a struggling swimmer on vacation in Mexico. Lyle's impact was obvious all week, from the countless remembrance posts on social media, the memorial decals on most competitors' race cars, and lead announcer Alan Reinhart's touching tribute to Lyle during pre-race ceremonies on Sunday morning.
Best "Little Guy" Performance: Troy Buff's Runner-Up Finish
The late rounds aren't uncharted territory for Top Fuel driver Troy Buff and his Bill Miller-owned and tuned BME dragster, but as Buff himself admitted on the FS1 broadcast, they're not used to going rounds. The part-time team wasn't the quickest car during eliminations, but they consistently went down the track when most of the full-time teams struggled to make a clean run. Buff beat power players Richie Crampton, Brittany Force and JR Todd before falling to Antron Brown in the final round, capping off his day of low 3.9s with a .012 reaction time and 3.918 elapsed time to Brown's 3.843. It was the Texas driver's first final round in Top Fuel.
Best "Big Guy" Performance: Kalitta Motorsports' Funny Car Teams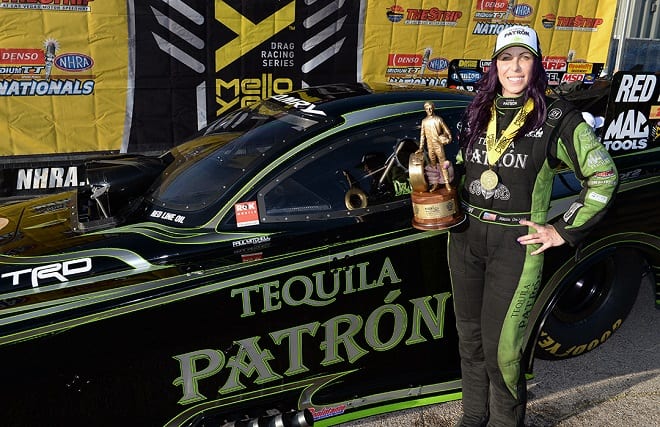 Michigan-based Kalitta Motorsports has had representatives in the Top Fuel and Funny Car final rounds at the same event before, but never before this weekend did they have both of their Funny Cars in the same final round. Kalitta drivers Alexis DeJoria and Del Worsham posted identical 3.947 elapsed times in qualifying and maintained consistency with one another through to the final round, where DeJoria won in a 3.968-to-3.988 decision. DeJoria was quicker with her 4.00 elapsed times in prior rounds, while Worsham had the speed advantage, going as fast as a booming 323.58 MPH in the final. (Gary Nastase photo)