As director of motorsports for Lucas Oil, Tom Bogner has a huge, wide-encompassing job overseeing the company's vast involvement in racing properties from tractor pullers to off-road vehicles to stock cars to sportsman drag racers (both NHRA and IHRA) to the flagship Lucas Oil NHRA Top Fuel dragster piloted by none other than Morgan Lucas, son of company founders Forrest and Charlotte Lucas.
He also has a lengthy personal connection to drag racing, having spent many years in the NHRA sportsman ranks, most recently with a '57 Corvette roadster in Super Gas/Super Comp trim. That all changed early in 2012, though, after watching jet car team owner Tony Franco and son, LT, run their jet cars on the eighth-mile strip at Irwindale Speedway, near Los Angeles. Upon learning Bogner already had the sufficient experience and licenses, Franco invited him to go after his jet car license that May during a test session at Bandimere Raceway. "It was just one of those being at the right place at the right time kind of things," Bogner recalls.
Bogner completed nine of the required 12 licensing runs that weekend in Denver, going just over 170 miles an hour to cover his first jet-propelled quarter mile in about 7.60 seconds. "That was without the afterburner; you start with just running on the compressor," he explains. "It was like, come on, when's it going to go?"
After finishing his jet driving license runs a few months later at Las Vegas, Bogner now runs the jet car alongside Franco about a dozen times per year, or as often as his busy work schedule allows. These days he routinely runs mid-5s at more than 290 mph, though he's still seeking that first 300-mph time slip. "The car's been over 300 at Bandimere and at Dallas, but it seems like it's never quite my day with perfect conditions to go 300—yet," he says.
In September, Bogner attended the Professional Drag Racers Association (PDRA) event at Rockingham Dragway in North Carolina, where DRAG ILLUSTRATED caught up with him to find out a little more about what racing a jet car is really like.
What's the appeal for you driving an exhibition vehicle over going regular racing?
For me it's just growing up seeing jet cars and rocket cars as a kid at Orange County Raceway in California. I was always intrigued by them and I like going fast so I was always kind of frustrated with Super Comp because I built a beautiful Corvette with almost 1,200 horsepower and then I slowed it down to run a 9.90 and it just wasn't drag racing to me. I know there's a place for it, but it just wasn't for me. So when I had an opportunity to run something that was really fast and different, I thought, why not? People like to watch cars go fast and they like to watch the jet cars because they're different, unique.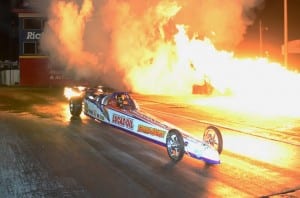 I think the only thing I don't like about a jet car is that we trailer them all over the place and then sometimes we don't get a run in until we go up to the starting line. So unlike most of the other classes that can fire their cars up in the pits, we're kind of going up there untested. I mean, we have our safety checks and we check switches and we make sure the afterburner igniters are working, things like that, but a timer can fail and you wouldn't know that unless you were on a run. So it's kind of a crapshoot sometimes, especially after the cars travel, shaking around in the trailer, that kind of stuff.
So when I fire the car up and I see it's at 50 percent idling and the EGTs are in the green, I'm relieved. And one thing that's nice about our cars, once the engine starts, it draws a tremendous amount of air through the cockpit, so you could be sitting there and roasting with your fire suit on and then once the engine starts you're like, 'Oh, thank you.' I've never been in another race car that was in that situation. They're always hotter as soon as you start them.
Most people—even the vast majority of drag racers—are never going to drive a jet car. Can you describe what it feels like?
To me it's kind of like being on a roller coaster, a really fast roller coaster, because you're not doing anything with your feet other than holding the brakes on the starting line. It's all hand controls. So when you launch the car, once you hit the afterburner you're steering it with one hand and your feet are off the pedals and it really starts to pin you back about the eighth mile.
A typical eighth-mile pass is about a 3.73 to 3.80, which is about 215 to 220 miles an hour—and it'll pull another 75 miles an hour on the big end. It's real smooth acceleration. And with really good air, it's really intense. If we have some really good air like we get sometimes early in the year, it will really set you back and you know you're on a good run.
What's it like when the chutes hit?
Well, when the chutes hit, it's other factors, especially the first times you hit the chutes at over, let's say over 270, 280 miles per hour. It's like hitting a wall. And then all of a sudden, it goes from kind of a blur to okay, I'm straight. And now the car's settled down and you typically want to hit the brakes—which is not a good thing. So you tap the brake a little bit. Sometimes I'll see a little puff of smoke off the front tire and realize I don't want to do that. And depending on the track, I'd say a good majority of our tracks, we have to be going at least 200 on the run to get off the track on our own. It's quite a bit different than a car that has a regular motor because you can't just abort a run and idle her down and cruise her off. It's either go or no go.
It sounds like you've got a far-encompassing job with Lucas Oil. How does your racing dovetail with that?
I try to work it to where it benefits both. For example, with the PDRA at Rockingham I hadn't been to a PDRA event, for one, so to see Tommy Franklin there and racers like Keith Haney and Pat Musi and Rickie Smith and other guys that we support but I don't always get a chance to be with at the race track; that was good. So if I pick or choose my battles or races, then I can actually be with the guys that are using our oils and spend some time with them in the pits.
You've got Lucas Oil right on your car, too, so the company's supporting your jet car career on its own level, too, right?
They do—although they're not real fond of it—I mean, the first time Mrs. Charlotte Lucas found out I was driving it, she didn't really like it. I just gave her a simple, 'Look what your son does.' You know what I mean? I feel really safe in the car. I wouldn't do it if I didn't feel safe.
Do you feel like it's a good marketing tool for Lucas, too?
I think it is. For one thing, I look at photos from any event we do and it doesn't matter if it's a Night of Fire or NHRA, IHRA, people will have their phones out. They're all standing, watching. So I think in a positive way, if we're the only jet cars at a national event when we make a good run, we've added to the show. We're having a good time doing it and it's putting Lucas out there in a positive way, whereas we might go up in smoke in a Top Fuel car, but hey, we just smoked the whole tower with the jet car!