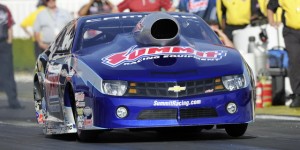 Whether you agree or disagree with the changes NHRA mandated for Pro Stock beginning this coming weekend in Sonoma and more substantially in 2016, I think we all can agree that NHRA needed to do something. It's refreshing and encouraging to see them making another major announcement just a few weeks into the Peter Clifford era.
In my opinion, Pro Stock is being squeezed from both directions; on one end by Pro Modified and on the other by the current crop of factory drag cars from American manufacturers. Even if the changes don't generate a dramatic increase in long-term interest or participation, you can bet everyone will be watching Pro Stock in 2016 and that alone is a very good thing.
As far as backing the car into the pits; we've backed in our Pro Mod from the beginning. Not only do the fans get a better look at everything up front, but all you have to do is hook up the golf cart and pull away when it's time to head to the lanes!
—    Mike Carpenter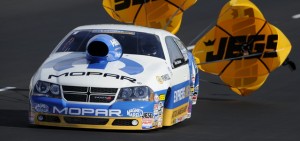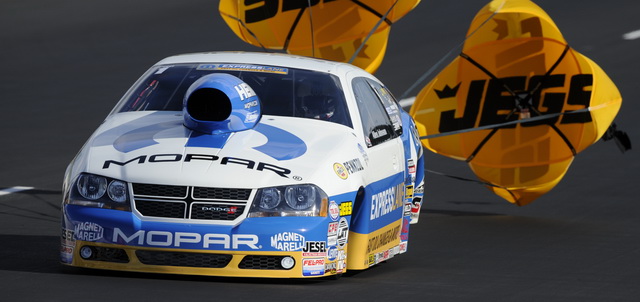 Some feel that NHRA is long overdue to try and revive the Pro Stock class, which has declined steadily over the years in popularity. Perhaps shaking things up, and posing new challenges and questions to the teams which they will be forced to find answers to, will drive innovation and breed ingenuity that can help the struggling class regain its stronghold in the public eye. By placing new, stringent requirements on the teams and cars, new solutions will need to be developed in order to continue improving performance while working in accordance with the rules.
Many others, however, argue that it's too little too late and that NHRA should let the class fade out in favor of supporting more popular classes, such as Pro Mod. There's been backlash that many of the changes will wind up costing the teams a tremendous amount—both financially and time-wise—to implement.
If NHRA is truly acting in the class and fans' best interest, I feel they should have perhaps put together an advisory board comprised of members of several Pro Stock teams before mandating new rules. I definitely agree that the class is dying, but I don't think it's worth giving up on entirely. While fans may not be enthralled by the action lately, it's still an incredibly competitive class and has a lot of potential. If NHRA had gathered opinions and ideas from those who run the class, or perhaps even opened the discussion up to fans for suggestions on what they want to see from the class, they may have more success with reinvigorating Pro Stock in the long run.
—    Ainsley Jacobs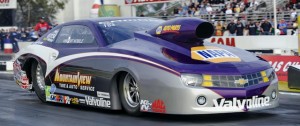 My opinion on the latest Pro Stock dictates coming from on high at NHRA headquarters? Well, they can't hurt, I suppose. Like everyone else has pointed out, something had to be done for a class that barely attracts a full 16-car field at most races and sometimes can't even meet that standard. Of course the same can be said for both nitro classes, too.
Regardless, beyond the window dressing for this year (which I applaud, BTW), I'm a little confused about what's supposed to happen next season after electronic fuel injection with an NHRA-controlled rev limiter is implemented. Not with the switch to EFI, that's something that should've happened at least 10 years ago; what I'm wondering about is the insistence for next year's cars " to remove all hood scoops."
I get what they're trying to do—make Pro Stock cars more relatable to those in dealership showrooms—however, I don't know how practical that really is. I mean, nitrous Pro Mods have been running EFI for probably five years now and they still have big, honkin' hood scoops up front. Don't you think if guys like Shannon Jenkins or Brandon Switzer or Pat Musi thought they could get rid of those aerodynamic-disturbing scoops, they would? I'm sure (I hope) greater mechanical minds than mine have an answer, but I just don't see where the air is going to come from to feed these new EFI Pro Stock engines.
I do like the shortened wheelie bars idea, though. So many drag racing classes have been ruined by racers relying on wheelie bars to create perfectly predictable, perfectly quick, but perfectly boring launches off the line. It killed the Outlaw 10.5 class that I loved so much a decade ago and for far too long Pro Stock has gone unchecked down that same mundane path. I for one look forward to seeing Greg Anderson and Erica Enders-Stevens hang 'em high in '16!
Overall, it really is great to see NHRA has the fortitude to make some much-needed changes to Pro Stock. I just hope the ones they've chosen work out for everyone involved.
—    Ian Tocher
I have to say I was pretty surprised to see NHRA announce so many changes to a class that's seen so few rule changes in recent history. I'll admit that I don't get particularly excited when the factory hot rods are called to the lanes, though I do have a great deal of respect for the drivers, crew chiefs and technical aspects of the class. With that being said, I'm genuinely looking forward to seeing how all of these changes play out on track, in the pits and on TV. It isn't realistic to think we'll start to see 30-car fields again, or hours worth of Pro Stock qualifying coverage, or a mass of fans hurrying to the Pro Stock pits when the hoods come off. However, the direction of the class has turned off some of the teams, sponsors and fans, and if the new announcement will bring back just a few of those lost supporters, I think it should be considered a success.
– Nate Van Wagnen
For what it's worth, I'm thrilled to see the NHRA do something – anything – to try and grow the participation and popularity of Pro Stock. This is a class that is near and dear my heart. For as long as I can remember my father has had a love affair with factory hot rod racing, and I guess there was no option but for some of that to transfer to me. The mere sound of a 500ci Pro Stocker coming out of the water box, honestly, is like music to my ears – good music, great music. Some of the best years of my life were spent beating up the eighth- and quarter-miles of middle America with my dad and his '97 Don Ness Oldsmobile Cutlass (NHRA Denver winner Larry Morgan's old Castrol Super Clean car with a Morgan 500-incher and Lenco 5-speed) match racing and running in the now-defunct Mid-America Pro Stock Association. Growing up I was told things like: "Here's the pecking order, kid… Jesus Christ, Elvis Presley, Lee Shepherd." Forgive me for getting a touch nostalgic here, but my passion for Pro Stock racing runs deep, and I come by it honest. So, believe me when I say, that it's been hard to stand by and watch as the dream of a normal, decent-living-making guy being able to run NHRA Pro Stock evaporate as it has. I remember going to Indy in the late '90s and there being 30-something Pro Stockers there, several of which were guys we knew or had match raced against. These days it seems like we're lucky to see a full field for Pro Stock in Indy – the biggest drag race in the history of the known universe – and that's sad.
So, will flat hoods, fuel injection and windshield banners return Pro Stock to its glory days? Unfortunately, I don't think so, but that's not to say that these changes aren't positive. Like I said, I'm glad to see these cats do ANYTHING at this point. Electronic fuel injection has seemed obvious for better than a decade, but I certainly understand why they've been resistant – primarily policing the systems. I always hate when things are limited to a single manufacturer and I think it's going to be a problem here, but, again, I get it. Despite the initial headaches associated with any change of this magnitude, I think the racers/crew chiefs will embrace the opportunity to utilize the technology that is available to them, though, multiple tuners have told me that the carb-t0-EFI switch is not in itself a decided performance advantage.
While I appreciate any move to make the cars more relatable to fans, I don't know that removing hood scoops is a game changer and, personally, I think it's negative. Hood scoops on a race car are kind of like laces on a football – not impossible to do without, but kind of. Seriously, I've thrown a thousand Nerf footballs without 'em…it's just not the same. As someone else may likely have pointed out, I don't think a tunnel ram intake will even fit under the one-piece hood/frontend of a modern day Pro Stock car.
Two of the coming changes that really got my attention were the 10,500 rpm rev limiter and the shortened wheelie bars. Personally, I think the rev limiter, while great and most assuredly necessary to prevent this Pro Stock thing from spiraling any further out of control (is that possible?), but it feels a decade or so too late. When I started learning about lobe loft and the things Pro Stock racers were doing with camshafts to turn these engines 10,500+ rpm back in 2005, while thoroughly impressed, I was terrified of the repercussions. Back then I was wondering where it would end.
I could go on about this for quite awhile, but, ultimately, I applaud NHRA for making a move. Something needed to be done for a long, long time and at this point change should be welcome. I'm not convinced that any of these moves are going to result in a flood of new Pro Stock participants, sponsors or fans, but I am certain that it can't hurt.
– Wes Buck