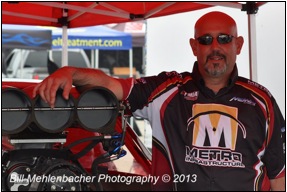 For Rocky Di Lecce (right), the 2013 Pro Modified Racing Association (PMRA) season has been a storybook year, with the Mississauga, Ontario, Pro Modified driver winning his first PMRA championship.
Qualifying number one for several events, and with strong passes dipping into the five-second range at speeds of over 240 mph, Di Lecce displayed a consistency that has kept him at the forefront of the Pro Mod class.
Coming into the Thunder by the Beach Weekend, the final points race at Grand Bend, Ontario, just by showing up Di Lecce has amassed enough points  to win the title.
"I'm certainly happy with my year," said Di Lecce, who has driven his 1968 Chevy Camaro to five wins in PMRA competition in 2013. "It has definitely been a good year."
A former OSCA and Outlaw 10.5 racer and champion, Di Lecce started with the PMRA last season, and after a short learning curve in the ex-Roger Burgess car driven by NHRA Pro Modified and Funny Car star Melanie Troxel, he won the first four PMRA events on 2013.
The Camaro is powered by a 526-cubic inch Brad Anderson (BAE) Supercharged Hemi in the Tim McAmis Race Cars with a Waterman Racing Components Inc. fuel system and Kobelco supercharger, and this power is conveyed through a Lenco Drive transmission.
"I think driving the 10.5 car had a lot to do with my success this year," said Di Lecce, , who has raced for 25 years. "The two cars are almost the same in getting down the track."
Di Lecce was quick to thank the crew on the Metro Infrastructure Inc. team, which includes crew chief Angelo Aceto along with Emilio Aceto, Kevin Cooper, Tony Presto, Michael Aceto, Rob Cesario and Nadia Di Lecce. He also wanted to thank Pro Modified engine guru Al Billes and Hutch's Transmissions for their help.
Di Lecce will try to make it six wins this season as he prepares for the seventh of eight PMRA events this year, and the final points race of the season this weekend. Eliminations are scheduled to take place Sunday, September 1.
(Photos by Brad Turk and Bill Mehlenbacher)