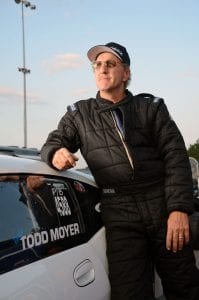 X275, Extreme 10.5, Outlaw 10.5, PDRA, ADRL, X-DRL, the list goes on and on – if the rules allow for a turbo car to run, chances are Texas-based "Turbo" Todd Moyer of "Team Deez" has already been there, done that, and probably set the record.
Working out of his shop, TRM Automotive & Diesel Service in Pasadena, Texas, Moyer's been busy with both customer cars as well as his own projects.
What was your primary focus for the 2016 season?
I've mainly been chasing the PDRA Pro Boost championship. I'm trying to get my Jerry Bickel-built 2015 Camaro figured out, and I'm getting real close. I can go down a nice, cool evening track at 90-100°F, but I'm still struggling with a daytime 140°F track. I also have my X275 Mustang and a no-prep Mustang. I'll keep doing some X275 races and no prep stuff, but we mostly focused on PDRA with the Camaro.
What are the specs on the Camaro?
It's got a 528 ci Hemi engine done by Carl Stevens Jr at Xtreme Racing Engine with twin Precision GEN2 94mm turbos on it and a Rossler transmission. For engine management I'm running a BigStuff3 and I use a Hyperaktive boost controller from Joe Oplawski. It's a whole new combination and we're trying to get it figured out since everything about it is new, down to the gear ratios.
Why do you think you're having trouble with it?
After sitting back and looking at when I had my Corvette running at its best, it was with Mickey Thompson tires on it. I'm running Hoosiers on the rear now with the Camaro, and I think part of the problem is the tire. I understand everyone else runs 'em and they know how to do it well, but I did my best on Mickey Thompson. I want to try some of the Big Bubba tires, so, we're going testing this weekend and that's what we'll have on it.
You're still running X275, what's the setup on that car?
The silver Mustang is my drag radial car, and it's got a Dart LS Next motor in it. Jeff Naiser built it from the ground up and, man, it's been a good motor. We just freshened it up after putting about 75 runs on it, and we're ready to go for the rest of the season now. That car also has an 80mm GEN2 Precision turbo, Mark Mickey turbo glide transmission, BigStuff3, and Hyperaktive controller. I do have Mickey Thompsons on this one, the 275 tires.
What's your no prep car?
It used to be another X275 car, my white Mustang, but I lightened it up and put a big 98mm GEN2 Precision turbo on it for no prep. Jeff Naiser built that motor, too, which is a 406 ci small block with billet aluminum heads he got from Australia. It's still a factory style suspension, and when I do no prep we run the either the Mickey Thompson 28.5×10.5 or 29.5×10.5 slicks.
They sure call you "Turbo" Todd Moyer for a reason. Who coined the nickname?
I've got those turbos and seven more sitting around the shop! When I went turbo back in '03, it was just a nickname that was given to me. We were running Outlaw 10.5 then with my '88 Camaro, and we turbo'ed it. The only people running turbo cars were Mike Murillo, Kenjo Kelley, and a few others… I went to what they called the dark side, and I've enjoyed it. There was a learning curve, but I really like the engine life you get with the turbos.
So of your three cars, which do you prefer to drive?
It doesn't matter which one I'm in, I'm happy no matter what. I just love drag racing. I think I'm going to really enjoy the Camaro more when I can get it to go down the hot tracks, though.
What's the biggest difference between driving the big tire car and the radial cars?
With the big tire, you're always going to have a certain amount of shake. It's like playing cards: you got to know when to hold 'em and know when to fold 'em. Here, you've got to know when to lift, or when to stay in it. But now, with the drag radials, it goes from being hooked up and then just unhooks and you have to be careful then because it's like being on ice, you never know which way it's going go. You lift and get lightly back in it; if you lift and stay out, whatever way it starts to slide, it'll keep on sliding.
Have you ever wanted to try other kinds of racing?
I have no desire to do anything other than drag racing. Back around '98, me and my wife, Kathaleen, got into dirt tracking for two years. I did a deal called "Thunder Bombing" – it's a demolition derby at 50-70 mph. Some nights, we'd have 80 to 100 cars running on a 3/8-mile dirt track. They'd be lined up three wide all the way around for the 100-lap race. It taught me how to drive a car better. I thought I was pretty good until I got on a dirt track on street tires and tried to go 70 mph. My first few weeks, I looked like a clown. I was always backwards or spinning out. I drove an '83 Delta 88 with a 403ci Oldsmobile motor in it, and that thing rolled! We had a $500 carb on it and tricked it out a little. I drove it with the big bench seat in it, with my left hand, and my right arm up over the back of the seat for support.
That sounds pretty wild. Any good stories to share?
Once a car hooked bumpers with me, and drug him around the track. His steering broke and that's why he hit me, so when he broke loose at 50 mph, he went up the wall, hit the fence, and crashed his car so bad.
Why'd you stop dirt track racing?
I got hit by an axle. It came through the window, hit my helmet and split it open, gashed my head, and knocked me out cold. I said 'that's it, this is dangerous'. Tires and rims were always coming off cars and flying through windows. It was too much.
What's the Texas racing scene like right now?
Honestly, it's not like it used to be. The only place that's really got it going on now is North Star Dragway in Denton, Texas. Down here at Baytown, they don't do a whole a lot. And then we have Houston Motorsports Park, they do a lot of grudge racing. No prep and grudge racing are the biggest things here right now.
Who are the people that make your racing life possible?
Without my wife's help, I couldn't do this. We've been married since '93. A lot of times the shop is so busy that I shouldn't be leaving to go racing, but Kathaleen will stay to fill in my shoes. She's a good woman. Right now I have 39 jobs here. It's a challenge, but she does a great job keeping control of things. As far as racing goes, my main crew chief is Steve Benoit. He works on my cars during the week and drives the rigs. Then I have Joe Oplawski, my tuner, who I work with and he's great.
What's it like to be Todd Moyer in real life? What's an average day like for you?
I'm pretty much a workaholic. I get to the shop at 6:30AM and work until 7:00PM every evening. I'm the guy that runs the show. I have myself and eight mechanics that I guide to diagnose vehicles and work on things. About 70-percent of what we do is automotive diesels. We do a lot of air conditioning work, check engine lights, just routine maintenance, but we stay busy. I really love going to work. It's where I want to be.
This story originally appeared in Drag Illustrated Issue No. 112, the Interview Issue, in September of 2016.