A light Bay-area fog blankets the picturesque grounds of Sonoma Raceway as Scott Palmer and his small band of nitro outlaws pack up their pit area. It's Monday morning after the 29th annual Toyota NHRA Sonoma Nationals and the Scott Palmer Racing (SPR) group is one of the few teams still on the property, joined only by a handful of the late-round finishers who are servicing their equipment before moving on to Pacific Raceways for the final leg of the Western Swing. Palmer is still buzzing over his first-round win over 2013 Top Fuel world champion Shawn Langdon. It was the part-time team's second round win of 2016, a year that's already seen the Missouri native reap the rewards of a major program overhaul that began exactly one-year ago. Palmer recorded a career-best elapsed time of 3.872 at Topeka this year and is the highest ranking part-time driver in the NHRA Top Fuel points standings, holding down 12th place behind Terry McMillen.
Palmer has long been a fixture in the NHRA nitro ranks. He's been driving ground-shaking Top Fuel dragsters on a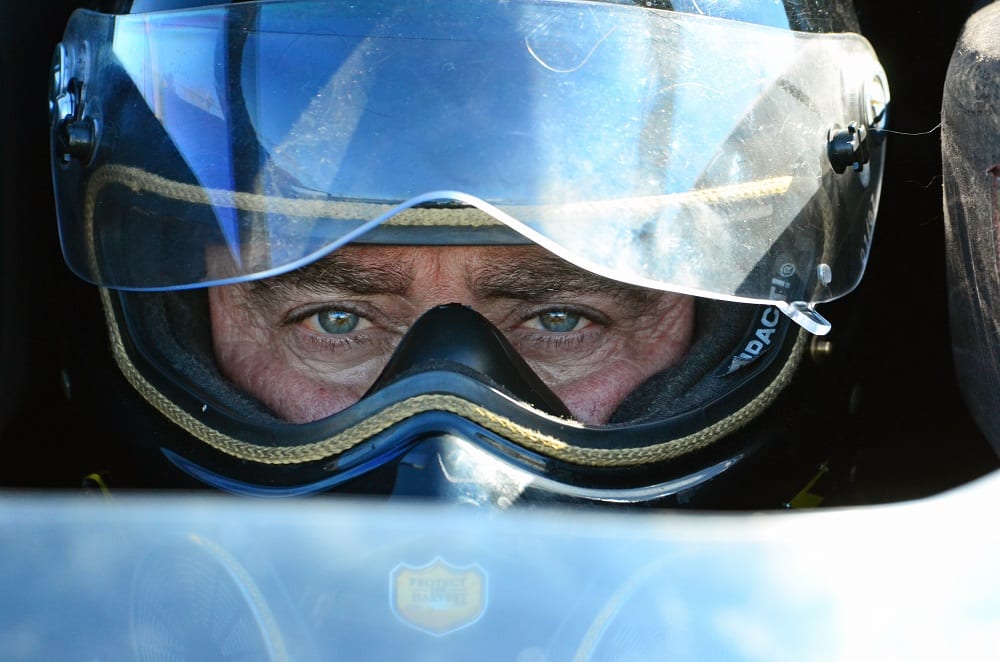 part-time basis since his debut in 2002, but the Scott Palmer of 2016 is different than the Scott Palmer of the past. Armed with the latest go-fast parts and advice from a host of friends in the Top Fuel pits, Palmer and his team are intent on solidifying their place as a legitimate threat on race day. Win lights and lower elapsed times are the ultimate goals, but the Marck Industries-backed driver wants to accomplish his goals while preserving a certain "cool factor" that has slowly made its way out of professional nitro racing. A fan-friendly pit area, mid-warm-up throttle whacks and wheels-up launches are all part of the program for Palmer and his team, led by crew chief and fiancé Ashley Fye.
In between events on the NHRA Mello Yello Series tour, the SPR team also fields a Top Fuel Hydro in the Lucas Oil Drag Boat Racing Series (LODBRS). Palmer and Fye jumped into drag boat ownership at the urging of friend, sponsor and series benefactor Forrest Lucas after the couple got hooked on the sport in 2014. The venture into the liquid quarter-mile racing scene has even resulted in a new major sponsorship for the dragster, as drag boat legend Tommy Thompson stepped up to support the SPR dragster and boat after seeing the increased exposure for boat racing courtesy of the massive LODBRS logos across the side of Palmer's dragster. The "Liquid Voodoo" Top Fuel Hydro is probably the one thing on Earth that Palmer won't drive, so he picked one of the boat crew members to handle the driving duties – one of the many decisions the Cassville, Missouri-native has made simply because it feels like the right thing to do.
As if burning nitro on land and sea weren't enough. Palmer also played the role of drag racing's Dr. Frankenstein earlier this year, creating a monster of a Pro Mod with a bona fide, race-ready Top Fuel motor serving as the powerplant. As one could imagine, the "Studezilla" became an instant Internet sensation as soon as video of its maiden voyage at Jeffers Motorsports Park surfaced on Facebook. The header flame-throwing 300-foot launch was everything that the project's supporters were hoping for and nothing like its doubters predicted. The car might just seem like another fun way to burn some nitromethane and draw up a few match races, but Palmer has every intention of seeing the car break the quarter-mile speed traps at 300 mph.
For our annual Interview Issue, DRAG ILLUSTRATED spoke with Palmer about his fleet of Top Fuel machines and how he manages to do it all with a crew made up of less than half of most of his competitors' teams.
How has the nitro racing landscape changed since you started racing Top Fuel in 2002?
SCOTT PALMER: In 2002, there were 25 or 26 cars going to every race it seemed like and, honestly, it seemed like it was easier to qualify back then. It might not have been easier exactly, but everybody had similar parts and there weren't all these latest-and-greatest cylinder heads and blowers. There are so many trick parts on a fuel car now that weren't on it when we started. It makes it pretty hard to keep up with the technology, you know?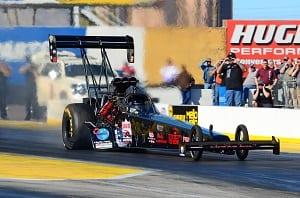 That's been a problem for us the last five years or so. We ran good in probably 2007 or so when it was quarter-mile. Right before it went to a thousand-foot, we'd run a few 4.50s and, you know, back then that would have been a 3.85 to a thousand-foot, but nobody was looking at those times back then. We go back to that setup now, and actually we've been trying to force that setup down the car's throat because it ran 3.80s. But everything has changed on the car, and we can try all we want to go back in time, but it just doesn't work. We just couldn't get back to where we were. So, basically, last year, we didn't run many races – just did some match races here and there and ran the boat. We decided it was time to regroup and start over. We took the car to [Steve] Torrence and the Laganas helped us. We did the whole car – new clutch management, fuel management, new Darren Mayer badass blower. He's building another one for us right now. It was just time to revamp and try to catch up a little bit. There's just so much that we got behind on, though, and if you don't run similar to everybody's combination…nobody can help you.
That's hard to do for a small team. I never say 'low budget' team because nobody in the stands feels sorry for you. They don't think you're low budget if you're racing a Top Fuel car. I hate it when people say, 'Hey, man, it's tough for a low budget team like you guys, isn't it?' It is, but nobody thinks were 'low budget' except the big budget teams.
Most of the teams you race against are made up of 10 or 12 full-time crewmembers. How do you compete with teams that are essentially small armies?
Rick Ducusin – he's pretty much full-time. He works on a Pro Mod back home and we've been buddies for 25 years. He moved away from Missouri for a while and worked on Kalitta's car for five years and then wanted to go back home, so he's back helping us now. Clint Brewer is our clutch guy. He's a construction guy and does dirt work but he's got his own business, too, so he goes back and does that through the week. Jason Farmer – he's also pretty much full-time. He's a guitar tech and a road manager for big rock bands – actually turned down a job with Sevendust this year because he was on the road with us. It's crazy. And he'd never been involved with racing. We met him in San Angelo last year at a boat race and he's been with us every race since. So we got kind of a mixture of people. And then of course Ashley [Fye] – we work together at the shop every single day that we're not on the road.
Our entire team consists of five people. Now, we also have 'Peaches'. We call him 'Peaches', but his real name is Alex Stapleton. He's a kid who's helped us before and he's out here with us now. He wants to get on a big team. He's doing the 'Western Swing' with us and I think we have him a job on Clay Millican's car after the 'Swing. He's good help, but he's a floater – he'll be gone on another team after this. There's a lot of crew guys that come from our team. If they want a big job and they come out here – you can't get a job if you're sitting at home sending in a resume to Don Schumacher Racing or somebody. You've got to be out there. Anyway, that's pretty much our team. We won the first round at Sonoma, serviced the car, had it on the ground and ready to roll out in 50-minutes. That's pretty good for a small team.
That seems like beyond impressive.
It is. And I told them, I said, 'Hey, listen. Okay, we won the first round. We're going to go back up here and try to run the same. So whether [Morgan] Lucas runs a 3.78 or smokes the tires, one way or the other we're going to be there.' We missed the tune-up because we didn't compensate enough for the heat and whatever – smoked the tires early. Luckily, they ran a 3.78 or .79, so it made losing better. But, like I told them, I said, 'Part of winning – even in the second round – it's not really if we win, it's if we can roll up there and not be bolting shit on the car as we get in the staging lanes.' Part of the deal is being able to service the car and get it up there, start it, have it go into reverse and stage it – you know what I'm talking about. If you get up there and you're clusterfucked whenever you get up there and you look like you don't belong, well, it's hard to get people to take you seriously.
You're one of the few fuel guys who still do the throttle whacks in the pits to seat the clutch. Why do you continue to do that when so many others have abandoned the tradition?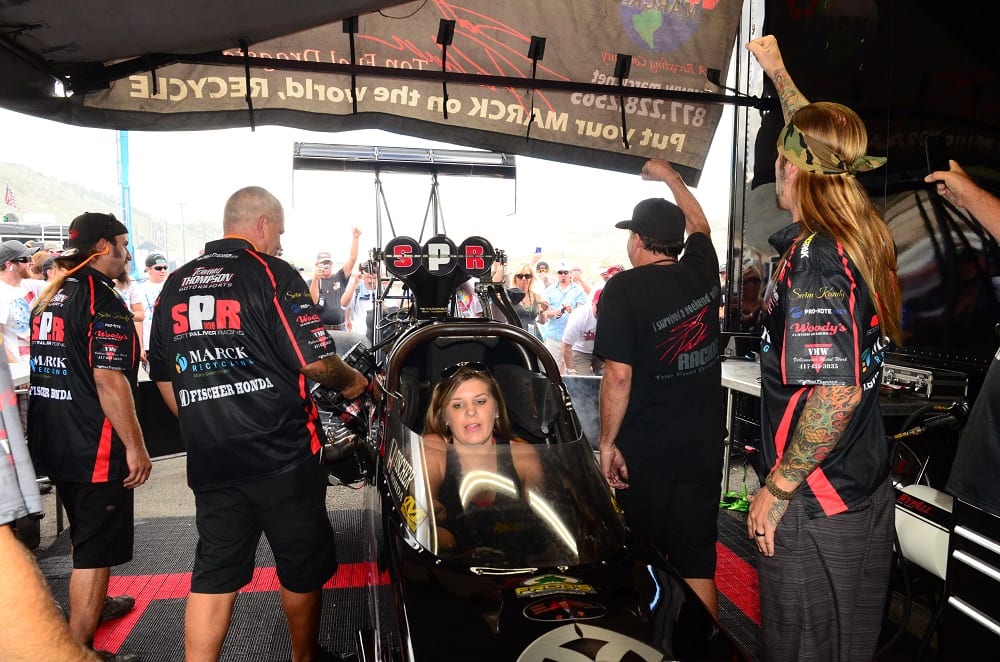 The only reason we do it is because it's cool. That's the only reason. Torrence's team helps us and it's one of the things that, honestly, they would really rather we not do. We've talked about it and Lagana just says, 'Oh, well, I know you're not going to stop doing it, so no use discussing it.' We used to do it twice per warmup. So, we made a deal with him to do it once instead of twice. We compromised.
Speaking of things we do because we think it's cool – I wasn't big on lowering the wheelie bar to get wheel speed because, hell, I want the wheels up in the air. It looks cool. Like Larry Dixon and Don Prudhomme's car back in the day, I mean, holy shit! That thing was the coolest car ever. It just carried the front wheels out there and looked so awesome. Our motor is 37 out, and everybody else's is 40, and when Murf McKinney built it he asked me, 'Where do you want the motor?' I said, wherever it was on Prudhomme's car when Dick LaHaie was tuning it and it was doing those badass wheels-up launches. We've had two new cars since then and they were built the same way and for that very reason. That's not a good reason, but it's my reason. We have ended up using the wheelie bar a little bit. In Sonoma, on Saturday, we ran 3.92 and had it backed all the way down and it still carried the front wheels pretty good.
And then another deal we have is for every round we win; we whack the throttle another time. So the fans, like in Sonoma, they're at the back of our pits and they're out of their minds – just going insane. It was a mosh pit back there because we were going to the second round and they knew we were going to whack it twice. If we would have won second round, we'd have whacked it three times going into the semis – just like the Laganas did in Las Vegas back in '09 or '10 when they went to the final. We were pitted by Torrence, so as soon as we backed it out to warm it up, I looked over there and there they were – Bobby Lagana is just over there looking. He knew what was coming. He knows I've got to do it twice. But, yeah, it's just cool. I do it for the fans. I was a fan. I went to races to hear that. And now you can just watch it happen – whenever the fans watch a warm-up and they shut the motor off, they just walk off. Our pit area during the warm-up looks like John Force's pit. It's insane. I'll never quit doing that. I'll quit racing before I quit doing that.
We're seeing low car counts at a growing number of races this year. As a longtime competitor and fan of Top Fuel racing, what is your biggest concern with the current state of nitro racing?
I don't really have a concern. I think they're working on the purse and trying to find ways to get more teams out here. The problem right now is it's just so expensive to get into it – the initial startup cost is insane. I've been lucky that I've had breaks along the way that helped us get started back in the early 2000s. I've just kind of evolved into it. The maintenance program is crazy, too, nowadays. Troy Fasching and Jim Oberhofer over at Kalitta Motorsports help us, too. Those guys are running connecting rods one run. You figure $1,600 a run for a set of rods, I mean, that's a tough deal. That's why we go back home and people ask, 'How come you're not running 3.70s?' Well, we could, but you have to pick your battles. We've been running a fuel car for 15 years. So, you have to ask yourself – do you want to be out here for 15 years or 15 races? That's the type of shit that will put a small team like ours out of business.
Most of the guys run through the lights at 56- or 58-degrees of timing. We ran a 3.92 and we had 46-degrees out the back door. So, we know it'll run 3.86 to 3.88 if we just put a little timing in it down track because we know that the 60-foot was good. It ran .838 60-foot in Sonoma – generally always leaves good, and we're just easing it out the back and being safe. We just have to learn more before we start cranking it up and start tearing too much stuff up. You know they all tear stuff up, but we've been lucky. We're just trying to learn this new setup right now more so than anything.
I think there will be a few more little guys come out and run, but I think more than anything you'll probably see big teams add another car or two. Even the big teams are concerned that there's not 16-car fields. Now, Seattle had 18 cars but that's kind of a freak deal. Usually, Sonoma and Seattle are at the most 16 cars. So this is kind of a weird situation right now. But I think maybe the big teams will add a car or a few of them will to get the car count up, but, honestly, you don't hear a lot about new teams coming out because it's just a maintenance monster. The upkeep alone is outrageous. The Alan Johnson Stage 7 cylinder heads are so much maintenance to keep up on that you need more crew guys to take care of them properly.
You're obviously making the most of the small team model, but it has to make it harder – especially when race day rolls around. What does it take to make it work, keep the energy up and stay motivated?
Crew guys are the key – especially when it comes to making more runs. We're lucky. We have a group of guys here who have been together for a long time, so we all know what each other is doing. If you run more races or you start winning rounds like we did the other day…we can make it. But we can sure tell because if you have one little issue – you're going to struggle to make it up there. It's woken us up for sure because we've won a couple rounds. We're working on having more stuff ready for the second round because we realize now that it could happen. We could easily have won those two rounds in one race, and then you're in the semis – it goes fast after that.
The main problem for smaller teams like us and Jeff Diehl, we have trouble with getting people that can go in the first place, and then people that are super cautious and concerned about everything on the car. That's why we have a small team. We could put a couple of guys on there, but one little mess-up might cost you 50-grand.
I tell everyone this is not my car. This is our car. I can't race it by myself. We all own this car. We're all a big part of this deal because we live and die by it.
In your opinion, what can be done to bring in more cars, or bring back teams who have been on the sidelines for a few years?
NHRA has actually tried to get people out there. Not financially, but I think they're trying to work with the teams.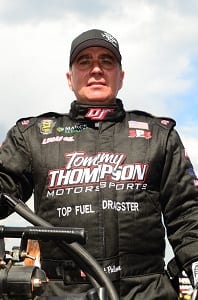 The big teams have helped a lot with a few of the smaller independent teams that don't come out much, they've actually helped them with their setup. They will give you advice. They'll help you if you want it. You can go to Kalitta Motorsports or a Jim Head or somebody, and they will help you. They're definitely working toward getting more people out there. I don't believe you can do anything to make the price cheaper. I don't think that'll ever happen because then the 'big show' is not the 'big show'. It's the 'big show' because it's so hard to do. If they tried to slow them down, then it would lose its luster.
I think the quarter-mile versus thousand-foot deal has kind of at least died down a little bit because – let's face it – we're not going back to quarter-mile. I just don't ever see that happening, as much as people would like it to. To a point I think thousand-foot helped the smaller guys for a while. But now these cars are running so fast early and the RPM in these cars is incredible. Ten years ago, if you want 8,000 RPM at the hit, you had a badass hotrod. There's cars out there now that go to 8,800 to 9,000 and they just murder it. They just slip the clutch, and they go fast that way. That just makes everything hard. I just can't even imagine the thing having 78- gallons, 80-gallons of fuel at 9,000 RPMs on a fuel motor. It blows my mind. Where we run ours is about 8,300 – and that's high for us. You can tell it's hard on parts. But I don't think you're ever going to get away from that because going really fast is what makes it cool.
The big Pro teams have been vocal about how their major corporate sponsors have responded positively to the increased exposure from the new FOX Sports television package. How have your sponsors or fans reacted?
People love the FOX deal or they hate the FOX deal. But I'll tell you…the FOX Sports deal has helped our program. It has helped us find more help. Whether you believe it's good coverage or not, I can prove to you and tell you without a shadow of a doubt that it has worked for us. I know I hear good and bad about it, but I can show you where it's helped us a lot.
You've had some unconventional sponsorship deals over the years, especially this year. How did the deals with the Lucas Oil Drag Boat Series and drag boat icon Tommy Thompson Motorsports come about?
We run the Lucas Oil Drag Boat Series logo on our car because Lucas helped us, and they have a badass big team. So us running Lucas Oil logos all over the car doesn't really help them because we know we're not a top-end car – we're not a big-budget team. So, we run the Drag Boat series logo because we have a drag boat, and that's also because of Lucas – not because we have the money, because Lucas does. So, we promote the boat series. From that exposure, the boat racers have noticed they have gotten more coverage and recognition. We've had drag racers going to the boat races, hanging out with us, and boat racers are coming out to drag races. It's been crazy. Marty Logan, who owns House of Colour down around Dallas, he's got a big paint shop there and he helps our team – our car and boat team some, and he runs a boat, too.
Tommy Thompson, he's like the [Don] Schumacher of boat racing. He owns six boats. Personally, he has carried boat racing for 30-years. He's spent millions of dollars in boat racing. Helps everybody, and he's helped so many people, you could never name them all. But he came to me when we were just friends and told me that the exposure he gets and that boat racing gets through FOX and from the Lucas Oil Drag Boat Series sticker being on the car has been so good, and that it's nice to see excitement back geared toward boat racing again. So, Tommy has joined our team. He came to me and said he wanted to keep us out there. He has stepped in and you see Tommy Thompson Motorsports on the side of the car and it's a great deal for us. It's a deal where he basically said, 'I want you to be able go as far as you want to go, but I want you to be able to do it your way. I don't want that to change. I like it after hours when we're relaxing and we're able to put kids in the car. I like that part of it. I like families being able to come in and check out the car and look in the trailer and it seems like some of the big teams lose that when they get too big.'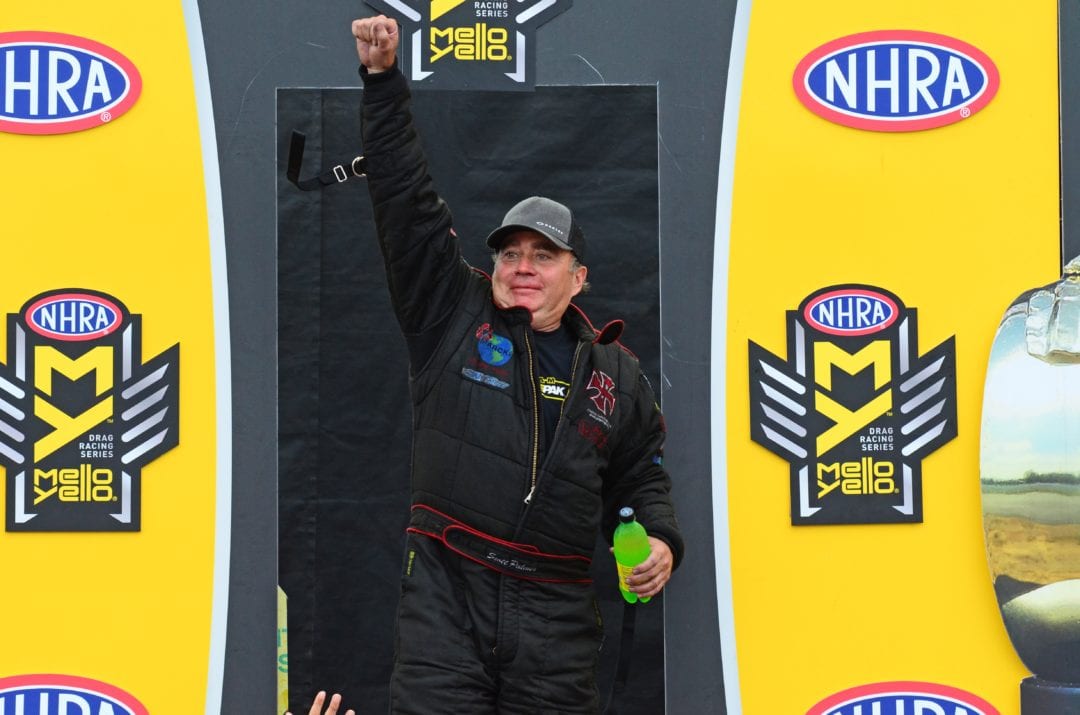 What prompted you to get involved in Top Fuel Hydro racing?
We helped a team out of San Francisco – Joe Cassidy's 'Toxic Rocket' Top Fuel Hydro. We just went to a few races. We didn't know anything about boats. We just went and tried to help them with their motor stuff, put some motors together, went and ran with them and it ran pretty good and we started getting interested. We started going with them and then at the end of the year, Glenn Wilson, who drives the 'Toxic Rocket', he crashed the boat at the end of the year. He broke his back and got hurt pretty bad so that boat was out of commission. Putting together a new boat is a yearlong process usually, so that boat was going to be gone for the following year. [Forrest] Lucas mentioned one time that he'd like to see us get a boat just because he bought the series. It's on MAVTV, and he wanted another boat out racing. He didn't want to lose boats. He needed to gain boats. Between us and one of our sponsors – not really just a sponsor, he's a great friend named Kent Longley who owns Marck Recycling – he basically said, 'Well, yes, we should get a boat'. So we ended up buying a boat from Dennis Gibson, who passed away from a heart attack the same winter.
We just put a boat team together. It's just another crazy deal that we did, but it's turned out great. Lucas gave us the sponsor deal for the boat with Lucas Oil Racing TV, and all of our sponsors are friends – they all want to go boat racing and they want to go drag racing, so we do it all together. The same team goes and does both.
You've been behind the wheel of tons of different race cars, but you won't drive the boat?
We've got one of our crew guys who goes with us on the boat, Scott Compton, driving for us. We wanted to offer the driving deal to a crew guy. Crew guys always get passed up. Teams always just go out and get another driver. So, when I decided that I didn't really want to drive the boat and none of our car crew guys wanted to drive the boat, we asked one of the guys that helps us on the boat. We knew he wanted to drive one, and we knew that he'd likely otherwise never get the chance. Honestly, we think it's only fair that you let one of your crew guys who work their asses off on everything get a shot because out here in the 'big show' that doesn't happen very often. Richie Crampton is the last one probably ever that's gotten a shot at driving from being a crew guy.
It's just hard for the crew guys, and you know they all want to drive something – working for years and never even getting to sit in the seat? I think that's crazy. So if I'm not going to drive it and none of our car guys want to drive it, we're going to put one of our boat crew guys in it. It's been fun because it's like watching someone learn to water ski. It's almost funny when they make mistakes or whatever, but then they get it and it's cool because you watched them come up, you watched them learn and pay their dues as a driver. He's a boat guy. That's his dream. My dream is running a fuel car. Driving a boat is really not my dream. I love the sport and I want to be part of it, but I don't really want to be the driver of a boat. I think you need to be a boat guy to drive a boat. And I don't want to learn. I drive Pro Mod. I drive the fuel car, sometimes I drive Doug Doucette's A/Fuel car. I've got plenty of things to drive. I don't need to learn how to drive a boat.
What have you learned in your years of Top Fuel racing that's helped with the transition to drag boat racing? Or are the two disciplines too dissimilar to really compare them?
Well, the boat motor is the same. It's the same exact motor as we run in the dragster. We have all the same motors and we just run on the same setup as far as motor combination. But you have to run it quite a bit milder in the boat. It has a pedal clutch like an alcohol clutch in it, and it's activated off the throttle so you pick how far open the throttle is and it basically just lets the clutch off and the props do the work. You're kind of at the prop's mercy so you can't really leave too hard or you'll basically spin the props. I don't even know all the language of it. I've only been doing it for a little while. They call it something fancy. But to me, it's just smoking the props because you just spin the props too hard.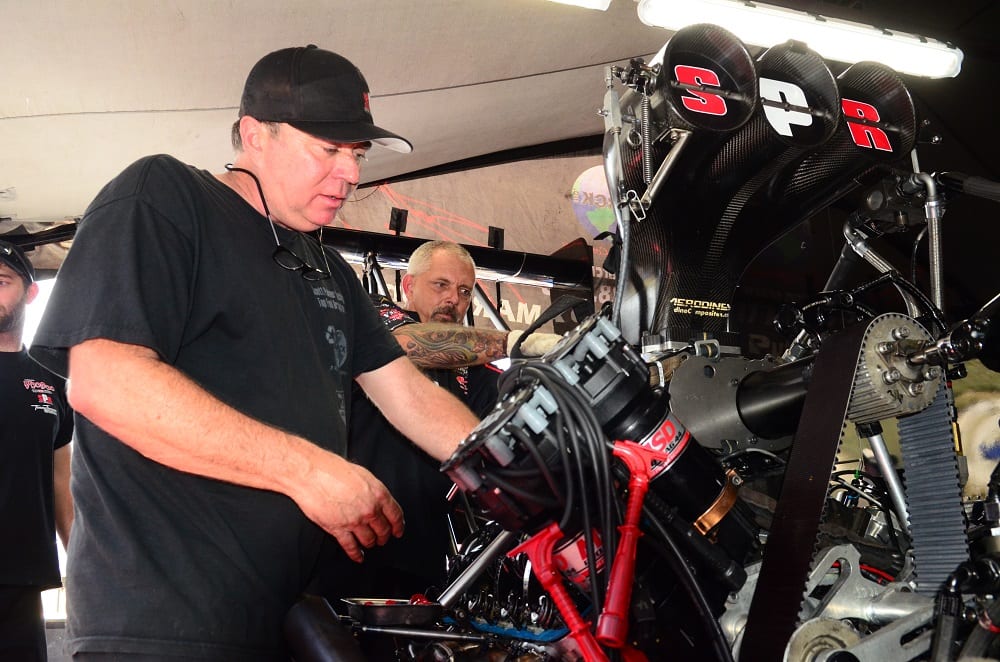 They don't control it with the clutch, which, honestly, I think boats would go faster if they used the clutch. But we don't want to be the ones to try it because the maintenance on a boat is less than a car and the main reason why is you don't have to service the clutch every run. It doesn't murder the clutch. It's locked up. It doesn't wear. There's guys out there who have run the same clutch pack all year. So we don't want to try it. We think they would go faster, but we don't really know that and we're not going to experiment. We're out there to race and learn more about boat racing and promote the sport out here.
You have to pull the motor out and set it on a stand. We actually have a stand that's the same height as the dragster. We have it rigged up to where we pull the motor out of the boat and spin it around because it's in there backwards. Everything is on backwards – the injector, headers – so it looks weird. But I do the bottom end, so I want to be on the same side as the car because I don't want to change the routine. Our head parts are rigged up to where we don't have to change anything to go around the boat.
You made headlines this year when you debuted your Top Fuel Studebaker Pro Mod at Jeffers Motorsports Park in Sikeston, Missouri. What made you decide to slap a 10,000-horsepower Top Fuel motor into a short wheelbase Pro Mod?
I thought about it forever, since we got a Top Fuel car. I've always wondered why nobody has done it before. And I know there's been Nitro Coupes running 30-percent and I know there's a couple of guys who have put what I would call more like nostalgia setups in a door car with the smaller pumps, and they've done it. It's kind of been done, but it's never really been done with a full-fledged Top Fuel setup and I just never could figure out why. I'd rather race a door car than anything. That's my favorite kind of racing. I like the small tire racing, but I love Pro Mods. Pro Mods are my thing. I would run NHRA Pro Mod but, honestly, those guys probably spend as much money as we do in a fuel car right now. That's an expensive class to stay on top of. Our team actually just wanted a Pro Mod where we could go to the local track and have some fun. And we love this old Studebaker that has been around. Chuck Weck from the Chicago area never gets enough credit. He deserves credit for building that car. We just modified it. A friend of mine modified the firewalls and Rick mounted the 12-inch Chrisman in it, and we mounted it solid like a Funny Car.
To me it just seemed like a good idea. I know we caught a lot of flak over it, about it being a dumb idea. Evidently from the response we've got, it has not been a dumb idea. And it's worked so good. Now, granted, we've only made one 200-foot run, but it was impressive to me when I stepped on the gas and how good it worked the first run because everybody said it'll never leave the starting line. We slowed it down for 60-feet and then opened clutch. It has clutch management. It is 100-percent exactly like the dragster is. It has the same management, same 102-gallon fuel pump, a setback billet blower on it. It has everything. If you want to know the truth, we tested that Pro Mod. It had a brand-new motor in it. Brand-new block. We tested it. Set the crank trigger. It has the same MSD box on it. Everything is the same. We took that motor out and that's what we ran in Sonoma. We won the first round in Top Fuel with the Pro Mod motor.
That has to be a first.
That was crazy. Darren Mayer built us this new badass blower and it was ahead of us there for the first couple of runs and then we kind of figured it out. We calmed it all down and it had a .838 60-foot and all that. We're on the return road coming back down and I was like, 'Man, this has got to be the fastest Pro Mod motor ever right there.' It just ran 307 [mph] on an easy pass, you know?
What was it like standing on the gas for the first time?
The header flames were crazy. It looked like I was driving through a fireball. I think that thing right there is the coolest thing I've ever driven in my life, and I've been lucky to drive some cool shit. You knew you were in something badass when you stepped on the gas in that thing.
The Top Fuel Pro Mod is basically one of a kind at this point. Do you know of anyone else who's building another one? Is there potential for future Top Fuel Pro Mod match races?
We're building a '70 Chevelle right now that'll be done in a month or so, I would say. It's got the same style setup in it. It's a friend of mine's – JR Sandlian – and it has a similar setup but it has a 60-gallon pump and we're going to have it rigged up to where we think we can make two runs without pulling the clutch pack or the heads. Maybe it's going to be a little bit softer. Then we'll take both of them out four- or five-times a year to do some match races. But ours will be the one that you come back to the pits and take the heads off – just like a usual Top Fuel car service – and I think that's going to be a badass show at little race tracks across the country.
Do you think we'll ever see it on the national-event level?
SP: We were going to take it to the Street Car Super Nationals, but NHRA doesn't really want it running on NHRA tracks. I've been trying to get them to let us make an exhibition run with it on Friday night at a national event because I think that would be crazy awesome at a national event, but you know…they're not into it because they think it's dangerous. I even asked Graham Light about it during the 'Western Swing' and he said 'No, Scott, that's not going to happen.' Seriously, though, I think it would be a great deal for a NHRA race.
Of course, it's still early in the process, but what are your goals for the car?
Once it makes a few eighth-mile runs and it does okay, the ultimate goal is try to make it run 300 miles an hour in a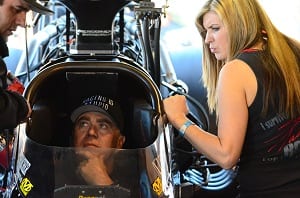 quarter-mile. Whether that's unrealistic or not, I don't know for sure, but I don't think it is. Between us and Bobby and Dom Lagana, we've made so many runs down the race track and especially those guys who have match raced on all sorts of marginal tracks. They've had to run them super soft and they can still go 300. I know that's in a dragster, but if this thing gets to half-track and it runs 240…it should run 300 in the quarter. If it makes it that far and it's still on the ground, it should do it. We've got a big ass wing on the back, and we won't run laid-back headers until we know it'll keep the front end on the ground.
So, that's the goal, and it's crazy to try and do it, but I don't really care. I don't think it's going to ET real quick to the eighth-mile – maybe it'll go 3.35 or 3.40s. Once it's out there rolling, though, I think it's going to do it. At 200-feet the clutch flows were opening up. I opened one at .8-seconds, one at 1.1-seconds and at 1.3-seconds, and I'm telling you – you could feel every one. It felt like a freight train coming on. I know it would have made an eighth-mile run. Now, we got back from the run and it had less than a gallon of fuel in it, so I'm glad I let off the gas when I did.
Now that you have the first test hit out of the way, what's it going to take to reach 300 miles per hour with the car?
After Indy we're going to take it out again and make some more test runs. The 300 mile an hour goal, yeah, that might be a pipe dream, but not really. It won't do it this year. Maybe if we have some time next year, we'll make more runs. We're going to try to take it to a few national events and run it on Monday and test it on Monday where it's a nice track. NHRA doesn't really like the idea of us doing anything with it, but we're going to. It doesn't matter. We're going to do it. I just don't see how that's not possible. Tommy [Delago] from Alexis DeJoria's deal, he says he wants to be part of it. I've got lots of people behind it that would help us if we needed it. Jeff Diehl, he runs his Funny Car at 300 mph. All these cars run 300 in a thousand-foot. I'm talking about 320 more feet to gain a little speed because we'll do it in a quarter mile. I just think it'll do it and that would be awesome.
Photographs by Chris Graves and Tera Wendland-Graves
This story originally appeared in Drag Illustrated Issue No. 112, the Interview Issue, in August of 2016.