August 2006. Clay Millican and his Werner Enterprises/Nitro Fish Top Fuel dragster team can be found parked on the lone concrete pit space on Norwalk Raceway Park's Budweiser pit side. At least that's where I first met him when I attended my second drag race, the 2006 IHRA World Nationals, at age 8. I knew the name of just one drag racer when I first walked through the gate at Norwalk, and it wasn't John Force, Don Garlits, or Tony Schumacher; it was Clay Millican. Since my uncle was a truck driver for Werner Enterprises, he would send me every piece of Clay Millican merchandise in the company store. T-shirts, diecast dragsters and haulers, posters – I had it all. I even wore my Clay Millican shirt to the first race I attended, an alcohol Funny Car versus jet Funny Car match race, because I assumed Clay would be there to sign it. He was a drag racer, and I was going to a drag race – surely he would be there, right? That was my naïve line of thinking at the time, anyway.
To my surprise, he was not at the small local bracket race, but Millican was more than willing to sign my shirt and hero cards a few months later at the IHRA race. His pit area was a popular destination for fans, as he was not only a warm, lovable character, but he was also the IHRA's most successful driver. Millican's marks on IHRA Top Fuel history – six consecutive world championships, 52 national event wins, and the quarter-mile elapsed time and speed world records – are untouchable.
A lot has changed since my first encounter with Millican. His Kenny Koretsky-owned team switched to full-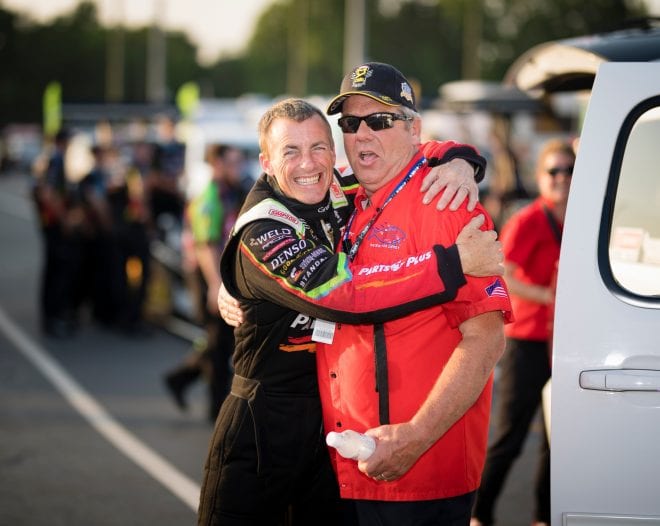 time NHRA competition for the 2007 season after losing funding from Werner Enterprises. Despite sponsorship woes through the Great Recession, Millican continued to compete on a part-time basis from 2008 to 2011, apart from a solid 20-race schedule in 2009. A new partnership with Memphis-based Parts Plus allowed him to compete on the full NHRA tour with Mark and Lauren Pickens' MPE Motorsports team in 2012, then Bob Vandergriff Motorsports in 2013. After that team disbanded, Millican brought his funding to Dexter Tuttle Motorsports for another full season in 2014. When Tuttle's expanding businesses forced him to deescalate his Top Fuel involvement for 2015, Millican again found himself looking for a team to call home.
Millican found that home in McLeansboro, Illinois, a town of around 3,000 people. Just over 10 of those residents are associated with Stringer Performance, a startup Top Fuel team founded by Funny Car crew member turned NASCAR businessman Doug Stringer in December of 2014. Stringer, who once owned a NASCAR team and currently heads up Great Clips' motorsports marketing program, was finally convinced by Millican to allocate funding to drag racing. While Millican pitched a mere sponsorship, he ended up with a new team owner with a passion for winning.
Since joining Stringer Performance with crew chief David Grubnic, Millican has placed himself at the top of the "Drivers Due for a First Win" list. Over the last two seasons, he's reached the semifinals nine times, qualified number-one three times, and qualified for all but two races. This season, Millican and the Parts Plus/Great Clips Top Fuel dragster have qualified number-one and reached the semifinals at the NHRA SpringNationals in Houston and the NHRA Four-Wide Nationals in Charlotte.
I sat down with Millican Sunday morning at the NHRA Four-Wide Nationals at zMAX Dragway earlier this spring for a wide-ranging interview, beginning with his humble beginnings in Top Fuel and wrapping up with his prime position as a serious contender in 2017.
[EDITOR'S NOTE: Just days after this story went to print, Millican won the 2017 NHRA Thunder Valley Nationals at his home track, Bristol Dragway, on Father's Day.]
You made your Top Fuel debut at the 1998 NHRA Route 66 Nationals driving the Chicago White Sox dragster. Do remember the moment you found out you were going to become a Top Fuel driver?
Yeah, absolutely. My life story – and I know you're trying to get down to one instance here – but it's kind of a cool story, I've told it several times. I called a guy named Raymond King when I was probably 16 years old. He was a salesperson at TCI, which is a racing transmission company, now a part of the COMP Performance Group, and asked him what I have to do to start traveling to do more races. I wanted to start doing some IHRA and NHRA races in Super Comp. For whatever reason, he took me under his wing. He also had been promoted in this timeframe. He had been promoted to vice-president of the company. He was racing himself at the time in a Mopar, a Dodge. I was a Dodge guy and I think that's part of the reason he started helping me.
I'm going to advance the story a bit. TCI was purchased by the Fel-Pro Gasket Company. I went to a company picnic at Fel-Pro, which is in Skokie, Illinois, in my little dually and trailer, unloaded my dragster and we started it, revved the motor up – all that kind of stuff. From there I met a man (Peter Lehman) whose father was the president of Fel-Pro. He actually came out to a race in Cordova that weekend, just for a little while. Fast forward to the end of the year, I got a call from Raymond asking, "Do you remember that kid you met whose dad is my boss?" I'm like, "Not really, but kinda." "Well, Peter wants to come to Darlington with you at the end of the season. He's writing a nonfiction story for a college class he's taking at Northwestern University." So I called Peter, first time I'd talked to him on the phone, and said, "You probably want to fly into Charlotte and I'll pick you up." He said, "Nope, I want to experience the whole process. I want to experience everything you go through."
I picked him up after I got off work on the night shift at the Kroger food warehouse. It was my wife, my friend and his dually that I had borrowed since mine had been broken into that week, and Peter and me. I drove the entire way to Darlington, South Carolina – a pretty long ride from the Memphis area. We get there and he's making little notes the whole time. Basically he was not having a clue what was going on. He was not a race car kind of person at all. He basically asked, "Why do you do this? You obviously spend every dollar you have to go racing. Why?" My answer was, "Because I want to drive a Top Fuel car."
Right time, right place; whatever you want to call it, I won my first national event that weekend with Peter there. I joke with him all the time that I hooked him. He also experienced what Top Fuel cars were that weekend. We became very good friends. Then he wrote for another class a business plan for how to go racing. Well, he put this plan into effect and signed a one-race sponsorship with the Chicago White Sox, and off to Florida I went with Peter and his family and my wife. We went and I got my license through Paul Smith. Literally in less than a week I was at Route 66 Raceway. I was the very first Top Fuel car to ever pull into the racetrack there at an NHRA national event. I did my infamous "reverse burnout" on that first run and was ready to go home to Drummonds (Tennessee), go back to Kroger and never be thought of again. But it's obviously turned out very well.
You're well-known for your success in the IHRA, but most people don't realize you started your Top Fuel career at an NHRA race. What was the reasoning for focusing on IHRA competition after that first start in the NHRA?
That was something that Peter wanted to do. At that point, IHRA had a great program. They still weren't as big as NHRA, obviously, but they had a very competitive Top Fuel field. The reason Peter wanted to do that was they ran 10-12 races in a season. With the budget we had, that was the place to go for a couple reasons. One, we had enough budget to run those races competitively. Two, it was a training ground for a very, very inexperienced group of people, including myself. The only experience we really had was Mike Kloeber. I was a racer. I knew how to stage and all that kind of stuff, but I knew nothing about Top Fuel cars. Everybody who worked on the car was just friends of mine. We did it for essentially nothing, but that was what we had to do.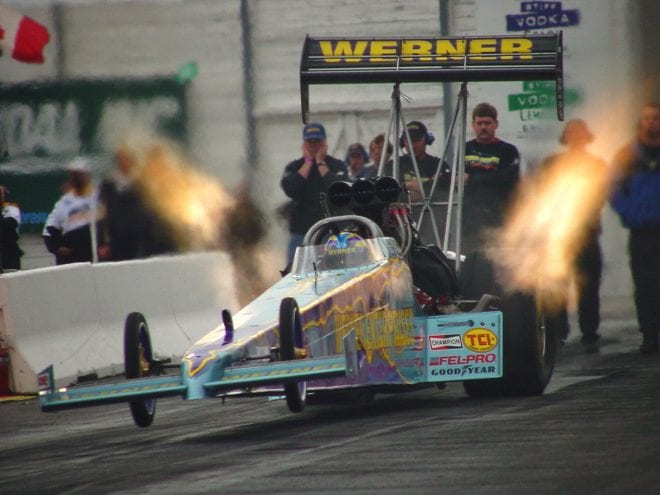 Peter chose to do the IHRA series the first year basically to teach us what we needed to do, how to become competitive and as it turned out, how to function under pressure trying to win a championship even in our first year. It was a learning experience for everyone.
When the dot-com company that was sponsoring us went dot-bomb, we really thought we were done. But Peter put together a deal with Werner Enterprises for our second season. Werner was doing a lot of business with Clear Channel, who owned the IHRA series. They chose to race the IHRA series. That's where we were paid to race. Race teams go where their sponsors pay them to go.
I love the IHRA. I'm so proud of everything we did. We were paid to race there and that's where we raced and I loved it. We did very well with them. We did do a few NHRA races, but our focus certainly was the IHRA. The success we had was unbelievable. My dream was always just to drive one of these things. I never once thought about winning a race, let alone fifty-something of them. Certainly never six world championships. Six in a row was just crazy. We had a young kid on the team who went a whole season – actually around a year and a half – without going to the track and not going to the final round. It was just not normal. What that team did was magical. A lot of people say, "Ah, well, it was the IHRA." Well guess what? It doesn't matter if you're racing in the parking lot or foot-racing at high school; sooner or later you're going to twist your ankle or stumble somewhere. This team stuck together and went through six seasons of world-championship winning. Very proud of that whole group. It was an incredible run. The team was awesome and it was a pretty tough combination, that's for sure.
Many people also don't realize you ran part-time NHRA campaigns during those IHRA years too. How did your NHRA campaigns compare to your IHRA racing?
We had good runs in the NHRA. People kind of forget that in 2004 we did 10 NHRA races. We went to three consecutive final rounds out of the 10 races we sporadically put in our schedule. We didn't win any of the three, but there were full-time teams that didn't go to three straight finals. I honestly believe, had our sponsors wanted us to race NHRA full-time, that we would have won races. We had a limited number of opportunities but we did very well when we showed up.
The success that you had with the IHRA, whether it was the winning itself or everything that came long with it, how did that prepare you for competing in the NHRA full time beginning in 2007?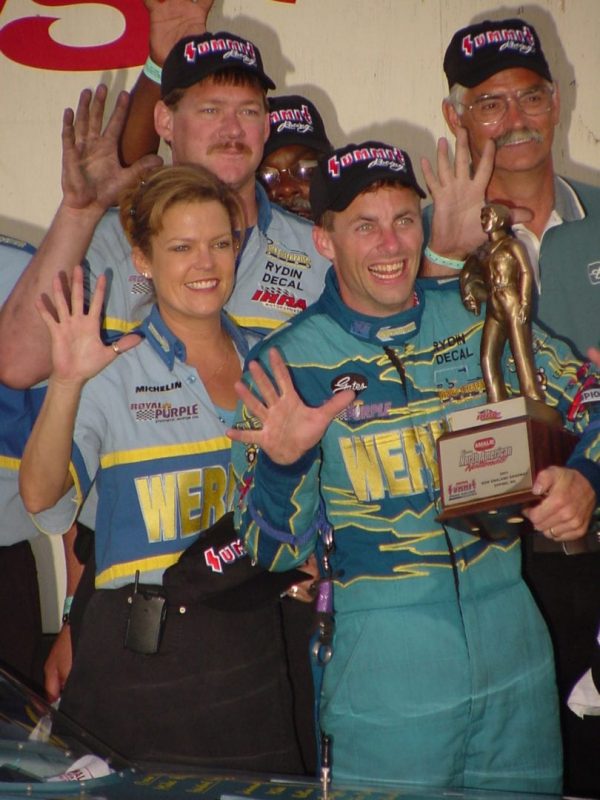 When we started winning as much as we did, I learned a lot, from doing morning television to radio to even TV shows. I ended up doing a lot of TV shows (like PINKS All Out and Drag Race High) and that opportunity came from the success we had in the IHRA. I still say this all the time: We didn't look at it as IHRA versus NHRA. We looked at it as "Our team is going to the racetrack." People ask that question a lot, "What was the difference between IHRA and NHRA?" For me, there was no difference. I'm driving a Top Fuel car and I'm trying to get to the finish line first.
The IHRA was the training ground for what I'm doing today, but at the same time it is still the same process. More people just happen to watch the NHRA so they say, "Where'd this guy come from?"
A lot of it was really Peter Lehman giving me that opportunity and then exposing me to things I had never been exposed to. I was a bracket racer. Peter giving me that chance certainly exposed me to things that I never would have had the opportunity to do. That guy was and still is a special part of my family. He and I still talk all the time. He's just a super, super guy.
When it came time to make the move from IHRA to NHRA, around the 2007 season, that was around the same time the IHRA show started to go downhill. Did your team predict that, or was there another reason for the move?
Again, that goes back to the business side of things. We never made a conscious decision at all. It was a business thing. We have to back up a little bit. After we won our fourth or fifth championship, Peter Lehman came to me at Rockingham. We had just won the race and locked up the championship. It was late at night. Peter walked me over by the racetrack and he said, "Look, I bought into your dream and we've won all these championships together. We have a sponsorship. I've lived your dream with you. Now I want to go and do what I want to do. You're all set. You need to go and find someone to be a team owner and keep this thing going. You're in a good position right now so make that happen. I'm not going to drop you or put you in any kind of bad position."
We contacted Kenny Koretsky and he bought the team. We won some more IHRA championships with Kenny. Then that '06 season was when the fuel prices just went crazy. Werner has over 10,000 trucks on the road, so when fuel went sky-high, that certainly affected the money their company had. They came to us and said, "This is our last year."
The agreement between Werner and Peter was a handshake deal. There was never a piece of paper written. Greg Werner and Peter literally shook on it. Greg said, "We'll do this for a few years." That few years turned into six. We weren't mad that Werner went away. It was just the proper thing to do for their business since fuel prices went so high.
That brings us back to the '07 season. We didn't make a conscious decision to go NHRA racing, it was just back to the business side of things. That was a tough time for everyone. Not that it's still not hard – it is. We transitioned to the NHRA, ran a year or so, then we had some highs and lows with sponsorship. There were years where I did one or two races. There were some years where I did 'em all. Just a lot of great people along the way that kept this thing going. The Pickens family out of Memphis ended up buying the team. It's been a crazy ride. It's amazing the amount of people who stuck with me, and we're still here. Next year is 20 years, which is crazy. My wife, Donna, got me to quit Kroger 19 years ago. I was always in trouble at work for missing days to go racing. Donna told me, "If you don't quit this now, you're going to regret it." I was like, "You can't really want me to quit." But I quit, and here we are 19 years later. It's crazy.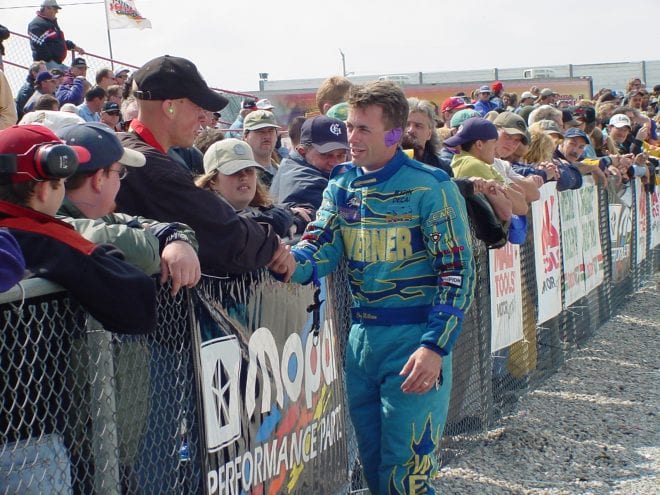 Since May 10th of 1998, your full-time occupation has been "Top Fuel driver". In recent years. we've seen so many drivers put on the sidelines, temporarily or otherwise, due to sponsorship woes. It certainly hasn't been on accident, but how much does it mean to you to still be doing this 19 years later?
This will sound bad, but it's almost everything because this is how I've paid the light bill, how I've paid the mortgage. Now, during that '98 timeframe that I was just talking about, my wife had a normal job and when she got me to quit, it wasn't like I was on Peter's payroll at that point at all. He certainly helped. But when I quit my job, this was back in the days when you would get a credit card in the mail. They'd send you a pre-approved credit card and I was high-fiving myself, Yay, a credit card came in! We can buy gas to go to the store and we can put groceries on there.
There were a lot of times where it was really, really, really hard. Donna worked every day. I spent every day on the phone trying to find money to go racing. It was a very, very difficult time for both of us, but she never once said, "You've gotta get a job." And I was still racing. I was still going bracket racing and going to national events, which was silly because I was certainly not making any money doing that. But she believed in me more than anybody because she's the one who paid the bills at the house. For us to do that was just insane. I wouldn't recommend it to anybody. We spent all the savings that we had, all the 401k stuff that I had from working at Kroger for 11 years. We lived on every dollar that was in savings for those couple years until Peter put together the dot-com deal. It's nuts. I can't believe we did it.
It's amazing to still be doing it. I certainly have been through enough ups and downs to know that this can go away at any moment. It's went away for me before and it's went away for a lot of people out here. You've got people who are able to somehow find their way back and I've been one of those people fortunate enough to find my way back several times when my dream job has gone away. Look at Shawn Langdon – it's happened to him a few times recently. There's several people out here with cool stories about how their dream went away and they were able to find their way back, and I'm certainly one of them. It's just nonstop, don't-give-up, hard work. That's really what it is.
You must be asked all the time about how you find these sponsorships. What has been your secret to finding the funding required to race Top Fuel?
Well, I have a lot of stories on that, but this sponsorship game is like getting a job. You know somebody who may know somebody who knows somebody else. You can't go to a sponsor and just say, "Hey, I'm going to put your decal on my car." That's out the window, and that's one of the biggest things Peter taught me, to figure out what it is that you can do to help those companies to make them want to go racing. Everybody you meet could be your next sponsor.
I tell this story a lot so it's nothing new, but it's a really cool story. We were in Phoenix testing. I was packing
a parachute. It was the PRO (Professional Racers Organization) test session so it was open to the public. A guy comes up, dressed normally – flip-flops, shorts, t-shirt. He tells me he's from the Memphis area, and we just had a conversation not unlike the thousands of conversations I've had back there packing parachutes. Fast forward a few years and that ended up being Mark Pickens, who ended up being a team owner for me.
Parts Plus – there's another good story. When the budget with the Pickens was coming to an end, the landlord of our race shop in Munford, Tennesee, introduced me to Steve Tucker, the vice president of Parts Plus. I gave him a game plan for Parts Plus to go racing, and that partnership is now in its sixth year.
The Werner Enterprises deal came about when Mike Kloeber hired a local kid, Jaymond Hogue, to come help us with the car on the weekends. Jaymond then introduced us to his dad, who was a vice president at Werner Enterprises. Peter put together a business plan for them. That's where Werner came from.
So you never know who you meet who may become a sponsor. It really is about relationships. Every sponsorship is based on relationships. The famous story of Kenny Bernstein going to the Budweiser plant and unloading his car and getting a 30-year Budweiser sponsorship – that's why that's such a great story, because that's not the normal way things happen.
You went to four final rounds over the course of the 2013 season. What was it like to make it to a final round and think, "This might be it!" then…
It goes away?
Exactly.
We had a really good-running car that year. There are a couple finals I remember and two I don't remember at all. Brainerd was a pretty awesome weekend. That weekend stands out a lot to me, for one, we were invited – myself and my son Dalton – to participate in a Terracross race. They built a racecourse out in "The Zoo" and Polaris was unveiling their RZR 1000, which is a side-by-side. They were doing a celebrity race so they invited myself, Dalton and Ron Capps and some of the offroad racers. We did this race out in "The Zoo", which I won, I might add. I probably did Ron Capps a little dirty in the final race. To quote some of the NASCAR guys, "Eight tires are better than four," and I used him up in the corner.
We went out and qualified number one and we went to the final round. It was like we were on the verge of clean-sweeping the weekend. I raced Spencer Massey in the final and it was…to me, I thought, "This is it. We're going to do it." Spencer absolutely murders the Christmas tree but I actually left on him. Well, he got us. We got outran. I don't even remember the numbers, surprisingly, considering how much I remember of that really cool weekend. But we didn't get it done.
The other final I remember pretty well was when we raced Tony Schumacher in the final at Chicago, which is obviously a big race to him – that's home. We left the starting line and I think I was ahead at probably 330-feet, we got the tires loose and I got back after it. I was thinking I was catching a little bit but it really started smoking the tires. Then Tony blew up. It was like, "Ahh, man." Tony blew up a little past half-track and he had enough momentum that he got me.
That's the two finals I remember from that year. Then I didn't make the final, but we went to Pomona for the very last race of the year. There was a whole lot going on within that team at that time. I knew that was the last race with that team, also the last race of the season. We raced our way to the semifinal. Had we won that round, we would have finished fourth in points, which is a heck of an accomplishment. But I don't even remember the other two finals. I just remember that if we would have won that semifinal we would have finished fourth. I ended up finishing sixth, which is my best finish to date on the NHRA side of things. I finished in the Top 10 a few times now. That was a crazy year. I'm not going to talk about a lot, but when I write a book – I'll contact you when I get to be like 80 years old and I write a book – I'll tell more stories about 2013.
Maybe this is included in that, but what was going through your mind going into that offseason? What did you do to figure out what was next?
I knew leaving Pomona that that was probably the end of that team. Everyone was let go at that race. Except for me, actually. For whatever reason, I was never told I was let go. But I talked to several other teams, myself and Steve Tucker with Parts Plus. We knew that thing was going away; we were told it was going away. So we talked to a few different teams. Serious conversations with a couple teams.
I ended up going with Dexter Tuttle that year – heckuva great man. He's got several successful companies. So we went into 2014. I love Dexter Tuttle – he's a great guy – but we struggled. The car was giving him fits all year long. It wasn't my best year ever but I have to say that Dexter is a man of his word. He did everything he said he was going to do with me and with Parts Plus. We did every race and did the best we could do. Dexter is still a good friend for sure. Another one of Dexter's businesses that he started was really taking off for him and he told me – with plenty of time – that he wouldn't be able to do all of the races (in 2015).
I talked to Parts Plus and a partial season wasn't really in their game plan. They've got a very successful hospitality program out here. We have around 5,000 people from Parts Plus come through hospitality every year and we've done that since we've had Parts Plus. Steve Tucker and I went to talk to the big teams again. We just could not find anywhere that it was going to work with any of the big dogs out here.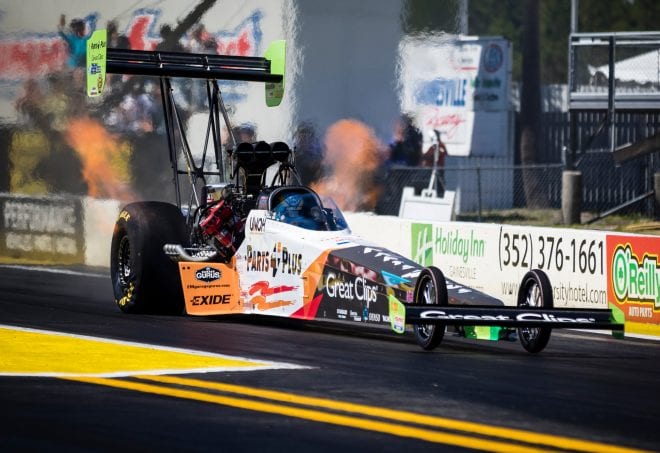 And that's where Doug Stringer came into the picture?
Well, I've known Doug Stringer for a long, long time; met him through Lance Larsen a million years ago. I knew Doug owned the company that handled the Great Clips sponsorship and marketing in NASCAR. Well, I had bugged him for years to get Great Clips involved in drag racing because I knew Doug loved drag racing. Doug came from drag racing. The story he tells is, "I love drag racing but I went to NASCAR to make a living." That's a heckuva story in itself. I bugged Doug for years to send some Great Clips sponsorship dollars towards me. I was in a bind. I called Doug, we had a lot of phone calls, and I told him, "Look, I don't know what I'm going to do here. I have Parts Plus but I can't go to some of these big teams; it's just not going to work. I need some help, some more sponsor dollars to find myself a home."
Doug has a little dirt track called Wayne County Speedway. Doug had a great relationship with Jason Leffler, a driver who lost his life in a sprint car accident. Well, Doug hosts every year the Jason Leffler Memorial race. All the money goes to Charlie Dean Leffler, Jason's son. Doug asked if I could bring the Top Fuel car by his house for the party they have the night before the race. It was in between NHRA races, so we went to Doug's house for this party. Doug tells this story all the time. He said the moment he saw that tractor-trailer rig pulling in the driveway, he knew he was going drag racing.
How long after that realization did the team start coming together?
Much to my total surprise, Doug calls me later and says, "Can we start our own team?" I was just like, Uhhhh…it had just never crossed my mind that he would want to own the team. I was just trying to get him to direct some Great Clips sponsorship dollars towards me. As it turned out, he wanted to own the team. We talked about it for a while.
He actually wanted it to be a Funny Car team. He came from Funny Cars. He and Lance had been friends since the Jim Epler Funny Car days. Doug actually worked on Jim Epler's Funny Car, so Doug wanted a Funny Car. He asked if I would drive a Funny Car and I told him absolutely I will. It'll be a little learning curve, but yes, I'll do it. I asked him if he had any idea how much Funny Car bodies cost. Once we talked about that, he's like, "You know, I think a Top Fuel dragster sounds pretty good." I was certainly okay with that because I'm a dragster guy – it's all I've ever driven.
Lance (Larsen) and I go to Doug's house and he has a shop behind his house – just a big metal building. It's not a Brownsburg-type "Garage Mahal". He has two metal buildings behind his house and he said, 'If we're doing this, the team is going to be here. It's not going to be in Brownsburg, it's going to be in my backyard.
Lance and I show up the first time and yeah, it's a nice building – heating and air, nice floor in it, but there wasn't a tool, there wasn't a truck, there wasn't a trailer; there wasn't anything. This was in early December. Oh my goodness, was it a lot of long days and late nights gathering everything up. It was me, Doug, Lance, and this one young kid Doug hired locally. That was the team at that point.
David "Grubby" Grubnic, who was your competitor for several years when he drove Top Fuel for Kalitta Motorsports, was hired as the team's crew chief. How did you decide to hire him?
My wife, Donna, suggested we hire David. I'm always running my mouth doing these things and she stays in the background all the time and that's how she prefers it to be, but she said, "We need to hire David Grubnic." That previous year, Grubby had been away for basically a year. He was done driving at Kalitta's and nobody knew what he was up to. Well, Grubby showed up and helped the Rapisarda team at Indy. They went out within a couple runs and ran the quickest et they had ever run – they ran in the 3.70s for the first time. Donna was like, "You remember what David did with Rapisarda? That's who we should hire as the crew chief." That was our next call, David Grubnic.
He flew in and we all met and it's like, "Man, this guy is awesome." I knew him from racing against him but I didn't know him. You see people out here all the time that you race against but you don't necessarily know them. The first thing I knew was this guy is incredibly smart. I had never talked to a crew chief who had that kind of thinking since Mike Kloeber. He can not only tell you how it works, he can tell you how it was designed. He'll lose me when he's explaining things.
It was assumed early on that the team was using a "store-bought" tune-up to get started, but that wasn't the case, right?
Grubby has his own tune-up. A lot of teams out here base their tune-up off of someone else's. We ended up buying a complete, ready-to-go Top Fuel car from Steve Torrence. We ran pretty well from the get-go. It was very last-minute in getting everything put together. For our first run at Pomona, Grubby said, "Just go to half-track and shut it off." I don't remember the exact mph, but we went 3.81 coasting from half-track on. I'm like, "Oh yeah, this is going to be a good race car."
He's brilliant, super-smart. He's fun to work with for me because he drove for 20 years. It's the first time I've ever worked with a crew chief who's driven. I can go in the crew chief lounge after a run and tell him I felt the car do whatever and he's like, "Yep, yep, I know what you're saying." That's fun. I can make a mistake and he's like, "It's fine. I've done it. I understand. Don't worry about it. You'll fix it next time." It's a fun relationship.
You spoke about the importance of the team being based out of McLeansboro rather than Brownsburg like several Top Fuel and Funny Car teams. What makes that location so special?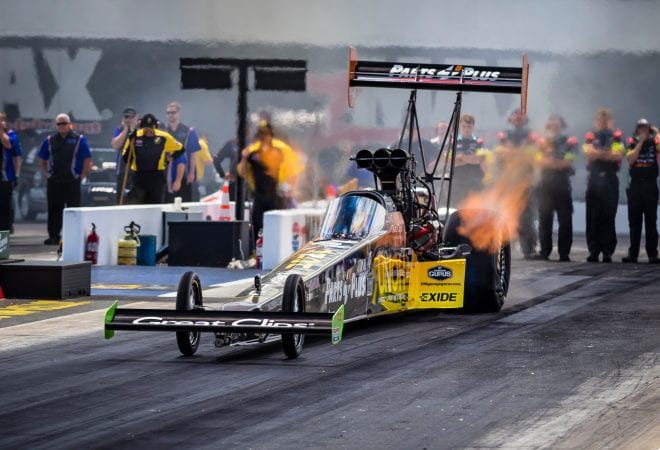 We have no connections to any of the big teams out there. There's ups and downs to that. The downside is if you get headed down a wrong path tuning-wise or you've got something weird going on that you can't figure out, you don't have a lifeline so to speak – a mothership. There's no help to be had from a teammate. That's certainly a downside. You have no data to share at the races, which is huge. That's the benefit of a multi-car team.
The upside to our situation is if you find a really solid combination that works and you're able to make your car go quicker than the competition, if you just really get on a roll and get a hold of something that is just absolutely working, then it's yours. You're not going to have to share it. If you find something really good, it's going to spread like wildfire if you're a part of one of those big teams. It's not only going to spread through your team, which is the purpose of the big teams, but it will certainly spread to other teams as well.
Team cars are awesome, but being off on your own is also something that I love. The team that I was involved with in the little town in Tennessee, we got on a roll like that during my IHRA days and we held that advantage for a long time. We were off by ourselves on our own little island. That's how I know about racing. I've never really been a part of one of those big teams. It's what I know and it's what I love. I love having our own little family.
Last year, Ron Capps would always have to answer questions about being the winningest Funny Car driver who hadn't won a world championship yet. Do you find yourself in similar situations when you're referred to as a hugely successful IHRA racer who hasn't won an NHRA race yet?
I think it's certainly something that everyone talks about, but I don't look at it as "I'm not a winner". I've won way more than my fair share of Top Fuel races. People say, "Well, that was IHRA." I'm very proud of what our group did in the IHRA. We won over 50 races and six straight world championships. Had our sponsors wanted us racing in the NHRA, there's no doubt in my mind we would have won some races during that timeframe when we had that magic little combination that was pretty dominant in the IHRA days.
But when I win that race, if and when that ever happens, is it going to change my life? No, it's not. When I get back home, my wife's still going to love me and the dog's going to love me and my family's going to love me and everyone in Drummonds will be glad that I'm home. It won't be a life-changing moment to win that first NHRA race. Is it something that I strive for every day and work my tail off to have that opportunity? You better believe it is. That's why I go out there every weekend. Winning a race is something we plan on doing every time we pull in the gate at a racetrack, but it's not the biggest thing in the world to me. With the things that Donna and I have been through, (not winning a race) is not that big of a deal. But I do want to win one. It's a crazy answer, but it's not the end of the world if I never win an NHRA Top Fuel race.
A couple of the feel-good moments from your weekend at Charlotte came when you were doing your number-one qualifier interviews in the media center. Your mother called during your Friday-night interview and your father called during your Saturday-night interview to congratulate you. You picked up the phone and talked to your folks during those interviews. Everyone in the media center loved it. When you finally win that first race, who will be the first person you call? Or who will be the first person to call you?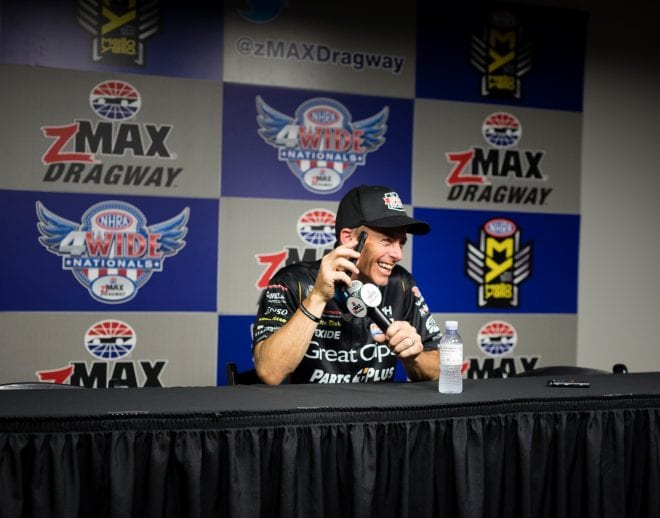 I suspect it will be someone calling me. Donna will be with me so she'll know immediately when I've won. The first phone call that I make will be to Daddy and Momma, without a doubt. They're not always on top of social media – Daddy especially – but Momma does Facebook a little bit. That will be the first phone call for sure – Daddy and Momma's house.
Photographs by Rick Belden, Roger Richards and NHRA/National Dragster
This story originally appeared as the cover story in DRAG ILLUSTRATED Issue No. 121 in May of 2017.