It's simply amazing how different these Top Fuel dragsters are compared to what I have driven in previous years. Every car I have raced was on jack stands right here in Columbus, Ohio, and I had been around bracket racing classes my whole life. Learning and feeling the Super Comp dragster or the Super Gas roadster were simple due to this fact. I am also lucky to have such awesome teachers that were always right there with me: My father, Troy Sr., and his brothers John, Mike, and Jeg Jr.
I even had the opportunity to drive my dad's Pro Mod car in 2015 as he built a new car and kept the old C5 for me to drive. I had been watching his in-car camera films for a few years leading up to this. I had lots of time to ask him questions about how the car would feel when making big corrections early in a run or how to handle making a correction late in a run. It only took one test session of seven runs to get comfortable driving it. It was so much fun to study under my dad like that and I was very fortunate to do so. When it comes to car control, I've never seen anyone drive like my father, Troy Sr!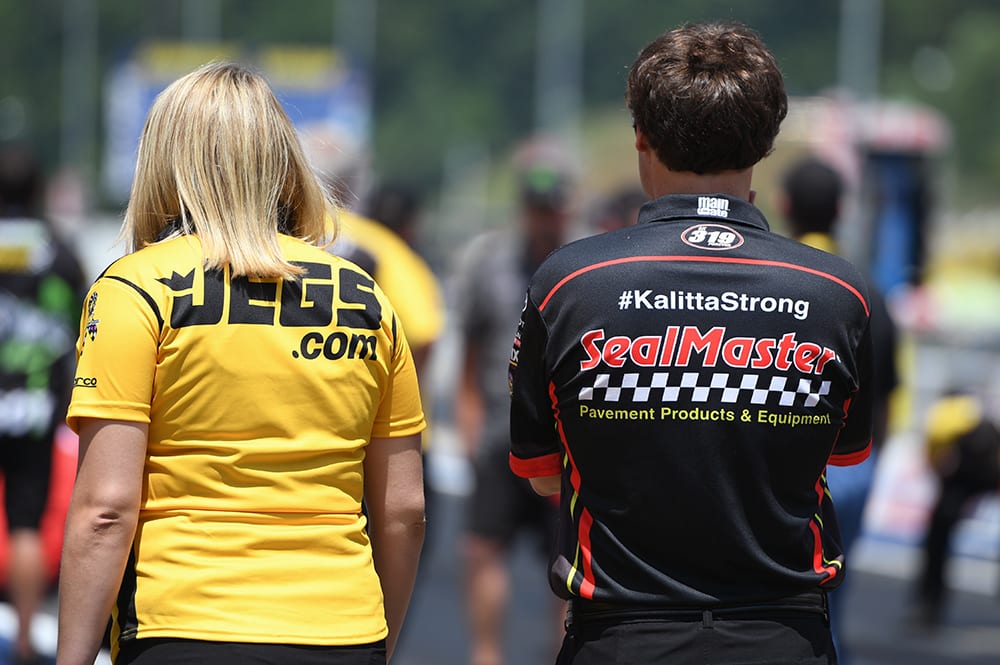 Next came the idea and challenge of jumping in a Top Fuel dragster. At this point, there is no Top Fuel dragster on any jack stands in Columbus, and not that much studying you can do on how these cars act and respond. The only sounding board I have is my grandfather, Jeg Sr. My grandfather is a logical and smart man who has helped me come a long way not only in racing but as a person in life. His key words to me were to stay focused on driving and work with a couple drivers that I want to learn from. Being a part of Team Kalitta is huge for me; I have incredible teammates with Doug, J.R., Shawn, Alexis and Connie that can give me guidance. They have been extremely supportive and helpful in the learning process. I have talked with a few other drivers like Del Worsham, Larry Dixon, Clay Millican, and the legend, Darrell Gwynn. All of these guys have done it all and I'm so lucky to have their advice.
Right now, I am taking what I've learned from the group. A Top Fuel dragster needs to be driven from 0 feet to 1000 feet and it's a very finesse-like feel which all happens in 3.8 seconds, which is a big difference for me. The challenge is to get better and improve with every lap we make. I've been spending lots of time watching film from outside and inside the car with Chad Head and I have been asking a lot of questions to learn as much as I can.
The raw power and acceleration from the launch all the way to the chutes out is such a shock of difference from any car I have raced. The feeling is the most different, as it almost feels like you're being shot out of a cannon, whereas the Pro Mod car you feel more of a pulling sensation when the boost comes rolling in.
Another adjustment for me is the media exposure. I've watched my dad and Uncle Jeg for years talk into a camera, but when it comes to doing it yourself, it is not that simple. When I raced Super Gas, I was rarely interviewed. Here in Top Fuel you get interviewed even in qualifying. Being on the shy side doesn't help this much, but I am having more fun with it as we go.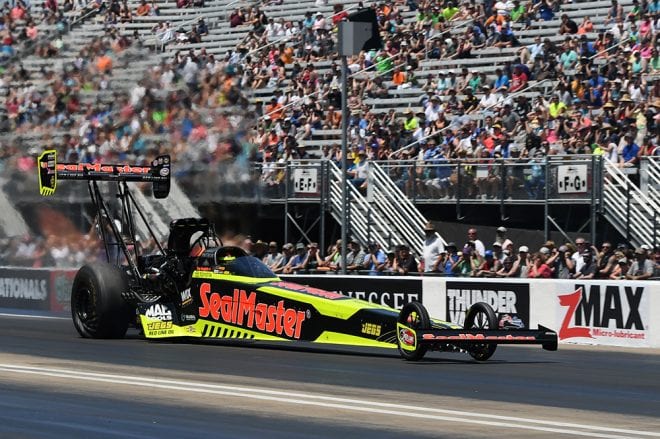 One of the coolest differences I have noticed is the great people you get to meet and talk with at each race, especially the SealMaster franchise owners and their customers. It's so awesome to see the shared love of power and acceleration with fans. We are lucky that we get to do this at the level we are on and to have fans there enjoying every minute is so cool. Even with all the ups and downs of drag racing, I am enjoying every step of the way.
We have a great team. I love them all like brothers and we are gelling each day, which is due to the awesome leadership we have in Jim Oberhofer, Chad Head, Nick Casertano and Glen Huszar. The incredible teamwork and communication that goes into getting these cars ready to race is key. Each role is so critical, from tires to bottom end and literally every inch of this car. Each man works so hard. I am extremely proud to be a part of the SealMaster Toyota team, and this is my main driving force for wanting to perform at my best. I have a ton more to learn and I am ready for the challenge ahead.
Troy Coughlin Jr. is the driver of the SealMaster/Toyota Top Fuel dragster for Kalitta Motorsports. He's a third-generation drag racer, the son of NHRA Pro Mod champion Troy Coughlin and grandson of JEGS Performance founder Jeg Coughlin Sr. Follow Troy on Facebook at Troy Coughlin Jr, on Twitter at @TroyCoughlinJr, and Instagram at @troycoughlinjr394.