"Life is made up, not of great sacrifices or duties, but of little things, in which smiles and kindness, and small obligations given habitually, are what preserve the heart and secure comfort." –Humphry Davy
This past week was full of amazing moments with my team that I will treasure forever. We always try to have new experiences at each race we attend, and we now have many memories of racing in Norwalk, Ohio.
We got things rolling for the Norwalk Summit Nationals visiting Menards in Sandusky, Ohio, where we did our third display of the year with our NGK Spark Plugs dragster for shoppers to see up close and offer free samples of Celsius drinks. It's always fun to meet new people and introduce them to the drag racing world with these displays. That night we hit the town and were reunited with other racers to celebrate the beginning of a new race.
My guys and I parked and got the pit area set up the next day, and of course made a stop at the ice cream stand. We were all in high spirits after our previous race, where we had both cars in the final round, driven by my sister Rachel and I. Both of our cars had top speeds and low ETs of the race in the 100-degree Tulsa heat, and we knew we could repeat those numbers with the cooler track conditions in Norwalk.
We had a few setbacks during qualifying on Friday and Saturday, and ended up losing our second session because of the never-ending showers. Our first session set us up as No. 3 with a 5.25-second pass, and we stayed there despite the fact that our second dragster, driven by Justin Ashley, didn't make the 16-car field. During our attempts to qualify, it rained multiple times on us, and once we had to return to the trailer without making a run. However, we finished out the second session, with another rain delay after we had just started the car, with a 5.28-second pass and stayed third.
Going into first round early Sunday morning rather than the usual Saturday evening timeslot was different but didn't set us back. We took out Jeff Veale in the opening round, followed by a single pass (Brandon Greco unfortunately hurt his motor in E1 and couldn't make the show), and defeated my rival Dan Page in the semifinals, all running within the mid-5.20s range.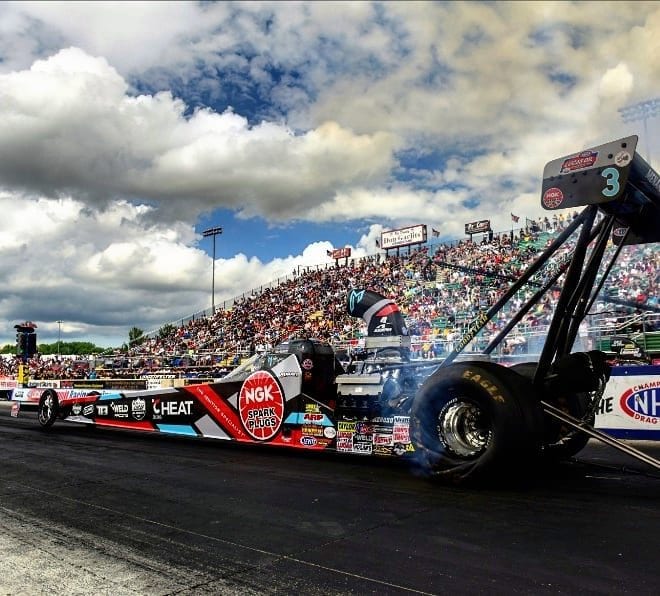 We had the best car all day, and didn't hurt any parts while running hard, which worked out in our favor with the 1-hour turnaround times. Going into the finals with lane choice was our saving grace against TJ Coughlin and the McPhillips team. I was slow getting out of the gate, and we almost lost on a holeshot because of it. For some reason my car slowed down on the track and we only ran a 5.32 at 277 mph (our worst run of the weekend), but I was lucky enough that we pulled ahead within the last 300 feet to get the win. I saw his yellow wing out of the corner of my eye going down the track, and I was screaming in my head to go faster; I did not want to lose after we have been doing so good, but then it disappeared after 1000 feet and I had just enough room to get around TJ and get the win by .001 second (approximately 6 inches!).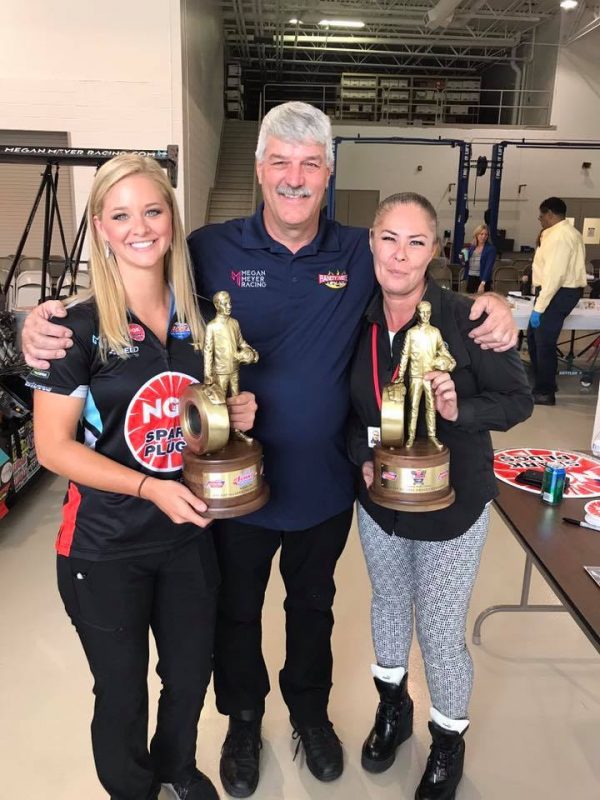 To top off the wonderful weekend, my cousin Dusty Meyer won his second National event in Top Sportsman this weekend. Racing has brought our family close, and my uncle Joe is the reason why my dad began drag racing in the 1970s. To have both second-generation drivers in the winner's circle is a full-circle moment for us and it is such a great feeling to share a win with family.
We carried our success to the west side of Detroit where the NGK headquarters are, and spent the day visiting with the employees and letting them get personal with the race car. The best moment of the day was presenting them with the original Wally from our win at Charlotte for the NGK 4-Wide Nationals.
The Randy Meyer Racing team's 50th NHRA win was one to never forget. We are on an uphill climb now after struggling a bit in the beginning, but there are still many races left in the season to determine points. So far, we have claimed four wins this season, and hope to double that amount come Pomona. This is my fourth NHRA National event win, and I am one step closer to my goal of becoming the winningest women in Top Alcohol Dragster (watch out, Ashley Force).
As I mentioned in my previous blog, I have a 4-week break coming up and have a lot planned to accomplish off the track this summer. Stay in touch and follow my lifestyle on my social and let me know what successes you've had in 2018 so far.
Megan Meyer is the driver of the NGK Spark Plugs/Meyer Truck Center/WELD Racing A/Fuel Dragster in the NHRA Lucas Oil Drag Racing Series. Follow Megan on Facebook, Twitter and Instagram.
This DRAG ILLUSTRATED Driver Blog is presented by WELD Racing. Follow WELD Racing on Facebook, Twitter and Instagram, and visit them online at www.WELDWheels.com.