"Of course I struggle, I just don't quit." – Unknown
This weekend was one of those weekends where you get that gut feeling that everything is going to go according to plan. I was going into this weekend with a new confidence in myself and my team; we had just won the race the weekend before with Justin, and things were finally turning around for us. I was so excited to see my NGK Spark Plugs family again and share all the excitement this weekend with them, and get to return to zMAX Dragway, where I held my first NHRA national event Wally in 2016.
We kicked off qualifying running great, and sealed the deal with a 5.16 pass at 283.73 mph (tied for my top speed) to take the top spot. I faced Krista Baldwin in first round (No. 16 qualifier broke and was unable to make the call) and kept the car running within the 5.20 range to keep lane choice in second round. After defeating Duane Shields and Troy Coughlin Jr. we faced Dan Page, the No. 2 qualifier, in the finals. Dan's car had been running great all weekend long, so we made a change in the motor to give it our all for our final pass and it paid off as we ran a 5.19 for the win!
This weekend was so unbelievable. The crew at NGK and zMAX were so nice and had multiple media opportunities set up for me. I had late nights, early mornings, lots of driving back and forth to the airport, getting supplies, signing autographs, doing TV interviews, stopping to talk to fans, and so many more duties this weekend than I typically have. It was a thrill, and hats off to the Top Fuel teams who have a similar schedule every race weekend, but I'm not sure I would have enough energy to keep up at that pace!
My team and I celebrated Sunday night with the NGK folks and Don O'Neal's team, who also won this weekend in Top Sportsman. It was the perfect evening to top off both sponsored teams winning. I am incredibly thankful for my team – I had the best group of guys with me this weekend to give me the fastest race car on race day. They are simply the best, and I got to share the winner's circle with my boyfriend, Adam. Adam has a three-race win streak with me now, and although he's a dirt bike racer, he might have to give it up to come to all of my races from now on!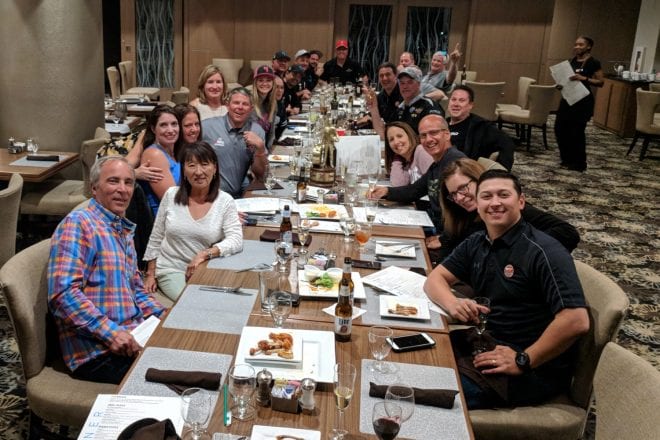 I am exhausted, but there is so much work to be done before we head to our next race in Atlanta this weekend. Top Alcohol has not ran at the Atlanta track in 10 years, so it will be an interesting weekend to see who comes out on top on Sunday. I know that we will do great no matter what, and I'm hoping for a second win so I can get closer to my goal of becoming the winningest woman in Top Alcohol Dragster.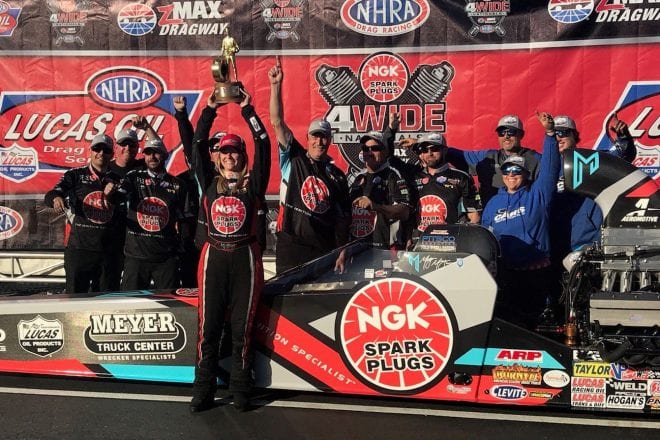 Megan Meyer is the driver of the NGK Spark Plugs/Meyer Truck Center/WELD Racing A/Fuel Dragster in the NHRA Lucas Oil Drag Racing Series. Follow Megan on Facebook, Twitter and Instagram.
This DRAG ILLUSTRATED Driver Blog is presented by WELD Racing. Follow WELD Racing on Facebook, Twitter and Instagram, and visit them online at www.WELDWheels.com.