"It's the possibility of having a dream come true that makes life interesting." – Paulo Coelho
Today is one of those days you dream of as a racer growing up; getting to debut a wrap with your title sponsor. I did not know I would grow up to be a graphic designer, but I was always creative with my paint schemes for my race cars and always wished for the day I would have a big sponsor to design for.
We went through a few different phases in the creative process, and eventually I had to hand over the design duties to Sean Cain of Blackbeard LTD, who you may have seen on Instagram. I met Sean at the PRI Show thanks to Alex Laughlin, and we immediately connected and he came up with this awesome layout. I loved how it incorporated my brand's blue and grey with NGK brand's red, black and white. These colors are also trending for 2018 and it was a perfect fit for our team.
In the past we decided it was best to only have a few associate sponsors for the season and we could pick our own look and decide when we would do displays and promotions. There's nothing wrong with that, but I knew we have the potential to host a major corporate sponsor. With the addition of Justin and Julie to our team, it has helped us grow our schedule to have two dragsters at each Top Alcohol Dragster national event and get the most coverage possible for the team. We are so excited that NGK jumped on board with the idea immediately, and other sponsors followed suit.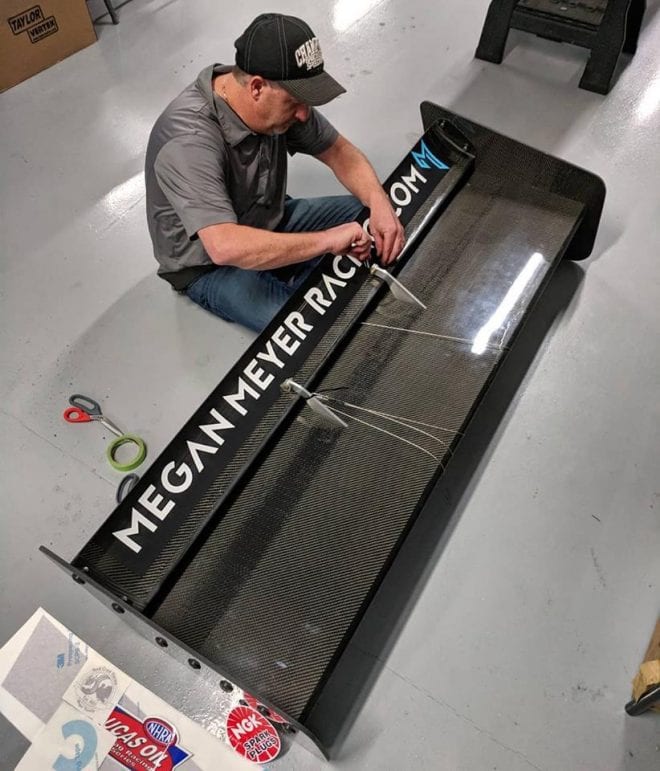 Visit my YouTube channel where I will be hosting a new series called "Top Alcohol Breakdown" where I breakdown the key components of Top Alcohol racing in NHRA and will conduct interviews with many people to give you guys the most information to become better educated with our class. The first video is how to apply a wrap to a one-piece carbon fiber body, and this was the perfect start to our video series. Our cars are unique as we are one of the few dragsters that run a one-piece body, compared to a multi-piece aluminum or carbon fiber body. We have four small buttons from Quik-Latch on each side that hold the entire thing on, and it is very simple to put it on/take it off between rounds.
Please give the video a thumbs up and comment some questions or suggestions you have that you would like to know more about A/Fuel racing!
Julie and I will be racing together, the only time this year, this weekend in Louisiana for the Nitro on the Bayou event. I'm very excited to return and defend my title at Belle Rose, and I am stoked to have some crawfish and even get the chance to go alligator hunting! Tune in to my Instagram and Facebook accounts for updates during the race weekend.
Megan Meyer is the driver of the NGK Spark Plugs/Meyer Truck Center/WELD Racing A/Fuel Dragster in the NHRA Lucas Oil Drag Racing Series. Follow Megan on Facebook, Twitter and Instagram.
This DRAG ILLUSTRATED Driver Blog is presented by WELD Racing. Follow WELD Racing on Facebook, Twitter and Instagram, and visit them online at www.WELDWheels.com.