"Alone we can do so little, together we can do so much." – Helen Keller
One thing you will find that makes every Sportsman driver stand out from the pros, is that they will say they want to be MORE than a driver, they want to LEARN the mechanical side of their vehicle. This is just one of the reasons why I love being a Sportsman driver – the more we know about how our race car operates, the more competitive we are, and being competitive is the core of being a racer in the Lucas Oil Drag Racing Series.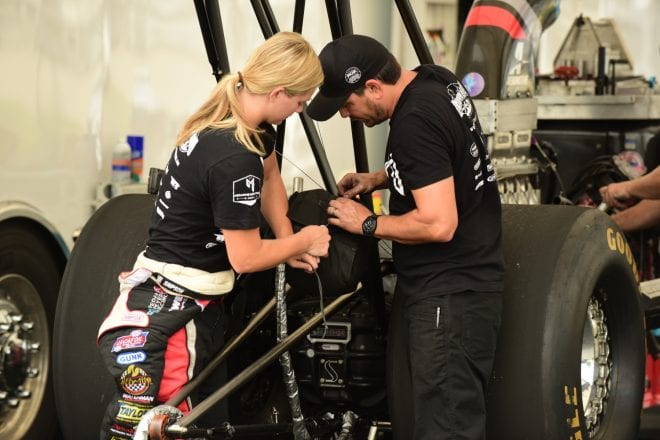 When you take a walk down the sportsman pits, you will find drivers working on their cars, whether that's changing the oil, putting in new spark plugs, fueling it up, or even helping change the rack or clutch, they are not afraid to get their hands dirty. They will make time for fans and spectators watching them work at their trailer and will be eager to answer any questions about their engine combination and how it makes them different than the guy parked next to them.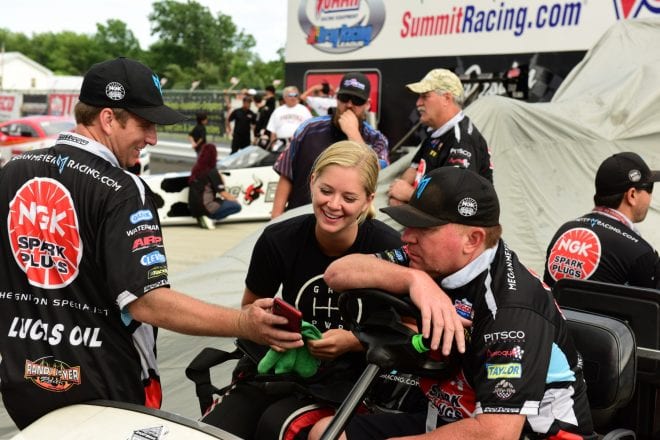 Whether they have no crew or a handful of help, they will always do what they can between rounds to contribute to the team to make their race car more consistent, or faster. And know that if you blow up a motor or have massive damage done, someone else from a different team, who you may or may not know, will be there to give a helping hand.
My dad began racing with his brother in the '70s but struggled a lot along the way. But they learned more about bracket racing from the other racers and then were able to rebuild motors and weld together chassis to help their friends out. Building relationships with your competitors is what brings us back to the race track every weekend. We are there to race, but we are also there to celebrate the winner afterwards.
Our way of giving back to the community of drag racing is allowing different people to step into the driver's seat of our cars and get the thrill of a lifetime. They learn how a nitro motor works and can contribute to the team with their manual labor to build a relationship with the crew. Our drivers come back every year because they love their new family, and even if their end goal is to be a Top Fuel driver, they recognize the camaraderie in the Sportsman series.
So, when I get asked why I don't want to move up to the pro ranks, there are many reasons, but the main reason is because I love my team, I love my class, and I love racing with my family. Why would I want to leave that for 15 minutes of fame?
Megan Meyer is the driver of the NGK Spark Plugs/Lucas Oil/WELD Racing A/Fuel Dragster in the NHRA Lucas Oil Drag Racing Series. Follow Megan on Facebook, Twitter and Instagram.
This DRAG ILLUSTRATED Driver Blog is presented by WELD Racing. Follow WELD Racing on Facebook, Twitter and Instagram, and visit them online at www.WELDWheels.com.