"Hard work is a choice, but giving up is not an option" – Coach Grace
As I closed out my speech with one of my favorite quotes from last year, my sister and I walked off stage. Little did we know we would be going right back up, with our entire team, for the Pro-Sportsman Crew of the Year Award. Last year, for the 2017 season, the Meyer family took home almost every special award of the night. This year, for the 2018 season, we went home again with two of the special awards, including the Pro-Sportsman Driver of the Year award, my third time receiving the honor since I started driving in the Top Alcohol Dragster class.
We were missing most of our team at the banquet, but it was still special to share it with my main guys who I've spent almost every day of the year last year with. Adrian and Danny are our two full-time crew guys who handle everything from loading and unloading, transporting the cars to my displays and the tracks, maintaining every detail on the cars between and during races, and upkeep of the race shop. As I mentioned in my speech, we competed in over 200 passes of racing last year, coming home with the win at eight races. They have put countless hours into making sure our two NGK cars are always the best in the field, and for that they definitely deserve to be the Crew of the Year.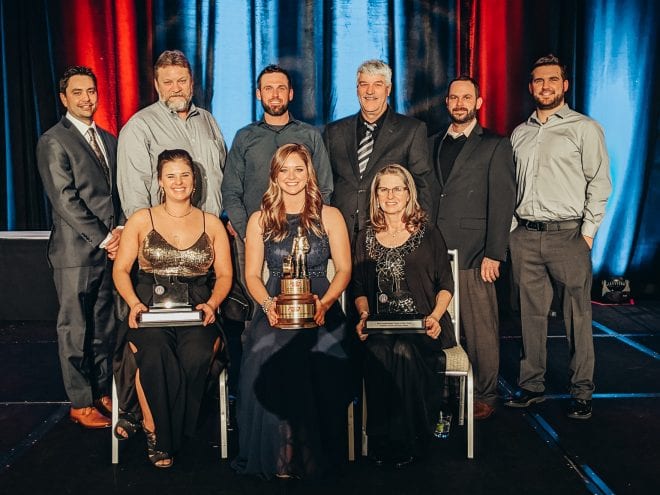 To recap my 2018 season, we had ups and downs as all teams do, but came out on top by only 11 points between us and second place. We kicked off the Lucas Oil Drag Racing Series Central Region in Belle Rose, Louisiana, which is one of my favorite tracks to visit. We clinched the top qualifier but fell short in the semis. We moved on to Gainesville for the "Baby Gators," where we struggled and with only two qualifying sessions we didn't make the field. This was my first DNQ and it still hurts to this day.
But, we gathered out notes, made some changes, and made it to the final round at the Dallas Regional event before we won the NGK Spark Plugs 4-Wide Nationals.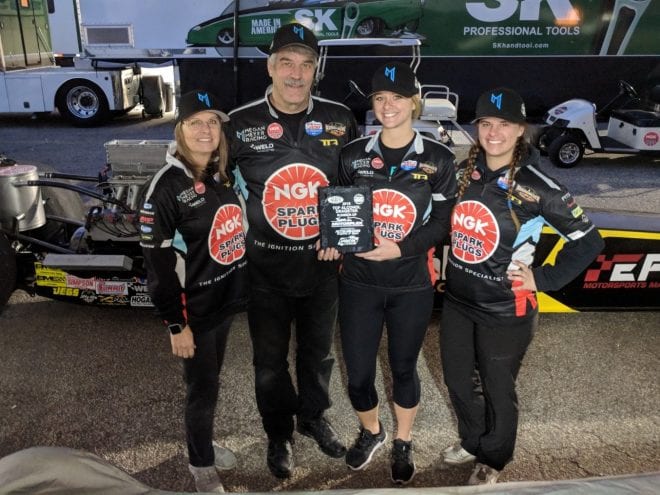 Tulsa was the next event for the Central Region, and as most of you know, we swept the points with Rachel and I qualifying No. 1 and 2 and getting the win and runner-up.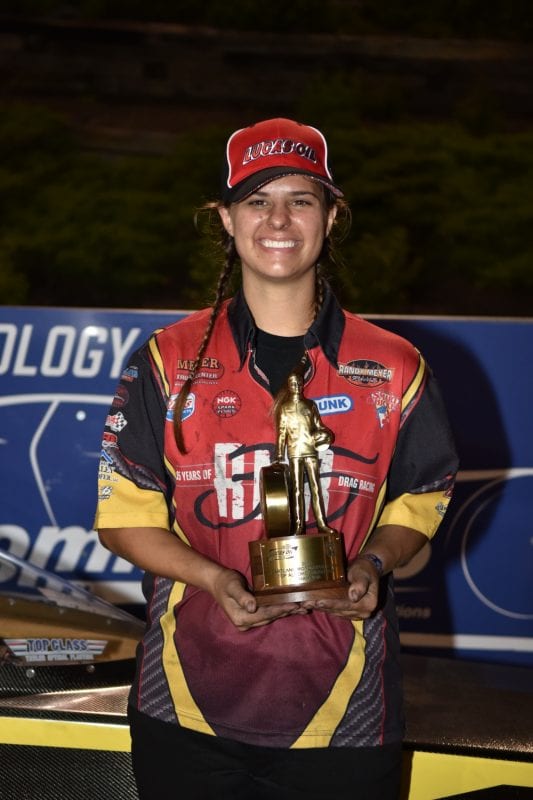 The following Regional race Rachel got her first NHRA win and jumped up to third in points. At this time Dean Dubbin and I were going back and forth between first and second and it was very close between the two of us. We had two regional races left to determine who would be the Champion.
We had a little bit of a bad streak between the Brainerd, Indy, and Reading National events, so we were a little nervous going into the second-to-last regional at Great Bend, Kansas. Our race was originally scheduled to be held at Earlville, but with over 20+ inches of rain it was canceled and moved to Great Bend, the home of the first NHRA National event. Before this year, we hadn't raced at Great Bend in almost 10 years, so we had no relevant data to go off of, which was crucial since the weather was crazy windy and cold. Because of that, we lost a qualifying session, but managed to make the field as the No. 5 qualifier.
I had to race Rachel again for first round, and I knew that if I lost this round I would lose the championship. I gave it my all and beat her by a few thousandths of a second, just enough to get the win and have a single in second round. In the final round, I had to race Dean, of course. The temperature dropped 10 degrees and it was almost time to cancel the race for the day, but we wanted to get it done and over with and head home. He got out in front, since he is a torque-converter car, and I went up in smoke. I thought to myself, we're done, after I let off the throttle. As I was coasting for a few seconds, I noticed Dean slowed down a lot and something told me to get back on the gas. I did and had just enough time to fly past him for the win. His blower belt was in pieces and it was my lucky day!
I wasn't yet sitting comfortable in first place, but we were out of races at this point. St. Louis was our last stop on the Regional tour, and I couldn't add any more points, only had to replace a semi-final finish. Again, the weather was not on our side and we struggled to get down the track. We struggled the least in qualifying and got low qualifier, but Rachel and I went out first round the next day. It was such a terrible way to end the season, and as we left the track we were watching the rest of the class on D3 TV as Dean got lucky in the semis and headed to the finals. Again, I thought we were going to lose the Championship, but as luck would have it, Dean had blower belt problems again, and Robin Samsel chased him down to get the win. With his runner-up, Dean was 11 points behind me and neither of us could go to any more races. We were the champs!! If he would have gotten the win that day, we wouldn't be able to say that.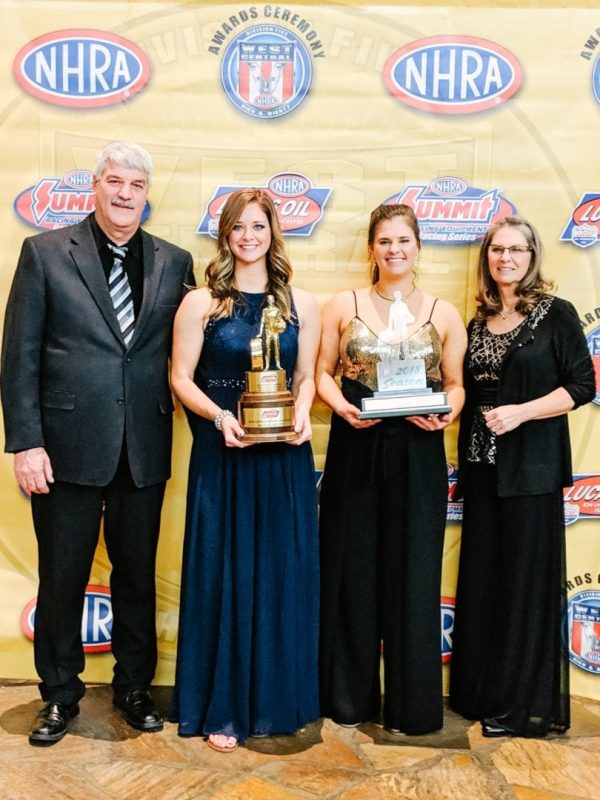 I am incredibly proud of my team for all that we've accomplished together this year. We hit some major milestones and have set the bar high for 2019. I hope to again come out on top of the Lucas Oil Regional series in 2019, as well as the National series.
Belle Rose is right around the corner, but first the team is headed to Pomona to let Julie and Matt make sure all of the changes we made in the offseason were a move in the right direction. Tune into the Randy Meyer Racing Team's Facebook and Instagram pages to see their results and visit our website for the 2019 schedule.
Megan Meyer is the driver of the NGK Spark Plugs/Meyer Truck Center/WELD Racing A/Fuel Dragster in the NHRA Lucas Oil Drag Racing Series. Follow Megan on Facebook, Twitter and Instagram.
This DRAG ILLUSTRATED Driver Blog is presented by WELD Racing. Follow WELD Racing on Facebook, Twitter and Instagram, and visit them online at www.WELDWheels.com.