"The road to success and the road to failure are almost exactly the same." – Colin R. Davis
Wrapping up the 2018 season is a bittersweet feeling for me. My third year of driving in the Top Alcohol Dragster class has been full of highs and lows, and although it is easy to dwell on the bad times, we have made big strides with our team this year, including 12 final-round appearances and seven wins.
I won my last race in Great Bend, Kansas, two weeks ago and it was such a good feeling going home with the win. I haven't been in the final round since winning the Norwalk Nationals in July, and I was starting to get down in the dumps about not going rounds. We haven't been to Great Bend in nearly 10 years but had to revisit the historic track for our rained-out regional race in Earlville, Iowa. My dad has won two races at Great Bend, so we knew that he would have a good handle on the track. What we didn't expect was to be racing in 50-degree weather with a 20-mph wind and mist all weekend. The conditions were miserable – it was way too soon to be racing in cold weather especially at the beginning of fall. But, we managed to pull it off and got the win, as well as the track speed and time records with a 5.27 ET at 278 mph.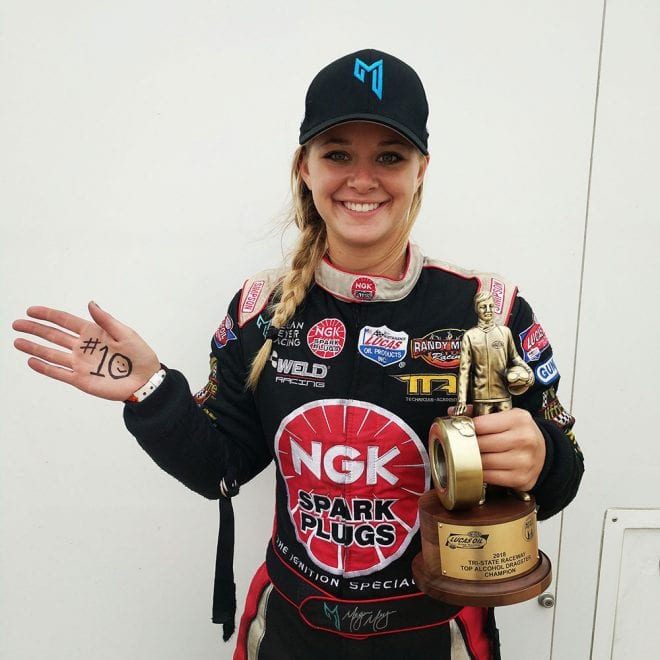 This race meant a lot to me for many reasons, but mostly because it is my 10th career win in TAD. Getting to the double digits was a goal for me this year, but you never know how soon or late that will come. As you all know, you're never guaranteed a win and it could take months or years just to get one. Last year was a record year for me and my team, so we have some big shoes to fill for this year. We've almost reached the same number of wins I had last year (5 total, I have 4 currently) and with my final two races, there's no reason why I shouldn't win both of them. Also, with this regional win I am now in first place for the Lucas Oil Drag Racing Series Central Region points and have one last race in St. Louis to defend my championship!
Going into Charlotte this weekend for the NHRA Carolina Nationals can be a lot of pressure for me if I let it. It's my last National event, so I have to do the best I can to gain points and solidify my position in the series for top 5. But if I go out early, I'm not sure how I will react. I think a part of me will be relieved that my season is over for the national series and I don't have to worry anymore about the championship, but I also will be upset if I don't get the win and represent my team and sponsors well.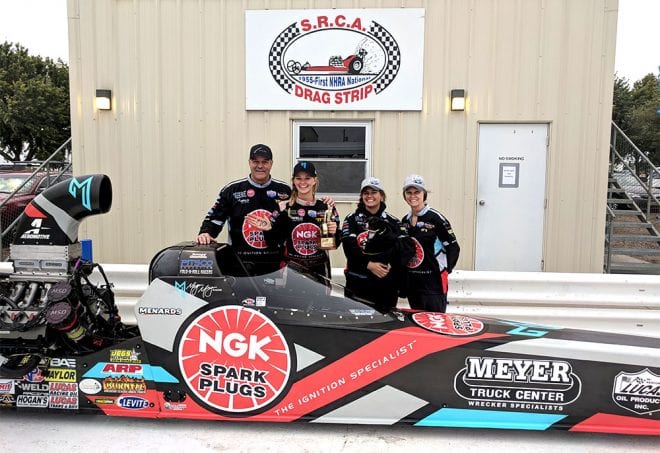 What is your typical reaction going into your last race of the year? Is the pressure different for you if you are chasing points? Comment below with your thoughts, and stay connected with me on my social to see how we do!
Megan Meyer is the driver of the NGK Spark Plugs/Meyer Truck Center/WELD Racing A/Fuel Dragster in the NHRA Lucas Oil Drag Racing Series. Follow Megan on Facebook, Twitter and Instagram.
This DRAG ILLUSTRATED Driver Blog is presented by WELD Racing. Follow WELD Racing on Facebook, Twitter and Instagram, and visit them online at www.WELDWheels.com.