Before I begin my journey into Super Comp racing and beyond, I want to share what I have learned in the process. To start off, I got my feet wet in racing when I jumped into a Jr. Dragster for the first time five years ago. I can't even explain how excited I was to start out, but I was being dramatic like always and was nervous. But excitement took over me and I manned up and got in the car. If it wasn't for my dad's encouragement with slight sarcasm, we would have been there all day. Even this 2018 season when I started out in a Super Pro dragster, I was slightly nervous, thankfully not as bad as my first time in a Jr. Dragster. Dad was there to tell me to toughen up and that this isn't my first rodeo. But when I stomped on that throttle the first time, I learned my very first lesson: trust dad.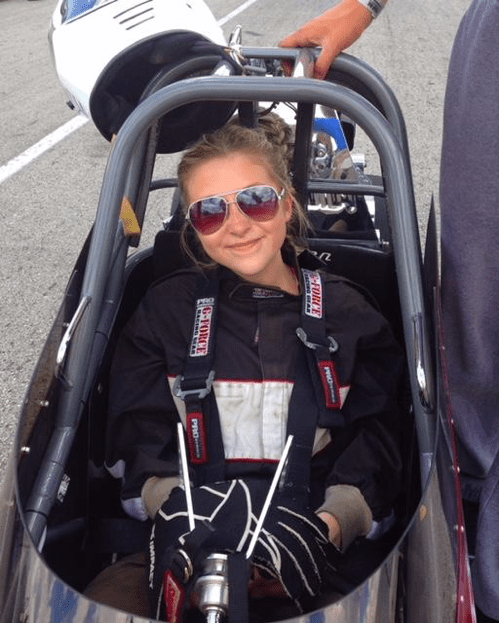 From there I could not wait to be back at the track and go fast again. Well, I should say as fast as a Jr. Dragster would let me go. My first year racing I had to share the car every other weekend with my younger brother, who is now serving our country in the Navy. But you're right, that was hard to watch my brother's turn for the weekend from the starting line, but alternating like that made me learn a lot more than I expected. Learning from his mistakes and his successes was really beneficial for both of us. Sometimes you have to let off that throttle for a second and look at what is in front of you.
Growing from there, I observed and observed what everyone was doing, what their car looked like, how they got into the car, how they got out and which hand they put the glove on first. And I started to learn that people had a routine, and when they keep at it they are more organized and focused on their racing. So from that, I developed my own routine and I soon realized that it makes all the difference in the world. I caught on to that pretty quick, and according to my dad and my brother, I have become "stupidstitious." But that is my thing and doing my thing is what I do best. So that is a piece of advice to you: If you have a thing and you don't want to change that thing, don't let anyone make you think you need to change that thing.
The Moser family helped me the following year with getting my own Jr. Dragster. I was honored to represent them throughout the rest of my Jr. Dragster career. In the Moser Engineering dragster I was able to clinch two Muncie Dragway track championships and a number of winnings I can't count on two hands. I'm proud to say I made some noise in my Jr. Dragster days, and I am very thankful to this day I was blessed with the opportunity to put on a fire suit and was able to finally convince my dad that I want to go fast.
Moving on to one of the most important lessons I have learned with racing and what I still think is the very most important part of racing today: sportsmanship. Wow, does that make the difference between a racer and a race car driver. I have seen it all, in person and on TV. And I have learned to get out of my car, shake the competitor's hand and professionally put my helmet back into my car. We have all been there when we are more than frustrated, like when you just gave that race back by .0003 or was just -.001 on the tree or even broke out by .001 for the fourth race in a row. Even if you are on the opposite side of that race, stay humble and tell them "good race." Sometimes you have to shake the bad stuff off, like when you are even called a cheater, just smile and wave.
I can go on and on about what I have learned so far in my career, in Jr. Dragsters or full-size cars, but here are a few other points I feel are important. Do not burn bridges, do not dwindle your appreciation for your people, get to know people that your people know, do not be afraid to set your goals on that very top shelf you can barely reach and take the words "you can't do it" as fuel to your fire.
I also want to share how excited I am to write these blogs and to have The University of Northwestern Ohio, the college I attend, to partner with me and Drag Illustrated to make these blogs happen. In my next blog, I will talk all about the school and what it has done for me so far!
Mayce McCreery is the driver of the Nye's Automotive/Moser Engineering Super Comp dragster. Follow Mayce on Twitter and Instagram.

This DRAG ILLUSTRATED Driver Blog is presented by the University of Northwestern Ohio. Located in Lima, Ohio, UNOH is known worldwide as a leader in the Automotive, Diesel, and High Performance industries, but also offers over 60 degree programs in Business, Health, Marketing, Information Technology, and many other fields of study. Follow UNOH on Facebook, Twitter, Instagram and YouTube.