In honor of one of my closest mentors passing away recently, I'd like to use today's blog to reflect on some of the best advise he's given to me, as well as the auction we are hosting as a tribute to the influence of technology education. Michael Neden was one of those guys who always had a project going on, and made it happen no matter the circumstances. He was a college professor at my school, Pittsburg State University in small-town Pittsburg, Kansas. Mr. Neden taught Technology and Engineering Education to students that are interested in getting a degree as a technology teacher, working with young people, and getting their hands dirty in the lab settings.
As you may know, my degree was in Graphic Design Management, which had nothing to do with the technology and education area. So we would have never met if it weren't for my racing career. Mr. Neden had a knack for creative thinking and putting two similar things together to make something wonderful, which is how we met. Mr. Neden saw in the local newspaper an article that was written about my sister and I racing at the local drag strip, and he invited me in for a chat. This meeting was about a job opportunity as the graphic designer for the department, but as we got to talking and as he learned about my dedication to drag racing, he decided it would be a great idea if we worked together to help promote my team and his department. Thus, we created the Great Gorilla Games event.
The Great Gorilla Games is a wonderful recruitment opportunity for the College of Technology to host over 40 different STEM (Science, Technology, Engineering, and Math) competitions that covered the different engineering and technical departments within the college. Only high school students were invited to this event, and it was a blast getting to watch them in action building things, testing out their structures, playing with robots and drones, drag racing their Co2 cars, and more. We were able to bring our Junior Dragster, Super Comp dragsters, and my Top Alcohol Dragster to the Gorilla Games and show kids what it's like to be in a race car.
During the past three years, I was the graphic designer for the event as well as the event coordinator, and I got to work with a wonderful group of guys and girls who are very talented. I spent most of my time working beside Mr. Neden in between my class schedule trying to decide the most effective way to host this big of an event. While working with Mr. Neden, I was brought into a new environment of classroom activities and an atmosphere based on fun learning. The technology and engineering department was very unique and has greatly changed my perspective. While working in the department and getting to sit in on the classes, I learned a lot about the aspects of working with young people and their mechanical ability.
With this new outlook on learning, I was able to use it to my advantage and really hone in on my abilities as a designer and manager. Some of my biggest strengths came from working the Great Gorilla Games, instead of my other classrooms, such as organization and time management, delegating tasks, working with a team, communicating with superiors, reaching out to explore new areas, and event planning. But the biggest skill and best advice I learned from Mr. Neden, was networking and coming up with unique ideas to work with big organizations and companies. Because of this new perspective, I have been able to build relationships with some of the biggest companies in the technology and engineering field, such as Pitsco Education (hence where my fold-n-roll cars came from!) and Rokenbok. These companies have opened my eyes to new possibilities of how I can integrate their products with drag racing and motorsports, and I am very thankful to have these connections because of Mr. Neden.
Mr. Neden's education on STEM learning and influence in the industry is what has pushed me to explore my creativity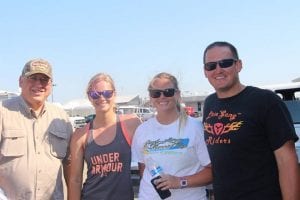 and combine it with a business sense to come up with some really cool ideas that focus on kids and racing. Mr. Neden was only able to attend a few of my races, but when he was there he was so fascinated and you could just tell he was thinking of new projects and ways we could use drag racing in the classroom.
I hope this article resonates with some racers and influences you to look outside the racing industry and look at what kids are doing in school. STEM education is the future of racing and we should all take a minute to give back and help out those who are promoting STEM in the classroom. We will be hosting a used parts auction on Ebay for 10 days to give back to the technology and engineering education department. The proceeds we will get from the auction of clutch disks, floaters, broken pistons and rods, and more will all go to the department for a scholarship opportunity as a tribute to Mr. Neden. Please check it out here and share it with your friends: www.ebay.com/usr/randymeyerracing
I plan on attending the ISEA event this fall with Pitsco Education where I will talk to k-12 grade teachers and show them classroom activities using the fold-n-roll racers, and I encourage you to check it out if you have any fun learning ideas.
Megan Meyer is the driver of the Racers Evolved/Randy Meyer Racing A/Fuel dragster in NHRA Lucas Oil Series Top Alcohol Dragster competition.