Time sure does fly when you're having fun! 2015 has been full of ups and downs, mostly ups though, which I am grateful for to have the opportunity to actually see my future unfold, and watch all the pieces fall in place for my dreams to come true.
As the season comes to a close, I can't help but reflect on my successes. First I was chosen from hundreds to represent Racepak Data with four other prosperous drivers to create the first #TeamRacepak. It has been an honor to represent such a top-notch company who has greatly impacted the sport of drag racing. Next, I got to sign off on my Top Alcohol Dragster license after the NHRA GatorNationals in Gainesville, Florida! A huge thank you to Dave Hirata who was there to support me and give me his approval.
Following that was having the opportunity to debut my Top Alcohol Dragster career this summer at the St. Louis and Topeka Lucas Oil Regional events, where I exceeded my expectations and walked away with a runner-up and semi-final finish! I am so blessed to have such a proven successful mentor and driver coach as my dad, I couldn't ask for anything better.
With that said, I would like to announce that I am beyond excited to compete in my first full season of the NHRA Top Alcohol Dragster class in 2016. We have some great companies backing up the Randy Meyer Racing Team, and I have been working hard to make our team stand out from the rest with my education at Pittsburg State University in the Graphics and Imaging Technology Department. I have learned so much about graphic design, digital media, web and mobile interactivity, and I will be introducing something new to drag racing – augmented reality! I have been working hard behind the scenes to grow our team's media exposure and I believe the new elements we will bring to the field in 2016 will make us one of the most interactive teams in the sport, on and off the track.
To go along with that, one of the things we will be featuring, which I am so excited to make available to the public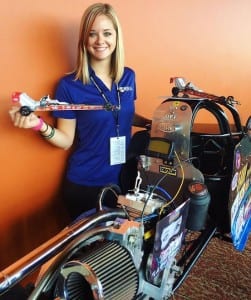 because you guys have been asking for it, is a "Fold and Roll Dragster". We are working with Pitsco to bring together a kit to have available for kids and spectators to have something to do while hanging out in the pit areas. I recently was invited to the ISEA (International STEM Educators Association) Conference to be a guest speaker to bring light to the importance of STEM (science, technology, engineering, and math) in drag racing, and how it's vital that kids learn these topics while in school to help them in any industry. I had over 40 K-12 teachers participate in my presentation where we got to cut out and construct the "Fold and Roll Dragsters" and even got to race them on a track, before figuring out scaled size, speed, and distance.
I have had an incredible 2015 season thus far, but it's not over yet. Rachel and I still have one more bracket race on our schedule before we conclude our season, and cheer on the rest of the Randy Meyer Racing Team at Vegas and Pomona. I will be attending the SEMA Show for the first time this year, and shortly after that I will be walking across the stage to receive my degree from PSU! Like I said before, time sure does fly by when you're having fun, and we've only just begun. Please stay connected with us via social media, and I would love to hear what ideas you guys have! I look forward to meeting all of you at the drag races soon.