Looking back at the successful year that we had, it was very heartbreaking for all of us at Randy Meyer Racing to end our season by not qualifying for our last race of the year. Dallas was one of the races that I really wanted to win, and I knew that we had the race car that could compete in the quickest field of Top Alcohol Dragster, but we just could not repeat the same numbers as earlier this year. We believe that we have lost power due to a number of things that we cannot control throughout the year. These race cars go through tremendous tire smoke and shake that can wear out parts quickly, and forcing them to constantly run in the 5.20's can do more harm than good. I think our tires, clutch, motors, and the car have all experienced a lot this year, and it's time that we refresh everything.
It was extremely emotional for me to get in the car for the second and final qualifying pass at Texas Motorplex.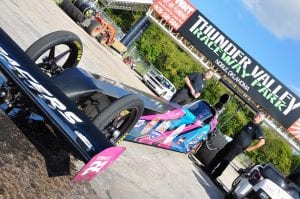 Although we changed clutches and head gaskets between runs, I knew that something was off with the car because of how it reacted in Q1. I was trying my best to stay calm and hold back the tears in the staging lanes. I was pissed and upset when the car smoked the tires in Q2, that as soon as I hoped out of the cockpit tears were rolling down my face and I couldn't stop it. All of the Safety Safari and other racers on the top end came over to cheer me up. Two people that really made my weekend were Norm Grimes and Sean Bellemeur; they gave me great advice and I'm thankful for all of the support from each and every racer and crew guy in our pits.
I am extremely happy for Bradley Thompson getting his first NHRA National Event win at Dallas, as well as Sean getting his second Dallas win. The Thompson and Conway families are a great group of guys and I couldn't have thought of a more deserving team to get the Wally. I grew up racing Junior Dragster with Bradley, and we always talked about us racing together in our father's A/Fuel Dragsters, and it's so great to see those visions come true. It truly makes my heart full seeing racers that I grew up with accomplishing great things. All of my disappointment and heartbreak from that weekend disappeared when I saw Bradley and Sean turn on their win lights in the finals.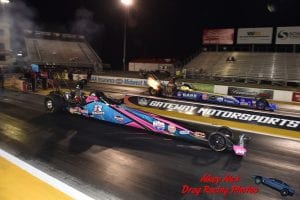 Now that Dallas is in the past, and I've had time to focus on next year, I am grateful that I had to go through those struggles. Being at the race track, but not being allowed to be in the car and on the track, reminds me of where I came from and how much I've wanted to be an accomplished Top Alcohol Dragster driver. I always say that I will not think about Top Fuel racing until I check off all of my goals, and I know that I will remain in the A/Fuel ranks for a while. The Top Alcohol guys are some of the closest family I have, and I wouldn't trade them for the world.
I am very hungry for another win, and I was a little disappointed that I made it to six final rounds this year but only came out on top once. I have an amazing and talented group of guys that work with us all year long, and with new sponsorship coming next year, as well as my sister coming on board as a full-time driver, we will be stronger than ever.
Megan Meyer is the driver of the Racers Evolved/Randy Meyer Racing A/Fuel dragster in NHRA Lucas Oil Series Top Alcohol Dragster competition.