Five hundred and fifty-two days. That's how long it had been since I had last dropped the hammer in our Team Racepak/Redhorse Performance blown Hemi-powered '63 split-window Corvette. Now armed with that knowledge, you can understand my apprehension as I found myself strapped into the driver's seat at Milan Dragway just outside of Detroit. The initial burnout performed, wheelie bar set, top bulb lit. I closed my eyes and took a deep breath, rolled in and lit the bottom bulb, engaged the transbrake…and sat there.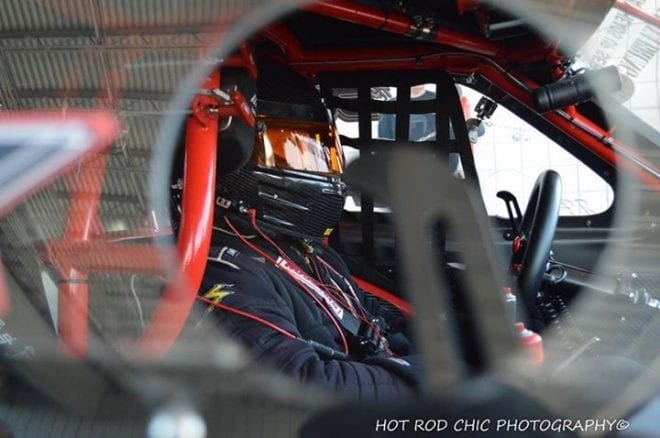 I've said it before and I'll repeat it again: It's absolutely incredible how many thoughts can rush through your mind in such a short period of time. "Did I torque those lug nuts? Did I properly check the transmission fluid level in the Lencodrive? Is it going to shake the tires immediately? If it leaves the starting line smoothly, how far down track should I take it?" All of these questions would be answered as I hammered down, released the transbrake, and found myself ripping through the gears on a perfectly straight pass and throwing the 'chutes at the eighth-mile clocks a little over four seconds later. I truly believe everyone who was at the track that Thursday evening in early October could hear me as I let out a scream of joy while coasting through the shutdown. Five hundred and fifty-two days later, we did it.
Before I tell you about our first actual race outing the following weekend (spoiler alert: we won!) and our trip to the PDRA Brian Olson Memorial World Finals the weekend after, I'd like to fill you in on some happenings during those previously mentioned five hundred and fifty-two days.
Starting in mid-January earlier this year, I attended the Mickey Thompson tire testing session at Orlando Speed World with "The Rodfather" Marc Caruso and family who campaign their supercharged Mike Janis-powered 2014 Camaro in the PDRA Pro Boost category. Throughout these couple days of testing I was given the duty of performing the initial shakedown passes on the new blown alcohol Top Dragster belonging to Marc's young daughter, Camrie. I was asked to work out any issues before she hopped in the seat of her new car that is much quicker than she was accustomed to.
Testing went smoothly with the dragster and with Marc's Camaro, so we loaded up and headed down the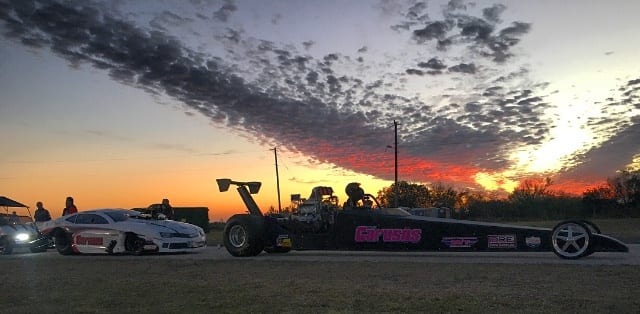 road to attend the 13th annual running of the US Street Nationals at nearby Bradenton Motorsports Park. With a few bugs sorted out and the car performing well, we were able to qualify the dragster in the No. 2 spot in the Open Outlaw category where I went on to record a runner-up finish and a best pass of 4.21 seconds at 172 mph, while Marc qualified No. 7 in the incredibly competitive Outlaw Pro Mod class and made it to the semifinals before losing a close race to eventual winner Ty Tutterow. Camrie has since gone on to run as quick as 3.87 at 189 mph in her dragster and has done a great job behind the wheel this season.
My next opportunity to make some passes down the racetrack came during the first weekend of March at the PDRA season-opening Southern Extreme Nationals down at South Georgia Motorsports Park. This time I was behind the wheel of another Caruso family dragster, a 4.6-second, eighth-mile Bracket Bash machine campaigned for the previous few seasons by Camrie. Although the on-track success that weekend was quite limited, I had a great time as always and immediately felt very comfortable in the car. So comfortable in fact, that a few months later we decided to purchase the car to provide myself more seat time while our Pro Mod Corvette was nearing completion. Throughout the course of the summer we took the dragster out several times to local tracks Great Lakes Dragaway and Byron Dragway to do some bracket racing, pow-wowed with our Division 3 friends during the NHRA national event at nearby Route 66 Raceway in the Top Dragster category, and even got to race with our PDRA friends again when the tour came to Lucas Oil Raceway in Indianapolis during the month of July.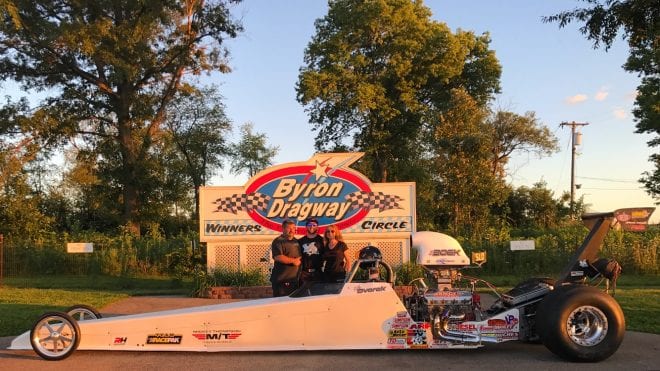 Still over 365 days removed from when we last raced out of our own motorhome and trailer, it was comforting to get back into the rhythm and inner workings of a typical race weekend. Things like the preparation and maintenance beforehand, loading and unloading of the trailer, setting up the weather station and other necessities of the pit area, the first-round jitters, falling asleep to the gentle (and sometimes in the middle of the night, erratic) hum of your own generator; all things that don't typically come to mind when you think about how much you miss going racing, but after doing it for the majority of your young life so far – you learn to live for it. Round wins are a nice part of racing too, something we were able to acquire one or two of more often than not each time out with the dragster. We managed one final-round appearance, along with many, many humbling .00-second losses.
While we're on the topic of wins and losses, the first actual race entered with our Pro Mod Corvette after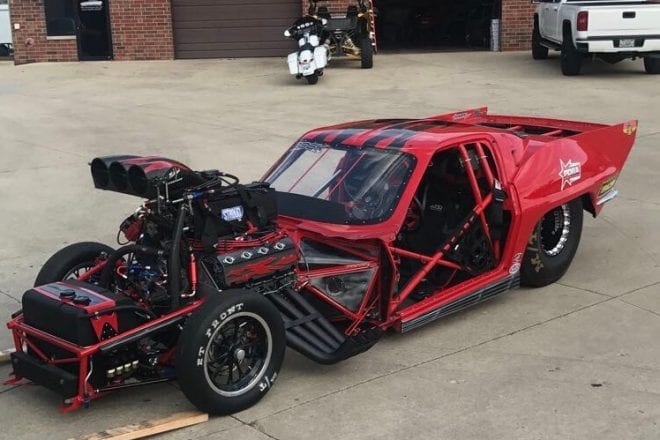 sitting on the sidelines for 552 days resulted in a No. 1 qualifier and the win! Who said a chilly evening on Friday the 13th  in October had to come with bad luck? Back at Milan Dragway just one week after our initial shakedown, the time had come to enter our first heads-up event of the season. We came out strong with a 4.11 at 180 mph pass on our first qualifier in the "Run What Ya Brung" category, a pass that was good enough for the preliminary No. 1 qualifier position in the class. In the second qualifying session, we lowered our quickest elapsed time to a 4.10 at 181 mph, an ET that we later matched during the semifinal round of eliminations and would stand as the quickest pass down Milan Dragway by any vehicle in attendance that day.
We set out that Friday the 13th with the intentions of making consistently straight passes, gathering valuable Racepak data, and not hurting any parts in our incredibly volatile 9,000+ rpm supercharged Brad Anderson Hemi. Winning a race was initially nowhere near our minds when we woke up that morning, but through diligent preparation and much-appreciated wisdom from friends who have been rolling the dice for much longer than we have, we were able to achieve all of our goals and then some, to say the least.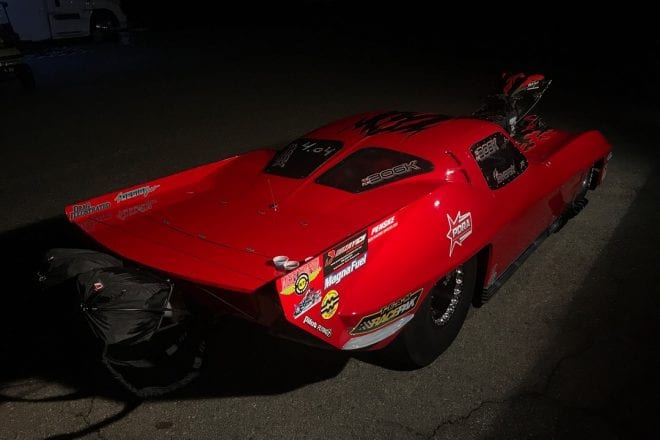 Leaving Milan on a high note and with a nice cash reward in our pockets, it was time to head home and service many aspects of the car. Fortunately, everything checked out in great health (which told me it was time to start getting jiggy with it). After a few maintenance-filled days of teardown and reassembly we hit the road to Virginia Motorsports Park for the final stop on the 2017 PDRA tour. Our goal for the 3rd annual PDRA Brian Olson Memorial World Finals was simple: make a strong enough pass to qualify for the MagnaFuel Elite 16 Top Sportsman category and try our best not to mangle any parts in the process. With an incredible 107 cars entered into the Top Sportsman class that weekend, we certainly had our work cut out for us. Hours spent analyzing our data collected from the two weekends prior coupled with some sound tuning advice from minds much more intelligent than me, we managed to secure the No. 13 qualifying position with a 4.03 at 184 mph pass and the opportunity to race with the nation's 16 baddest drivers in Top Sportsman.
Getting suited up in the staging lanes for the opening round of eliminations was quite a surreal experience, a moment of validation that I will not soon forget. Hearing the names of the drivers currently on the track being called out sent tingles down my spine as I strapped into the car and slid my helmet on. Drivers that I have read about and seen in magazines, drivers that made a name for themselves in this sport well before I was even born, drivers that I have and still look up to as heroes. There we were, about to do the dance with the best of them. Unfortunately for us, the dance I desired to do was a tad too saucy for the current track conditions in the heat of the day, resulting in an unwanted spinning of the tires immediately off of the starting line and was the conclusion of our race weekend. A weekend that, in retrospect, didn't come with any round wins but surely didn't fall short in goals achieved, knowledge gained, and memories made.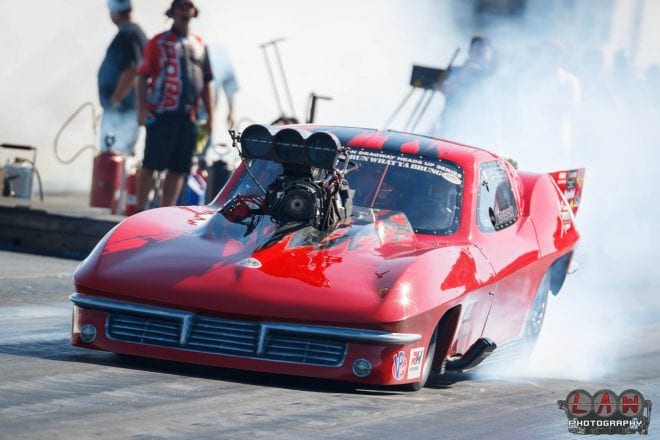 I'd like to conclude this Driver Blog entry with huge congratulations to our Chicagoland homies, Mike Recchia Sr. and team, on taking home the championship in the PDRA Pro Extreme category in an intense battle that came down to just TWO points after the final round of the season.
To Wes Buck and the entire team at Drag Illustrated for hosting an incredibly successful "World Series of Pro Mod" event on the mountain at Bandimere Speedway back in August; it was one hell of an event to witness.
Most recently, another huge congratulations to John and Camp Stanley and team for breaking the supercharged Pro Mod quarter-mile speed record with a 266.74-mph blast down The Strip at Las Vegas Motor Speedway during the 13th annual running of the Street Car Super Nationals. It was an honor to be a small part of a badass, record-breaking team.
Lastly, I'd like to thank all of you who have read to the end of this lengthy blog entry, all of you that I have pestered with tuning-related questions over the years, and especially all of you that I have shared a laugh with. I wouldn't want to do it without you.
Kyle Dvorak is the driver of the Team Racepak/RedHorse Performance '63 Corvette in Top Sportsman and Pro Modified competition. Photographs by Katey Knight, Axle Weiss and John Law.