Two weeks ago we flew into Denver to test before the race at Bandimere Speedway. Things went pretty well but it was hot and the track was 140 degrees. The starting line there has coolers under the track surface but they don't usually turn them on until race weekend. We have struggled all year on a hot track but we're finally getting all of our stars to align. We ran a best E.T. of 6.98 at the test with a test motor that's a little down on power compared to the race motor. Just the fact alone that I could let the clutch out on a track that hot and the car actually go down it gave me a lot of confidence for the race the following weekend. We made four very consistent passes and hopped back on the airplane for Texas where I live.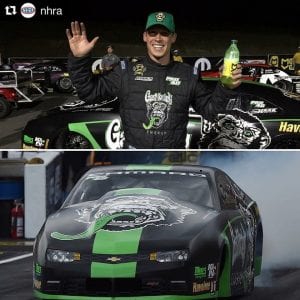 After having a nice weekend off, I was more than ready to be back in the car. We fought some storms in Denver on Friday during qualifying but managed to squeeze in Q, where we were the first car to run in the sixes with the new EFI on the mountain. Our 6.990 was an impressive pass considering the conditions of the air and track but I certainly didn't expect that to hold the number one spot through all of Q1. We were ecstatic; just speechless and overwhelmed. The fans loved it just as much as we did too. It rained on and off again Friday night and we didn't know if we'd get to make our Q2 run, which I was okay with considering I'd get to go to bed that night still the number one qualifier. However, the rain stopped and the air got really good. I knew we needed to perform well again because everyone would run faster. I watched several of the cars ahead of me put down faster times than my 6.990 so I had my fingers crossed that we could do it too. After Q2 we lost two positions and the night ended with Erica (Enders) in first, Drew at second, and we were third.
We spent all day Saturday looking at our data from the previous runs, watching the weather and trying to predict where the air would be to get an idea if we could steal back the number one spot. The third qualifying session was hot and humid and when we pulled up to the staging lanes, I knew we couldn't run faster than we did already. Our goal was just to run with the other fast cars and hope that we'd have good track and weather conditions for the last pass in Q4. No one did anything impressive in Q3 or moved around on the qualifying ladder much.
It rained on and off again all evening and we were worried we wouldn't get a shot at Q4. NHRA did everything they could to keep the track dry with the blowers and worked nonstop to keep us going. The rain finally stopped and they called us to the lanes.
Alright, Q4, here it is; the weather is good, it's nighttime and the track is glowing from the lights. The stands are FULL. I was set to be the last pair of cars down the track, alongside the current number one qualifier, Erica Enders. Look, I think a lot about Erica – she's an awesome driver and I've been a fan of hers for years, but at that very moment, I wanted to outrun her more than ever before. I wanted our guys to get to wear that green number one qualifier hat. I had it all played out in my mind. As the other cars were going down the track ahead of me, I was seeing my win light come on. I was seeing the scoreboard show up with the fastest pass of qualifying and hearing the announcer yell out to the crowd, "Alex Laughlin GOES. TO. THE. TOP!!!" It was all so vivid. It sounds crazy too. But by the time I was set to run I was sitting sixth. The other cars had been running really good in the night air.
I fired up the car and pulled into the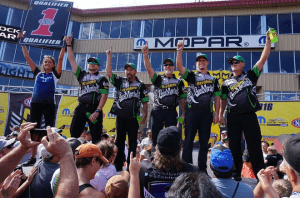 water box. As I started my burnout and shifted to high gear at 8,000 rpm through the lights, I told myself this is the good lane and this my chance. I pulled up into the beams and staged beside Erica, the tree flashed and I popped my foot off the clutch and the car took off like it would in perfect air at sea level. I never saw any red paint beside me (the color of Erica's car) and my win light came on. Hank, my crew chief, told me we took the pole with a 6.926 at 199mph (which corrected is the fastest pass a Pro Stock car has made with EFI) and I couldn't even believe it. It took every ounce of my own strength to not bust into tears before they put that FOX camera in my face in front of thousands of fans. We celebrated amongst ourselves back at the trailer with a ton of high-fives, hugs, screams, and acting like kids. I was thrilled to be able to have our team come out on stage at the driver intros Sunday morning with their green hats on and see the excitement it brought over the fans. My whole goal setup seemed to be coming together like I've dreamed. I wanted to qualify for a race first, then win a round, next qualify number one, then win a race; all in that order. We have maintained that dream so far with such an incredible and confidence-boosting weekend in Denver. It was a feeling of accomplishment like we've never felt before.
Late last night we flew into Sonoma, California, where I raced my first Pro Stock race exactly one year ago. I don't have the same sickness in my stomach I had last year since I have well over 100 passes in the car now, but I'm certainly anxious to see how it goes. I'll get to talk to the fans that watched us progress over the last year, hopefully qualify and race well, and maybe have a glass of wine; I mean, we ARE in WINE COUNTRY.
Alex Laughlin is the driver of the Gas Monkey Energy Camaro in the NHRA Mello Yello Series Pro Stock class.