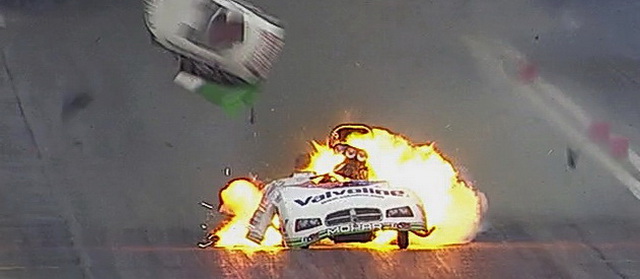 Funny Car points leader Jack Beckman went for a wild, fiery ride Nov. 8, in the opening round of qualifying for the Automobile Club of Southern California NHRA Finals at historic Auto Club Raceway in Pomona, California.
Fortunately, the 46-year-old driver was unhurt by the massive engine explosion and did a masterful job of getting the car stopped safely on the track, but it was Beckman's demeanor upon climbing from the wreckage that really impressed us. That's one cool cat. (Click "Read More" for video)
[media url="http://www.youtube.com/watch?v=nYuECwC48A8″]
Running side-by-side in Thursday's lone qualifying round, Don Schumacher Racing teammates Beckman and Ron Capps ended Funny Car qualifying in spectacular fashion.
Beckman, who leads Capps by four points in the sixth and final round of the Countdown playoffs, had his qualifying run end with the fiberglass body on his Valvoline Dodge Charger blowing off after an explosion just as he crossed the 1,000-foot finish line.
Beckman still qualified fifth with a 4.117 at 273.00 mph, but Capps lost traction in the NAPA Auto Parts Dodge Charger and was the first nonqualifier.
"I've never had that happen before, and I'm not going to sign up for it again," Beckman said later. "I had just let go of the wheel to reach for the parachute, and all of a sudden, there was no body on the car."
(Video courtesy NHRA/YouTube)