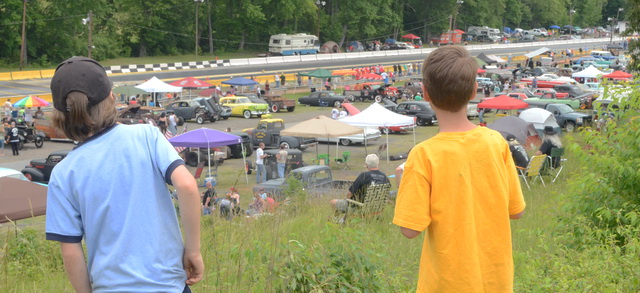 By Ian Tocher
This summer, I spent a few days with my wife and eight-year-old son Robert, visiting with her sister and family near Temple, Texas, a couple of hours northwest of Houston. Now, I know you're supposed to put your work-a-day world on hold while on vacation, but I just couldn't resist the opportunity for a Friday-night excursion to the test-n-tune session at Little River Dragway, one of the oldest continuously operating strips in the country.
Less than 10 miles south of Temple, Little River Dragway sits hard by State Hwy. 95 with the river running not far behind the burnout box and large, mature trees lining both sides of the track, so close they practically form a tunnel-like canopy at various points down the quarter-mile strip.
Our trackside party consisted of me and Robert, my brother-in law Don and his 17-year-old son Sam, who arrived separately with a friend from Houston. I immediately tried talking Sam into making a few laps in his F-150, but it was Don's GMC Denali pick-up that ended up as our "race car" for the evening.
Sam made a half dozen passes, all at around 15.30 at 90 mph, which I thought for a big, heavy, luxury truck like the Denali really wasn't too shabby. It certainly wasn't the slowest vehicle there. The real value, though, came in seeing Sam's face light up after his first pass and his growing interest as I explained to the best of my ability what all the numbers on his time slips meant and how they could be used to compare runs.
Of course Don and I had to take a turn behind the wheel, too, and while my manual-shift experiment yielded a last-place 15.53 at 91 mph (and don't even ask about the reaction time!), Don was the big winner of the night with his 15.28 at 92 showing the way. Sam and I simply attributed his success to home-court advantage.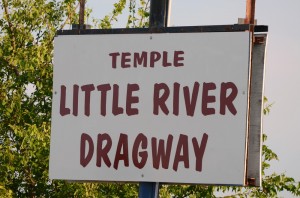 Now, I don't expect Sam to become the next John Force (who has raced at Little River in the past, by the way), but hopefully enough of a seed has been planted that he may actually give this drag racing thing a try again in the future. What really intrigued me, though, was witnessing someone's first time on the track. I thought about the practically countless racers I've asked about their first experience in the sport and of how many started exactly as Sam had with a few passes in a bone-stock street car or truck.
The thing is, it's important to expose new people to the sport if it's to remain healthy and hopefully even grow. Where those newcomers come from, though, is the million-dollar question, as I believe car culture as a whole is not nearly as strong as it once was and drag racing in particular has taken a major hit in mainstream popularity. That's not to say there are no new gearheads in our future; just that where there once may have been dozens or even hundreds enrolled at any given high school or college, now there may be only a handful of committed car lovers with a few more showing fringe interest at best.
The lack of a youth movement extends beyond the cockpit, too. Notwithstanding the NHRA's claim it has data that shows the average age of an NHRA fan is third youngest among U.S. pro sports—behind only the National Hockey League and National Basketball Association—popular perception suggests otherwise.
Now, I haven't have the benefit of seeing NHRA's data, as to my knowledge the Scarborough Research survey it's based on has not been widely distributed, but my own empirical evidence ("optical data" in NHRA speak) paints a different picture. When I look at an NHRA national-event crowd I see a generally older fan, say at least 40, but often much older, especially among the diehards. Absolutely, there are some younger people, too, maybe a dad on a day out with his kids or a few of those dying-breed gearheads I mentioned, but not nearly enough to convince me or any (as in not one) other people I've spoken with about this—including, significantly, NHRA officials—that the series doesn't have a problem attracting a younger crowd.
What I don't see at an NHRA event are the practically countless groups of 20- and 30-somethings camping out for the weekend and attending a major race together like I did on a recent visit to Bristol, Tennessee, for the NASCAR race; I don't see the 70,000-plus racing patrons under 30-years old packed into the Georgia Dome like I do when the Supercross series visits Atlanta each year; I don't even see the same generally more youthful crowd that the ADRL attracts.
And to be honest, I don't understand why. To me, NHRA drag racing—nitro racing in particular—is the original extreme sport. It's loud, it's fast, it's daring and it's dangerous, but most of all, it's spectacular. How could it not be? Zero to 320 mph in under four seconds over the length of about three football fields with flames licking the night air and thunder from the pipes that literally rattles your chest—that's spectacular!
Perhaps part of the problem, though, is that the sport's biggest star is a 63-year-old former truck driver. And that's no disrespect meant toward John Force, who I firmly believe is one of the greatest American racing icons ever, ranking among the likes of Foyt, Petty and Andretti. But you just can't expect Force to appeal to what's left of today's youthful motorsports audience the way he does to veterans of the grandstands.
And very much to his credit, Force was among the first to recognize this several years back when creating his Next Generation program to carry the John Force Racing banner—and NHRA's—into the future. He knew a youth movement was in order and took steps to put younger drivers in his cars to share not only the racing but the publicity load.
It's a never-ending process already for NASCAR, where Dale Earnhardt Sr. took over from Richard Petty as the sport's biggest star and Jeff Gordon took over from Earnhardt, Jimmie Johnson after Gordon and so on down the line. NASCAR is constantly grooming its next stars in its support series and eventually on its main stage in the Cup series.
Now, Force's daughters, Ashley, Courtney and next year, Brittany, along with Robert Hight and Mike Neff, have all performed admirably both on and off the track, but I have to wonder what would happen if the likes of a Travis Pastrana, a Shawn White or a Rob Dyrdek could be enticed over to NHRA, bringing their over-the top personalities and legions of loyal followers with them. Of course, they may have no interest, but I suspect any one of those guys—or others like them from the "extreme sports" world—would be capable of learning to drag race and thriving if some forward-thinking team owner just cut them loose and told them to do their thing and let him deal with the NHRA. Given the opportunity and the right circumstances, I believe they could represent a real, measurable game changer for the series.
Regardless of the NHRA's contention that all is well as far as demographics go, it could always get better—it needs to get better—and the powers that be in Glendora should be actively following NASCAR's and Force's leads and aggressively developing and promoting new stars for the future.
Maybe then, Sam will have someone inspiring him to watch NHRA drag racing in the years to come and perhaps even getting out there and trying it again for himself.