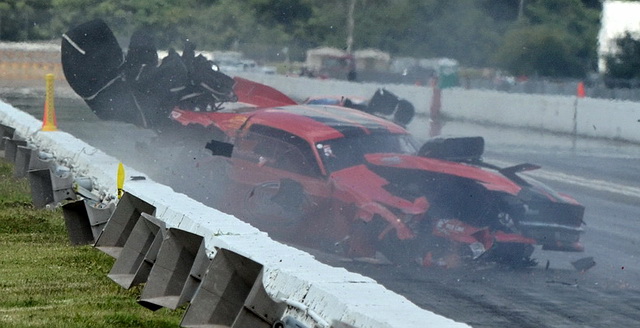 When Todd Tutterow crashed his screw-blown '67 Mustang during Pro Extreme qualifying early this month at Gateway Motorsports Park, it was immediately obvious his attendance at this weekend's ADRL event in Petersburg, Virginia, would be in jeopardy. The battered Stang left the track destined for repairs at chassis builder Larry Jeffers' shop in House Springs, Missouri, while the Tutterow team headed back home to regroup in Yadkinsville, North Carolina.
Enter Harry Hruska, founder and owner of Precision Turbo and Engine, with an unlikely solution to Tutterow's trouble as he offered up the former Dennis Radford-owned Pro Nitrous '70 Duster—but with an experimental twin-turbocharged 526 c.i. powerplant beneath the hood.
Two weekends ago, "King Tutt" and crew took the Duster to Farmington Dragway and ripped off a 3.88 run at a whopping 216.80 mph, so the former Pro Extreme world champion (2009) felt confident he could at least remain competitive in the U.S. Drags V in Virginia. However, while reassembling the car in preparation for its trek up I-85 to the track, Tutterow discovered a game-changing problem.
"We had just finished freshening the motor, the transmission, the converter, and all that stuff was put back in and we were fixin' to put the (interior) tinwork back in it and we found a crack in the chassis. It's right at a bracket on the lower frame rail behind the driver," Tutterow said. "That's the first tube that's put in the whole car, really, so it'll be a pretty major repair; not something we can do right here."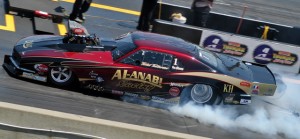 Tutterow assumes the chassis broke during the Farmington test session, but admitted he didn't feel anything change there, so he can't be certain of when the failure happened.
Never one to give up, though, the Tutterow gang set to work Wednesday afternoon stripping the roots-blown motor out of the '68 Camaro that Tutterow campaigned under the Al-Anabi Racing umbrella in 2010-2011, and replacing it with his familiar screw-blown combination.
"I hate that this happened, but we'll be there one way or another," he promised.
(Story and photos by Ian Tocher; Click to enlarge)