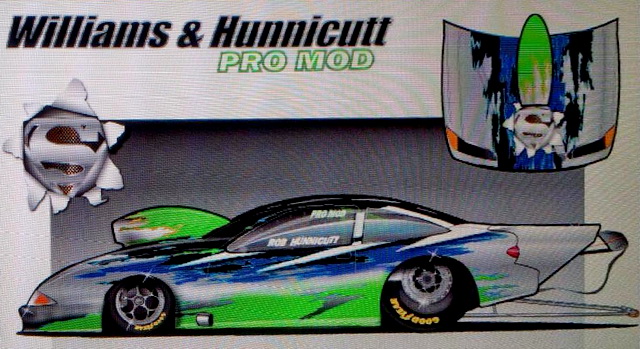 Rob "Superman" Hunnicutt, a veteran ADRL Pro Extreme Motorcycle racer, will be racing on an extra set of wheels this season as he's agreed to drive a 2004 Chevy Cavalier Pro Mod for car owner Rick Williams.
Williams recently purchased the Vanishing Point-built car from Marc Hayes, who is being retained as crew chief.
"I'm a little nervous, but more than that I'm really excited," Hunnicutt said. "I've always wanted to drive a Pro Mod car; whenever they were out racing in the ADRL you'd find me up there standing along the wall watching, so this is like a dream come true."
Once the paint scheme designed by Greg Russell Designs is applied by Chuck Buckler at Banshee Studios, Hunnicutt expects the car will be ready in about six weeks with a "big" Gene Fulton nitrous motor under the hood. After testing at Maryland International Raceway, less than an hour from his home, Hunnicutt said the new team plans to compete this year at EOPM, PDRA and local MIR Pro Mod events, as well as several Metro Grudge and Custom T grudge races.