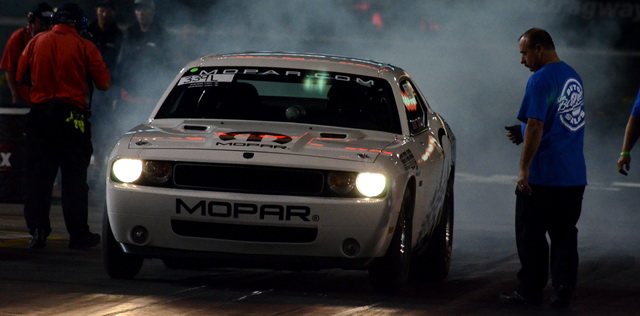 Well, it's official, the ADRL's SuperCar Showdown (SCS) is a success.
Or at least it's officially getting noticed.
Never mind spotty car counts that haven't yet filled an eight-car field after four ADRL national events in its inaugural season; the NHRA essentially gave its stamp of approval to the program June 18, with the announcement of its new Factory Stock Showdown, to be included within the 2012 Mac Tools U.S. Nationals presented by Auto-Plus Aug. 29-Sept. 3, at Lucas Oil Raceway at Indianapolis.
Factory Stock Showdown. It sounds so familiar already. Where have I heard that name before?
Designed to showcase the Ford Mustang Cobra Jet, Dodge Mopar Challenger Drag Pak, and Chevrolet COPO Camaro–exactly as the ADRL class does–the NHRA version will run heads-up as a class within NHRA Stock eliminations.
"There has been a revival of sorts in terms of drag racing-ready vehicles out of Detroit," NHRA Senior Vice President of Racing Operations Graham Light said (though where he experienced or learned of this revival was left to the imagination). "The NHRA racing community has embraced these new vehicles, so to showcase these unique vehicles in a showdown format at the Mac Tools U.S. Nationals seemed like a natural fit."
For years people within and without the sanctioning body have crowed about how NHRA should be racing what the "Big Three" are actually selling, instead of the loosely interpreted "Avengers" and "Cobalts" and "Mustangs" and most recently "Camaros" that currently populate its Pro Stock class. Well, now it'll be up to those same people to support the new class: as fans by remaining in their seats despite the TV cameras being turned away and off; as NHRA public relations people by actively promoting Factory Stock racing; and as media members by actually reporting on what happens.
And by media I don't mean the usual suspects like us here at Drag Illustrated or Drag Racing Action or Hot Rod, along with our friends at online destinations like CompetitionPlus.com, DragRacingOnline.com and Dragzine.com, among others; each of those places are a given. I mean if the Factory Stock Showdown doesn't get at least minimal coverage in publications like USA Today, Car & Driver and Autoweek–all of which have dedicated pages to NHRA racing in the past–then it'll have to be considered a failure for the NHRA PR folks.
So, will anyone care any more because there are four different letters involved in the event's title? I guess we'll find out in August.
(Story and photo by Ian Tocher)