When I dropped by Osceola Dragway late this June on a beautiful north-Indiana Sunday afternoon, I certainly wasn't expecting to find NHRA Top Fuel veteran Terry McMillen in attendance. No, he wasn't booked in to do a match race, nor was his appearance part of any type of promotion; he simply loves the folksy atmosphere of his hometown track.
McMillen grew up in Chicago, but moved to Indiana in the 1970s and it didn't take long before he found his way to Osceola's bustling drag strip. His race shop is now located less than a mile away from Osceola Dragway and some of his best racing memories are still being made right here at his local track. "First time I ever came here I had a front-engine, gas-powered dragster and I ended up winning the race," he fondly recalls.
On this particular Sunday afternoon, McMillen brought out a nitro slingshot dragster in which good friend Ed Heiman was making some laps. Crowds would gather along the fence each time McMillen and Heiman would tow the car to the starting line to make a pass. You could almost close your eyes, listen to the cackle and be transported back to the late-1950s.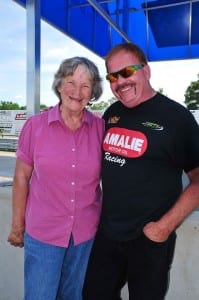 Incidentally, that's exactly the era in which this vintage track was built and standing alongside McMillen in this month's column photo is Ruth Chizum, whose late husband, Art Chizum, opened Osceola Dragway in 1957 and ran it until passing away in 2000 after an extended illness. Ms Chizum, now 83, never imagined she'd one day operate a drag strip, yet she's never failed to open the gates each and every race season for the past 15 years. "Me and a whole lot of help!" she declares.
Ruth says she met Art in 1980, after a neighbor introduced them. "Art told me he owned a drag strip, but I lived on the other side of town and I didn't know what he was even talking about, although I had it pictured in my mind as something of a strip mall," she laughs as she recounts her lack of understanding. When Art brought her to the track for the first time 35 years ago, Ruth admits she was somewhat disappointed at what she saw. After taking a surveying gander at the property from one end to the other, Ruth says she turned to Art and asked, "Where are all the stores?"
From that day forward Ms Chizum's education in drag racing began. Art and Ruth soon married and moved into the frame house that's located on site, directly across from the timing tower where Ruth still resides. These days, when people phone the track she goes out of her way to personally answer every call before the answering machine takes it. "People want to talk to a real person," she insists. Most callers ask about gate fees, hours of operation or rules for a particular class, and Ruth is now so educated on the subject of all things drag racing, she can pretty much answer any inquiry thrown her way.
She's also in remarkably good health and enjoys the day-to-day operations of the drag strip. "I don't play bingo or walk the malls, so I might as well work," she laughs. There is, however, a whole lot of grass that needs mowing. "I let my son, Tim, take care of that for me," she says, laughing again.
Osceola Dragway sits on a massive 165-acre tract that had only six houses within shouting distance back when Art first opened the gates 58 years ago. There's closer to 6,000 houses nearby nowadays, and yes, Art battled it out with the neighbors as time went on, but even that obstacle eventually corrected itself. "All the neighbors that gave us trouble have passed away and the younger neighbors actually like the noise," Ruth says with a smile.
Yes, plenty has changed over the years at Osceola Dragway, but one thing that's remained the same is the familiar voice of Roger Woodruff, whose action-packed announcing is worth the trip to Osceola all by itself. "Even though the track opened in 1957, Roger has actually been announcing here since 1954!" McMillen jokes. Indeed, it seems like Woodruff has been relaying the action at Osceola since it opened, but it's actually only been for the last 25 years. Prior to becoming the track announcer, he was a dedicated racer at Osceola, but one fateful day that all changed.
Roger remembers Art coming out of the tower and asking him how he thought things were going at the track. "That's when I told Art that I thought he was the worst announcer I had ever heard," Woodruff laughs. "So Art replies, 'Well, if you think you can do any better, just get on up there and let's see what you can do!'" Without hesitation, Woodruff says he darted up the stairs of the tower, grabbed the mic and started calling the action like an ESPN highlight reel! "Art says to me, 'You ain't racing here no more; from now on you're the new announcer!'"
Over the years, Roger says he's seen it all from his announcer's seat in the Osceola tower. "Craziest thing I ever saw was the night a local racer named Dale Miller made a perfect run. He had zeros across the board for his reaction time and ran dead on his dial-in, which was likewise followed with zeros as far as you could calculate it." You can imagine the excitement with which Roger was screaming into the mic as he relayed Miller's perfect run! "We called him 'Mr. Perfect' from then on," he says.
Roger also fondly recalls the good times he had with Art. "You always knew where you stood with Art. He was a wonderful person and we had so much fun together. I still miss him a lot."
It's truly a tight-knit group at Osceola Dragway and the kind of atmosphere that even a touring professional like Terry McMillen looks forward to coming home to. "Even with all the racing that I do throughout the year, I still look forward to coming out here whenever I'm home," he says. Indeed, this little track will grow on you immensely; just ask Ruth Chizum. Even without a single outlet store, she eventually came to realize that this place is pretty close to perfect just the way it is.