Ten-time NHRA Pro Stock world champion Bob Glidden passed away Sunday, Dec. 17, at 73 years old. He was a legend in every sense of the word, known as a feared competitor and fan favorite over the course of his 25-year driving career.
While Glidden retired from competitive Pro Stock racing in 1997, he returned to the driver's seat occasionally in 2010, driving a Ford Mustang for Jim Cunningham. DRAG ILLUSTRATED Editor-in-Chief Wes Buck sat down with Glidden for a wide-ranging interview during the 2010 NHRA U.S. Nationals in Indianapolis, Glidden's home race and an event he won nine times in 15 years. The result of that interview, the cover story from DI Issue #49, appears in its entirety below.
Upon arriving at the Mac Tools U.S. Nationals – held annually since 1961 just west of downtown Indianapolis on a stretch of concrete and asphalt now referred to as O'Reilly Raceway Park – we were met at our car by a Highway Patrolman, rather unpleasant in temperament. "Can I help you, sir?" he asked, in a manner that had us questioning his sincerity. Only after we'd proven our identities and been found on the list of authorized names were we permitted to pass through security and into the place Bob Glidden calls his "pet track".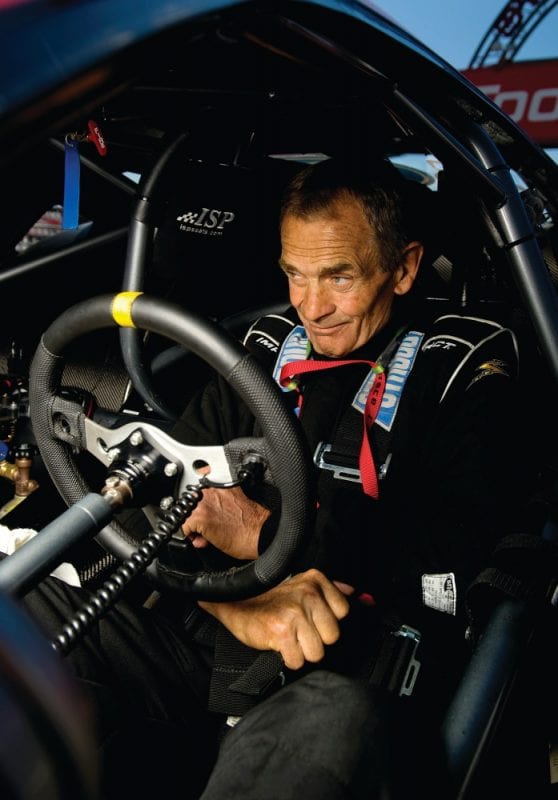 Inside, the pits and grandstands are abuzz. The fact that epic championship battles are being waged between some of the best race teams in the world seems merely an afterthought. Of tremendous interest, however, is the news that had broken only days prior, reporting nine-time U.S. Nationals winner, Bob Glidden, will be replacing the rocking chair of retirement with the carbon fiber seat of a Pro Stock Ford Mustang, dusting off his helmet and driving gloves, and attempting to qualify at Indy. Amidst likely the stiffest competition in the history of the factory hot rods, it wasn't going to be easy, but where his name ranked on the list of qualifiers didn't really matter. Over a dozen years into retirement, he remains one of drag racing's most popular stars – a virtually unheard of feat for any competitor in any sport, especially at 66 years of age. His name being on the list, alone, warranted the attention of the masses.
After half an hour, at least, spent signing autographs and shaking hands with adoring fans, Glidden has a moment to talk, but only a moment. He's dressed in blue jeans and a black sweatshirt, and visibly proud of the Jim Cunningham Motorsports logo embroidered on the chest. His features are pronounced, his face lined with wrinkles that speak to years of countless hours spent thrashing in the shop, traveling the country from track to track, racing, and dominating. Though having surely aged, Glidden is unmistakable, his graying hair neatly combed back, his tired green eyes still holding a spark. "Hello, sir," he says. "I'm Bob."
It's a glorious afternoon in September, three days before what everyone, Glidden included, hopes to be his 27th career start at Indy. He sits in the bustling pit area, on the ledge of the trailer door, seemingly struggling to take it all in – primarily, the 2010 Pro Stock Ford Mustang with BOB GLIDDEN on the window sitting before him. Much has been made of the driver's tenacious character, but in conversation he's thoughtful and polite. There's little evidence of the ferocious competitor you hear about in drag racing folklore, and when discussing his past accomplishments, he has a tendency to retreat, downplaying his success as if bashful at being reminded of it.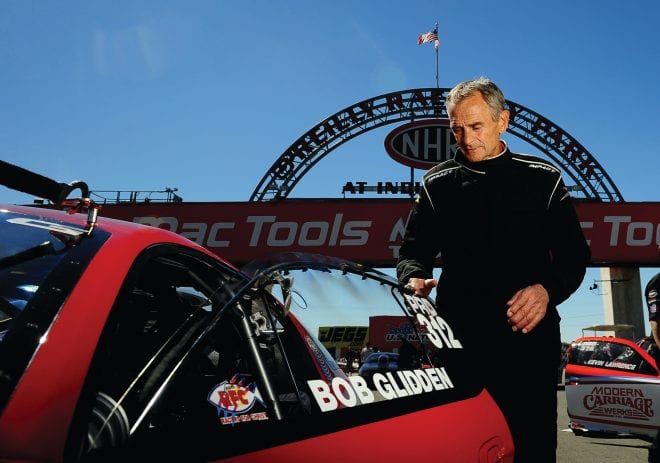 Our conversation is interrupted regularly. Glidden loves his fans, which seem never to fade from behind the rope at the end of the trailer, and he wouldn't dare disappoint. At one point, both Bob and wife, Etta, are working the crowd, shaking hands and posing for photos. He's a true joy to observe. He hugs anyone who wants to embrace him, tassels the hair of children and has a genuine countenance that seems to come as natural as breathing. He's quite simply the most cordial figure in the Pro Stock pits. Asked about his legion of fans, he teeters on emotional. "Over the years, I've spent a lot of time with our fans," he says. "And they never forget, and I love 'em. I could cry. It's enough to make a man cry."
A few days prior, signing autographs for fans in between making qualifying runs at the U.S. Nationals would have been the furthest thing from Glidden's mind. For much of the period between 2003 and present day, the most drag racing he'd done was at the wheel of an Outlaw 10.5 car for a few passes at the Street Car Super Nationals in 2008. Following his official retirement from Pro Stock in 1997, Glidden did make sporadic appearances, play test pilot during a stint as the lead man on Don Schumacher Racing's Pro Stock effort, but making a competitive return to driving hadn't really crossed his mind. A heart attack victim in 1994, he was almost forced by physical limitations to take it easy, seeking to replace one addiction with another – golf, instead of Pro Stock. His game on the green, admittedly, isn't nearly as good as it is on the strip.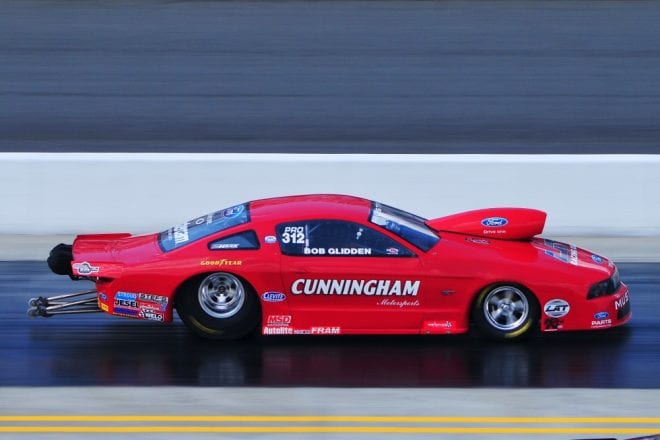 All it took was a phone call from a friend to spawn Glidden's rebirth in racing. Sitting idle at his home in Whiteland, Indiana, the 10-time Pro Stock champion couldn't shake the feeling of defeat, and when Jim Cunningham – a team owner who has flown the flag for Ford in NHRA Pro Stock for years and struggled mightily – called Glidden and prodded him to give driving one more shot, to join his team and help put a Ford back in the show, Glidden accepted. This was sure to be the driver's last stand, yet he wasn't sure he could still do it, physically. Having amassed 85 event wins, including a legendary string of nine in a row in 1979, as well as a likely never-to-be-touched 23 consecutive No. 1 qualifying efforts, including every event on the schedule in 1987, there is no questioning his abilities behind the wheel or under the hood.
At 5:50 P.M. on September 3rd, 2010, he proved to himself and the world that he still had it when the tree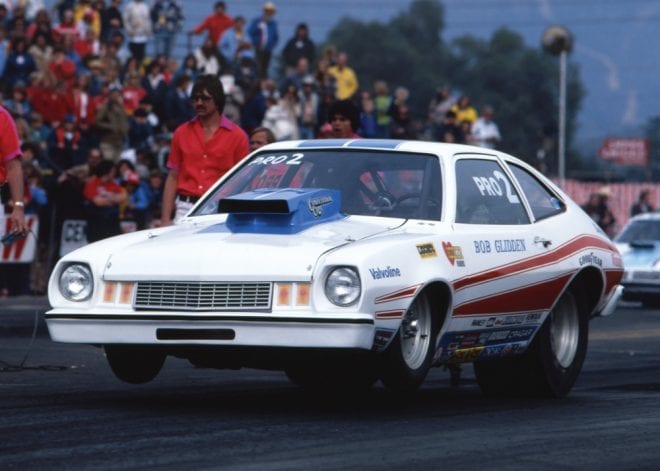 came down at O'Reilly Raceway Park at Indianapolis and he dropped the clutch on Cunningham's righteous red Ford Mustang. With the front wheels up, the car darted to the guardwall, but Glidden never waivered as he yanked the car back into the center of the groove, rowed through the gears and clicked off a hard-fought 6.782-second, 204.94 mph pass. A lesser driver would have lifted, it's a fact, but Glidden, in his 324th race, wasn't about to abort a run. Through the next three pairs of cars, Glidden was the No. 1 qualifier in Pro Stock at the 2010 running of the NHRA U.S. Nationals. By the conclusion of the first round of qualifying, he'd fallen to 19th, and despite improving over the course of the next four runs, couldn't break into the field. Widely regarded as the best Pro Stock has ever seen, there have been innumerable triumphs that could easily define Glidden's career, but it'd be hard to argue that qualifying 24th in 2010, especially in the fashion that he did it, doesn't rank at or near the top.
Yet for all Glidden's achievements, it's sometimes hard to tell if he's fully aware of his status in the sport of drag racing, or if it even matters to him. By his own account, he feels lucky more so than anything else. Considering his credentials, he'd be fully justified in carrying a whole lot of swagger with him everywhere he goes, and feeling good about it, too. Before our interview even began, after the first round of professional qualifying at Indy, he almost tried to talk us out of doing it, reiterating he had merely been the product of good fortune, most of which was long ago. "We have been very, very lucky people," Glidden says in reflection. "A couple of times the difference between number one and two was luck – plain and simple. The fact of the matter is that was then, and this is now."
What comes as almost tragic is that Glidden not only refuses to bask in his rightful glory now, but that he was so entrenched in the moment, so dedicated and consumed, that he didn't take time to appreciate it as it was actually happening. "You know what's incredible and sad?" Glidden once said in an interview. "Without question, 1989 was by far our best year, but I don't think we really even noticed it, or had an opportunity to enjoy it."
Fifteen years have passed since Bob Glidden's last national event victory, and the Pro Stock script reads much the same as it did then – the roles are simply played by different people. The success of today's Greg Anderson is not entirely unlike that of a certain Midwestern kid with an unshakable will to win that started breaking backs in Pro Stock three decades ago. Dominant and high performing, Anderson is an ideal dramatic foil for an upstart race team; down on power, and on the outside looking in. A stark contrast lies between Glidden's role in the late 1980s and today. Just which of those two he feels most comfortable, at times, is hard to tell.
Congratulations on your return to driving, Bob. How does it feel?
I'm so excited that I can hardly put it into words. This was a pretty big deal for me, just getting to drive this car. It was a pretty awesome feeling. I wasn't sure that I could do it, and we weren't sure that I should do it health-wise. That first run, well, every run, I've been so excited that it's difficult to deal with… [pauses] Hard to deal with my own emotions.
You've definitely doing it. What exactly had to transpire for this to even come to be?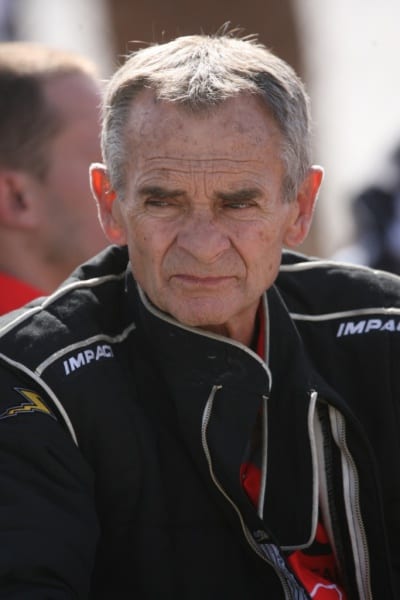 When Jim [Cunningham] qualified at Seattle, I called him on Saturday to congratulate him. We'd been talking, not really about me racing, but about his program and trying to get his cars to run. About a week ago, he called me up and said, 'Why don't you come and drive this car?' I said, well, I hadn't thought about that. I'm not sure that I want to do that. I told him I'd think about it a couple of days. Well, I thought about it, and I called him back and I said that I'd sure love to give it a try. He told me they were going to test before Indy in Martin, Michigan. I said I'll tell you what, I'll go to the test, and I really figured that I'd make a run, or part of a run, and come back and say, 'I don't think so. Maybe I shouldn't be doing this.'
When I did that first water burnout, it was so exciting, it was such a thrill, and I knew I was stuck again. I came back and the first thing I said to Jim was, 'Thanks.' To get back in one of these cars, just doing a burnout, it was so exciting. I really can't thank Jim and all his guys that worked so hard to get us out here.
I didn't think I'd ever get this chance again. I never gave it a thought, really. I always thought I was too old, and I knew that it just takes too much money.
You don't seem to have missed a beat, but how different are these Pro Stock cars today?
They are so much different. They're running 1,000 more engine RPM; they're totally different. The cars are much quicker; they leave a lot harder than they did the last time I drove [at the 2003 NHRA Finals]. These guys, Jim's got some really good people, Marcus, Brandon, Dean and Joe – they kind of babysit me to try and get me to do the right things. They make it pretty easy for me. The first time I got in the car, I was too weak to hold the clutch in. They've worked really hard to make me fit in the car and I can't thank them all enough. I'm just trying to do what they tell me to do.
To be honest, I'm not sure I've ever done a better job driving a race car than I did during our test runs. There were things that we needed to fix with the car; it was horrible, almost undriveable. We've made a lot of progress in that regard, but we can still use some horsepower. We're getting better, though.
What was that first run like here in Indy?
It was incredible; I couldn't get it out of my mind. When I was pulling the straps down it was so exciting. Indy is Indy. It's my home and I have a lot of great memories here. Even during our worst years, we seemed to always have good luck in Indy.
Does fame feel different this time? The fans, the standing ovation after your first run, it's astonishing to see how people react to you.
Being around the fans again has been such a wonderful experience. Over the years I've spent a lot of time with our fans, and they never forget. I've got fans from what seems like a hundred years ago and to get in the car and come here to Indy, to come down the return road and get a standing ovation – it makes me want to cry. There was a time, when you've done this for so long, that maybe you take for granted how the fans make you feel. When you walk away from it for a while, it really makes you put it into perspective. It's been unbelievable.
Anyone who has followed your career knows that your wife, Etta, has always been at your side.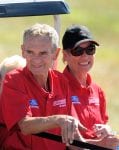 What did she have to say about all this?
Well, when I told her that Jim and I were talking about me driving the car, she sat down and cried. Shedidn't want me back in a car. I think she thought I was nuts. I told her, you know, I thought I'd been in my last rodeo, but I was getting another chance. I knew I'd never get another chance like this in my lifetime. She's been here with me all weekend so far, and it really means the world to me.
Pro Stock is different now. In your day it was it was more hard work and ingenuity than cubic dollars.
It takes a lot of money to do it, but all the teams that have been successful have worked hard. That's the key ingredient. I don't know how else you could do it and succeed. We did everything ourselves back in the day, though. That's the biggest difference between back then and what you see today. A lot of knowledge and experience is paid for now.
To what would you attribute your work ethic and drive? Your upbringing? I've read that you were one of eight kids growing up on a farm.
That's the way I grew up. My father was a sharecropper farmer. I don't think there is any better place to learn the value of hard work than on a farm. We all learned at a young age that we had to work for what we wanted. From the time I was five years old, I was up at four a.m. to help with the cattle, and we worked long, hard days. We didn't have farm equipment, so we did almost everything by hand.
What turned you onto racing and mechanics?
Since we didn't have much, we had to do whatever was needed ourselves. We had a tractor break down and that's how I got my start. We couldn't get it into a shop, so I worked on it myself. As for racing, well, when I was in high school, I got a job at Ed Martin Ford and took a liking to the race cars. When I put enough money together, I bought my own Ford and started racing it on the weekends.
What's it like looking back on all you've accomplished, where you've came from and how hard you worked to get here?
I don't think a lot about it. We're focused on now.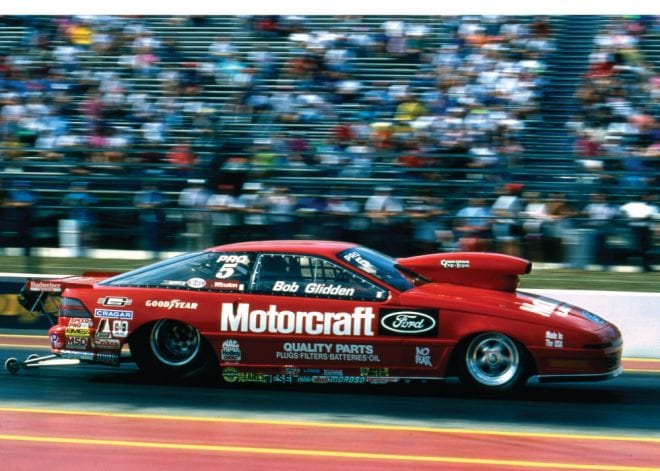 Ten world championships, though. You're a legend.
I just came along at the right time. I've met so many great people and had so many great experiences; I've been a lucky person. We won 10 world championships and I promise you each one of them was the greatest thing that had ever happened to me. I think I'm most proud of the fact that we started with nothing and were able to maintain a certain level of success for so many years.
Do you have any regrets?
No regrets. It certainly was all consuming, but I knew that being I had to be dedicated if I wanted to be successful. If I wanted to go racing, I had to win so I could afford it. It's all we knew.
You were able to race, win, and do it with your family. What was it like to share that experience with
your sons, Rusty and Billy? To see Billy win the ADRL world championship?
I love both of my sons. Billy and Shannon [Billy's wife], they just work so hard. He doesn't have the money, but they work and I'm proud of them. I'm proud of all of them.
Having retired due to lack of sponsorship and now making your return in 2010, could you be envious of someone like Warren Johnson, struggling to perform and struggling to secure the necessary financing to race?
My hat is off to Warren. That guy has been competitive for decades. He won a race this year. It's incredible. I can't say enough about him.
That hasn't always been the case, though, right?
I don't know that we hated each other, but it was close to that.
Speaking of old rivals, I have to ask, were the Dodge boys cheating?
I don't even want to talk about that. I don't think I give a shit anymore.
What's your take on the current state of Pro Stock? Does the class need electronic fuel injection, flat hoods, Camaros, Challengers, Mustangs to be exciting?
Well, we have the Mustangs now. I don't think the cars are the problem. It wouldn't hurt anything to have them look a little closer to real cars, but I think everything is good. No controversies. I think that is the problem. They have to do something to make it more exciting, but I don't think it has anything to do with rules. They need to get something going on, create some controversy. Take Mike Edwards, he's such a nice guy, I think he's ashamed to beat people. Warren and I, back in our day, we were both pricks.
Where do you go from here? Are you planning on driving for the rest of the year and beyond?
My plans are to help Jim Cunningham and his guys have a program that will qualify. We're going to go back to Maryland to the shop to try and give his guys some different opinions on things and get two good qualifying cars. I plan on driving the car for the rest of the season, and next. We knew we'd struggle. I feel bad that we ran so poorly today, these guys on this team work so hard.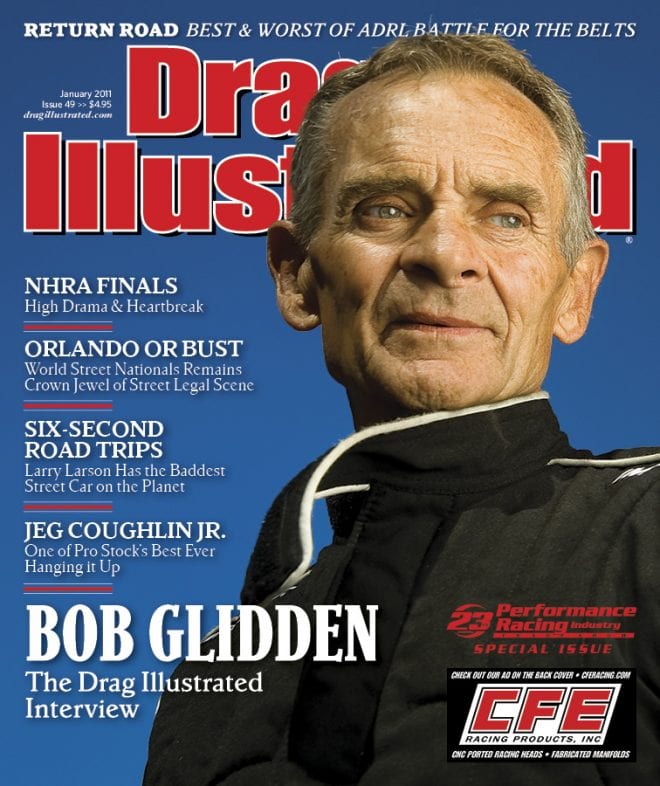 [During our follow up to the original interview on Thursday, November 18th, we spoke with Glidden from his home by phone. A few days prior he had collapsed after making his first qualifying pass for the NHRA Finals in Pomona, was briefly hospitalized and released. "I found out today that I'm not going to be able to get my license back," he explained. "I found out this morning. I hate that. When I fell down in Pomona, it was my heart. My heart stopped. My pacemaker shocked me and it started again. The cardiologist won't sign off on my license. I'm going to keep helping Jim for the next three or four months, but I don't know beyond that. It is really disappointing."
For a few months in 2010, Bob Glidden was back. Everyone knew it. Those fortunate enough to witness one of the greatest-ever return to action will surely not take it for granted. Humble in victory and defeat, Glidden remains a living legend, a champion no matter where his name falls on the qualifying sheets.]
Photographs by Mark J. Rebilas