There is no way Rickie Smith would have—probably even could have—imagined in 1989 as he wrapped up his fourth-straight IHRA Pro Stock championship that it would be 24 years before he would again earn number-one status. Back then it still felt like things were just getting started for the hard-working son of a construction worker from tiny Walnut Cove, North Carolina.
After all, those consecutive titles followed back-to-back IHRA championships in the sportsman ranks of 1976 and '77, and came on the heels of a 1982 Pro Stock championship, Smith's first in a professional class. He came close to winning it all again several times over the next couple of decades in both Pro Stock and later Pro Mod, but not until this year did Smith have to buy new number "1" window stickers for his Industrial Distribution Group (IDG) Camaro after securing the 2013 NHRA Pro Modified championship.
"I'd always been a Richard Petty fan and when I got the STP sponsorship, a three-year deal back in '90, '91 and '92, we took the number 43 and just kind of stuck with it since then," Smith explains while relaxing in his race shop office just a couple of weeks after clinching this year's NHRA title with one race left on the schedule. "I was never interested in putting a '2' or '3' or whatever other number on the car; I was only going to change my number if it was going to be number one."
Born on Christmas Day, Smith admits it wasn't ideal as a kid as far as parties and presents went, but now it's the perfect birth date since it means he's always surrounded by family and friends. He'll turn 60 this year and initially said he would retire from driving at the end of this season, but instead plans to make a retirement farewell tour out of his 2014 NHRA Pro Mod campaign.
"I've talked about retirement for the last two years. Mentally, I've been trying to prepare myself to get out of this car, because when you've done it as long as I've done it, it's going to be a sad day, there's no way around that," Smith realizes.
"I want people to know this is my last year because that's the way I went to IDG when I put this deal together with them almost three years ago. I wanted to announce it as a retirement year from driving because I want to go out in that kind of style, rather than just waiting maybe until everybody gets to saying, well, he can't do it no more. And especially now that I've won the championship, how can anyone say I can't do it no more—even if we don't win a race all next year—which I don't think will happen.
"If I don't win a race next year, it won't be because I can't do it," Smith insists. "The problem is the reason I want to kind of get away from it in the first place; it's the constant trying to raise the money, trying to keep the sponsors over here to compete. It ain't the tension, the stress, the competition; I strive on that stuff."
Smith began his racing career in 1972 with a brand-new, street-driven Chevy Nova, initially competing at the nearby, but now long-gone East Bend Drag Strip before venturing a little farther afield to Farmington and later Piedmont Dragway. His first ride in a "real" race car came two years later in a Super Stock '69 Camaro owned by local friend Robbie Fowler, whose father, Keith, was a well-known country music promoter of the day with an all-star client list that included the likes of Conway Twitty, Loretta Lynn and the Oak Ridge Boys.
Smith describes the elder Fowler as "a good guy" and "kind of a comedian," but above all else, "a diehard Ford man"—regardless of his son's car of choice. ("You didn't even want to show up in his driveway in anything but a Ford.") He also says Fowler had a hard time understanding the break-out rule in Super Stock and got very frustrated whenever the quicker car didn't win. That's when Smith sensed an opportunity.
"In 1975 I knew that IHRA decided to do this class called Super Modified, which was like a miniature Pro Stock class—single four-barrel, heads up, no break out, 10 pounds per cubic inch—and it was right up Keith's alley. So we got to talking and I said, 'Keith, there's a class coming next year that I think a Ford would dominate, where they would be the ticket.' And after that I just let it lay," Smith says.
Within a few weeks, Fowler came back to Smith with a request to accompany him to a meeting in Michigan with Jack Rousch and Wayne Gapp, who at the time were enjoying considerable success with their four-door "Tijuana Taxi" Maverick in NHRA Pro Stock.
"I was still just a punk kid then and I really thought he was joking with me, but Keith obviously had more connections and was more powerful than I thought he was back then," Smith says.
"I said, 'Man, you know I want to go,' so he said be ready to leave Friday afternoon about 1:00 or 2:00 and we'll drive on up there and spend the night and get up and go. Now, this was the middle of the week, so I had to go to Dad and my grandfather and tell them. They didn't want me to leave work early, but I said I'm leaving here at noon on Friday; I'm going with Keith.
"So we took off up there. And sure enough, we sat down with them and Jack looked it over, told Keith what he thought he could do and put this deal together. And at that time, Ford didn't even have a single four-barrel manifold, an aluminum manifold, that would fit a small-block 302 or whatever. So Jack got all that done, actually got Ford to make one; he gave them a part number, had them cast it, and got all that stuff done. And then they went and got the car built, a two-door Maverick. We missed the first race of the season with IHRA, but then we got tested and got to the second race."
Smith says he and Fowler went on to win a dozen or so of the 18 Super Mod races they entered in 1976 along the way to his career-first championship. He then earned a second title after winning 16 times in 18 races the following year. That's when Fowler suggested making the jump up to IHRA Pro Stock, which Smith readily agreed was the right move.
Though they missed the entire 1978 season while building the car in which Smith eventually finished 10th overall in his 1979 rookie season, the next two years he posted top-three points finishes before taking the top spot in 1982 for the first time.
"That's when Keith decided he was going to get out, so I bought the motor and all out of the car," Smith recalls. "I was hooked pretty heavy by then, but I was still working. I had actually ventured out and owned two Shell service stations, one here in King, and one in Winston-Salem. But finally in 1983, Ford stepped up and gave me a sponsorship and from that point on I started racing for a living."
Smith finished second in each of the first two years out on his own and third in '85 before starting his incredible string of four consecutive championships the following season. By the end of the '80s he felt ready to take on the NHRA full time.
"When I left the IHRA deal in '89, to be honest I figured I was going to win me an NHRA championship in the next three or four years," Smith admits. "I got STP as my sponsor and I was young, cocky and winning races against guys that had a lot more money than I did in IHRA. But I just never could get it all put together. And then it got to where I couldn't get sponsorship in the mid- and late-'90s.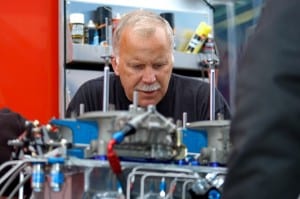 "So I worked with Jim Yates as a crew chief; I worked with Ron Krisher as a crew chief; I worked with V. Gaines and a few others. I just had to work some of those years, but I kept all my stuff. I always kept my cars and trucks. I had them paid for, so I was running five or six local races a year, or maybe got to go run the odd Pro Mod race," he continues. "That's kind of how I got into Pro Mod; the Pro Stock stuff got so far out of hand, technology wise and the engines were costing so much. I couldn't afford it anymore.
"I'd been helping some of the Pro Mod guys and saw it was a lot cheaper deal to run. You could kind of do your own stuff, buy the cylinder heads and put the motors together yourself so it was just more about the tune up and the chassis than it was how much actual power you had.
"Also, when this Pro Mod thing come along, it just took over the match race stuff. Didn't nobody want to see the Pro Stock cars no more. They wanted to see these wild Pro Mod cars that were wrecking and blowing up and catching on fire and blowing the hood scoops off. That's what they wanted to see. So that's where you had to go and it worked out to be a pretty good deal."
In addition to his multiple IHRA wins and championships and NHRA Pro Stock national-event wins, in 1997 at Bristol Dragway Smith won the first IHRA Pro Mod race he entered and followed up by winning the NHRA's first-ever Pro Mod event in 2001 at Gainesville, Florida. Two years later he became a U.S. Nationals winner in Pro Mod at Indianapolis and in 2006 at Budds Creek, Maryland, he won the first IHRA Pro Stock event he'd entered in 13 years.
In 2007, CompetitionPlus.com declared Smith its All-Time Top Mountain Motor Pro Stock Racer and that same year he was named one of the four original "Legends of Thunder Valley" at Tennessee's historic Bristol Dragway. The following year, Smith won the first Pro Mod race held in the Middle East in the Kingdom of Bahrain and would later prove instrumental in bringing the now powerhouse Al-Anabi Racing team from neighboring Qatar to NHRA and ADRL competition.
Adding to his 2013 NHRA Pro Mod championship year, in which he earned two event wins, Smith also scored a season-ending ADRL Pro Mod Battle for the Belts win at Rockingham (NC) Dragway, knocking off yet another of his racing goals for a career that saw him inducted in 2010 to the North Carolina Drag Racing Hall of Fame.
It's been an illustrious career, one Smith can rightfully be proud of, but it's come at a price, too. Monetarily it's always been tough, he says, with the tight budget meaning Smith tends to work with only one or two crewmen. And since he can't afford a dedicated truck driver, as the only commercially licensed driver on his team Smith has logged literally millions of big rig miles chasing down wins at race tracks coast to coast each year.
Racing so hard for so long invariably taxes personal relationships, too, though Smith has managed to keep his family intact, including wife Nancy, son Matt, with whom he made history this year as the first father-and-son pairing to simultaneously win NHRA world championships as Matt prevailed for the second time in Pro Stock Motorcycle, and daughters Amanda and Melissa.
And though the end of his driving career is in sight, don't look for Smith to disappear from the race track. He already has plans to become an Al-Anabi crew chief and guide the career of a new Pro Nitrous driver under the personal wing of team owner Sheikh Khalid Al Thani, much like he did a few years ago in helping kickstart the career of current Al-Anabi Top Fuel pilot and past ADRL Pro Nitrous champ Khalid Al-Balooshi.
"With me doing my own tuning and stuff all through my career, I feel like that's what I've got to back up on as a retirement," Smith says. "I can be a crew chief now, and a good one, I hope, because I also understand what the driver is going through. So I can watch the car run and apply what I see on different levels.
"And maybe the next two to three years or something, if I need to get in one just make a testing run, if I need to get into it to feel what's going on, I can do that. But that's the only time you'll see me in a car after next year. I will not be in competition no more. Once I get out, I'm out."
__________________
Is it fair to say you're very adaptable in your racing, that you'll go with what's quickest, fastest, the best thing for you at the time, whether it's a Ford or a Chevy, a blower or a nitrous car or whatever?
Oh, yeah, that's been the deal, especially now. Ford is not helping us do anything with Pro Mod; Chevrolet's not helping us do anything, so I have no ties to have to stay to any (car) body. Which in a way is good. Moneywise, maybe it would have been better, but I don't know. When you don't commit yourself to something like that too much, then you can go with what you think is the best. It wouldn't have mattered if it had been a Ford body or a GM body; if I wanted to run a blower I would; if I wanted to run nitrous I would, whatever I thought would win.
But I like the GM stuff; and I love the Ford cars. The problem is the Ford thing. I won all these championships, done all this with Ford. And back then there was nobody could win much with a Ford but me and Glidden through the years, and still hasn't to this day. Yes, you've got Force, but that's a Funny Car; that ain't a Ford.
I've known Eli Patrick forever and he's helped me out with a little help over the years and I still help Robert Patrick
some off and on; I helped him get in his Pro Mod thing and we won a race together when I was crew chiefing his car last year. So I like the Ford deal and Robert and them have been asking me to build a Ford. But the problem is with the Ford, and like I explained to Robert, I have two cars a year. I've had two cars a year for 20 years now at least. If I done a Ford, when you get ready to sell it there's not that many Ford racers out there that can afford to buy this car. If I'd have done a Ford and let's say two cars a year, after 10 years that's 20 cars. I done saturated the market by myself. There ain't enough people out there to buy 20 good Pro Mod Ford cars.
But whether it goes to Top Sportsman or whether they keep it Pro Mod, there's a lot of good GM guys out there that can afford to buy these cars. So that's the way it went down. And Robert's seeing that now. You go to try to sell a Ford, it's no different than a Dodge. Whether it's a Dodge or a Ford, it's just so hard.
Drag racing has been good to you, but it's also required a life of sacrifice, hasn't it?
Oh, it's been a big sacrifice. I probably was lucky if I made it to two of anything for Matthew and probably same thing for the girls. I was just racing all the time. I started going on the road when Matthew was probably about three and then I was doing it for a living by the time the girls come along.
Did you feel guilty about that sometimes?
Oh yeah, it was tough. But IHRA or NHRA are not going to stop having a race because you've got to go to a ball game or a school play. You've got to go to the race if that's your job. Luckily, all my kids were actually born when I didn't have to be at the race track. So it just turned out I was there for all their births. Matthew was born in November, Amanda was born in October and Melissa was born in February, so that was a good thing.
It must have been difficult being apart from Nancy so often, too—for both of you.
Oh yeah, it was. It's been a long deal, but she's a very strong Christian woman. Involved in church, sings in the choir. When we got out of school, she was smart, made straight As, all that stuff. She was a basketball player and a cheerleader, so she was athletic, too. She's not one that's going to sit around. So when we got out, she wanted to go back, once Matthew was born and kind of got up, she wanted to go back to school out here to a little college. So she went and got her nursing degree, took two or three years to get that. And she worked in a grocery store when she was going there. We were still struggling, trying to make a living. But she got her degree and all, went to be a nurse. And she's been at it, this is either 37 or 38 years she's been at Wake Forest Baptist Hospital out here. She works in the pediatrics department.
Does she ever get to accompany you to the races?
Well, she loves the kids. That's the reason you don't see her much at the races with me. She's got weeks and weeks of vacation time, but she won't leave. She's as dedicated to those kids as I am to my racing. She's just not going to go and leave them. They cure a lot of kids from cancer there; they save a whole lot more than they've lost and she's just been dedicated to that. And she's raised all these kids. Whatever good is in them is what she's put in them.
Luckily during the IHRA days when I done so much of this stuff and we were just young, married, for the first 10 or 20 years, the IHRA stuff was mainly in the South. So she got to make a lot more of them back then. Rockingham, Bristol, Atlanta, maybe; we could get back home. I could drive all night and have her back home in time to go to work on Monday. So she could make a lot of them races and it wasn't so bad, but the older you get in life, I don't care if you're getting in your 40s or whatever, the older you get the harder it is to be able to stay up all night and then go in to work all day the next day. So that's just been tough on her to do that. Plus she gives the shots, the IVs. You need to be alert and she respects that.
You always seem to work with pretty small crews, one or two guys. Is that by choice or necessity?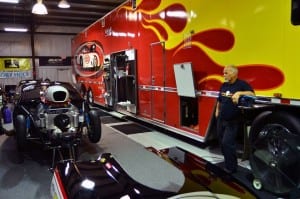 I've never had more than three people. And when I say three people, I'm counting me as one of them. Most of the time it was just one, but I never had more than two full-time employees. But it's not so much I prefer to work that way; I would love to always have two other people besides myself, but it's a financial deal. I just couldn't afford it, can't afford it. I would have loved for the last 10 years, or the last five or six at least, to been able to have another guy where he could drive that truck.
But I cannot afford it. That's how close my budget is all the time. I'm just being honest and don't mind telling you, on the record, the last 10 years of my life, I have not had more than $10,000 in my checking account at the end of the year. I've always been waiting on my sponsorship money for the next year. And I've always fulfilled every sponsorship I've ever had, from my Ford days to the Stroh's days to today, there's nobody, period, that ever has said, 'Well, he quit racing too early or he didn't go to all the races he was supposed to;' there's not a sponsor out there that will tell you that.
Are you a hard guy to race with as a crew member? Are you pretty demanding?
I think yes and no. As long as you do your job, you don't make mistakes; I got no reason to get on you. Now, anybody is liable to make a mistake, but when you make it twice that's when you got a problem with me. I'll allow you one. When you make that second one, the same mistake twice, then we got a problem. I have a routine set up pretty much and I have a rule of thumb set up, and if you just follow them guidelines we won't have any mistakes.
Obviously, you feel now is the time for you to quit driving, but why is that? Are you not as comfortable in the car as you maybe once were?
The whole reason is the money. If I was a billionaire, I'd probably race 'til I was dead. If I didn't have to worry about raising money, I'd stay right in the damn seat. I ain't scared of the car. I respect the car. If it's my time to go, or take me this year, next year, tomorrow. I mean when it comes my time to go, I don't know where it's going to be or what it's going to be in or where it's going to happen. But He's had opportunities to take me in racing. I've totally lost a few cars through my career. I've had a chance to go, but He ain't been ready to take me yet.
What's the worst wreck you've had?
Well, my worst injury was in 2010 when I crashed in Bristol and broke my leg, my left leg. I went through the finish line sliding at 225 (mph) and then we hit the wall. And I had my foot on the clutch pedal and I probably braced myself and got that leg locked. And any time you're in a seat, the seat belt will let your hips move, just that little bit of movement took this big bone (tibia) that's bigger than your knee, so pushed the bone up through my knee and busted my knee up, broke my knee bone all up. They didn't have to do a knee replacement, but they cut it here and it's got a cadaver bone—it took me a while to learn that word. When the surgeon told me that when I woke up and all, I said, 'In other words I've got a dead person's bone in my body.' He said yeah, and if that's the way you want to call it. But they had to put some bone in and it's got seven or eight screws in it and some pins and stuff. He fixed it nice. It's good. I don't have a limp. I don't have nothing.
Fortunately it wasn't life-threatening, but did Nancy ever ask you to cut back on racing after you were injured?
No. No, she, to this day, she knows I love this. She knows this is what I do, just like her job. Like I say, she's a very religious woman and she believes like I do. When it's time for me to go, I'm going. And if it's in that race car, I'm happy. And like I told her, I said whether I'm at a local track and a guard rail ain't right or it's one of these big, fancy tracks where I'm at racing, if I get killed, don't go suing them people. I'm the one that got in that car. They didn't make me get in that car. I took that responsibility. I accepted that risk. I'm smart enough now to know if that track was really safe enough for me to run on. It ain't the owner's fault whatever happens. If I get in that car and they got guardrails up, or cement walls or whatever, it ain't their fault. It's my fault.
How did you meet your wife?
We met in high school, but she grew up in King, which is where we live now, and I was in Walnut Cove, a little town, and that's where we went through the eighth grade, both of us. So we met in ninth grade, South Stokes High School, and kind of started dating halfway through the ninth grade and we got married three months before we got out of high school. We've been married soon to be 42 years. But you better put three more on that because we were basically married all the way through high school.
Why did you marry so young?
I wanted a family. I had a chance to go play football; I had scholarships that coaches told me I was probably going to get approached about at some smaller colleges around. I was voted Athlete of the Year through the coaches; I was named Most Valuable Player in football at the end of the season and that was always voted from the players. And that had never been done when I left there; it had never been done by anybody but a quarterback or running back. I was a middle linebacker and a right guard on offense, and got voted most valuable player. So that's how hard I went at it, and the perspective from the players was when you take something like that away from a quarterback or running back, that was a pretty major deal. I had no clue I was going to win that deal, but that's just how hard I'd been at it since I was in the ninth or tenth grade. When I play, I want to win.
How did your "Tricky Rickie" nickname come about?
That was given to me by Larry Waller; I'd say I got it sometime in the early-'80s, maybe mid-'80s, up in Nashville. He was the announcer at Farmington, too. He actually ran his own auto parts store for years before NAPA bought him out, but he did announcing on the side and he was a hell of an announcer.
This was back in the days of the Pro Stocks match racing a lot and we would get to playing games. Me and Ronnie Sox and Warren Johnson, we all got the starting-line games going. Just constantly we'd have a battle. They don't do it no more and I think that's the reason Pro Stock gets so boring. There's no rivalry left these days.
Did you take the nickname on right away? Did you like it?
Oh yeah, Tricky Rickie, kind of let it roll. I mean, you had the Snake and you had the Mongoose, and you had "Grumpy" Jenkins. So Waller, for whatever reason that night, started calling me Tricky Rickie. "Here comes Tricky Rickie," I can hear him now. The fans got to telling me about it; my wife got to telling me; next thing I know, they'd come up, Tricky Rickie.
But here's something not everyone knows; it almost got changed. It had to be still in the late-'80s, because Winston was still involved and they were doing these car shows out here in the wintertime for NASCAR with about 10 or 12 cars and they'd invite me and a couple of other drag cars down there with them.
I'm an old hillbilly, the way I look at it. I'm a redneck, just a normal damn redneck. Well, Roy Hill had the "Hillbilly" name then, but Roy had kind of backed off about this time, kind of got in some trouble so he was kind of out of the picture. So I thought I'm going to be the Hillbilly, instead. So I had a brand-new car, took it down there to that Winston deal and I had peeled the "Tricky" stickers off the windows and had "The Hillbilly" Rickie Smith on it instead.
So I was sitting there signing autographs and you could hear, mainly kids, I'm talking about kids who were 8, 10-years old, kids that I didn't even have a clue knew me, and this was 20 years ago, but I'm hearing, 'There's Tricky'—and then you'd hear them stop and go, 'The Hillbilly Rickie Smith?' And I just listened to this enough times in the background to know it was a problem.
And my wife didn't like it to start with anyway. So I come straight home that evening and pulled that "Hillbilly" off and put the "Tricky" back on. I realized then that I already got too many fans to change. Before that I had no idea that's what people really knew me by. I didn't know the power of it. Luckily, it happened and I got to hear it and change it myself before it actually got out in the public. It all happened within 24 hours.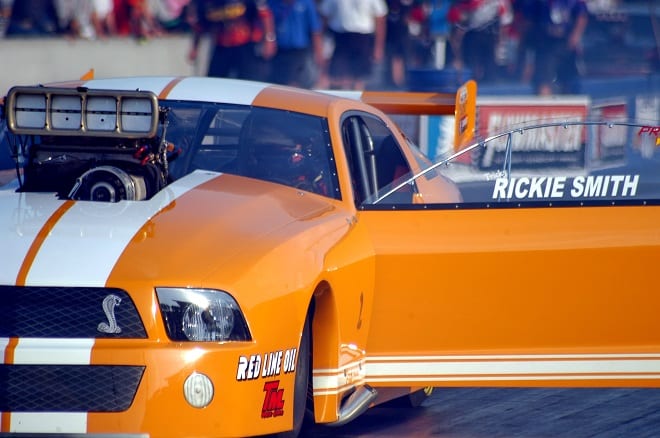 You mentioned the games with Warren Johnson and Ronnie Sox, but overall, who was the toughest to race against back in the day?
I would say probably the toughest old goat to race back then was Warren. Warren was smart and Warren had a lot of power. Warren actually was kind of like (Bob) Glidden. Neither one of them was real sharp on suspension, but they made so much power it just overcome it. They didn't have to run 60 foot; they could spot you two or three hundredths in the 60 and they were still going to out run you.
Nowadays, you can't give up that two or three hundredths; you got to get it from the word go. But racing, Glidden was tough, but he didn't run IHRA back then, so I only saw him in NHRA maybe the last year or two I run IHRA (1988-89). But Warren and Ronnie, they'd cross over like I did and run two or three (IHRA races) a year, so that was my hardest fight to beat those guys for the championship every year.
What about now in Pro Mod? Who's tough to race against now?
Man, I'm just going to say they're all tough, especially ADRL. I'm telling you right now, if you qualify in an eighth mile and as fast as these cars are, every driver gets in these cars anymore is pretty good on the tree. So it's tough.
What makes it hard for me is I've done this so long that when I get in that car I'm just relaxed as if I'm driving to the Pizza Hut in my street car. I've tried to drink some energy stuff over the years to get myself up, but it can be a problem to get my adrenaline flowing when I get in these cars.
Where you take a guy that ain't raced a lot and he comes up and he's going to run Tricky Rickie Smith. He's jacked up. He don't give a damn if he goes home or not. He's going to beat you off that tree and if he beats you off that tree, normally they've got a car these days that's good enough to beat you.
That's what I'm saying, anybody that qualifies anymore can win these races. That's where I have a hard time getting myself jacked up. That's the reason I like the staging battles. I love them because that just gives me time to get me in the game.
So, your opponents probably shouldn't start anything at the tree if they don't want to get you in the game?
That's what I would think if I knew the deal—and I'm telling my secrets here—but I'm about out of my career so I guess it don't matter. Now, I may not ever win another starting line battle 'til the end of my career, but I would have to say 85 percent of the time, if not 90 percent, when anybody's ever played a staging game with me, I've won—especially as far as leaving first or whatever. I've usually won, won the game, and it's all because they gave me some time to get in the game.
A lot of people get jacked up and they lose their focus or try too hard and red light. I get jacked up and it just helps me because I maintain my focus in the car. It just takes me something like that to get me jacked up, and it makes me better on the tree because now I got my damn heart going; I got my blood flowing. When I'm backing up anymore, sometimes I tell myself this when I'm backing up out of the burnout, I try to breathe probably a dozen times really hard, really fast, just trying to do everything I think can to get my adrenaline going. But when that one staging battle gets going, you give me an extra 30 seconds or a minute up there to get myself wired up? That's good for me.
Where does this year's championship stand in comparison to all the other championships and wins or other accolades and honors you've received throughout your career?
I said it when it happened and I still say today, I won this NHRA championship and yeah, that's a pretty good accomplishment, but there's a lot of guys that are going to win championships. But that deal up in Bristol? That's been by far my biggest accomplishment in my racing, I think.
I'm not tarnishing anybody else's name that's up there later on, but the way I look at it, my name went up there with the first four; I was not an add-on. And like I said, I'm not downing anybody else being brought on later, because they're good racers and all that, too. But when my name went up with Larry Carrier and Wally Parks and the only other racer was Don Garlits; I mean, who else is any bigger in drag racing than Don Garlits, Larry Carrier and Wally Parks? Who in hell can be? And my name went up there with them—not behind them—with them. Maybe I'm taking this wrong, but to me that's the biggest honor that I've ever had, period, laid on me to this day. And probably ever will be. I don't know anything else that could hardly precede that.
But I just hope in the drag racing or in the racing community, whatever it is that people look at, the fans, the racers, whatever, that they say I've been a good guy for the sport. I hope I've been a good name for the sport. I haven't been a drug head, never done that. Yeah, I know there's a lot of guys that don't want to race me because I'm going to do whatever it takes to win, but I'm no different than Dale Earnhardt was. He was the 'Intimidator' in NASCAR and I feel like I've pretty much been an intimidator in drag racing. So that's what I want to be remembered by as far as the good part.
I'm also proud that I kept my family together. I got married before I got out of high school. I've had all this success. I see a lot of people have success, whether it's NASCAR, drag racing, whatever. They get married, go four or five years, 10 years, split up because they feel like they need to go on and leave their wife behind. Or their wife needs to go on and leave their husband behind. They done got better than what they married.
I feel like my deal, that's something that I honor very, very seriously. And don't think I didn't have that opportunity. I had the opportunity to take off with other women, leave my wife, this and that. But my whole deal was my family, keeping them together through the years. And my kids having their real mom and daddy when they go through the younger part of their life when they really need to have someone to call 'Dad,' that's my dad, not my stepdad. That stuff right there is what I really wanted to accomplish. That's something I cherish big time. Big time.
What is it like to see Matt now as a two-time NHRA champion and for you and him to win season titles in the same year?
That was a pretty special deal also. I mean, you know, we just had one heck of a year, both of us. To do what we've done here and me kind of on my way out, we just got so much stuff, some of this history stuff, done before I quit. It's just been remarkable. For us to win at the same race (Norwalk) was something we never thought could happen and never even dreamed of it happening and then to win a championship together is just—I don't think it's really sunk in to either one of us really, how good that is—I don't care who done it; that's pretty awesome.
You mentioned in a TV interview that Matt got to where he is on his own, that you really didn't help him much in his racing career, did you?
The only thing I done was the first Pro Stock bike he ever bought, he went up and got it from I think it was Paul Gast and I give him $10,000 to go buy it. He'd been running some bikes around home with nitrous on them and doing customer work and stuff like that. That was the way he was affording to race. But he wanted to go Pro Stock racing and we talked about it and I give him 10 grand to go do that and that's all I've ever given him moneywise. I tried to help him get sponsors, but I've never, ever been able to afford to give him money. He's absolutely done this all on his own and I'm really, really proud of him.
What would be your biggest regret in racing? What would you change if you could?
(Long pause) I would have to say, the only bad part I guess that I kind of hated happened was back, had to be late-'80s, early-'90s—no, I was still running IHRA so it had to be in the '80s. Anyway, sometime back in that part, a long time ago, they used to have a race up in Suffolk, Virginia, up there at an old airport strip or something. I'd been up there maybe once or twice in my life.
That race used to be toward the end of the year and it was kind of up there and the guy that owned the track had been wearing me to death for two years to come up there and run that deal. It was not an NHRA points race, but it was NHRA rules and I only had one 500-inch Pro Stock motor; most of my deal was still IHRA big-motor stuff, but I went up there that year with this one motor.
So we get up there and the first qualifying round it drops a valve about half, three-quarter track. And I wasn't exactly a booked-in car but I was kind of guaranteed a little bit of money to come up there. Basically, I had to race to get the money. I think he might have guaranteed me, back in those days I don't know, maybe $500 or $1,000 or something; it was that type deal.
So I finally got there and blow up this motor and I'm trying to figure out what to do; whether to just pack up and go home, whether to stick another motor in, one of my 600-inch IHRA motors at the time, stick that in and try to qualify and get paid, or whatever. Because again; it was not an NHRA points race.
So I decided, okay, let's put this other motor in. I'll just go out there and ride beside the guy I'm running, get qualified, and do that just to put on a show. More or less do a show-race kind of deal, because all I had to do to get paid my guaranteed money was qualify. So that's what we did. And it played perfect. I left with the guy and I rode beside him. I'd bracket raced enough before that I rode him out, just held about a fender on him and qualified somewhere in the middle of the field. It wasn't like I was number-one or two qualifier; I was fourth, fifth, sixth, somewhere in the field. Anything was good and this was Saturday and we raced on Sunday.
No one but me and my guy knew anything about this at this point but then Big Jim Collins, the NHRA tech inspector, he still works with them, he comes up and maybe he kind of knew; I don't know. Anyway, he comes up Saturday evening when we had almost loaded up and left for the night. He comes by and says that me and Morris Johnson, Jr. got picked out and he had to pump these motors (to check for NHRA-legal displacement size).
So I let him check it. We get it all out and I'm trying to bump the motor, just trying to bump it, trying not to let anything go out. Big Jim finally said, hey, you got to spin it. I said okay. So I spinned that thing up and when I did, it shot the O-ring right out the damn top of the tube. (Laughs) I didn't want to laugh then; I was nervous as hell. This was the early part of my career, so I hadn't run much NHRA at the time.
He puts the thing back in there, pushes it back down and says, do it again. So I bump it a few times, try to get the O-ring up a little bit in the tube. He said you've got to spin it. All right, so I spinned that thing again. Same thing happened. Big Jim just looked at me and said we've got a problem. I said I don't know what the hell could be wrong, Jim, maybe it blew a head gasket, I don't know. I mean, why would it be big? I'm trying to play innocent as hell. I said maybe it's blowed a head gasket or maybe it's leaking oil from the other cylinder, blah, blah, blah. I don't know what all I said.
We talked a few minutes until I said I'll pull the head off if that's what you want. He said, well, you're going to have to, so I'm going down to check Morris and I'll be back in a little bit. I said all right, give me about 30 minutes, we'll have the head off. He got out of sight and me and that boy, we took the car and trailer, we loaded that son of a bitch up and I cranked the truck up and I left the track. I'm heading out the damn track. I ain't looking for Big Jim; I ain't looking for nobody; I'm just getting out. I'm thinking if I just leave this damn race track and get out of here, everything will be all right.
This was on Saturday evening now, so I guess with California time behind us it was probably 4:00 or 5:00 in the evening there and NHRA heard about it right away. Because Monday morning I got a FedEx registered letter envelope and I had to sign for it. Monday morning, my license had been revoked until they had a hearing.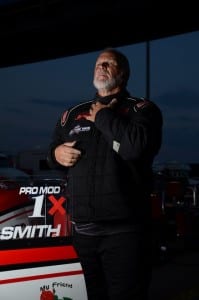 And this was all over just some $500 appearance for me, no NHRA race, just running NHRA rules. And the guy at the track didn't try to stick up for me, never done nothing. I never heard nothing out of him the whole time all this finally went down. I had to go at the end of that year down to Florida, to either the track at Moroso (West Palm Beach) or Bradenton, I can't remember now which one they were at, but I had to go down there that winter because they (NHRA) had a meeting of some kind with a group of drivers that they had pulled in to a race they were having down there. There were some alcohol Funny Car drivers in there and several other people, a committee of NHRA drivers.
I was told later that everybody in there as far as drivers said look, this guy's never done anything wrong before and we don't see why he'd do this; why don't we just let this slide, you shouldn't take his license for this. So every driver in there but one spoke up highly for me. And I will not call this guy out, he don't run Pro Stock. Never has run Pro Stock to this day, but this one guy just pitched a fit and said no, this is wrong. And I remember that guy; he still races today, sportsman stuff. I will call no names. But I'll always remember that guy said that. But anyway, they ended up taking my license for NHRA for, I don't know if it was six months or year.
The worst part was I had the Motorcraft deal then, so I had to call Ford and tell them what had happened. This was about the first of December when they had the race down there and they told me okay, if we don't get any bad publicity out of it, magazines don't pick up on it real heavy, and you don't get any bad publicity out of it, by the time IHRA started in March, or April, whenever it was, I said I've got to sit here all winter, not knowing if I've got a sponsor. They said well, that's just the way we got to do this. You're going to have to wait while we see what happens in the next several months.
So luckily I didn't really get any bad publicity out of it. I think there was one little article mentioned in some magazine, but it all blew over pretty much and they give me my deal back, right before that first IHRA race—and went right on with me for several years after that. But that deal right there, I came home and I cried like a damn 10-year-old kid. I thought I had screwed up the whole program, my whole career. And I had done won a couple of championships and all by then. I just knew I had ruined myself in this business.
But from that day on, I told my wife, I said as hard as I've worked and you've put up with me being gone and the way I dedicated my life to this shit, you can bet your ass they'll never ever get a reason to throw me out and take my license again. I will never ever cheat like that again. Now, we've went to the scales five pounds light, 10 pounds light and yeah, they're going to throw out your run or something—everybody stretches that rule sometimes; it's done a lot. But running illegal fuel, running an illegal motor, doing something totally illegal that I knew was bad enough that they would take my license again and it would ruin my career, absolutely from that day on I have never ever done anything illegal in racing; other than like I say maybe being five or 10 pounds light at the scales, trying to get by with that.
I got a lesson early in life and luckily I took advantage of it and didn't ever let it happen again. But that's the only thing that I regret through my whole racing career; that I really wish I hadn't done.
Is it still fun driving the car? Do you still get a kick out of the ride?
I do, especially these things now because they're so fast and they're so quick and they're so dangerous. They are fun, and they're such a challenge. Like I said, and I say it over and over, if I was a billionaire I wouldn't quit driving until either NHRA wouldn't give me my license no more or I died. It ain't that I don't love the racing. It's all about keeping the money to do it right.
Are you anxious at all about your coming retirement from driving?
There's been a lot of times the last several years when I wonder why I'm still working myself like this and I'm going through this kind of stress. But I love it. I love racing. I've tried to think of several different things to do around here once I retire or sell, maybe invest my money in something else, another little business, but I don't really know what else to do. Luckily, KH (Al-Thani) is hiring me to do something there and hopefully that will last several years and look after some of his guys that he wants to bring along.
Now that your mind is made up to retire from driving at the end of 2014, are we going to see a kinder, gentler, mellower Tricky Rickie out there next year?
No, no way; that ain't gonna' happen; ain't gonna' happen. I may even get throwed out. I'm not going to do that. I'm going to be just as competitive, just as big an asshole as I've always been in that part of the deal. It's just in my nature to race like that.
This story originally appeared in Drag Illustrated Issue No. 81 in October/November of 2013.
(Photographs by Mark J. Rebilas, Ian Tocher and Mike Carpenter)