Saturday's opening round of Pro Extreme qualifying for the first-ever event of the Professional Drag Racers Association (PDRA) came and went early this April with no sign of the flamboyant, bright yellow 2005 Corvette driven by Frankie "Mad Man" Taylor. The car was on the grounds alright at North Carolina's historic Rockingham Dragway, as it ran 3.59 in the previous evening's lone session to place second behind only Todd Martin with a career-best 3.56 in his '68 Mustang.
Nothing changed atop the leader list early that Saturday, but in the afternoon session, 2006 class champion Bubba Stanton leapfrogged past Martin and Taylor alike with his own career-best 3.54 in a brand-new, previously unproven '69 Camaro, while Taylor's well-worn, world-traveled, Larry Jeffers-built Corvette remained firmly perched on its ProJacks in the pits.
Its presence was felt, however, with Saturday-night's fourth and final qualifying opportunity as Taylor returned to the same eighth mile of asphalt on which he'd become the first doorslammer driver ever to break into the 3.50s back in September 2010, but this time turning in an unprecedented 3.485-seconds performance at just shy of 217 miles per hour.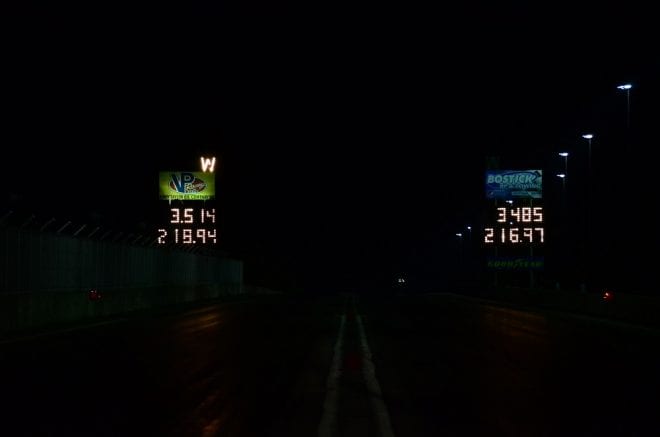 "We were first to the .50s and now we're first to the .40s," the Dickinson, Texas-based driver quipped afterward. "Not too shabby."
It may have looked like Taylor deliberately sat out the earlier sessions, perhaps to save parts and money, perhaps waiting only for record-setting atmospheric conditions, but not so, insists his brother and long-serving crew chief, Paul. In fact, they were actively hoping to make two passes that day.
"To be perfectly honest, we missed the early session because I wanted to get Tommy D'Aprile's legal Pro Mod and the Pro Extreme car sorted out because we had spent a weekend testing in Palm Beach and we made two attempts to go down the race track and never went down once. So I wanted to concentrate on them," explains Paul Taylor, who with his brother has been hired by D'Aprile team owner Mel Bush for their combined tuning expertise this year. "We actually tried to make the second qualifying lap on Saturday, but we decided too late to change the transmission up."
Taylor says he'd convinced Frankie a two-speed transmission would be quicker and faster than the three-speed they currently had installed. "I'm like, 'Frankie, I can't explain it; I don't totally understand it, but the mathematics add up.' So finally at the last minute, we decided to change everything. I said, 'Man, I'll go change the rear end, you build the transmission, we'll throw this thing together and we'll get some kind of data on the second qualifying run.'
"Well, by the time we fired it up, Bubba had just run that 3.54 and there were no more cars in the staging lanes. So I didn't feel like it was right to pull up there, because we missed it. So we were left just rolling the dice."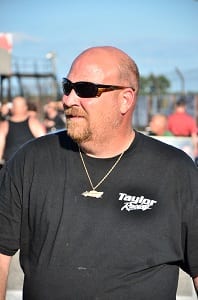 Paul describes discussing the situation with Frankie as they weighed the options of playing it safe for the final qualifying round and just trying to make a mid-.50s pass to make sure and qualify in the top half of the 16-car field, or insert a tune-up from a 3.52 lap they'd run a little over a year ago in Qatar. "The air is going to be about the same, around 700, 800 feet, and you know, the Traction Twins have already told me the track is just as good," he remembers saying.
Not one known for playing it safe, however, Frankie said he wanted to go after the number-one position. "If you want to be top dog, sometimes you just got to roll the dice. He said throw it in there; so I did," Paul says. "And I really thought it would go a bottom .50; I hadn't even thought about going for a .40, to be honest."
Making the run that much more epic, Stanton ran an outstanding 3.514 seconds at 218.94 mph in the left lane beside Taylor for the quickest and fastest side-by-side pairing in eighth-mile doorslammer racing history. It also established a new official elapsed time record for Stanton as his previous pass fell within the required one percent for a back-up, plus he ran a trio of 3.53s on race day before making a solo pass to the winner's circle in the final.
The Taylors, obviously, did not fare as well in eliminations. At the hit of the throttle in their first-round match against the twin-turboed '67 Mustang of 16th-place starter Anthony DiSomma, their car barely moved before being enveloped by rear-tire smoke. Paul says he accepts full responsibility—but there was a mitigating circumstance.
"You could say the crew chief got caught up in the moment," Paul says. "I had Frankie in my ear: 'We're probably not going to get any better conditions than this right here. We need to go for a back-up; we need to go for a back-up.'
"I did calm it down a touch. I figured it would go a .50 to .51, but obviously I wasn't racing; I wasn't doing what I normally do and just worrying about getting the round win. I was caught up in the moment and I really was trying to back it up. And that's a mistake I made. I should have backed it down a little bit more and just tried to go a .54 or .55 and then worry about the record if and when the time presented itself."
But Frankie, 44, and Paul Taylor, 42, haven't gotten to where they are as one of the quickest and fastest doorslammer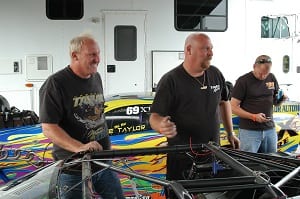 duos on the planet through patience. These guys like to make things happen and the louder and wilder the better. From the time they prowled the streets of League City, Texas, driving hot rodded Chevy Luv trucks, AMC Gremlins and a couple of classic Chevelles and Camaros as teenagers, they've made their names based on hard work, a willingness to experiment and knowing how to make the most out of the least.
"I remember one time when we were running McCreary's street racing. I think it was a dirt tire, but we used to run them on the street. I think at the time they were $120, $130 and my paycheck was $230, so I had enough to buy one; I didn't have enough money to buy the other one," Paul says. "Well, Frankie surprised me and brought me home the other one and we went and had them mounted, and we actually won like 400 bucks that night and he was able to go buy himself another carburetor for his car and I had bet a hundred bucks and I doubled my money, which was pretty cool.
"We had to go out there on the weekends to try and make money. If it rained on a weekend, we cried because we had budgeted all week to go out there to try to win a couple hundred dollars so we could get through the next week," he continues.
"This goes back years ago, but when Frankie was front-halving his Luv truck, we had ordered a set of struts, just cheapies, it wasn't no Lamb or anything like that; just a cheap set of front struts. Anyway, they came in, but we didn't have the money for them, so we asked UPS to hold them for a couple of days. We actually—this is in the middle of the week—we called some guys to go street race that night, just so we could win enough money to give UPS the four- or five-hundred bucks we needed to pay for the new struts."
Even today, the creativity and experimentation continues, as proven by the pair of passed-over Hoosier slicks that were on the Taylor's Stupid Fast Apparel Corvette when it dropped into the once-unthinkable 3.40s range. The short story has fellow Pro Extreme racer Mike Recchia telling Frankie he had a pair of tires with only four runs on them, but after sitting all winter he didn't want to use them. Not one to pass up an opportunity, Frankie reportedly answers, "Heck, I'll take 'em! Mine have been sitting all winter on the car, too, but they have over 40 runs on 'em!"
While essentially true, Paul Taylor says there's a little more to the story.
"Well, slicks are about eleven-hundred bucks a set. And I've been going back and forth for a while: should I run the beadlocks? Should I run the (inner tire) liners? If you look at Frank Manzo, Howard Moon, Bubba Stanton, Jason Scruggs, all them are running liners. I've had good success with the beadlocks. But I had a set of liners that Shannon Jenkins gave me off his nitrous car when he was trying them, so I was curious."
Paul says he had the liners with him at Rockingham and was actively debating whether or not to remove his current tires and beadlocks to insert the liners and see how they worked. Coincidentally, one of Recchia's crew members dropped by at the same time and mentioned they'd just removed a set of tires that had seen only a few runs at the ADRL event in Baytown, Texas, last October.
"I was like, shoot, instead of buying a set of tires, let's just grab those ones and we'll throw them on because our tires
were pretty dead," Paul says. "They did have over 40 runs because they were actually takeoffs from D'Aprile's car at the last Rockingham race, then we'd run them at Baytown, plus they had been sitting all winter. But they were on the car on Thursday and Friday (at Rockingham this year) when we were testing with the three-speed.
"So then we changed the tires. But we put them back on beadlocks because I just kind of have a tune-up for that and I didn't want to check into everything at once. I figured let's just take the three-speed out, put the two-speed in, and we'll leave the beadlocks on because I kind of know what they're going to do. We'll test some other day with the liners if we feel that we need to. So that's kind of the way that that went."
That's pretty much how it goes in the Taylor Racing pit, Paul says, where they're always ready to adapt to the situation at hand. It's not all reactionary, though, he stresses. He and his brother are not afraid to take the team on a deliberate path of testing if one or the other feels strongly enough it will pay off in the end. That was the case in 2009, he says, when they were among the early adopters of torque converter-equipped transmissions.
Frankly, Paul was not convinced it was the right direction to take. In fact, it wasn't until they started working closely with Marty Chance at Neal Chance Racing Converters the next year that the experiment began to prove worthwhile.
"We've actually came up with some pretty good stuff with Marty, which today he sells to everyone," Paul says. "Pretty much all the top Pro Extreme cars are running converters that I feel like me and Frankie helped develop."
Of course, there have been some not so successful times, too, like the disastrous twin-turbo experiment of 2012 that lasted only a couple of months. While Paul readily admits and recognizes the potential of a turbocharged combination, he suggests they went into it perhaps a little too soon for what they had available at the time.
"Frankie comes up with some wild ideas sometimes and it's my job to kind of tame it down and try to see if I can make it work," he says. "The thing with the turbos was we were trying to do it all mechanical. There was no computer on the car; we didn't have a boost controller. Frankie was like, 'If it'll make 60 pounds of boost, let it make 60 pounds of boost and we'll just take it from there.'
"Well, our biggest deal with that was it took us too long to spool the motor up and while it would take 10 or 15 seconds to spool up, it would get the converter so hot that we couldn't ever get the converter to do the same thing twice. It's not the converter's fault; it was just the simple fact that we were getting it too hot, too pissed off, too early. And nowadays, with the computers and the technology that they've got, they spool up within two or three seconds. They're in the beams so it's not getting the converter near as hot. We just didn't have all that technology."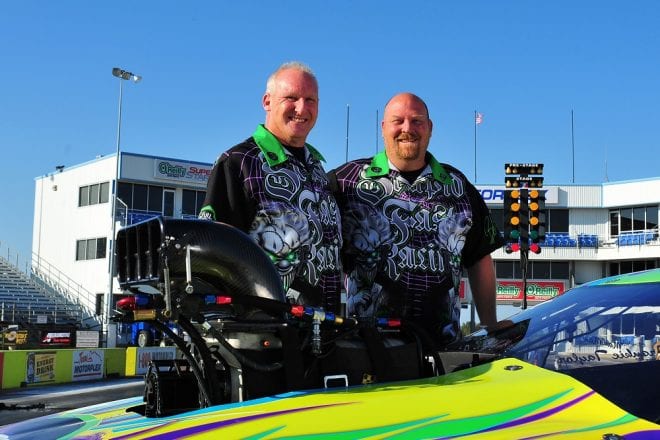 After not qualifying at Houston and Bristol that year, there was no one with a bigger smile on his face at Maple Grove Raceway up in Pennsylvania than Paul Taylor as he bolted a screwcharger back on top of the Hemi in the Taylor Racing Corvette.
"I'm not going to say that we'll never play with them again, but I have no desire at this point," Paul says of his ill-fated turbo time. "I still think the screw blower is faster. Okay, not faster, let's say quicker, because we just saw a turbo car go 221 (mph). But I think the screw blower is still a little bit faster in the 60-foot to 330-foot department—right now—obviously, they're not traveling as hard out the back."
Taylor admits to having mixed feelings about the rise of the turbos in Pro Extreme racing. On the one hand he can't help but be impressed by the 3.56 at 221.05 that Eric Dillard with crew chief Steve Petty managed at Rockingham. On the other, calling it a "double-edged sword," he's concerned for the future of the class.
"I'm proud of the guys that did it, but I also know that turbos have ruined every class that they've ever been involved in. And I'm not talking bad about the turbos; I'm just saying if you look when they went into the NHRA, when they went into all the street classes and stuff, they just kind of ruined the classes. Through the technology, through the years, you can tell they just keep getting faster and faster and faster. And it wouldn't surprise me if they're not the top dog (in Pro Extreme) in the next three or four years," he predicts. "Or maybe even sooner, maybe in the next two or three years.
"Right now, it looks like we still have a little bit of an advantage on them. But that's not to say it'll be like that in the next year or two when they figure out the 60 foot and how they get it to run to 330. You can already see by their back-half numbers that they're going to kill us. It's kind of like, right now I welcome the competition, but it's one of them things when they start going 3.30s at 230 mile an hour, then we're going to be like, shit, we shouldn't have let them in. And there is potential to do that."
The Taylors will be there, though, that's almost certain. It's what they do; persevere in the face of adversity. It's not easy for anyone to keep a full-season Pro Extreme team on the road to the tune of $100,000-plus a season, but for a couple of blue-collar guys like Frankie and Paul it takes an extra level of commitment and sacrifice just to stay on the road—and on the track. Much of the credit to keep going, though, belongs not only to the Frankie and Paul Taylor, but to their wives, Cindy and Sandra, respectively, both high-school sweethearts who have been alongside for every step along the way—figuratively if not always physically—from midnight street races to building local businesses to winning high-dollar finals on the opposite side of the world.
"I'm a tow truck driver and Frankie's an auto mechanic. Neither of us get paid to race, and yet here we are running with the best of the best and we don't even have the first full-time employee that works on our race car, services the car, anything. Me and Frankie do it after hours at work. So it is kind of cool, if you think about it like that," Paul says.
"We have done some incredible stuff over the years, but it hasn't been easy. I remember trading the Luv truck in for a Camaro and then was able to come up with the money to buy the truck back. We've always wheeled and dealed to be able to come out with better equipment. It's just like I can't order heads until I sell my other heads. I can't buy this unless we sell that. We've always had to sell something to buy something better. I know other teams don't have to worry about that, they'll just order stuff and they'll worry about selling the older stuff later. We are totally different; we've got to sell something before we can buy something."
Paul remains careful, however, not to let the limited budget overly affect his tuning decisions. While always aware of the need to save parts, he says it's wrong to assume he tunes with thoughts of dollar signs in his mind.
"I really don't ever think about that and Frankie won't throw that in my face or nothing," Paul insists. "He's always wanted to be number one; he wants to be top dog, so he gives me good parts. I got the best parts that we can afford, let's put it like that. I'm not going to take someone else's used rods and put them in my motor. I'm going to have new rods in my stuff. We're going to have good motor parts. So I don't have to worry about that part of it. Now, that being said, don't get me wrong, I'm not going to go out there and make it a gallon lean to try to run a record and blow my stuff up. I'm not going to do that. I've never raced that way and I'm not going to start.
"You can talk to Tim Tindle, Tommy D'Aprile, Frankie, all of them I've ever crewed on; my first goal when I get to a race is to get them qualified. So the first pass, usually I just try to go A to B, put me in the middle of the field, let me get qualified. Because you can't race unless you're in the show. That's always been my motto," he continues.
"Now, if I get in on the first session or two and we're getting respectable, then come Friday night, the best conditions and stuff, I generally step on it enough to try to go to number one. It don't always work, but I try. I'm almost always in the top four, I think, if you look over the last couple of years. I've always been pretty close to the top," Paul points out with just a hint of pride. "And whether you've got Scruggs or Mick Snyder or Joey Martin or whoever, they're always right there with us. So it's not like we're just dominating. But I always try to go a little bit quicker.
"On Saturday, or depending on what day the races fall on, if I think the track will hold a .60 flat, I'll try to run a .62 or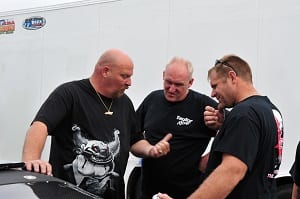 so. That way I kind of know that it'll go down; if I think it'll hold a .55, I'll try to run .57 or .58, just to kind of make sure I go down the track and get the round win. That's generally the way I've always raced. I try to race the race track and don't worry about the other guy, but that being said, I'll always worry about the other guy as the rounds go on. If he's running fast, I'm going to look at where I need to speed up, look at maybe where I need to slow down, whatever I have to do to try and run at least that fast, too."
After all, at its root, it's Frankie and Paul Taylor versus everything and everyone else, as brothers and as racing partners.
"When I'm tuning, I also know I've got my brother in the car," Paul says. "So we don't take chances with fire bottles being empty or stuff like that. Every bit of safety equipment they've ever brought out is in my car, just for the fact that that is my brother in there. I don't care if we blow a motor, hit the wall, nothing; as long as my brother gets out and walks away. Don't get me wrong, I don't want to hurt nothing, but the bottom line is, if it does hurt something, I want my brother to get out and walk away. We'll find a way to build another car, another motor, whatever.
"You have to understand, in these cars nowadays, it's like a grenade. Every time you're pulling into the beams, you're pulling the pin on the grenade. Anything can happen. You can have a valve spring break, you can have a rocker arm break, anything can break. And if anything goes wrong, that grenade goes off. When everything is good, at the end of the run when he pulls the parachute, you can put the pin back in the grenade. Everything went successful. You're good."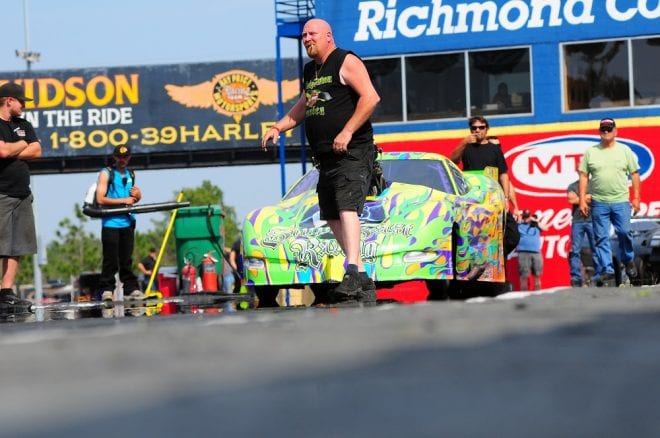 That same sense of trust extends back from the cockpit to the starting line, Paul insists, and it's the root of what makes Taylor Racing successful and sustainable over the long haul.
"Frankie don't ever down me or second-guess me or any of that stuff. He's always supported whatever decision I make, and the bottom line, he gives me the final decision. He always has. He's always stood beside me," Taylor stresses. "A long time ago we decided we were going to race as a team. We would win as a team and lose as a team. So it's never any one person's fault. If it doesn't go so good, we'll just improve on what we did and go and do better at the next race."
And when it does go well, it confirms to Paul Taylor to keep going forward.
Photographs by Joe McHugh, Ian Tocher, and Roger Richards
This story originally appeared in Drag Illustrated Issue No. 86, the Crew Chief Issue, in April of 2014.