At 3:00 PM eastern standard time on Monday, February 15th, roughly 72 hours before the first round of qualifying was set to begin for the $50,000-to-win Radial vs. World extravaganza that is Lights Out 7, Keith Berry and his band of merry men started putting his NMCA championship-winning Corvette back together. It'd been an eventful winter for Berry and his beloved black C5. While thrilled to string together consecutive championships in the NMCA's relatively new and very popular Radial Wars category, the writing was on the wall – 4.0s weren't going to cut it. So, over the winter, Berry and longtime friend/crew chief Ryan Rakestraw scoured the internet looking for a new engine; they wanted to stick with a small block, largely due to what they felt to be favorable rules, but find a bullet trick enough to provide the power necessary to dip well into the three-second zone and, in his opinion, have even a fighting chance of competing at Lights Out 7 with the best radial racers on the planet.
"We knew that it was step up or step down," says Berry, 43. "To be honest, I think I'd sell everything and just quit before I stepped down. So, we knew we had to have a new combo. We wanted to stick with the LS platform, but it just wasn't working out with our timeline. We'd had a lot of success with the LS deal, but we were beating it to death – those cast heads were good to like 35-pounds of boost, but we were pushing like 53-, 54-pounds through them. We were running out of time, and then Ryan found this dragster up in Canada with a bad ass 499ci small block in it."
After a brutal cross-country trip from Berry's home in Gainesville, Georgia, to "basically Alaska" – a town of unknown name in the Canadian province of British Columbia – Berry picked up the turnkey dragster and headed home with intentions of unloading the digger and massaging the big-inch small block to fit his needs.
"We had a lot of stuff that we wanted to change," admits Berry. "Different stroke, different rods and pistons – a lot of stuff. By this time, though, we were already a few weeks away from Donald's race. The plan was to put something together that would, hopefully, survive the one race and then we'd reevaluate."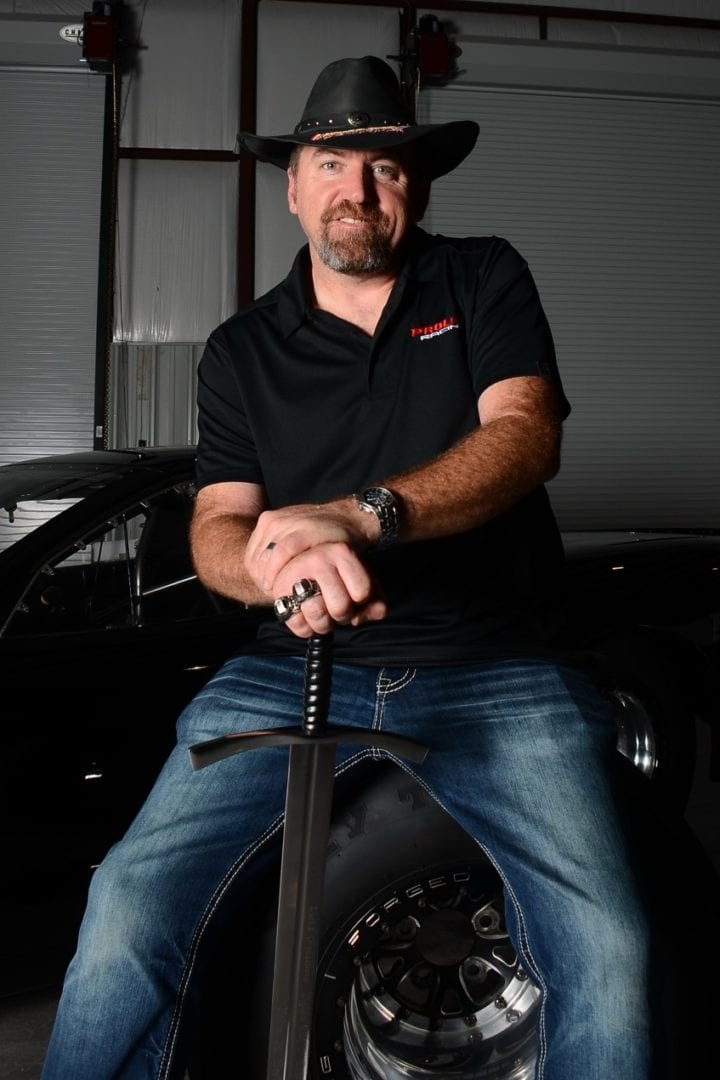 Amidst a whirlwind of overnight shipping and praying for a miracle, Pro Line Racing Engines, who has long since been Berry's engine builder of choice, delivered the goods. With about 10 days until Lights Out 7, Berry picked up his 4.5-inch bore space, slightly de-stroked 487ci small block utilizing a billet CN block and CFE's latest SBX heads. From there the car went to Joey Bell at Bell Chassisworks in Woodstock, Georgia, where he installed the engine and mounted the new 98mm turbochargers from Precision Turbo.
"The week of the race we took the car over to RK Racecraft – my crew chief Ryan Rakestraw's place in Clarksville," explains Berry. "He'd already been working around the clock, finishing up a new Outlaw Drag Radial Corvette for Alepa Racing and a bunch of other Pro Mod stuff, and then we showed up with my car. I think it was about three o'clock in the afternoon on Monday that we got started on my car. And the race was going to start on Wednesday."
Around 4:00 the following morning, better than 12 hours later and with the car still in a thousand pieces, Berry realized that the situation didn't look promising. While they'd come to terms with missing the qualifying rounds on both Wednesday and Thursday, settling for a couple shots on Friday and a final chance on Saturday morning, Berry and his high-energy, fun-loving squad had their doubts.
"I text a few people, a few friends, and let them know, 'man, I don't think we're going to make it'", he allows, clearly still amazed that didn't end up being the case. "It felt like one of those deals where everyone is thinking the same thing – not like a good thing – but no one wants to be the one who comes out and says it. We're in the shop working on the car, literally listening to the live feed of the race we're supposed to be at."
Throughout the next two days and into the wee hours of the morning on Thursday they thrashed. Parts came and went – off to get powder coated or modified – and finally, around 2:30 AM on Thursday, still up on Pro Jacks with body panels strewn about, Berry climbed into the driver's seat, reached up to the switch panel and whirled the engine over. By 4:00 that morning they were southbound toward Cecil. Though seemingly infinitely shorter than their trip to "basically Alaska" a few months prior, Berry and company had to dig deep to make it the final 265 miles of their multi-month journey.
"We had to stop," says Berry. "I was seeing shit on the road; I was dying. I couldn't play music loud enough; couldn't have enough windows open. We were all smoked. We pulled over and tried to rest for about an hour, but we had to roll. I think we rolled through the gates about 10:00 in the morning."
Having rewired the car from front-to-back, along with the engine swap and new bigger turbocharger, Berry was confident the car would fire up for Thursday's sole qualifying session, but that was it. Would it make a pass quick enough to qualify for what would undoubtedly be the most competitive field in the history of drag radial racing? Could he possibly expect to squeak into the 32-car field with over 50 other high-level racers eager for a shot at the richest purse in the eliminator's relatively brief history?
"We had no intention of setting the world on fire on Thursday," explains Berry. "We just wanted to make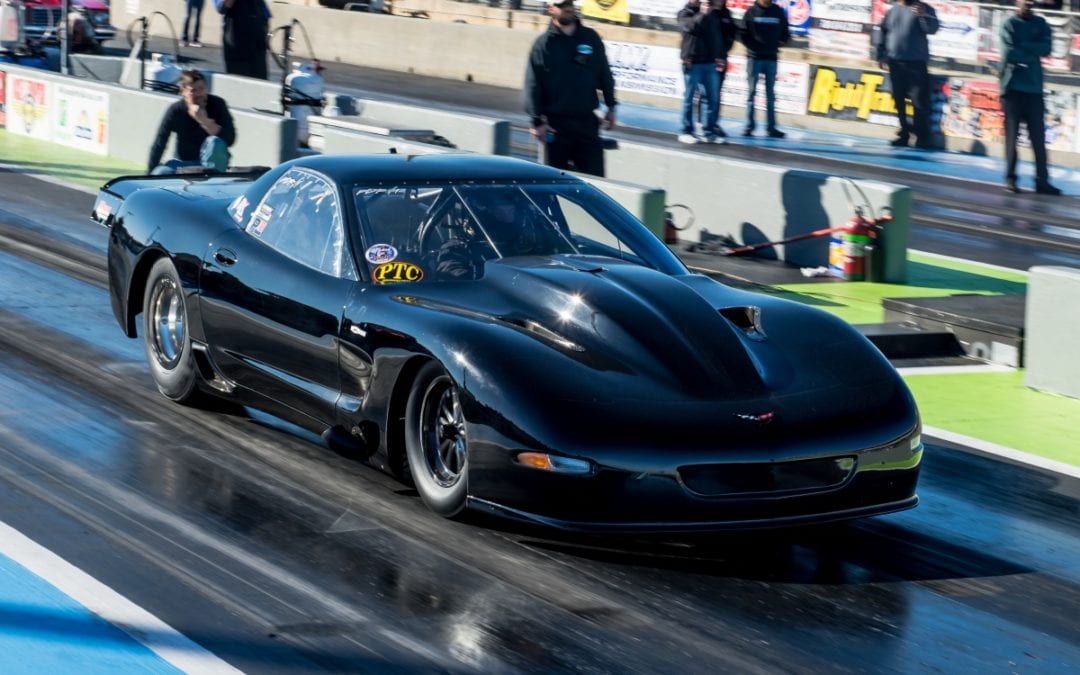 it from A to B under power. When I let off the line-lock and started rolling out of the water it literally felt like victory. Hey – at least it'd do a burnout, right? So, I go pull up and light the top bulb, then I hit the button on the steering wheel for the bump box and I'm like…'weird – it didn't bump.' And I'm thinking that my bump box must be screwed up, so I let out of it and roll it into the beams and get back on it and I see all these photographers waiving their arms and yelling. I'm thinking 'what the hell are these people yelling about? Am I on fire?' But I just let off the transbrake and motored on down through there."
Little did he know that during the scramble to get the car together – and rewired – that the buttons for his bump box and parachutes had been accidentally reversed.
"When I hit the button to bump the car into the stage beams, I'd launched the parachutes," says Berry. "In all the rush and fuss to get up to the lanes, we'd forgotten to plug in my radio, so they couldn't tell me and…well…I had no idea. I let out of it in third gear and it went to slow down and I'm thinking the transmission is binding or something; something must be wrong – this thing is wanting to slow down way too much. I took the first turn off, got out of the car and saw the 'chutes out and it all made sense. I knew I hit the right button, but we just had the wires backwards."
The situation improved rapidly, however, as Berry worked his way into the field with a 4.092-second, 186.05 mph pass that would prove good enough for the 24th spot on the eliminations ladder. Jason Michalak led the way in PTC Radial vs. World competition headed into Saturday night's opening stanza with a 3.876-second blast at over 196 mph.
"We just barely got in the deal," says Berry, easily able to reimagine the concern he had prior to the start of the race. "And my wife and kids had drove almost 300 miles down there. These guys are ripping off 3.80s and .90s left and right; it's like…holy shit. What have we got ourselves into?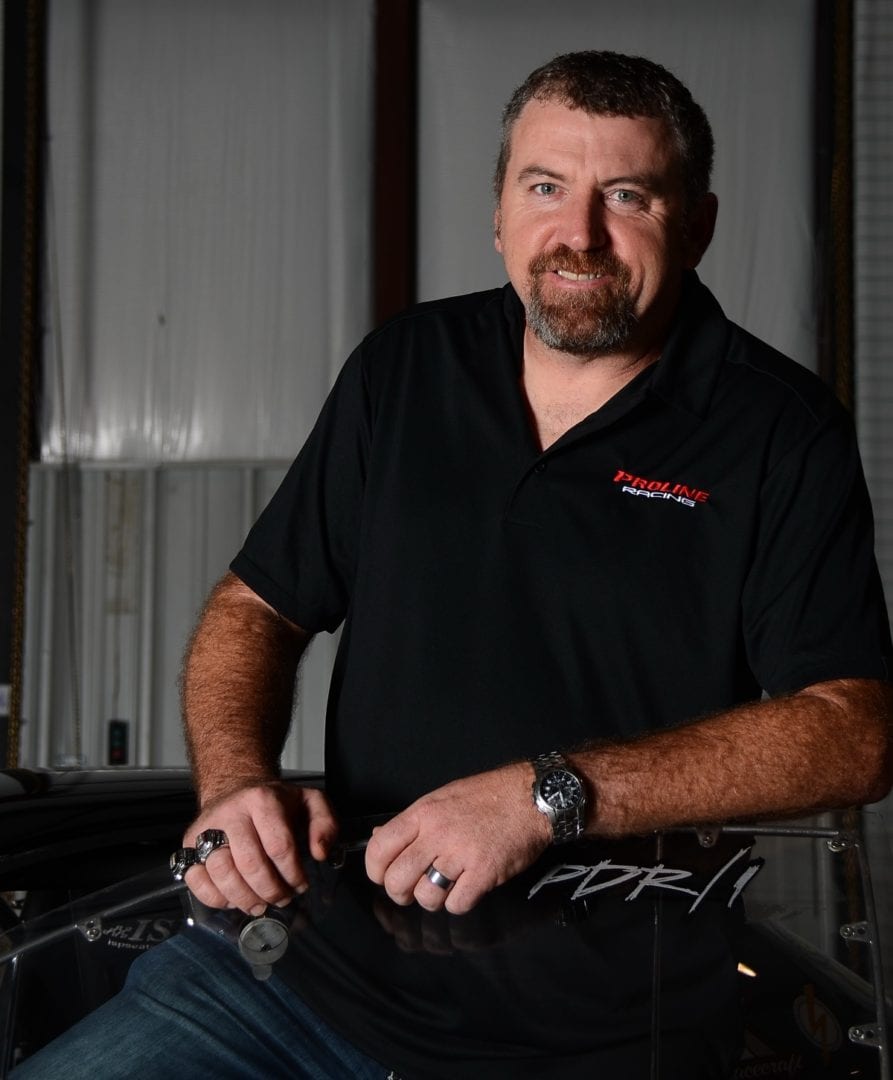 "I told everyone, 'Listen, we just don't have enough passes on the car yet. I'm telling my wife, my kids, everybody, 'look, we got Enzo [Pecchini] first round. He ran 3.96, and we don't have a three-second tune yet. We can't swing that hard for it, we have to just go down the track and make a 4.0 run. I was just trying to prepare everyone; let them know that there's a serious chance we're going out first round and that nobody needs to get upset. You know – we'll stick around a little bit tomorrow and watch some racing, but we'll get on the road and head home at a decent time."
One Pecchini wheelstand and a Roger Holder red light later, Berry's tune had officially changed.
"After we got through the first couple rounds, having dodged a bullet there in the second against Holder when my car shut off because we had some ignition issues, it started to feel like we might be onto something," Berry acquiesces, smiling and struggling to contain his enthusiasm. "Eric Dillard, Ryan [Rakestraw] and [Steve] Petty, they're all tuning on this thing – Petty from the couch at his house – and they're figuring it out. All of a sudden it's starting to feel like we might actually have a fast car and nobody realizes it."
In the semifinal round Berry squared off against fellow twin-turbo frontrunner Daniel Pharris in his Missouri-based SN95 Ford Mustang. Pharris was decidedly late off the starting line and shut off early as the sleek, black Corvette zipped through the eighth-mile clocks in 3.959-seconds to secure the victory for Berry and setup a titanic final round alongside another one of outlaw racing's most colorful characters – Stevie Jackson and the Phil Shuler/Todd Tutterow-tuned, roots-blown Hemi-powered Fox Body Mustang dubbed "The Shadow".
The crowd on the starting line when it came time for the big money match up alone was impressive without even taking into account the thousands of fans who had endured, determined to see a winner crowned and nearly $55,000 change hands. Despite having further poured the coals to the Pro Line-powered 'Vette in anticipating of a collective 3.8-second final round, the race was decided on the starting line. Berry left the line four-hundredths-of-a-second quicker than Jackson (.026-seconds to .066) and held off the hard-charging Jackson for 660-feet, crossing the finish line stripe first by just two-thousandths-of-a-second ahead, or roughly six inches, to take the win with a 3.934-second, 192.69 mph effort over Jackson's 3.896 at 194.80 mph.
"To win it like that," starts Berry, "it's just a Cinderella story because I'm a big fan of Stevie's and we're great friends and we talk regularly. I think the world of him, and he's a truly great racer. We stepped on it and we hurt it there in the final – got four rods. Based on what we lost in the back split, I think we would have been right there with him, but to win it on a hole shot…it's special."
For Berry, who has undeniably enjoyed a considerable amount of success over the course of his drag racing career, this come-from-behind win at Lights Out 7 is as good as it gets.
"After all the work, all the late nights and everyone spending all this time away from their families, I would have been pretty proud of this group of guys for qualifying," says Berry. "Again, to win it? It's hard to describe. And that race? I don't think words can adequately describe that race, not accurately. The feeling, the atmosphere and the buzz, it was electric. It was the first time I've experienced anything quite like it; it was crazy. For me…I don't know if this one can ever be duplicated."
Still smelling of the champagne he was dosed with in the winner's circle, and wearing the infamous black leather cowboy hat that accompanies the cash awarded to the winner of Donald Long's productions, Berry and company started their trek home much in the same fashion and condition it began: in the middle of the night and completely exhausted.
"I made it about 15 miles on I-75 and had to pull over," says Berry. "I was just emotionally drained; I don't think I could have made it another mile when I saw the sign for the rest stop. We pulled over and just crashed. It was all just so overwhelming."
It took almost two weeks before things started to truly settle down for Berry, who recounts having received over 2,500 notifications and messages altogether in the wake of his big win. From track promoters looking to book Berry and his world-renowned Corvette in for match races and appearances to family, friends, customers and fans simply offering their congratulations, winning in February at South Georgia Motorsports Park was a game changer.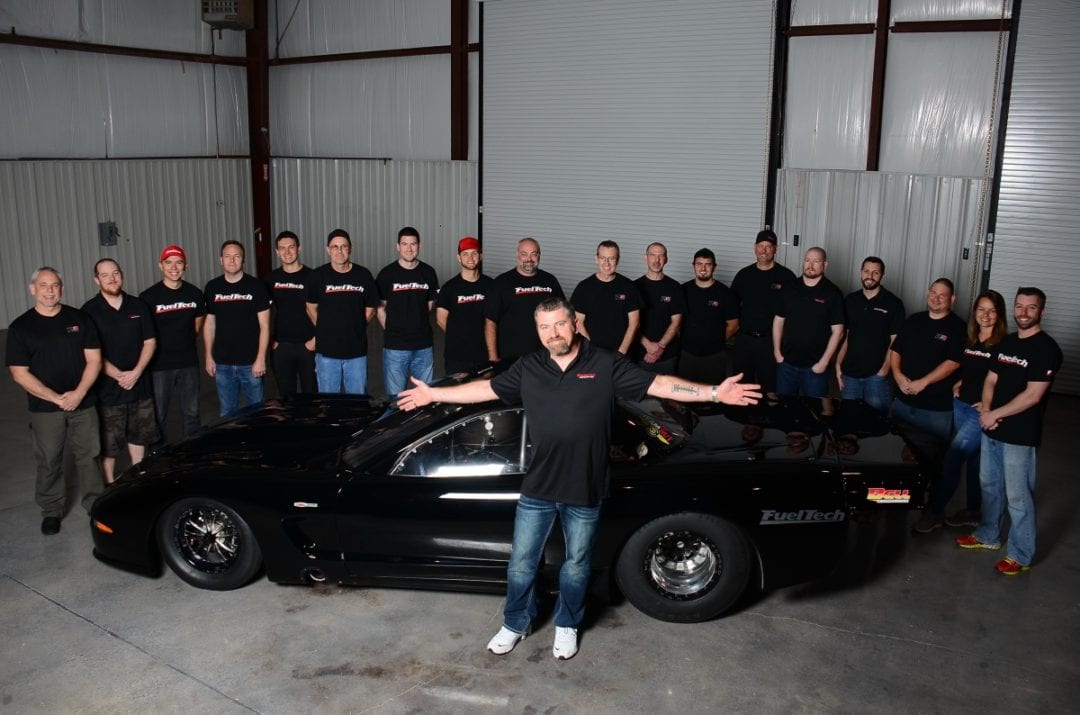 "I'm proud," concludes Berry, after acknowledging that he took a strategic business trip to Washington State and worked some extended hours in the weeks following Lights Out 7 in hopes of gaining a little perspective on what had transpired. "It's cool to win that kind of money and I really am humbled by all of it, but I'm very, very proud of it. I'm proud of all my guys. I'm a small part of it, I think. The guys on this team are who made it happen. I told my guys, 'I've got two jobs. Don't hit the wall and pay everybody on Sunday.' Other than that – it's all up to them, and I believe that. I sure as hell wouldn't be doing any interviews or photo shoots without them. Fact."
Photographs by Ian Tocher and Chris Sears
This story originally appeared in Drag Illustrated Issue No. 109 in May of 2016.