Haley James admits it was "nerve wracking" the first time she took center stage on the starting line of a National Mustang Racers Association (NMRA) event. Just 16 years old, she was a newly licensed driver and had never performed in front of a large crowd before. But someone had to sing the national anthem at the 2013 NMRA season ender in Bowling Green, Kentucky, and Haley got the gig.
"My dad asked the guys running NMRA if I could sing the anthem there and since there was no one else doing it they said sure. I love to sing but I had never sung in front of more than maybe 10 people before, and all of them family, so it was kind of scary but a lot of fun, too," James recalls.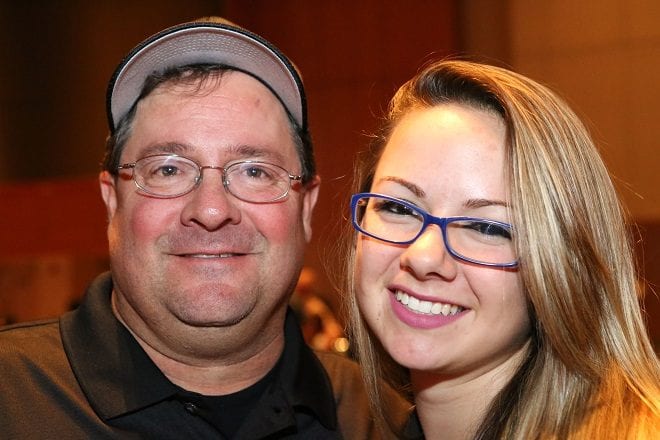 She couldn't have known then, but a little more than a year later she would be attending Frank Hawley's Drag Racing School in Gainesville, Florida, preparing for yet another and even bigger NMRA debut. The driver's seat of Hellion Racing's turbocharged '91 Mustang LX had opened up after Frank Varela, who won the 2014 NMRA Coyote Modified championship in it, decided to move up to the Renegade class. James' father, Dwayne James, co-owner of Hellion with nine-time NMRA Street Outlaw champ John Urist, had previously given her a turbo-boosted '93 Fox-body Mustang as a street car and promptly asked if she'd like to try her hand in a real drag car.
"There wasn't necessarily an expectation, but I think there was always a hope. My dad always hoped that I would want to drag race because I am his only child and that's something he loved to do and he wanted me to obviously take that on," James says. "But I was never pressured. It was always like, 'Haley, you can do whatever you want to do and we'll support you.'"
Despite having only a few months' experience several years earlier in a Jr. Dragster (and even then only in test-n-tune sessions, never competition), Haley jumped at the chance to go racing. It was to be her Christmas gift that year, but rain in Florida pushed her class back a couple of weeks and as 2014 turned into 2015, she quickly earned her competition license in a school car under Hawley's expert gaze.
"Erica Enders started with us, too, and the first time I ever saw Erica drive, I thought, 'Well, she seems really sincere about the sport and very organized,' and I think Haley demonstrated some of those same things when we first met her," Hawley says.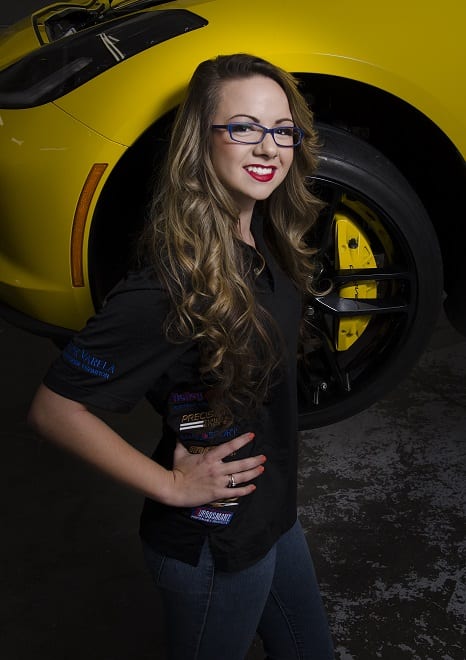 "In addition to the driving, we spend a lot of time on the psychology of sport and competition and human performance, and often—and this is a generalization—I think sometimes the younger audience that we have maybe doesn't appreciate that as much as some of the folks that have experienced a little more in life. But I didn't get that sense from Haley," he continues. "She seemed to be very interested in all we were talking about and was very attentive, quiet, respectful; she demonstrated a lot of the things that I've seen in some of the pro drivers we've had over the years who have gone on to have great careers."
With a freshly minted drag racing license in hand, James headed home to Albuquerque, New Mexico, where she got the steering wheel out of the Hellion Mustang and would sit in the house with it and watch YouTube videos of Varela racing the car from the year before, mimicking pushing all the buttons he would've pushed, working hard to master the trans brake and what she calls the creeper button, which she explains is "like a bump box, but not actually a bump box."
Eventually, with the routine committed to memory, James says she felt ready for a return to Florida in March, traveling a little farther south for the first NMRA race of 2015 at historic Bradenton Motorsports Park, but this time with the Hellion Mustang in the trailer. Hawley made the trip, too, in order to help ease Haley and her team in their transition to competition.
"I had never driven the car before, never made a pass in my life," she says. "And then I made my first test hit. I definitely thought I was going to screw up everything. I thought I was going to jump the tree. I thought I was going to do a terrible burnout, but everything went fine. It wasn't perfect, but it wasn't bad, either. It was good. And immediately after that moment, I was like, 'This is awesome; I have to do this for the rest of my life.'"
Her father remembers taking their time—at first—just letting Haley go a little farther each pass in a typical test session for any young driver preparing to compete at a drag strip they'd never seen before. But then time grew short and he realized she'd yet to feel the pull of the parachute at the end of the track.
"So I told her to take it out about a thousand feet, pull the chute and get used to what happens. Then I looked at
Frank and I was like, 'Screw it, let's just see what she wants to do.' So I stuck my head in the car and said, 'Just keep driving it until you're uncomfortable and pull the parachute at the end.' She just answers, 'Fine,' and she goes out, does the burnout, lines up, goes, makes a full quarter-mile hit, pulls the parachute, her time pops up (8.27) and it would've beaten the record from the previous season!
"Most people spent that whole first race looking at me like I was a crazy man, letting a 17-year-old kid do this. And then every pass that she went out and did something, whether it was staging or just the speed of it or whatever, we were all flabbergasted and it was just, how is this happening?"
Remarkably, James qualified number two with an 8.31 pass and wound up going to the final round in Bradenton against past NMRA champion Johnny "Lightning" Wiker, where she finished runner-up her first time out.
Within a month, after having just turned 18, James again qualified second at Atlanta Dragway before again meeting Wiker in the final, but this time she finished one position better, notching her career-first win. Then, her first top qualifier award came in May at Maryland International Raceway, where she ran 8.18 seconds to also secure the class elapsed time record and went on to finish runner-up to Ronnie Reynolds.
So, halfway through the NMRA schedule, against experienced opponents, James had reached all three finals, won once and was leading Coyote Modified points. She admits that even to her it seemed practically impossible.
"I remember before the season started I was just thinking how cool would it be if I ended up winning the championship and doing what Frank (Varela) just did and being in Race Pages (the NMRA house magazine) and having features written about me? Then I was like, no way. I mean, that's not going to happen. I'm a rookie, the rookie of rookies. I've never raced before. I'm probably going to be okay at this; I'm not going to be that great. And so it was just hard for me to set goals because I really didn't know how I was going to do. And then I ended up doing all of those things and I was like, 'Oh my God, this is actually happening; this is crazy."
The success continued in the second half, too, beginning in June at Norwalk, Ohio, where James finally dominated from beginning to end, qualifying number one and capping her weekend off with another final-round victory over Wiker. Her first back-to-back win came shortly afterward at Chicago's Rte. 66 Raceway, where James once more bested Wiker in the final.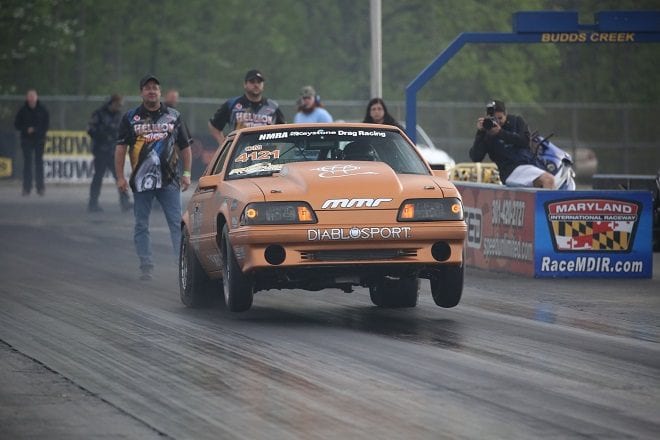 That left only the final NMRA event of the year early in October at Bowling Green, where Wiker won the race, but with another second-place finish James finally clinched the 2015 NMRA Coyote Modified title, making her one of the youngest national drag racing champions ever and almost certainly the youngest female champion in a heads-up national series.
"It's special and unique to see because I've known Haley since she was a little kid. Dwayne, her dad, raced with us for many, many years, so she always came to the races when he was competing. So I remember her from at least 10 years ago, so to see her as a little kid to now, it's pretty cool," says Mike Galimi, editorial director for NMRA's Race Pages and Fastest Street Car, the in-house magazine for sister series NMCA.
"She really takes her cues from her dad, really laid-back and not afraid to work hard. For instance, one race she was right there with everybody, pulling the heads, cleaning gaskets and doing all of it. So her demeanor is very calm and relaxed, but when they have to work hard, she's right there with everybody else."
To no one's surprise, in addition to James' championship she was named 2015 NMRA Rookie of the Year at the series banquet, held early in December during the annual Performance Racing Industry trade show at Indianapolis. "I never thought I'd see myself in Race Pages or Drag Illustrated, or standing here, not only with the title of 2015 Coyote Modified champion, but also 2015 Rookie of the Year," she said in her acceptance speech. Additionally, Dwayne James was named NMRA Crew Member of the Year for his work in tuning both Haley's car and Varela's also-championship-winning Renegade entry.
That was last year, though, and as James and her father both realize, 2016 will present a brand-new set of challenges to overcome as well as an added burden of proof.
"I underestimated myself, of course," Haley says. "And of course all of my competitors, everyone was just waiting for me to screw up, just waiting. And now that I won the championship, they're like, 'Well, she was a tenth ahead of the class for most of the year but she just got lucky in a fast car. Let's see what she does next year.' So it's next year now and it's really important that I kick ass because I've got to prove everybody wrong."
Her dad, meanwhile, is more concerned with how their competition is advancing than in how Haley's success is perceived.
"Our competitors are catching up on what their cars are capable of and once they've achieved that we physically don't have the horsepower to just outrun them. We've discussed that many a time, that we're obviously going to fight for a win and anything could happen on race day, but the truth is we had a knowledge advantage. They always had the power advantage and now that their knowledge is catching up with their power, the rules makers need to make some adjustments," Dwayne suggests.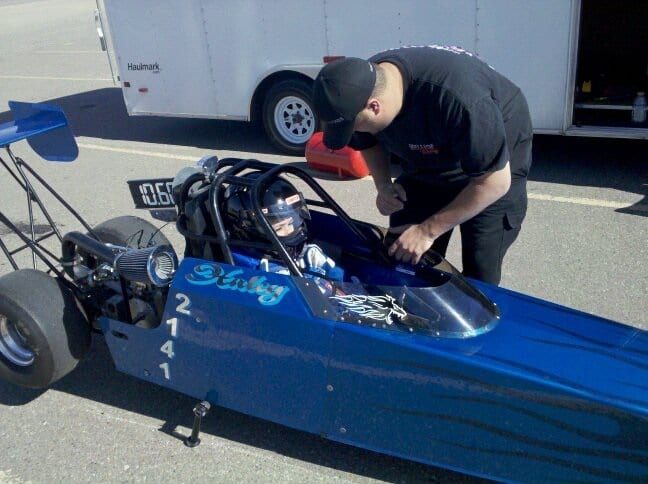 "But they don't do that stuff overnight and I told Haley this is heads-up racing; sometimes we're going to go out there knowing that we're not the superior automobile. But there's more to racing than just having the fastest car. No matter what happens we'll go compete and I'll do what I'm supposed to do, the tune guys will do what they're supposed to do and if she does her job then that's what we're there for—win or not."
For the time being, James is content to remain an NMRA racer. She says she enjoys the "grassroots" atmosphere of the series.
"The biggest thing for me, I obviously love the adrenaline rush. I love the G-forces, all of that, the competition, the normal things that people like about drag racing. But my favorite part about drag racing, and especially in the series that I run, is everyone is so close. When I go to races I feel like I'm at home away from home. My team and I are like brothers and sisters. And my favorite part about racing is making my dad and my team proud," she insists.
"The NHRA is really cool, too, but I feel like it's more of a professional environment. They're still teams and teammates, but it's more because of their getting hired and not because they've known each other for a really long time. So yeah, I would love to be a part of a grassroots team for the rest of my life, but if Don Schumacher or someone like that was to call me and ask me to race for his team, well, obviously I'm going to say yes.
"Honestly, I would love to drive a Top Fuel car. I can't imagine anything more fun than going 300-and-something miles an hour," Haley declares. "So if that opportunity were to arise, I would take it immediately. But as far as actually aspiring to do that, it's just such a far-out goal that it's just hard to think about. But yes, I mean, I do think about it sometimes."
James' father recognizes his daughter's innate need for speed.
"We already know she's going to want to go faster. We put the bigger turbo on the car at the Street Car Super Nationals in Vegas last year, so she already did get to experience what I would call 'big-boy speed.' She went fast, even got into a big wheel stand where all four wheels came off the ground and I saw the way she handled that. She knows what she's doing," he says. "You know, almost anybody can fit in a car and hold onto a steering wheel. That's not racing. Haley has picked up on and truly understands what she's doing in the car. She's really picked up on the fact that she's a racer, not just some person driving a fast car."
NMRA's Galimi agrees, observing James has a demeanor behind the wheel that exudes not only confidence but security.
"It's extraordinary how quickly she picked up on everything," he says. "I've been around the drag racing scene for quite a while and you can just tell that she gets it. She gets in the car and she's comfortable in there. When you see new drivers you can always tell when they're tense. But she really isn't. And it's very impressive."
But first there's the matter of James' education, something over which she and her dad are in complete agreement. Currently a freshman at the University of New Mexico, she's taking prerequisite courses with the intent to major in political science with a minor in sociology.
"I plan on being affiliated with drag racing forever. I hope that I get to drag race also for the rest of my life, but I
mean, I can't have my dad pay for everything forever; I have to be able to create a career for myself that allows me to do all these things on my own," James says. "I mean, I would love to just throw college out the door and just race for the rest of my life but it doesn't work that way. So Plan A might be to just go drag racing, but Plan B is to pay for Plan A.
"I've always been interested in social work, especially in my state, where there's a lot of poverty and there's a lot of really broken families. So I've always been interested in helping the kids out that are in those really bad situations," she says.
But considering the earning potential of hands-on social workers, James understands it may not be a practical option for her. Instead, she says, she aspires to a management role, something that allows her to still make a positive contribution to her state's needs but also lucrative enough to support her racing.
Regardless, while her father supports whatever direction Haley ultimately chooses, he insists her education comes before any kind of racing or high-performance pursuits.
"First, I want her to get through school. That would be the first commitment, her college education," Dwayne says. "If the race car follows the college education, then I really would like to see her at a marketing school for her driving career and possibly even some other kind of coinciding career like the rest of us have, working for a living.
"And if her aspirations are to drive a fuel car or a Pro Mod or whatever, our ears are always open. We self fund most of our stuff, but obviously that's getting pretty serious, so we're always keeping our eyes and ears open for anybody that would be looking for that kind of opportunity, to put a talented young female in their car or promoting their product."
Now 19 and the reigning NMRA Coyote Modified champion, James continues to sing The Star Spangled Banner at each race before strapping into her eight-second, 160-plus mph ride.
"I've been singing since I could talk, but I've never been in choirs or anything like that. I never was interested in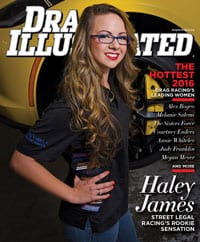 anything like that," she says. "I got the racing from my dad and the singing from my mom. It's not a serious thing for me, though; it's just fun.
"My racing, though, that's serious. There's a lot of buildup in the off-season, looking at people's Facebook posts and seeing what they're going to bring to the table this year. I already know I'm going to have some really tough competition. So it's going to be exciting."
Photographs by NMRA Digital
This story originally appeared as the cover story in Drag Illustrated Issue No. 108, the 2016 Hottest Women Issue, in April of 2016.