He never intended to become the dean of drag radial, never expected to set national standards for admirers and imitators to follow, never anticipated becoming the de facto leader of a bona fide drag racing movement, but in 2007 when Donald "Duck" Long decided enough was enough, the wheels (or tires, as the case may be) were set in motion.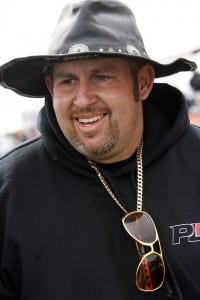 It was during the Real World Street Nationals late in October that year, when as co-owner of a Pro Mod entry but also crew chief on Tony Ridenour's Drag-Radial '94 Camaro, Long says he really noticed the disparity in how competitors in each class were hosted. He describes a situation where so-called "big-tire" competitors were assigned all the prime, paved pit space at Orlando Speed World Dragway, while the drag radial teams were relegated to the back 40, camping in the weeds with the mosquitoes and snakes, regardless of whether they rolled up in a pick-up and open trailer or a 200-thousand-dollar rig; it didn't matter, they were treated as second-class citizens as far as Long was concerned.
It wasn't just Orlando, though. Long had been noticing for quite some time his beloved drag radial friends were routinely considered as little more than filler for Pro Mod and Outlaw 10.5 shows that were all the rage at the time throughout the Southeast. He also didn't like the typically pitiful purses reserved for the radial crowd, who were fortunate if the winner's take exceeded a thousand dollars and more likely than not were racing for half that.
Long decided to do something about it. By January 2008 he had worked out a plan to hold a race that October in Bradenton, Florida, not far from where he grew up in South Tampa, near the massive MacDill Air Force Base. Long readily admits with only a couple of hundred fans in the stands, that initial Outlaw Radial Tire Championship (ORTC) event may have appeared a disaster to the uninitiated, but overwhelmingly positive reaction from the racers and extended drag radial community convinced him he was on the right track.
Actually, it turned out the right track was about 300 miles north alongside I-75 in tiny Cecil, Georgia, at the all-concrete South Georgia Motorsports Park (SGMP), that also happened to feature acres upon acres of nice, paved pit parking.
Long expanded the ORTC to a two-race schedule in 2009, opening with his first "Lights Out" event that May at South Georgia before returning to Bradenton for the finale in October. He's held two races a year since, both at SGMP, where Lights Out has been joined by "No Mercy," this year sub-titled "Cleared for Takeoff" in reference to the spectacular tendency of some competitors to catch big air at speed on the SGMP eighth mile. Both races have become "must-attend" events for the heaviest hitters in the drag radial world as they attract up to 500 entries each, as well as thousands of fans who make the pilgrimage to Cecil from all across the country, Canada and even Europe.
Donald Long did that. With constant and consistent help from promotions partner "Lenco Jim" Taylor, he elevated drag radial from sideshow status to headlining draw in just a few years—which ironically has become a great source of aggravation to him.
"These guys that come into radial racing now, they don't have a freaking clue what their life would have been like back in the day," he states. "They show up in 2008? Their stuff is parked out there in the swamp. They show up now and think they can buy an X275 T-shirt and get to park up front.
"If you talk to somebody like Shane Stack, or David Wolfe, or to "Big Daddy" Dwayne Gutridge, they'll tell you how it was back then to how it is now. But then we have some new people who just go out and think, 'Oh, my God, this radial thing is awesome!' and they jump right in. And that's great; don't get me wrong, we want them out there. But they think that radial tire is just this top class and everybody loves them, but I'd like for them to understand that wherever they are now, it's because we've taken them out of the dark ages and put them there."
Long recognizes how that may sound to some, but for a guy given to aggressive, bombastic online rants while wearing a fur coat, oversized sunglasses, a leather cowboy hat and a giant clock dangling from a gold chain around his neck, he's disarmingly thoughtful and articulate.
"I know there are some people that come out when I say something like that and they'll be like, 'Well, who are you to say?' Even at this point right now there are still people who do not understand why I say that—and I'm not taking complete credit—but I am telling you drag radial would not be where it is right now without us doing all the crazy stuff and drawing attention to it.
"Of course we have to have the radial guys there to support it and the fans to support it and all that, but somebody had to step up and try to do something crazy to draw attention to it. And I did it because I love it. I love radial racing. I love the sport of drag racing, but I just … I love the small-tire guys the most."
It's not easy being "The Duck." Long does more than just promote a couple of races a year; he lives for them, devotes his time and energy and emotions to them, does whatever it takes to get the job done. His Internet videos, often costarring Lenco Jim, are legendary among drag radial competitors and followers, as Long takes sometimes funny, sometimes caustic, but always entertaining verbal shots at everything from rule changes to trackside media management to rival promoters and events.
"Back in the day I wanted to make sure every cent went back into the race, but obviously, later on down the road, I couldn't afford to do that because of the amount of time. You're talking hundreds, thousands of hours," he explains. "You've seen the stuff just on the Internet, but gathering up all the sponsors and trophies and jackets, it's just very, very time-consuming.
"Stress wise, my mom and my dad and my girl, they sit back two months out and they know that the stress level is going up. Now, don't get me wrong, I'm not saying I don't cause a lot of this myself, but by me promoting the way I do, obviously it stirs up some stuff with certain people. I've got people attacking me; I've been sued; it's just one of them deals where there's a lot involved."
As he acknowledges, Long has his fair share of detractors, but for the most part even rival promoters recognize his genuine passion and contributions to the sport—and drag radial in particular.
At its second race this year the National Muscle Car Association (NMCA) added a new eighth-mile Radial Wars class to its traditional quarter-mile events, largely based on established rules for Long's popular Radials vs. the World (RvW) class, which pits drag radial cars against 29X10.5W slick-tired machines with the choice of rubber at each race left to the competitor. Mike Galimi, editorial director for NMCA parent company ProMedia, also plays an organizational role for the California-based sanctioning body and was present when the decision was reached to add a drag radial component to the NMCA mix. He says although not a carbon copy of RvW, the rules for Radial Wars definitely took what Long already had in place into account.
"We have to look at all of it, across the board, because it's not just about living in our own little world. We have to know what Donald is doing and know where the market is and react to the business and position the sanctioning body to the market. You have to be very open-minded to the racers, the sponsors, even to part development for the future," Galimi says.
"Now, Donald might have different concerns with just holding two races versus we've got a traveling series with six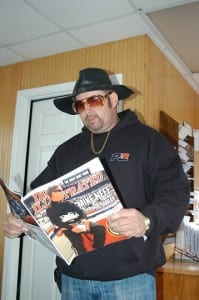 NMCA races, six NMRA races and five races out in NMCA West. So we do have different concerns, but we did try to blend what we already had in place with what Donald is running and where the market is."
Likewise, when Tulsa Raceway Park decided to add a three-race Radial Revenge Tour to its 2014 schedule, track co-owner Keith Haney freely admits he too adopted Long's rules for RvW, but adds he also leaned on Long for a little help in promoting the second event when the class was introduced to Oklahoma for the first time.
"I'm going to reach out and say Donald did justice for us in the July race. He helped promote it through a little bit of sharing on his Facebook page and social media sites," Haney explains. He goes on to declare Long's implied support "a great help" and a good example of drag racing promoters coming together for the greater good of the sport.
"Do we compete for racers to come to our events? Yes. Are we going to step on each other's toes? Yes, that's always going to happen occasionally; it's almost impossible not to," Haney says. "But we can support each other locally by trying not to schedule races on top of each other because that makes it better for each track, makes it better for the racers, better for their sponsors, better for everybody."
Long's not so sure. Of course he realizes it's impossible to hoard drag radial—he doesn't want to; he enjoys its increased stature—but at the same time he's bothered by what he calls "piggyback promoters" repeatedly seeking out the same racers and sponsors that have helped grow the Lights Out and No Mercy events over the years.
"These people really have no vested interest in the class," Long declares. "They want to come in and put on these races and they'll have one race and it'll be okay. Well, instead of waiting and putting on another one a year later or whatever, they want to start putting on a race every week or every month."
As proof he offers the story of several representatives from Holly Springs Motorsports in Alabama visiting his races at SGMP to see how the events were organized and what it took to host a successful drag radial race.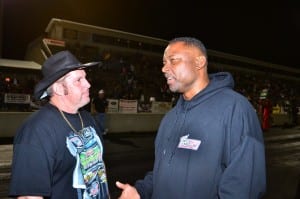 "They came over a year or two in a row before they started putting on their first race, and that's fine, I don't have a problem with that. But at the same time, they started approaching all my sponsors. Instead of going hunting for new people, they used at least 70 percent of my same sponsors," Long complains. "That just makes it that much harder, and then they want to put on a second race.
"But even then I'm like okay; I'm still handing out their flyers, I'm still trying to help them. Well then, one of them gets in a fight with Holly Springs and he moves over to Memphis, so then I'm dealing with two races at Holly Springs and a brand-new race in Memphis. So now we've got three races instead of one or two and everyone just keeps dipping into the same sponsor pool."
Long next brings up the Tulsa event, where Oklahoma's own Dewayne Mills steered his '68 Camaro to a pair of 4.08 passes that set a new ET standard for all drag radial racers.
"Don't get me wrong, Dewayne Mills and what he did is awesome," Long stresses. "He's great for the sport and I love it each and every time somebody goes fast. But when something like that happens, all of a sudden his home state becomes the new radial promoting center of the world and it just keeps going and going."
Long also considers long-established events shifting focus to drag radial as little more than a cynical grab at profits with scant regard for the class at heart. This time he points to the annual Yellowbullet Nationals in Maryland.
"Yellowbullet was always just about Outlaw 10.5, but now all of a sudden the radial thing switches over. For years and years no one there really cared about Outlaw Drag Radial," he claims. "But all of a sudden because it's at the top, now we're going to swing over there and hang on the nuts of the radial guys. It's just funny how nobody cared about radial racing, and now everybody cares about it because they think they can make a buck off it."
For Long, it all comes down to him putting on the biggest, baddest drag radial races in the world and the uptick in rival organizations and promoters threatening that process. He's also well aware that complaining makes him look like a "crybaby" in some people's eyes, yet he can't help but think after No Mercy V this September it's all going to start rolling downhill.
"There's no doubt, this is the top. Everything's got to have its peak, and I think that obviously we're at the peak right now of the all-out drag radial race; we're at the peak," Long says.
"You have X275 that I think kind of peaked about a year ago, but what's funny is you take Radial vs. the World and it took off in 2010 and then to be honest it just kind of hung out for a little while. And then all of a sudden over the last, say two years, I think some more money's come into it and then you got these guys that have old Outlaw 10.5 cars and all this other stuff. So I think that outlaw radial as a whole, I think this is the peak right now. I don't think you'll ever see it any bigger than what it is right now."
Critics counter that if all-out radial racing truly is poised to decline, it more likely stems from Long's own insistence on allowing any chassis style, any power adder, into the RvW class. In addition to increasing costs, they claim it fundamentally alters radial racing's roots to allow repurposed Pro Mod-style cars, unlimited turbochargers and screw-type superchargers to compete.
The poster child for Long's opponents has become Opelika, Alabama's Jamie Hancock, who entered the same 2004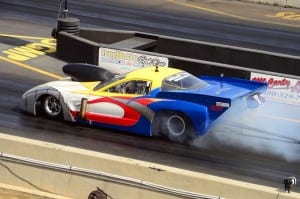 Corvette in which he won the '06 ADRL Pro Nitrous world championship into this February's Lights Out event. With a pair of 315 drag-radial tires dwarfed beneath the car's big rear fenders, Hancock ran a best of 4.33 in qualifying ninth at Long's race, then a month later went 4.16 at Memphis before becoming the first to reach the 4-ohs on radials with a 4.09-second run early in June at Shadyside Dragway in North Carolina.
Based on his record of consistent improvement, many knowledgeable observers suggest Hancock could be the first to reach the coveted three-second zone, perhaps later this year at No Mercy. But the opportunity also has drawn the interest of top-notch racers like past Pro Extreme World Champion Frankie Taylor, who says he's also prepared to try and apply all 4,000-screw-blown horsepower in his '06 Corvette to the SGMP concrete this fall through a pair of 315 radials.
Though Long concedes the inclusion of Pro Mod-type cars can be problematic for some, he dismisses concerns they provide an inherent advantage.
"I don't believe for one second that the chassis is the reason those guys go fast; if it's any advantage at all, it's maybe one percent," he argues. "The reason they're going so fast is because you've got companies like Pro Line Racing making 3,500, 4,000 horsepower. They're not going 200 miles an hour at the eighth because of some freaking four link; they're going 200 miles an hour because they've got 4,000 horsepower."
Long also cites the tuning talents of crew chiefs like Billy Stocklin and Steve Petty because in the end he believes it's all about the horsepower and transferring that power to the track. "It's the engines, the transmissions, the converters, the tires," he says. "It's PTC and ProTorque and Mickey Thompson; they're the ones that are making everything go faster, not the chassis.
"Look at it this way, nobody has really gone any faster with a Pro Mod than they have with a regular back-half, four-link or stock-suspension car. All of those numbers are within three-hundredths of each other, whether it's a Pro Mod or whether it's a stock-suspension car, and the reason is because 4,000 horsepower is 4,000 horsepower and a 1.11 sixty-foot time is a 1.11 sixty foot; it doesn't matter. If you had a Pro Mod going 1.02 and the next fastest thing going 1.11, well, okay, obviously there would be a problem. But it's not; it's these companies getting smarter at managing the horsepower they have; it's the technology and they just keep taking it to the next level."
Regardless, there's no question Hancock is operating by the rules, and he insists his all-tube-chassis Vette built in '04 by Mark Garland and later upgraded by Alan Pittman is "really not much different from what other guys run." Still, he does acknowledge complaints of it having an unfair—or at least unwelcome—advantage, primarily due to its full race suspension and 112-inch wheelbase, compared to traditional outlaw radial rides, which typically measure about 105 inches from hub to hub.
"I know some of the guys still have stock-style front suspension, but a lot of your fast guys have pretty much the same as we do, only with a stock-style body," Hancock points out. "And as far as the wheelbase thing goes, I have heard people say the wheelbase makes the car work better, but I really don't think it's the tire location that makes a car go faster." He also diminishes the claim that a longer wheelbase reduces the tendency for a car to wheelstand, instead insisting that a stable ride comes more from proper car set-up than any permanent chassis points. "Weight placement, your bias front-to-rear, power management, it all comes into play."
More so than any performance advantage, though, veteran drag radial racer Josh Ledford, who also serves as crew chief on a PDRA Pro Nitrous entry, expresses concern about the wisdom of converting existing lightweight Pro Extreme or Pro Nitrous cars like Taylor's Vette to meet the RvW 2,700-pound weight minimum.
"We'd have to add probably 500 pounds and we're already breaking the X-members out of these things," he says, referring to the Pro Nitrous '69 Camaro driven by Bahrain's Khalid Mohammed. "It's just not safe to add that kind of weight after the fact."
And though he agrees adding several hundred pounds to a modern lightweight car "just wouldn't be safe," Hancock stresses his car is an "old-school heavy car that weighed about 2,550 pounds when we won the Pro Nitrous championship," so he has to add just over 150 pounds to make weight for RvW.
The obvious answer, Ledford adds, would be to build a new Pro Mod-style car specifically for drag radial use with most of the weight incorporated while allowing for marginal weight to be strategically added as a chassis tuning aid. "It'll be expensive for sure, but it's just a matter of time before someone tries it," he predicts. "And that'll be the end of the class."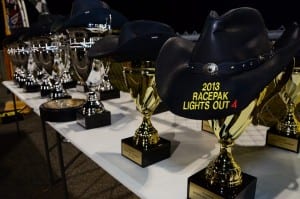 Perhaps surprisingly, Long is inclined to agree. But again he contends the real problem lies with outside promoters turning Radial vs. the World, or something similar, into a regular class. He stresses that Radial vs. the World was created and intended only as a twice-a-year event to showcase essentially unlimited combinations with radial tires as the common limiting factor. At that rate, he claims, it could last almost forever since no one would tire of the concept and more importantly, racers wouldn't overbuild their cars for such a limited opportunity.
"Instead what we've got happening is all these other people just start having more and more and more races and I think what's going to happen is you're going to be left with only the heavy hitters," Long says. "I don't want it to turn out like Outlaw 10.5, but I think that down the road that's where it's headed because it's going to let people with more money come in and then it's going to also weed out some of the slower guys. It's becoming so popular that it's just going to be hard for the average guy to compete. So to all these people doing all this stuff and following everything; you will be the downfall of the class eventually."
That kind of talk from Long understandably makes veteran drag radial racers wary of what the future may—or may not—hold. Both Kevin Mullins, winner of last year's No Mercy race in his twin-turboed, Hemi-powered '97 Mustang, and Jason Michalek, longtime racing partner of fellow Texan Kyle Huettel, with whom he's building a brand-new ride for RvW competition, claim they're pleased with the overall direction of radial tire racing—while simultaneously expressing concern over the path it's taking.
"I'm tickled to death right now. I love drag radial racing, but as far as the state of how it is right now, the question that concerns me, obviously like what everybody's going to say I'm sure, is Pro Mods and things like that coming in," Mullins says of the elephant in the room.
"I think it's true that given the same engine combination that we have, the Pro Mod chassis would certainly be a big advantage," the North Carolina-based driver continues. "With a longer chassis, more aerodynamic body, and being lighter from the start, you can put the weight wherever you want, and that would certainly, in my opinion, be a big advantage."
However, Mullins, who briefly held the low ET record with a couple of 4.11 drives early this year and takes certain pride in knowing he did so with a car that actually rolled off a Ford assembly line in its nascent stage, isn't convinced going that route would be any more or less costly than what he's currently experiencing, especially if building a new car from scratch.
"Of course I'm talking from a used standpoint because my budget, we've got to buy what we can used," he clarifies. "But if you could buy a used Pro Mod roller I would like to think you could buy one about as cheap as you can buy, say my car used, maybe even cheaper," he says.
"But the whole thing about it is do I want to sell mine and go that route, or will it come to the point where I've got to? Where you're either going to do it or you're not going to be a front runner? I hope it doesn't come to that because I really like normal-looking bodied cars and I think that's what the fans like, too. They all know we're in full-blown race cars, but it's still cool to see they look pretty much like what they might have parked in the driveway at home. If you change that and make it all Pro Mod-bodied cars, I just think radial racing might lose some of its fan appeal."
Like Mullins, Michalek immediately brings up the Pro Mod issue when he considers the current health of radial tire competition.
"I think the class is moving in the right direction; if I didn't feel that way, we wouldn't be making such a large investment into it," he states. "But I can't say I truly believe that the Pro Mods are the best thing for the class, although they do bring excitement when somebody shows up with one. But overall, I love the class. The drag radial stuff is just … there's just something about it … it's exciting and it's kind of … I guess it feels like it's the last bit of good ol' boy racing left."
Still, Michalek offers caution about the escalating cost of going fast on drag radials, too. However, instead of focusing on the price of a new Pro Mod-style tube chassis; he pinpoints the lack of engine restrictions in RvW as the primary source of expense.
"I really think there needs to be some limitations put on the power adders; at some point we just have to stop," Michalek says. "With the turbo cars, I think most of those guys that I've talked to feel like whatever turbo we're at right now, we need to stop. The problem is that the current way makes it unaffordable for the average guy who has to go out every four or six months and buy new turbos because they've just come out with a bigger version.
"The blown cars can be slowed down with less overdrive and the nitrous cars, they're light, so they can just have weight added. I just think the reigns need to be pulled back and held, or if they're not pulled back, there just needs to be a cease on where we are right now to stop things from getting too far out of control. Right now there's nothing to stop anybody from going out and just buying more and more stuff, but in the long run most teams are just not going to be able to keep up with that financially."
Long agrees the power adders are behind the escalating performances in RvW and understands the cost follows in kind, but at least at the Lights Out and No Mercy events putting limits on them isn't about to happen. "This class is a wide-open class and I'm going to keep it that way until it crashes and burns," he says. "That's why I have Outlaw Drag Radial with limits; that's why we have X275. We have other classes if you want to race with limits, and that's fine; it's just not Radial vs. the World."
Michalek also identifies top-heavy purse structures as a problem for drag radial teams. He supports reducing the flashy number of the final-round big prize in order to pay a little better in the preliminary rounds.
"Right now there are guys that go to a race where you also have guys like Kyle (Huettel) and Kevin Mullins and Dewayne Mills out there and they know they don't really have a chance of winning the $20,000 but they love to race and they do it for the fun of it and it doesn't matter," Michalek says. "But after a while everybody gets a little tired of that; they get tired of donating.
"The way it is now there's only one guy that makes all the money and you have 15 or 31 other guys going home without it. Even if when he left the track you just gave the guy who paid a $250 entry his money back plus $400 or $200; well, now he has money in his pocket to go home with, or he can take his guys out to a steak dinner; he can go put fuel in his rig; he can go buy a set of tires."
And as much as he respects Long's opinions and contributions to the sport, Michalek, a past winner in the Leaf Spring class at SGMP, can't accept Long's contention that multiple events are a bad influence on longevity for radial racing.
"Donald Long, to me, has created a show and that is where he's been successful. He has basically taken the approach like Howard Stern to where it's love him or hate him, you still tune in because you've got to see what he's going to say next. He's made it fun; he's made it a show; but it's only twice a year and a lot of these guys want to race more," Michalek says.
"To me, it's a great thing these tracks are stepping up, giving guys a place to race, giving us somewhere where we can go run our cars for some exceptional money. I mean, track owners are taking a huge gamble paying these big purses and they're really trying to step up even though there's not an astronomical amount of cars, so I don't think it can ever really be diluted too much.
"Two races a year is not enough to support these cars," he adds. "Not many people are going to go out and spend the money to build a car that they can only run twice a year, so we have to have more venues; we have to have more races."
Of course, no one is ever going to convince Long of that.
"I don't care about people making money, I'm all for that, but I do care about people. I feel like radial guys are my family, so yes, I do have a problem with guys coming in and making money off who I consider my family when they don't have anything else," he says.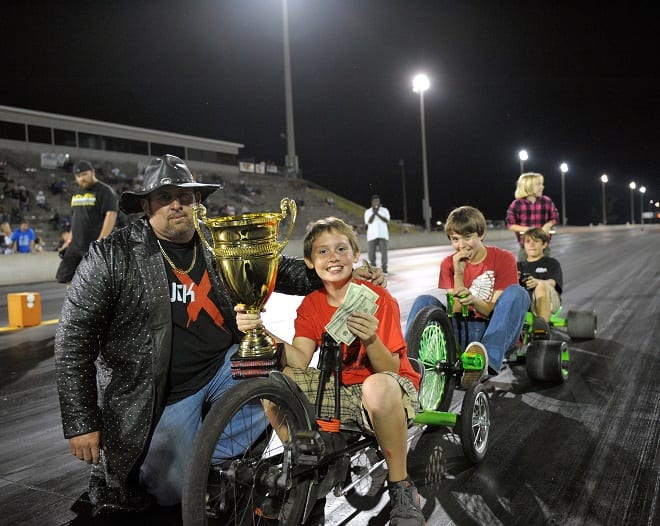 "When I had that first race back in 2008 I could've probably drawn a couple thousand fans with the usual Pro Mod race, but I don't run Pro Mod; I don't run Outlaw 10.5. When I started the whole radial revolution nobody had ever put on a race that highlighted just radial cars. Never. Everybody forgets that now because it's completely switched around and radial is at the top, but just remember, nobody ever had radial-only racing before.
"Now, let me also say there are some good people out there, okay? I'm just saying that these tracks that have really had nothing to do with it, have always been against radial racing, have been all Pro Mod and Outlaw 10.5 and all this stuff and now they can make a quick buck by putting on four or five races a year. That's who I have a problem with.
"Just make sure you quote me on this," he concludes. "These other guys can put on whatever shit they want to, but my races will always—always—be the World Series of Small-Tire Racing—bar none. You can count on that."
Photographs by John Fore III and Ian Tocher.
This story originally appeared in Drag Illustrated Issue No. 90, the State of Drag Issue, in August of 2014.