Don Schumacher isn't happy. Not quite scream-and-go-crazy unhappy or even pack-my-stuff-and-leave unhappy. He's more waited-in-line-for-an-hour-only-to-get-the-wrong-order unhappy. One of those deals where he knew he had gotten hosed, but it probably wouldn't be worth the headache to try and do anything about it.
The worst possible thing for the sport of professional drag racing, specifically the National Hot Rod Association, is an unhappy Don Schumacher. The man fields seven race teams in the NHRA nitro ranks—three in Top Fuel, four in Funny Car—and employs approximately 120 full-time drivers, crew chiefs, technicians, hospitality and other support staff. Take into consideration the some 15-plus million dollars he invests in the racing industry annually, and it's abundantly clear this isn't a person drag racing can justify running off. This is the kind of person that drag racing should lock into a bear hug, and even though he wouldn't accept any special treatment, it wouldn't hurt to offer, or at least make him feel he deserves some.
For whatever reason, it's been nearly the polar opposite for Schumacher, and never more apparent than in Phoenix, Arizona, at the 20th NHRA national event of the 2011 season, when the organization's technical department made the decision to outlaw the roll cage shrouds on his team's Top Fuel dragsters, which came to life by way of a $100,000 investment made in the name of safety on Schumacher's behalf. In the midst of the ordeal he wasn't unhappy, he was furious, but given a moment to shake it off, Schumacher displays the sensibility that has fueled so much of his success in racing and business. "To dwell on something like the situation in Phoenix is counterproductive," he says. "It's not something I'm going to let possess me."
It's in those moments of anger, though, that Schumacher demonstrates his passion for drag racing, a fire that has been burning in him since he first ventured to a drag strip in the mid-1960s. He wasted little time progressing to the absolute pinnacle of the sport, becoming one of drag racing's early superstars behind the wheel of his Stardust Plymouth 'Cuda and Wonder Bread Chevy Vega Funny Cars as he crisscrossed the country match racing and competing in the national circuits.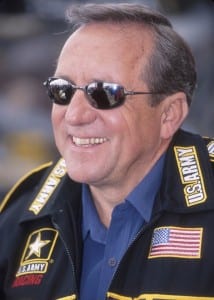 Always a forward-thinker and hard worker, Schumacher introduced innovations to every facet of racing from engine, clutch, aerodynamic and safety technology to the business side of his operation. He introduced the roof-mounted escape hatch that quickly became standard equipment on Funny Cars, and he was one of the first racers to field a multi-car team and score major corporate sponsorship. His four-car fleet of Wonder Bread-sponsored Vega Wagons served as the picture of racing success when they debuted in 1973. Racing a minimum of three nights a week and filling his remaining time with bakery appearances, it was at the end of 1974 that Schumacher made the abrupt decision to retire from driving and devote more time to family and business.
Surprisingly, it was those two things that led him back to the sport he loved in 1998. His son, Tony, had taken up drag racing, and looking to put him in the best car possible, Schumacher struck a deal with Exide Batteries to sponsor a Top Fuel Dragster for the second-generation driver.
Having grown Schumacher Electric, the business his father started in 1947, into the world's leading manufacturer of battery chargers, Schumacher has leveraged his experience in business and the boardroom to turn Don Schumacher Racing into drag racing's largest and most successful professional race team. Over the course of 12 years, the seven cars Schumacher fields in NHRA Top Fuel and Funny Car competition have won more than 150 national events and eight world championships (seven by son, Tony, and one by Gary Scelzi).
Dressed in black slacks, a logo-emblazoned sweatshirt featuring each of his racing operation's sponsors, and a khaki NHRA Full Throttle Drag Racing hat—the type given to event winners in victory lane—Schumacher sat down with DRAG ILLUSTRATED over lunch and a Chicago Bears football game to talk about his team, the state of drag racing, and the power of good people.
You've been in and around this for a long, long time. How were you first turned on to drag racing?
Well, I think I was 17 years old. A friend of mine from Chicago, actually from Lincolnwood, Illinois, asked me if I wanted to go down to U.S. 30 [Drag Strip] with him and race the car I drove on the street. I said sure, I'll come down with you. I went down to U.S. 30 and raced an Oldsmobile that I drove on the street, got beat somewhere during eliminations. Of course, I didn't like that, so I came back and started working on the car. Prior to that I had never done anything to a car besides pump gas in it. Back in those days, in the '60s, you didn't even pump gas in it. I had never changed a spark plug, never worked on an engine.
So you came home and tore right into this thing?
I just started working on the car and actually took the transmission out of it and got it beefed up and proceeded to race it the following year. The year after that I was in the process of making it into a gasser, the next class up. I tried to get some fiberglass parts built for an Oldsmobile by Fiberglass Limited, which was in Hillside. And they told me, 'Yeah, yeah, yeah, we'll make molds of it and build one.' A week turned into a month, then a couple of months, then several months, and, basically, I never got my fiberglass parts built because there wasn't much of a market for them.
Ron Pellegrini, who was one of the partners at Fiberglass Limited, told me rather than getting these parts made, I could go up to R&B Automotive in Compton, buy me a body, build a tubular chassis, and have a real race car. I could even use the engine I had bought and put together, an injected Hemi.
Step number-two in your racing career was a nitro Funny Car, then?
I was a raw, young kid. I just said, 'Hell, yeah. I'm going to do this.'
And that's exactly what I did. I ran the injected car for a couple of years, and then I decided to get a car that I could run with a supercharger on it and run with Arnie Beswick, Don Nicholson, Eddie Sharpman, Roger Wolford and all of those people back in those days. I ended up going to California and buying a chassis that Butch Leal had built. He had been running an injected car and thought he wanted to go supercharger racing, but when he looked at the whole thing, which at time there were lots of blower explosions and fires, he decided he didn't want to do it. He put the car up for sale, and I flew out and bought the body and chassis, brought it back to Illinois and put it together. That was 1967.
And the winter of '67 and '68, John Hogan and I went out to California and pretty much set the track record at every drag strip there was out there, basically as an unknown. Yeah, I had a little bit of a reputation from the Midwest and had done well with the injected car, but we really wowed them with the supercharged car – one thing just led to another.
The NHRA is celebrating its 60th anniversary in 2011 and there have been all sorts of celebratory events – track walks, press conferences with legendary figures in the sport, and much made of the sport's glory days. I'm sure those were some heady times, but do you feel it's overly romanticized? Fun to talk about and remember, but nothing you'd want to actually relive?
Oh, they were great times. In those days you really had to be a gypsy. I was gone all the time. You went from one track to the next to the next, and from NHRA to IHRA to AHRA to match races. And then you would have sponsored things on top of that.
In middle- to late-September we would leave the Midwest and go out to California. We'd stay out there until late February, race Pomona, go to Arizona and race at Bayline, and then head down to Florida. We'd base out of Florida until April, race down at all the tracks in the area, and then work our way back up north. One of the first northern match races that we would run was in Long Island, New York, and that would have been in late March.
We traveled two-lane roads all across the country and made great money racing, $500 to $750 a night. We'd actually run the car 90 days a year back then, or more. You ran almost every Wednesday, and certainly every Saturday and Sunday. We thought nothing of traveling 600 miles overnight. We slept in the truck, at friend's houses, rebuilt engines on motel room beds, washed parts in the sink, and if we needed something welded we'd find a local farmer wherever we were at.
It was a very romantic time; it was carefree and fun. It was great, great times back then. It was a unique life, and unique things that we did back in those days, and I'll never be able to relive it. I didn't have the responsibilities that I have now, and we did it because we loved it back then, it wasn't about money.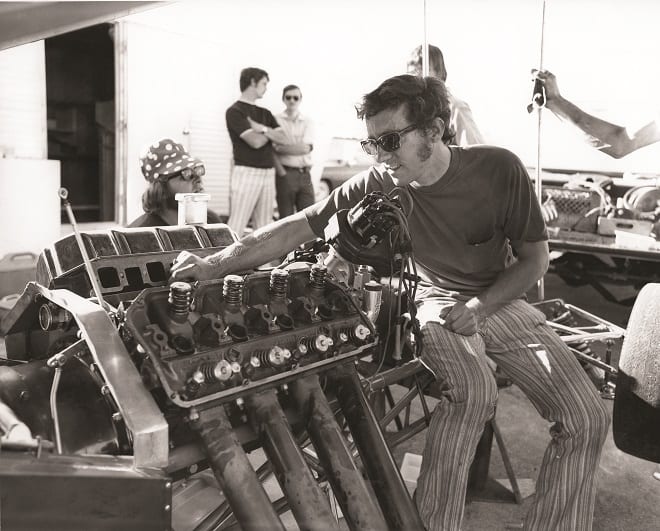 It was in those years that you put together some of drag racing's first major sponsorships – the Stardust cars, the legendary Wonder Bread deal. How did those partnerships come to be, and how did they change things?
I was fortunate that my father had been well known in the gambling industry, he was a bookie, and I was able to use his connections to get the Stardust Hotel and Casino to sponsor me. One thing kind of led to another, honestly, but that's why my car was called the Stardust back in those days.
The Wonder Bread deal was the first time that racing became work. You had a responsibility, and you had to represent your sponsor along with racing. It was a big change for us. We weren't accustomed to any type of expectations, and they were very high even in those days. You needed to be professional and proper, and have the right haircut—it was a much different situation that what we had been doing. They'd have me scheduled to show up for a company picnic or at a bakery on the same day that I had a race. I only slept in my own bed six nights that whole year; it was 1973.
It was really my dad who pushed me into the multi-car team. He'd say, 'You've got all of this equipment, you're changing from that chassis to this chassis, why don't you build another car and start another team?' So, that's what I did. I had a two-car team, and then I ended up with three and four, and it was probably that little bit of pushing from my father's side that made me do it. I even built a car to race overseas in England.
Did you ever imagine that drag racing would be a sport that would reach its current heights? Or that drag racing would be a vehicle that would allow you to grow your operation into what it is today?
Gosh, no. I actually got out of racing after the 1974 season, primarily because I was burnt out, but also because I knew I needed to make a living doing something, and I didn't see it being possible to feed a family as a professional racer. I loved it, but I didn't see the future of NHRA. I never imagined that it would become what it has today. I didn't get back into it until Labor Day weekend of 1998, and I never would have thought I was going to get this involved then, either.
When you stepped away from the sport did you have a plan as to what you were going to do next, or was it straight into the family business?
I really hadn't been involved in Schumacher Electric up to that point. I just had a passion and desire to drag race, and I jumped right in. With the business, I did the same thing; I jumped in and acted like I knew what I was doing. And it was tough; the most difficult thing I've ever done. To leave behind the gypsy lifestyle, the racing, the euphoria that comes from winning, running around the country, it was hard.
Eventually, I recognized that there was a competition in business, too. There was a race to be won, and I found a way to fill the void left by drag racing by growing the business. Back then, Schumacher Electric was small, and we had a tremendous amount of competitors in the industry. I took the same tack that I had in racing, operating under the philosophy that the harder you work, the luckier you get.
Clearly, it's a philosophy that has served you well. Before you hung up your driving gloves you won countless match races, a number of NHRA and IHRA national events, earned the AHRA national championship, and introduced the sport to sponsors and multi-car operations. You grew Schumacher Electric into the largest automotive battery charger manufacturer in the world with over 1,000 employees. In a little over a decade since you returned to drag racing, you've won more than 150 NHRA events as a team owner, as well as eight championships. Have you ever stepped back and reflected on all that has transpired?
I've been blessed with great people. There's a certain amount of individual effort and work that goes into it, but without the people that I've been able to surround myself with we wouldn't have been able to do what we've accomplished out there, and every one of them deserves a lot of credit for what they've put into it.
I can't say that I really have ever stepped back and taken a look at what we've done. It isn't something that I necessarily focus upon. I'm never satisfied with what I have accomplished, and I'm always looking for ways to make it better for my sponsors, my teams, my organizations, my family. I just try to keep my head down and keep working and trying to do the best thing I can.
I probably have close to 100 employees at DSR (Don Schumacher Racing). I do have to say that I'm very proud that this
operation has afforded probably 100 families the opportunity to make a solid income and be successful. That's one area I'm very proud of and I'm thrilled that we've been able to do that in drag racing. We currently have probably 20 people at the race shop that don't even come to the race track, that are back at the race shop building engine parts, building chassis, looking at new opportunities that we have out there, and working very, very hard in the background to continue to make the DSR operation successful.
Today people ask me, 'Do you have a plan? Do you have a vision?' No, I'm just a businessman and I grasp at opportunity. Yeah, I'm certainly a risk taker, and I'm going to try different things, but I don't have a vision of more change, more this, or more that for drag racing.
The DSR stable of drivers, including your son, Tony, represent many of drag racing's marquee names and biggest winners. What has it been like to see them excel in their driving careers, especially Tony?
I feel very fortunate to have been a part of it. For Tony to have accomplished all that he has, well, all I can say is that it's just unbelievable. I didn't come back into drag racing with those types of goals, and I never placed those types of expectations on him, but it's happened because he's done a great job and been part of a great team. I'm proud as can possibly be of all my teams and we've got a real opportunity here in 2011 to accomplish more together.
Moving to the present day, and starting to look forward, how do you feel about the overall health of NHRA Full Throttle Series Drag Racing?
NHRA has made it through this whole recession much better than I believe any of the other sports have, including ball and bat sports. Our fan base has stayed solid. I know our TV ratings have been increasing some earlier this year. I don't really know where they're at right now, but I would hope with the Countdown to the Championship and how close it is that our TV numbers are good.
Do you see any specific areas that you feel need to be addressed?
I just don't know how we can continue in this economy to charge the kind of prices we're charging for the spectators to come out to the sport. It's tough enough for people today to pay for their gasoline, let alone to spend the kind of money needed to bring a family of four out to the races for a weekend. I think that's key in continuing to expand our fan base. It's just a tough, tough time here in the United States today, and people don't have ample disposable income.
Beyond that, I feel we need to find a way to entice the teenagers and get the teenagers out to the races because they are our future. Those are the ones that are going to be racing with us 10 years from now and supporting the industry.
We need to make stars out of our drivers, and beyond where we currently are. We have some great personalities and great characters in our sport, and we need to promote them, and we need sponsors to promote them.
Like NAPA Auto Parts uses Ron Capps.
Absolutely.
What do you feel is the biggest challenge that drag racing currently faces?
Somehow we need to have the TV program translate the noise, the smell, the excitement, the horsepower, and the actual speed of these cars. And I certainly don't have that answer. I'm sure NHRA doesn't have that answer and ESPN doesn't have that answer, either. In my mind, that's probably one of the most difficult challenges we have to figure out, and we have to continue to try new things if we're ever going to. How do we bring that sensory overload that goes on at the races into the family room?
How drag racing translates on TV is paramount. We grab people's attention when they're flipping through the channels, we want them to be inspired to come out to the races, or at least watch the show. I don't have the answer, but we need to find it. Once you bring a spectator out to the drag races, they're amazed at what goes on.
Do you feel adequate effort is being put into taking NHRA and the sport to that always elusive and much talked about "next level"?
In Glendora, I'm sure they are thinking about it and working as hard as they can to take the sport to the next level. Tom Compton has a great business background, and along with the board of directors, they have been successful in keeping the sport going in the direction it's going and accomplishing what it's accomplishing.
I feel that there needs to be some new vision and new risk taking in the sport, though. You have to do that in every business. Tom [Compton] has done that over the years, and hopefully there will be continued changes and such that take place in the coming years.
It's a kind of an evolve-or-die thing, right?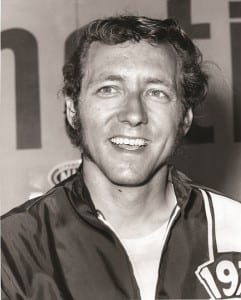 I think every sport, whether it be motorsports or stick or ball or whatever, it's struggling with the same challenges. Young people have so many other interests; they get on the computer, they play video games and everything else; it's a struggle to get their attention and keep it. I don't think there's a sport that has really been able to get their hands around it.
I wouldn't even begin to say what might need to be done. I don't have the answer. What I do know is that we have to try new things if we want a new outcome. It's our responsibility to adapt to the changes that are happening all the time. It's all about being a visionary, and also being a risk taker.
Most recently, two of the most obvious risks NHRA has taken have been the Four-Wide event in Charlotte and the Countdown to the Championship playoff format for the points. It's hard to say whether or not they've been entirely positive moves, but they've definitely got a response. In my humble opinion, both are proof-positive that change is good—especially if you want different results.
That's for sure. The Countdown has certainly made it a very competitive environment and a real challenge to be the team that wins the championship. The Four-Wide, well, we're still out to lunch on it. The racers themselves have not really embraced it, but it seems like the fans enjoy it tremendously. We're still learning to see if it's something the fans will really latch on to. The competitors aren't excited about it, but we'll keep moving forward with it in the best interest of the sport. We must continue working with innovators like Bruton and Marcus Smith, who do a phenomenal job with their facilities, if we want to succeed at growing the sport.
Though a move made in the name of safety, NHRA also took a chance when they shortened the racing distance from a quarter-mile to 1,000-feet for Top Fuel and Funny Car. Do you feel this is permanent change?
I believe the fuel cars will stay at 1,000-feet for safety reasons. To turn it back into a quarter-mile, it just puts the drivers in an even more dangerous position on these race tracks trying to get the cars shut off and stopped. That's my feeling about it. I hope we don't go back to 1,320-feet with the fuel cars, but it's not my decision; it's NHRA's decision.
If they change it back, be it for the history or tradition of it or for the fans, we're going to have to find a way to adjust. That or get out of the sport. Personally, I believe the fan base is seeing a better race today than they did at 1,320-feet. We see less oil downs, less engine explosions, and it's safer for the drivers.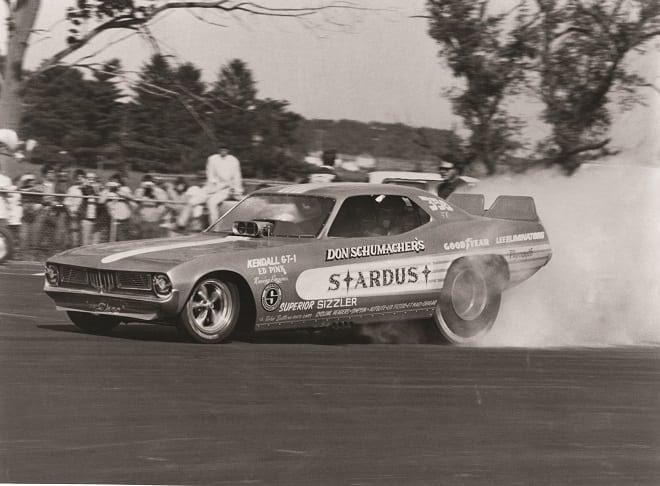 Was there ever any merit to the reduced costs associated with running a shorter distance?
There may have been the first year or two, but the costs to run them today at 1,000-feet at the performance levels we're seeing reflect no cost-savings. I would not be able to even guess what it would cost to run the cars to the quarter-mile today because of all the changes we've made to these cars. There's not an opportunity to incur it any longer.
DSR currently fields three Top Fuel Dragsters and four Funny Cars in the NHRA. Over the years you've ventured into Pro Stock and Pro Stock Motorcycle. Have you ever given much thought to drag racing outside the bounds of the NHRA? Perhaps the doorslammer-centric American Drag Racing League, or even the booked-in show format of IHRA's Nitro Jam Series?
Yes, I have looked at other opportunities, but at this point I don't see any that I would like to take on and try to expand my ownership into. The ADRL has a unique fan base and an interesting business model, and I actually went and looked at it first-hand a few years back to see what kind of opportunities existed and what my impressions of it would be. Right now, I don't have the desire to expand into other parts of the sport.
What is the one key element that you feel NHRA Full Throttle Drag Racing provides its sponsors that other sports and motorsports do not?
The NHRA provides a tremendous opportunity in the pits with hospitality next to the cars and the team, which provides an experience that can't be found in other sports. Fans going into the dugout at a Major League Baseball game is unheard of, but that's essentially what we allow and encourage our fans to do at a NHRA national event. It's a very unique setting that allows you to do some unique things with your sponsors. That's really a key to the NHRA and how it's run today.
Drag racing has taken you around the world, from England to Abu Dhabi and back to Illinois. You've won virtually everything there is to win—sometimes simultaneously. You've seen the sport of drag racing transform from racers sleeping in their trucks, working on their cars in motel rooms, and racing for trophies to what it is today. Amazingly, you seem as excited and driven as ever.
When I won Indy in 1970 and beat Leroy Goldstein and the Ramchargers, there might have been a moment when I felt like, 'Hey, this is it, the top of the mountain!' And with the success we've enjoyed as a team in the last 12 years at DSR, we could certainly walk away feeling accomplished if it was simply a trophy-collecting contest.
Fact is, there's a lot more to what we're doing out here. Drag racing has also become a hardcore business. We've created long-term relationships with major sponsors, and there is a lot of pressure and responsibility that comes with it.
I don't think we've necessarily done a great job of showing people what it takes to do this. It's a difficult environment out there, and it takes a full-time effort by a team of 10 people—the crew, the driver, the crew chief—just to run one of these cars. And it's a five-to-six day a week job. It requires a lot of effort and time, but it looks very simple.
Today, I have 20 tractors and trailers on the road, and they all go to every race. I can assure you, if it weren't a lot of fun, I wouldn't be doing it.
Photographs by Mark J. Rebilas and NHRA/National Dragster
This story originally appeared in Drag Illustrated Issue No. 60, the PRI Show Issue, in December of 2011.