After more than proving his worth behind the wheel since joining the NHRA Pro Stock ranks in 2003, these last couple of years Dave Connolly has been making a new name for himself standing behind the car.
With 27 national-event wins (four in the Sportsman classes), Connolly firmly resides within the upper tier of NHRA doorslammer pilots. And now, as co-crew chief with Tommy Utt to Erica Enders, Connolly will finish 2012 with at least four wins and a top-five finish as a tuner in the NHRA's Countdown to the Championship.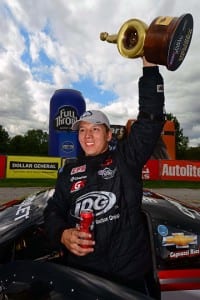 But when he streaked across the finish line at Lucas Oil Raceway at Indianapolis in September to become a rare three-time winner of the prestigious U.S. Nationals, he also deprived his own driver of her first U.S. Nats win and perhaps more importantly, denied her a round's worth of points in her quest for the 2012 NHRA Countdown to the Championship.
Though calling the win "bittersweet," Connolly felt an obligation to his sponsor, IDG, and other teammates at Cagnazzi Racing and offers no apologies for doing his best.
"In my eyes, as soon as both of our win lights came on in the semis, we had already won the race. It didn't matter if she won or if I won; it truly didn't matter to me. I would have been just as happy for her to win it," he insists.
"(But) this is the U.S. Nationals," he continues. "If you're going to win, you've got to earn it and I know Erica feels the same. It doesn't matter to me which way, one way or another, once we go up there I know that she's going to give 100 percent and I'm going to give 100 percent and whatever happens, happens."
What happened was Connolly won with a .011 holeshot that translated into a two-thousandths-of-a-second margin of victory at the top end. It also marked Connolly's second victory of the year after going to three finals in just seven appearances driving team owner Victor Cagnazzi's second 2010 Chevy Cobalt. The success couldn't help but cause a few moments of what-might-have-been wondering for Connolly if only he'd had a full-time ride, but the Elyria, Ohio, native recognizes he still has work to do in order to make that a reality again.
"I've never been one to live in the past, and bringing sponsorships to the table is part of winning a championship and that's something I've been unable to do," he admits.
"You know, the driver's seat, that's easy for me, working on cars, that's exciting, but to go out and find funding? That's another level of it and a different world that I haven't had much success at. And Erica's done a very good job of that. She takes care of her sponsors, and she's put the money on the table, so that's as important as any other ingredient. Having the team we have and all the resources and stuff, yeah, I'd like to obviously have another shot at winning the world championship from inside the car. But honestly, winning from outside the car; that would be just as satisfying to me."
Still, becoming a crew chief was never Connolly's intended career path. He came to the job in 2010 when a four-race deal with IDG didn't warrant hiring someone for that short period of time, so he and Cagnazzi decided to share the tuning duties and wound up winning the race at Reading, Pennsylvania.
When Enders brought Gaston Kearby aboard as a sponsor to Cagnazzi Racing for the 2011 season, Connolly says she asked him about who made the calls on his car the previous year and upon learning he was the tuner she asked if he would repeat the role for her.
"I was never a crew chief going in, but I've always been very observant and hands-on and from a young age I've loved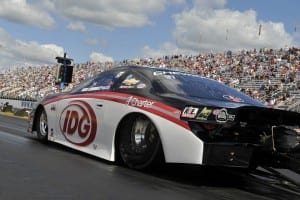 Pro Stock in general and working on race cars," Connolly says. "Making the calls, it's definitely opened my eyes to a lot of things in the car and it's a huge learning curve, but it's been a lot of fun. Especially now, I've really enjoyed playing the role and working with Erica, and just being a part of a successful team.
"It's got its challenges; driving comes a lot more natural to me than crew chiefing. So it's a lot of hard work and a lot of hours trying to figure things out, but I guess that's really what I enjoy about it. It's the competitiveness and the challenges. Pro Stock cars are like an ongoing science project; you never quite have them figured out. Every weekend we're learning something," he adds.
"And the whole team is working together right now; moving in the same direction. Things kind of seem to be going smooth. But as far as drag racing goes, it's got its highs and lows, so you need to stay humble even when things are going as well as they are right now."
Connolly, 30, says he also thinks it's advantageous that he and Enders, who turned 29 early in October, are of the same generation and mindset.
"On and off the track, we're very close friends and that definitely helps when you have that team chemistry. I think any time you work with someone so closely you have to have that respect factor and I respect the drive that she has and the driver she is," he says.
"I think she respects me as a driver as well; if I notice something or mention something, she's very good at listening and that's the thing. I guess the biggest challenge that I faced was I'm very open minded and I speak my mind a lot of times and she's female so I learned that I needed to be a little sweeter, a little more diplomatic sometimes."
With two races left in the season and just over six rounds behind points leader Allen Johnson, Connolly concedes, "the chances are slim to none right now," for Enders' first championship, but he certainly doesn't count out winning another race—or two. Beyond that, he'd like to see the entire Cagnazzi team remain in place for another title run next year.
"I'd like to think that everything will stay the same as far as if no full-time sponsorship comes up for me, then I'll probably be standing behind Erica's car," he says.
"I've really enjoyed this year and had a lot of fun. You know, I hope that she feels the same way and we can continue on the path that we're on and see what we can accomplish. I feel like we've got a championship-contending team, but for now we'll just try to go out there and win the last two. Life's great right now. I've had a blast in 2012 and hopefully it'll be the same in 2013."
(Photographs by Mark J. Rebilas and NHRA Media)
This story originally appeared in Drag Illustrated Issue No. 71, the PRI and IMIS Special Issue, in November of 2012.