In every life, things change. When Alexis DeJoria first appeared on the cover of DRAG ILLUSTRATED during her debut season in 2007, she was focused entirely on getting her feet wet and making steady progress as she continued her climb into the upper echelons of drag racing. Her accent to that point had been the polar opposite of what most would expect out of someone like DeJoria – daughter of iconic entrepreneur John Paul DeJoria and heir to his billion-dollar business empire. Rather than simply buy a seat in one of Don Schumacher's front-running fuel Funny Cars or Top Fuelers, which she most assuredly could have, DeJoria committed herself to doing it the right way; attending Frank Hawley's Drag Racing School, starting out in a Super Gas roadster and then a Super Comp dragster before taking the leap into Top Alcohol Funny Car.
Five years later – another big move, another DRAG ILLUSTRATED cover – DeJoria is still taking her racing career one step at a time. Rolling into her sophomore year behind the wheel of the Patrón Tequila Nitro Funny Car under the Kalitta Motorsports umbrella, she's finally beyond the hoopla and built-in anxiety that came with her rookie season.
"Last year was my first year and there was a lot of publicity and interviews all the time," says DeJoria, looking back on her first season as a member of the NHRA pro ranks. "Coming out this year, we're hoping we can keep things somewhat calm."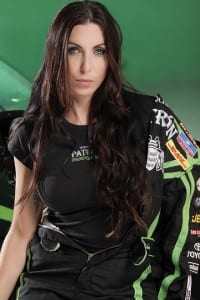 For a single mother who spends 23 weekends a year manhandling a 10,000-horsepower Nitro Funny Car, calm isn't easy to come by. Add to that the celebrity status that comes with her family's namesake, the fan following attached to being a touring pro on the NHRA Mello Yello Drag Racing Series circuit and the buzz surrounding her late 2012 engagement to motorcycle-building television bad boy Jesse James, and it's hard to imagine DeJoria will experience anything close to calm in 2013. That doesn't mean the Del Worsham protégé isn't settling into her role this year, having become acclimated to the nasty nature of drag racing's most dangerous hot rods, made some mistakes and had some close calls.
"Being that we were a new team, there was a lot of learning going on in our first year together," explains DeJoria. "Not only was it my first year as a full-time Funny Car driver, but we had rookie crew members and Del [Worsham] as a first-time crew chief as well, so it was a learning experience for all of us."
Admittedly, there may not come a lot of glory with struggling through your first season in the pros, but the knowledge and experience gained while driving a race car that doesn't always go down the track is invaluable. From DeJoria's vantage point, she may have done more towards furthering her career and growing as a driver shaking, smoking and pedaling last year than she would have if she won every race.
"Driving a car that doesn't always make it down, you definitely have a lot of learning opportunities," she says. "You have to get better at pedaling the car and things like that. It's easy to drive these cars when they go right down every time. It's when they don't go down the track, when they're all over the place, that you get to brush up on your skills."
Though DeJoria recognizes the learning process isn't yet behind her, she's taking an entirely different outlook with her into this race season. Her natural competitive fire has her ready to win; ready to feel like a contender, and it's looking like the pieces are in place for that to become a reality.
It's been five years since our first conversation and, clearly, a lot has happened since then. Back in 2007, we knew nitro racing was likely on the horizon for you, but you were content to earn your stripes in the sportsman ranks. Still today, I can't say enough about your humble approach. We all know it didn't have to be that way.
To me, there was never really any other choice. That's the only way I could see it really working; that's the only way I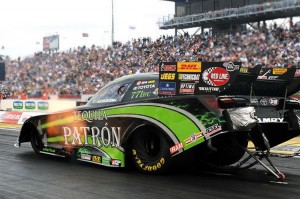 could see doing it. My father raised us with very good work ethic; that you have to work hard for something you want to achieve and things weren't going to just be handed to us. He struggled when he grew up. He had a really hard life and things weren't given to him. He's instilled that in his children and I'm forever grateful for everything he's taught me and my sisters and brothers.
But, honestly, I really thought the only way that I could really, truly appreciate and understand drag racing in every way possible was to start out just like anyone else would. Mainly because I had no history out there, no family that had ever raced or anything like that. I knew nothing about it – clean slate, starting from scratch – and I really wanted to do it the right way. Once you get into a nitro car – that's it. There's nothing better than that, so I really wanted to appreciate the ride.
Well, it's certainly honorable, and I don't think anyone would argue that it's only going to help you in the long run. You're starting your second full season in NHRA Nitro Funny Car, but you're going on a decade in the sport. That said, was there ever a time – even as recently as your rookie season last year – when you felt like an outsider because you didn't necessarily have a racing pedigree?
I wouldn't say an outsider, but I definitely feel like I'm in kind of a different place, I guess. When you're going up against teams that have tons of experience in racing – the John Force's and the Don Schumacher's – it feels like an uphill battle for sure. But working with the Kalitta family, who have a ton of history in this sport, and being a part of what they're trying to accomplish and build is so exciting.
There were some major moves within the Kalitta camp during the offseason – Del Worsham moved from crew chief on your Patron Toyota to the driver of the DHL Toyota and Tommy DeLago and Glen Huszar were brought in to tune for you. What's your take on everything?
To be honest, it was a surprise to all of us. We didn't expect it. There were talks about Tommy and Glen coming over, but more of a consulting deal to work on both cars. But then a few conversations happened between the big dogs and it just seemed to them that this was the best idea. They put Del in the DHL Toyota and Tommy and Glen working on my car. They'll all work together on the tune-ups.
The two-car team, utilizing identical chassis, clutches, etc., seems to be the only way to really make a run at a championship in the fuel categories, right?
We've got both cars riding on the same chassis now. Last year, we tried to do some of it, but there wasn't a lot of crossover – one being a slip-tube chassis and the other rigid, which, obviously, changes everything. We were also running two different clutch setups. This year we're trying to get both cars to be just exactly the same. Testing went really well in both cars, so we're pretty excited about this season.
It seemed like a perfect storm type situation last year when Del was brought on as your crew chief. He'd tuned his own car for years alongside his dad and is one of the best Funny Car drivers of our time – seems like a pretty good guy to have in your corner as a brand-new driver.
It was amazing, especially since I started with Del – it was his car that I got my license in, and he was there guiding me through the whole experience. So to have him as my crew chief in my rookie season, the comfort level was just immeasurable. All the experience he had to offer me after all his years driving that Nitro Funny Car, it was really awesome to be able to bounce things off him since he'd already been through all of it. He has been a mentor, a crew chief and a confidant for me. I can tell him things, and I can trust him with everything. I'm so glad I get to work with him and I'm really appreciative of everything he brought to the table.
Now he's going to be your teammate. What's that going to be like?
I have to say that I'm pretty excited. I never thought I'd be racing against him.
Moving forward, it's got to feel like everything is coming together and you're poised to be a serious contender in Nitro Funny Car, but I have to ask what the big takeaway from 2012 was. Do you feel like you accomplished what you set out to?
In the beginning, I tried to be fair to myself and say, 'I just hope to qualify at every race, maybe go some rounds.' If I were to win a race, that'd just be amazing, but I tried not to put too much pressure on myself, or have too high of expectations for the whole deal. I just wanted to do everything right. No one will remember the great things you do, but they sure as hell remember the wrong things you do. I learned that from Bob Newberry way back. He said, 'You make a mistake out there and everyone's going to remember it, so choose your steps wisely.' That's been the deal for me since the beginning.
Once we got to Bristol and went to the final, it was like, 'Wow, maybe this can happen; maybe we can win this year.' So, once I made it to the final, that's all I wanted and I had pretty high expectations after that. Then we ran fast in Englishtown; ran great numbers – 4.0s – but the consistency just wasn't there, and that was something that brought us down and bummed us out. Then there were a few races where we didn't qualify, and that was definitely upsetting. Some people would say there's nothing to be ashamed about or bummed out about and that we did great. Nothing catastrophic happened and I learned a lot, so I'd say it's about 50/50. I'm pleased, but at the same time, I wouldn't say it was a great year. It was good, but not great.
There's no shame in the kind of rookie year you had, but I have to say it's admirable that you're not satisfied.
Going into 2013 – new teammate, crew chief and all – are you feeling confident that you're going to be contending for a championship?
Yeah, we're out to win. I hope to get the car in the top ten and then we'll go from there. Last year, even if it was my first or fifth race, every time I pulled up to that starting line I was planning on winning. That was my mind frame every time, and that definitely carries over.
At this level, honestly, it takes that kind of confidence to win. You have to expect to win; though it is easy to be misconstrued.
You don't want to be cocky, running around talking about winning every race. Growing up through the ranks, I raced against Frank Manzo, and I remember him saying that all these young guns come in and they boast and talk big about how they're going to come in and get that Wally and blah. He said, 'You know what I do? I sneak in the back door and I snatch it.' He's the type of guy that doesn't say a damn thing and he goes out there and gets the Wally. I like that. I like that perspective. It's pretty awesome.
That's a great way to look at it, and you can't really argue with a guy like Frank Manzo.
He's got that quiet confidence. He's super humble and I really look up to him.
Speaking of people you look up to – now that you're over a year into this whole nitro thing, what's been your father's reaction to his daughter becoming a star in the sport of drag racing?
I think it's every young girl's dream to make her daddy proud at the end of the day, and I sure feel like I have. He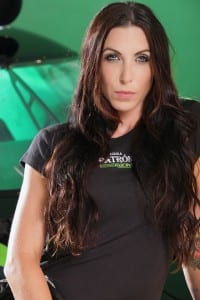 absolutely loves NHRA drag racing. He's a huge fan of the sport. He's still kind of learning and he's got a ways to go, but he's very enthusiastic about it. He's made a lot of friends out there and it's cool. He's come to the ropes a couple of times and signed autographs. It feels good. He's a huge inspiration for so many people. He inspires me as well. He's definitely my hero in life.
Dads always seem to have that one story they tell; the one story that really taught them a lesson or whatever. Over the course of the last year or so, driving this, what, 10,000-horsepower Funny Car, what's been the one story you know you'll tell when all this is behind you? Something you'll be forever grateful for or won't soon forget?
Let's see… I'm a pretty patient person, but patience truly is a virtue in drag racing. I know that sounds kind of crazy – it's the fastest sport in the world – but it's so important to be patient. When you're in these cars, four seconds doesn't feel like four seconds. It's like an eternity in there. When you see us pedal the cars, for us it's like forever taking your foot all the way off the throttle – it literally feels like an eternity. Just learning and having the patience required to let the car settle before you get back on the throttle is a challenge – it's a lot different between the alcohol car and the nitro car. In the alcohol car you can get off and on it pretty quickly. In this nitro car you have to kind of roll back into the throttle, and that's been a big learning curve for me, but I think I've done pretty well.
I definitely could have been a little more patient out in Brainerd last year against John Force when he red-lit in the first round against me. I had no idea what he was doing over there, and I sure as hell didn't know he red-lit – I just knew he was out in front of me. I was trying to get my car down to the end as fast as possible and about mid-track I was already in a sideways back-end drift toward the centerline when I heard over the radio my crew go, 'Off! Off!' but I'd already pedaled it and crossed the centerline. So, I get down there and I'm like, 'What happened?' And they're like, 'Oh, he red-lit.'
I was like, 'I am so sorry, I didn't know.' I was just trying to get down there and the thing was a bucking bronco. That's definitely one of the mistakes that I've learned from.
Hey, at least you're trying hard, right?
[Laughs]. Yeah, I'll always put the most pressure on myself, more than anyone else ever could.
The learning experiences for you probably haven't all been confined to the drag strip have they? Has having fans taken some getting used to?
Yeah. In Top Alcohol, if you did have fans, they couldn't find you – you're way out there on the other side. I'd hear people say, 'We've been all over trying to find you, and we didn't see any of your merchandise on the midway.' Back then, that's just how it was; if you had people come and find you for an autograph you were very thankful.
So, I've been trying to get used to it. Last year, I was kind of thrown into the fire. Being a rookie is always going to be kind of wild and pretty packed. I'm very appreciative any time anyone wants my autograph or to take a picture. I'm in awe because I'm out here doing what I love and to get that support from the fans is amazing. I just try to be personable because they come all this way to watch you race.
Does being a parent of a child who's probably old enough to be a fan of different things or people make you think differently about your position?
Absolutely. I've been kind of blown away by this, maybe just because I'm a mom of a 10-year-old girl, but I've been getting a lot of feedback from young girls saying that I've been an inspiration to them. That in itself is so huge to me. In this day and age, in this society, where girls are led to believe all the hoopla and stuff about their image and everything like that, I definitely feel like it's an accomplishment when you're opening the eyes of our newer generations, especially the young girls. For girls like Courtney, Erica, and myself, that's a huge deal right there.
You always wonder what kind of person you'll be to your kids, what kind of role model you'll be. I feel pretty good at night when I go to bed. Maybe I've inspired some little girl out there to do something more for herself and to be a go-getter and work for something that's going to make her feel accomplished.
You're a natural and it's probably as evident by your social media presence as it is anywhere. Was that something you took upon yourself to do?
It started with Facebook. They're like, 'You should have a Facebook page.' I didn't really think I'd do much with that, and then I started finding people that I used to go to school with and I thought that was pretty awesome and started going on that a lot more. Then it was Twitter and they wanted me to open up a Twitter account. I didn't know what to say; what do you say? Then it started flowing. Since then I've just kind of ran with it. I've always tried to keep it pretty real, too. I don't want to make it seem like I'm someone I'm not.
I think that's pretty critical to the success of that kind of stuff.
Just because I'm driving a Nitro Funny Car, I wanted to make it clear that doesn't change who I am; that I'm still me and I can still be rough around the edges. Yeah, I'm a single mom and I'm out here going over 300 miles an hour, but I'm not ashamed to say that I'm just hanging out at home with my kids and making them dinner. There are so many facets of life. I've tried to be pretty open in that sense.
There was a time when being a female drag racer was more unique than it is now. Women are still certainly in the minority, but it's more common now than ever. I've heard it said that it's not near the advantage to be a woman in racing that it once was, in terms of media or sponsor attention, now that the biggest name in the sport, John Force, has two daughters in the pro ranks.
Well, it's got to be expected. Their father is so well known in this sport. You mention drag racing to people that don't know much, if anything, about it and they're still probably going to know John Force. I get that, too, but in a completely different profession – the beauty world. I get it, and I can definitely relate to them on that level. I'm friends with Courtney and Brittany and I totally support them. I thought Courtney did an excellent job last year.
Having experienced the red carpet-type affairs with your father and Patrón having been involved with other forms of motorsports on a large scale, do you feel at all like there's more the sport of drag racing can accomplish?
For sure. My God, I think there can be so much more. There's great sponsors out here, including Patron, and I think they can leverage that so much more. I think there were times when NHRA could have gone to that next level and for whatever reason, I don't know why, it just didn't happen. I think they could definitely experiment and try to get some new media attention, and hopefully the Mello Yello relationship will shine some new light on the drag racing world. There's some things that need to be changed, but I don't really want to say what they are. I've got to be at least a little politically correct. [Laughs].
One thing that got a lot of attention late last year was your engagement to Jesse James. I have to ask, how did that come to be?
Oh, funny. Actually, he came out to a race in Dallas. It was the day before my birthday. He's been friends with my dad for awhile, and he's sponsored Scott Kalitta's Top Fuel dragster in the past, and he just came out to see my dad, see the Kalittas and hang out at the races. That's how we met.
So drag racing brought you two together – pretty cool. He's a gear head, so he's got to dig seeing you drive that car.
Yeah, for sure. I keep thinking maybe one of these days he'll make a blast in it. He loves the drag races, but he's more into off-road racing. He has a trophy truck that he races, the desert races and Baja stuff.
Will he be attending a lot of races with you? I can't help but feel like that's going to have some positive effect on the sport; get drag racing some attention in the mainstream media, perhaps.
Oh, yeah, he'll probably come to all of them. For me, more than anything, it's just been really cool to have a relationship with your other half, who can really relate. He goes out and he can talk to the guys on my team and they can share stories about whatever. They respect him; he respects them. And there's a huge comfort level there, just to know that he's good with all of it. You don't feel like you have to babysit. He can hold his own, and that's a relief. I can't remember where we were, but my steering wheel needed to be welded and it was like the second race he'd come out to and the guys were kind of nervous to ask him, but no one else there could have done it as good as him. When they asked he was like, 'Yeah, definitely.' He went in the trailer, welding mask and all, and fixed it for me. Everybody got a kick out of it. They're like, 'He's a keeper.'
On the topic of relationships, how difficult is it to balance being a mother and travel to 24 races on the NHRA Mello Yello Drag Racing Series tour? I'm sure it can be a challenge at times.
Yeah, especially when you're gone 24 weekends a year. I've just kind of learned on my own to be at home when I'm at home. I take my kids to school. We have family dinners and we do things together. When I'm at the races, I'm 100-percent at the races. But when I'm at home, I'm 100-percent at home. At the track, every night I call her on the phone and we talk and check in. So, I'm very much connected. Yeah, I have an odd job and I work on the weekends. Most parents, most moms work Monday through Friday; mine is flip-flopped. There's times when we race back-to-back weekends and then there's times when we don't race for two weeks straight, so I just try to make the most of it.
How connected is Bella with what her mom does?
She's getting more interested in it. At first, she was kind of like, 'Oh, that's cool…whatever.' Towards the middle, she got more into the social aspect of it – hanging out with the other drivers' kids who are the same age, like Del's daughters, Antron Brown's daughter. And they all connect and run off, won't see her for hours, but I know she's in good hands because it's a small circle out there. But, right now, that's the big deal for her, going to the track and getting to see her friends.
Honestly, I think that's the big deal for all of us.
[Laughs]. I think you're right.
Photographs by Ron Lewis, Mark J. Rebilas, Gary Nastase and Alexis DeJoria Racing
This story originally appeared as the cover story in Drag Illustrated Issue No. 74, the Hottest Women Issue, in February/March of 2011.