The sixth of eight scheduled events in the Professional Drag Racers Association (PDRA) inaugural season is being held this weekend at Osage Casino Tulsa Raceway Park, where DRAG ILLUSTRATED Editor-in-Chief Wes Buck, along with Sr. Editor Ian Tocher and frequent contributors Joe McHugh and Kyle Kramer will be providing photos and race commentary throughout the weekend, along with result sheets in accompanying posts. Check it out!
ELIMINATION ROUNDS PHOTO GALLERY
Invalid Displayed Gallery
(Photographs by Ian Tocher and Kyle Kramer)
FINAL QUALIFYING RESULTS & ELIMINATION LADDERS
Invalid Displayed Gallery
THIRD QUALIFYING SESSION PHOTO GALLERY
Invalid Displayed Gallery
(Photographs by Ian Tocher)
SECOND QUALIFYING SESSION PHOTO GALLERY
Invalid Displayed Gallery
(Photographs by Kyle Kramer)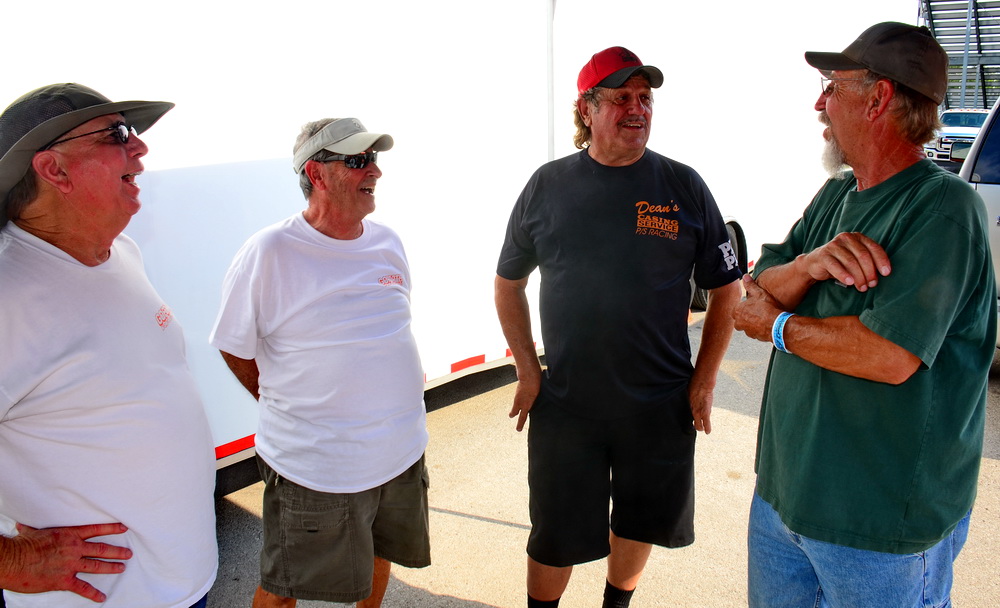 MIXED FEELINGS FOR GOFORTH ABOUT RACING AT TULSA
Dean Goforth has been coming to Tulsa Raceway Park for a long time. Despite hailing from Holdenville, Oklahoma, about 120 miles southwest, the 70-year-old Extreme Pro Stock driver considers TRP his home track.
"Whenever I had the money to go drag racing, this is where I always headed," Goforth says.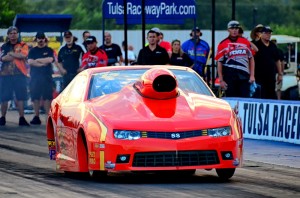 He's back this weekend for the PDRA Under the Lights event, driving a 2013 Camaro that's a mirror image of the car steered by his son and current class points leader, Cary.
"It's wonderful to be at any track with the PDRA. This is a great organization, great sanction, wonderful people. We've been treated like royalty all year, something we weren't used to the last two or three years or so," Goforth says.
But as much as he likes racing with the PDRA and returning to his old stomping grounds at TRP, Goforth says he doesn't enjoy a good record here.
"It's honestly the worst. I can never win a race here because I cannot keep my mind on my business," he says shortly after holding court with several old friends, reminiscing about their street racing days. "We had a lot of good fun, but nothing that ever hurt anyone.
"There's probably 10 (visitors) here right now, but I guarantee by this time tomorrow there'll be a hundred that come by, a lot of them that I haven't seen in years, maybe from Arkansas or Kansas. They'll come down and tell me they came all this way just to see me and you can't just walk off," Goforth explains of his social obligations that cramp his race-winning style.
"But it's wonderful, wonderful that people still remember you and still like you after 70 years. I'm still having fun."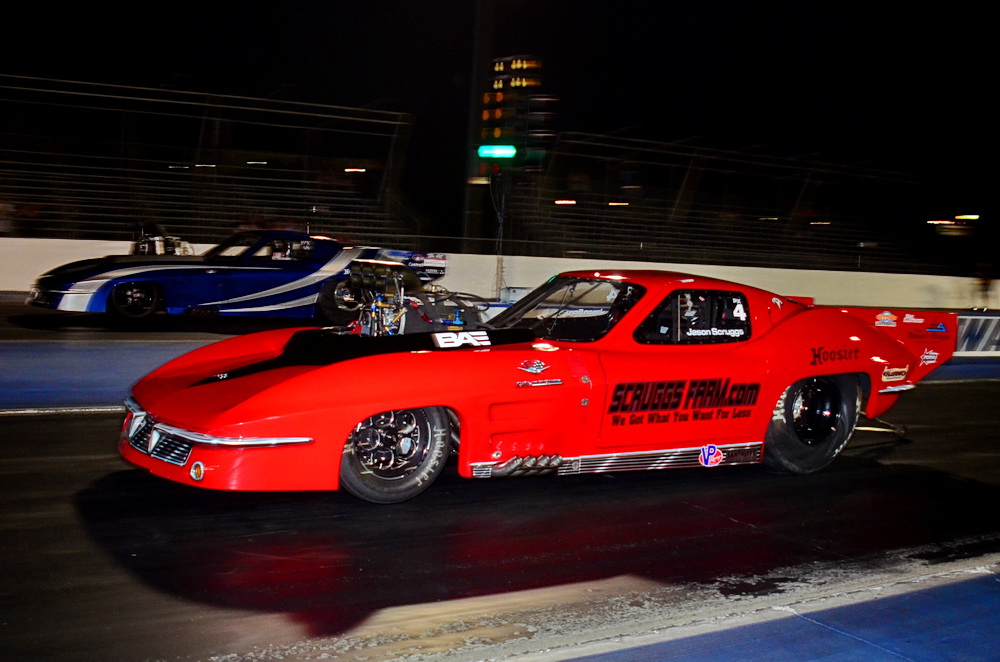 SCRUGGS, MOHAMMED, TUTTEROW AND MONTECALVO NO. 1 AFTER DAY ONE IN TULSA 
To avoid running in oppressive heat, qualifying for the inaugural Professional Drag Racers Association (PDRA) Under the Lights event at Osage Casino Tulsa Raceway Park (TRP) began at 6 p.m. Friday, Aug. 15, but when the second round didn't conclude until after 2 a.m. Saturday, PDRA and track officials reached the decision to postpone the third of three scheduled qualifying sessions to 3 p.m. with eliminations to follow Saturday night.
After two completed qualifying rounds on the TRP eighth mile, Jason Scruggs led the premier Pro Extreme class with a track record 3.570-seconds pass at 214.79 mph in his supercharged 1969 Camaro. In Pro Nitrous, Khalid Mohammed was first with a 3.811 at 198.70 mph in another '69 Camaro, while Todd Tutterow in yet another supercharged version of the classic Chevy placed number one with a 3.853 run at 191.19 in the new PDRA Pro Boost class.
In the naturally aspirated Extreme Pro Stock division, John Montecalvo topped the field with a 4.103 at 176.51 mph in his 2012 Camaro, while Pro Extreme Motorcycle rider Eric McKinney rounded out the PDRA professional class leaders with a 4.082-seconds ride at 172.36 mph aboard his 2012 Suzuki.
First in the sportsman classes, also with one more qualifying opportunity, were Aaron Glaser in Top Sportsman and Phil Esz in Top Dragster, while all three Jr. Dragster qualifying sessions were completed Friday night, leaving Tutterow's daughter, Tia, on top in Pro Jr. Dragster and Kaylee Shepherd first in Top Jr. Dragster.
Scruggs, from Saltillo, MS, led both Pro Extreme qualifying rounds and was followed on the list by teammate and current points leader Bubba Stanton, also from Mississippi. Texas racer Randell Reid was third, followed by Terry Leggett and Mick Snyder in the top five of 16 provisional qualifiers.
Though seventh on the list at 3.631 seconds, Georgia's Eric Dillard set the fastest speed so far at 220.48 mph in his twin-turbocharged entry. Twenty-five entries made qualifying attempts, with Gene Hector and his "Small-Block Mafia" currently on the bump spot at 3.749 seconds.
Mohammed, based in Houston, improved by just three thousandths from his first run to also lead both Pro Nitrous sessions, with Lizzy Musi, the most recent Pro Nitrous winner on the PDRA trail, second with a 3.819 pass at 196.02 in her 2006 Dodge Stratus. Points leader Jason Harris was third, Tommy Franklin fourth and John Camp rounded out the top five of 16 entries.
Like his Pro Extreme and Pro Nitrous peers, Yadkinville, NC's Tutterow led through both qualifying rounds in Pro Boost, followed closely in both sessions by teammate Kevin Rivenbark, who also won the most recent PDRA event last month at Richmond, VA. Mike Knowles placed third, with Canadian racer Jim Bell fourth and Tyler Miller fifth of the 16 Pro Boost entries on the grounds.
The second session of Pro Boost qualifying was marred by a massive transmission explosion and fire in Jerry Yeoman's turbocharged '59 Corvette. Just as the Galena, KS-based driver left the line, his cockpit initially filled with smoke, with a violent explosion following that blew the car's windows out and set it ablaze in a huge fireball. Though the fire was fierce and Yeoman coasted to a stop near the eighth-mile finish line, he was not seriously injured in the accident. He was, however, transported by ambulance to a local hospital for a precautionary check-up.
In round two of Extreme Pro Stock, both Montecalvo and current points leader Cary Goforth vaulted past first-round leader John Pluchino. Cale Aronson filled the last position in the provisional top half of the eight-car field.
Both McKinney, from Homersville, OH, and Alabama-based teammate Ashley Owens improved over their first-round efforts, pushing Canada's Terry Schweigert down to third in the process. With just nine entries at TRP, Pro Extreme Motorcycle also will feature an eighth-bike field, with Travis Davis currently fourth and Chuck Wilburn on the outside with one qualifying opportunity to go.
Glaser and first-round leader Ronnie Davis ran side-by-side in round two of Top Sportsman qualifying, with Davis improving to 4.062 seconds in his nitrous-boosted '63 Corvette, but the '69 Camaro of Glaser going 3.981 at 182.77 to get the nod as the provisional leader. Tom Stultz placed third and Bruce Thrift, the most recent Top Sportsman winner, was fourth.
Meanwhile, Esz stumbled in round one with his 2006 Spitzer-built dragster, placing last of 20 Top Dragster entries, but the Amelia, OH, racer recovered with a stout 3.696 pass at 193.96-mph pass. The second through fourth-place drivers were Rob McKinely, Richard Edwards and Jennifer White, respectively.
four top qualifiers in both PDRA sportsman classes will race in the special IGetFixed.com Top Sportsman and Top Dragster shootouts to open the PDRA Under the Lights competition at 3 p.m. on Saturday afternoon before one more qualifying session for all classes, except Jr. Dragsters, which have already established their elimination ladders.
SECOND ROUND QUALIFYING RESULTS
Invalid Displayed Gallery
JERRY YEOMAN SURVIVES TERRIFYING EXPLOSION & FIRE
Invalid Displayed Gallery
(Photographs by Joe McHugh)
FIRST ROUND QUALIFYING RESULTS
Invalid Displayed Gallery
FIRST ROUND PHOTO GALLERY
Invalid Displayed Gallery
(Photographs by Kyle Kramer & Joe McHugh)
TEST SESSION PHOTO GALLERY
Invalid Displayed Gallery
(Photographs by Joe McHugh & Kyle Kramer)
PDRA TO RACE ALL NIGHT LONG AT TULSA RACEWAY PARK
In order to beat the heat in summertime Tulsa–forecast to be in the mid- to high-90s this weekend–the Professional Drag Racers Association (PDRA) will hold its first all-night-racing event Aug. 15-16, at Osage Casino Tulsa Raceway Park (TRP).
The inaugural PDRA Under the Lights event began Thursday (Aug. 14) with a 5 p.m. to 1 a.m. open test session for all classes. The first of three official qualifying sessions is scheduled to begin at 6 p.m. Friday evening and eliminations will be held Saturday night following a 6 p.m. opening ceremony. The race is expected to end in the wee hours of Sunday morning.
"This is the first time Osage Casino Tulsa Raceway Park has hosted a national event of this type and we're really excited about it," track co-owner Keith Haney said. "The PDRA is excited, too, about coming to a track that's known for its record runs and excellent hospitality."
Among the amenities awaiting racers and fans in Tulsa are a TRP-sponsored pizza party for race teams Saturday afternoon, as well as an ice cream social compliments of Highland Dairy later that afternoon. Also, there will be free shuttle buses running from 2 p.m. to 5 p.m. on Saturday between the track and Osage Casino in Tulsa.
For the fans, a mechanical bull ride has been set up on the main spectator side, along with inflatable slides and jump rooms for the kids. Additionally, a nitro-burning, front-engine dragster campaigned by the Grand Prix Auto Parts team will complement the PDRA's usual jet Funny Car exhibition vehicle and a special two-seated dragster is on site for fans to purchase rides down the TRP eighth mile at racing speeds.
"This is going to be a big race, a memorable event," Haney declared. "We hope everyone comes out to have a great time with us and the PDRA, with free tickets still available to be printed from TulsaRacewayPark.com."
Going into the event, the current PDRA points leaders include Bubba Stanton (Pro Extreme), Jason Harris (Pro Nitrous), Todd Tutterow (Pro Boost), Cary Goforth (Extreme Pro Stock) and Eric McKinney (Pro Extreme Motorcycle). Sportsman class leaders are Dan Ferguson (Top Sportsman), Travis Harvey (Top Dragster), Preston Tanner (Pro Jr. Dragster) and David Roloff (Top Jr. Dragster).