PDRA Dragstock Rained Out at Rockingham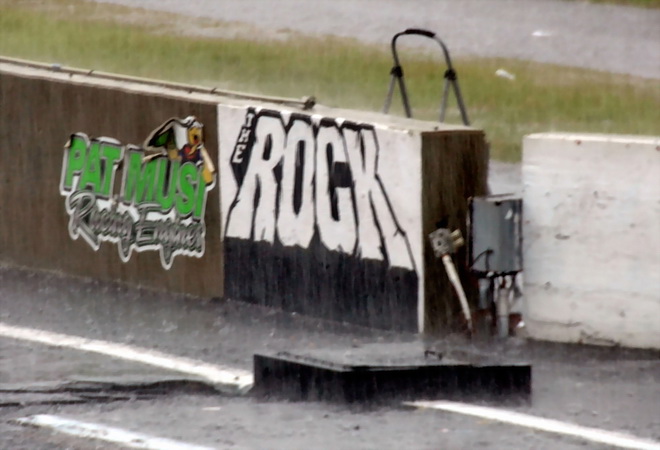 The big winner at the Professional Drag Racers Association (PDRA) Dragstock event at Rockingham Dragway turned out to be Mother Nature, as heavy rain put an early end to the race Sunday afternoon.
"It's unfortunate, but due to the weather this event is officially over," PDRA Director Bob Harris announced at 3:15 p.m. over the track's public-address system. "We will complete it next month when we're at Richmond."
Qualifying and the opening round of eliminations for all PDRA classes were completed Saturday night. Shortly after a brief opening ceremony at noon on Sunday, the second round for both Jr. Dragster classes and part of Top Sportsman were run before a brief rain shower forced the first race stoppage.
Unfortunately, just as the track was drying an hour or so later, intermittent showers returned until about 2:45 when high winds and heavy rain began battering the central-North Carolina facility.
"Very disappointing," Rockingham Dragway owner Steve Earwood said of the outcome. "We had a helluva a race going, but once again you find yourself at the mercy of Mother Nature. Our crew and the PDRA crew went above and beyond trying to get the track dry, but it seemed like every time we were within a couple minutes of 'go,' the clouds opened up again."
The PDRA will return to action Oct. 10-11 with its Championship Finals at Virginia Motorsports Park, south of Richmond.
Daniluk and Stroud Win Sportsman Shootouts
Canadian racer Barry Daniluk won the IGetFixed.com Top Sportsman Ultimate Shootout Saturday night during the Professional Drag Racers Association (PDRA) Dragstock event at Rockingham Dragway, while Jody Stroud of nearby Chesterfield, SC, won a similar shootout for Top Dragster competitors. The IGetFixed.com Ultimate Shootouts pit the top four qualifiers in each class against one another in a heads-up format before eliminations begin for each PDRA national event.
Boyd Beyer and his supercharged 2004 Mustang qualified number one in Top Sportsman with a 4.065-seconds pass at 180.91 mph, but fell victim to number-four starter Daniluk in the opening round of the shootout. Beyer got away first, but soon lost traction and coasted to an 8-second finish while Daniluk ran 4.105 at 175.16 to advance in his naturally-aspirated '68 Camaro. On the opposite side of the ladder, Suwanee, GA's Ronnie Davis posted a 4.061 at 184.19 in his nitrous-boosted '63 Corvette to handily defeat the 4.418 at 166.46 run by Don Klooster in a similar ride out of Kalamazoo, MI. Daniluk got the jump in the Top Sportsman shootout final, then won with a 4.119 effort at 175.23 mph while Davis struggled to a 4.303 at just 145.52 as his engine appeared to be eating itself up as it powered down the Rockingham eighth mile. "To win anything against the level of competitors and cars we have in the PDRA is a big deal," said Daniluk, a machine-shop owner from Red Deer, AB, in Western Canada. "And to say we did it with no nitrous, no power adder on our motor–the only one out here, by the way–makes it that much more satisfying. It gives us good momentum going into eliminations tomorrow, too."
Stroud, the second-place starter in Top Dragster, also stressed the competitive nature of his class after running 3.784 at 195.14 mph to beat a red-lighting Eddie Careccia in round one of the shootout, then went 3.790 at 194.97 to edge out the 3.825 at 194.18 effort by top qualifier Richard Edwards. "It carried the front wheels pretty high about three-hundred feet down the track, but it felt good and seemed to be going straight so I just stayed in it," Stroud said of his shootout final run. "We have some fast cars out here, so if you can just keep going that's what you better do." Additionally, the first round of eliminations was completed Saturday night for all PDRA classes at Dragstock and while Daniluk will continue to race on Sunday after beating Tim Lawrence and his 2013 Camaro, Stroud's race weekend is over courtesy of a red-light start against Ryan Snell. Quarter-final eliminations for Dragstock will begin at noon on Sunday, Sept. 7, at Rockingham Dragway, about an hour's drive southeast of Charlotte. (Photos by Roger Richards)
Explosive Finish for Dillard

The twin-turbocharged '69 Camaro driven by Eric Dillard experienced a manifold explosion just as it crossed the finish line at the end of his third and final Pro Extreme qualifying pass on Saturday night. The force of the blast was strong enough to send a bolt flying through the windshield of one of the race teams' motorhomes parked in the pits nearby at Rockingham Dragway. Dillard later said he thought the welds on the manifold were fatigued after nearly 400 runs of service atop the 540 c.i. engine, which was otherwise undamaged; however, without a spare in the trailer the Proline Racing team was done for the weekend. "I knew what happened as soon as it blew and then I was just saying, 'Come on, baby, don't start on fire.' I had my hand on the (fire suppression system) handle all the way down the shutdown," Dillard said. With Dillard unable to enter the opening round of eliminations Saturday night, Frankie Taylor was inserted into the field as first alternate.
Vose Steps Up in Saturday Qualifying
After two rounds of qualifying Saturday, Sept. 6, for the Professional Drag Racers Association (PDRA) Dragstock at North Carolina's Rockingham Dragway, only one of five pro classes saw a change at the head of the qualifying lists from Friday-night's lone qualifying session, as motorcycle drag racing legend Billy Vose displaced Ashley Owens from the number-one position in Pro Extreme Motorcycle. Vose jumped all the way from 12th to first with his third and final qualifying run of 4.045 seconds at 175.78 mph, with Owens second at 4.055 and his teammate Eric McKinney third at 4.058 at 175.34 mph. Retaining their qualifying leads heading into the first round of eliminations for all classes Saturday night were Jason Scruggs in Pro Extreme, Tommy Franklin in Pro Nitrous, Steven Whitely in Pro Boost and Dean Goforth in Extreme Pro Stock.
Points leader Bubba Stanton made the biggest move in the final round of Pro Extreme qualifying as he was 17th and not qualified heading into the session, but placed number two behind teammate Scruggs with a 3.588-seconds blast at 214.76 mph in his '69 Camaro. John Stanley also broke into the field with his last opportunity as he qualified his new 2014 Cadillac CTS-V 14th with a 3.725-seconds lap at 208.71 mph.
In Pro Nitrous, Edward Wilson improved all the way from 23rd to ninth place with his final qualifying run of 3.849 seconds at 193.29 mph in his 1941 Willys, with John Camp also driving his '69 Camaro into the field with a 3.868 at exactly 198 mph in his final attempt. Randy Weatherford also made a big move from 14th to third with a last-chance 3.834 at 196.64 in his '69 Camaro. Meanwhile, two of three PDRA sportsman classes saw their qualifying leads change hands as Boyd Beyer took over from Bruce Thrift in Top Sportsman, Jody Stroud got bumped down to second in Top Dragster by Richard Edwards and Ziff Hudson held onto his lead in the PDRA's new "small-tire" Pro 275/28 class.
XPS PROMISED PLACE TO RACE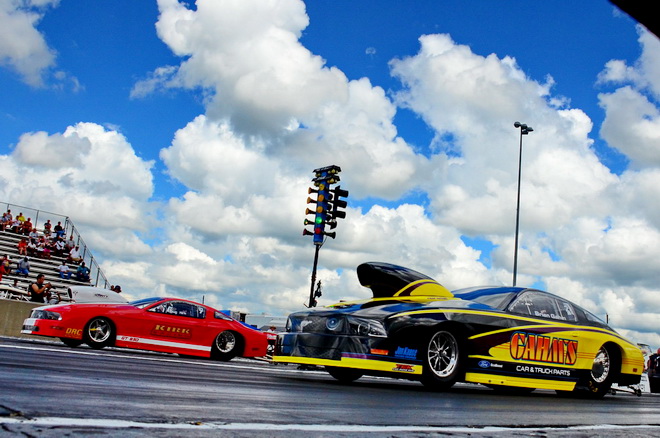 PDRA Director Bob Harris and members of the Extreme Pro Stock (XPS) community met Saturday morning at Rockingham Dragway to discuss the future of the class as part of the PDRA mix.
Since many PDRA races this year were hard pressed to fill just an eight-car field, Harris said he was seeking assurance from XPS competitors that support would be there to justify the class continuing in the 2015 season and beyond. Part of that support, he added, would need to come in the form of sponsorship for the class from within.
"We absolutely want Extreme Pro Stock to continue in the PDRA," Harris stated. "I think the fans like it and the racers like being here, but we need more participation from the teams to justify paying for the class. We've had other classes–like the motorcycles–step up with their own sponsorships to help us fund the purses and points funds and that's what we're looking for from the Pro Stock guys here.
"As long as that happens, you will see Extreme Pro Stock in the PDRA again next season."
PDRA Completes One Round of Qualifying at Dragstock
One round of qualifying was scheduled and completed for all classes Friday, Sept. 5, for the Professional Drag Racers Association (PDRA) Dragstock event at Rockingham Dragway, about an hour's drive southeast of Charlotte.
Veteran Jason Scruggs placed number one in the premier NAS Racing Pro Extreme class with a 3.570-seconds pass at 215.13 mph in his Saltillo, MS-based '63 Corvette. Next on the list of 16 qualifiers was Atmore, AL's Brandon Snider in another '63 Corvette with a 3.607 at 210.73 mph, with Roselle, IL's Mike Recchia third at 3.639 and 210.67 mph in his '69 Camaro. "I'm not sure anyone will be able to go quicker than that if it's as hot tomorrow as it was today, but we'll be racing first round tomorrow night in similar conditions to this, so it should be fast then. Then we race on Sunday so those conditions should be like what we had today, so it's almost like you need two cars here this weekend," Scruggs explained. "Let's just hope both of our cars are fast." Tommy Franklin of Fredericksburg, VA, was quickest of 26 entries in the Switzer Dynamics Pro Nitrous class with a 3.809 run at 197.57 mph in his '69 Camaro. Points leader Jason Harris from Pittsboro, NC, steered his '68 Firebird to second place with a 3.836 at 194.77, and class rookie Lizzy Musi placed third with a 3.837 at 197.05 in her 2009 Dodge Stratus. The 16th and final qualifying position was held by Lee Adkins Jr. with a 3.971 at 183.74, with two more qualifying rounds to go.
"It actually went a little better than I thought it would; I thought it was going to be an .82 or .83," Franklin said of his pass. Still, like Scruggs, he said it would be difficult to match if temperatures remain in the mid-90s on Saturday with track temperatures near 130 degrees. "There are a lot of good cars out here, great cars," he said. "We have one of them, though, so hopefully we'll be alright." The supercharged '68 Camaro of Grand Junction, CO's Steven Whitely took the provisional pole in Precision Turbo Pro Boost with a 3.854 pass at 193.65 mph. Canadian driver Jim Bell placed his twin-turbocharged '69 Camaro second with a 3.902 at a class-best 204.51 mph, and points leader Todd Tutterow from Yadkinville, NC, took third with a 3.919 run at 190.16 in his blown '69 Camaro. Teammates Ashley Owens and Eric McKinney placed one and two, respectively, after the first round of Pro Extreme Motorcycle qualifying, with Owens going 4.055 at 174.84 mph aboard his 2004 Suzuki, while points leader McKinney rode his 2012 Suzuki to a 4.060 pass at 175.46 mph. Veteran rider Paul Gast, also on a '12 Suzuki, was just one thousandth behind McKinney at 175.82 mph to place third.
Racing out of Holdenville, OK, Dean Goforth secured the provisional top spot in Aruba.com Extreme Pro Stock with a 4.076 pass at 176.97 mph in his 2014 Camaro, with John Montecalvo from Center Moriches, NY, close behind at 4.087 and 177.44 mph in another '14 Camaro. In third place with the first Ford in the eight-car field was Lenoir, WV's Doug Kirk and his '13 Mustang at 4.102 seconds and 175.89 mph. Bruce Thrift of Waycross, GA, led the way in MagnaFuel Top Sportsman, with a 4.069-seconds run at 178.57 mph in his 2007 GTO, followed by Ronnie Davis at 4.073 at a class-leading 180.09 mph in his '63 Corvette and Don Klooster with another '63 Vette at 4.089 and 179.49 mph. Chesapeake, VA's Dane Wood held the 16th-place bump spot with a 4.38 at 161.65 after 20 cars made qualifying passes. In STT Safety Equipment Top Dragster, Jody Stroud finished the opening day in first place after a run of 3.825 seconds at 194.94 mph, followed by Richard Edwards (3.827/191.95), and Eddie Careccia (3.907/188.49). Points leader Travis Harvey made a 4.272 at 165.60-mph pass to slot in at 16th, after 19 dragsters made attempts in the first qualifying session. The PDRA introduced something new to its competition mix at Dragstock with the Mac-Fab Pro 275/28 class, which pits 275 drag radial-equipped rides against cars sporting 28X10.5-inch slicks. After the first round of qualifying, Concord, NC's Ziff Hudson placed his 531-cubic-inch-powered '88 Mercury Zephyr atop a list of 16 entries, with Jason Richards and his '68 Camaro second at 4.640 and 162.10, and Scott Owenby third at 4.712 and 161.94 mph in his '86 Mustang. Finally, after one round of qualifying Gavin Stanley of Cynthiana, KY, was first in Huddleston Performance Pro Jr. Dragster after he ran just one thousandth over the 7.90 index for the class. Meanwhile, Alexis Tanner from Rennsalaer, IN, led the way in Huddleston Performance Top Jr. Dragster, which qualifies based on reaction times, after she posted a .016 light. Two more rounds of qualifying for Dragstock are scheduled for Saturday, Sept. 6, to be followed by the opening round of eliminations for all classes. The race will conclude on Sunday. (Photos by Ian Tocher, Roger Richards; Click to enlarge) 
PDRA Points Battles Heat Up this Weekend at Rockingham
"The Rock" is ready to roll with the sound of supercharged thunder Sep. 5-7, as the all-eighth-mile Professional Drag Racers Association (PDRA) returns for Dragstock XI, its second event this year at North Carolina's historic Rockingham Dragway. Headlined by the NAS Racing Pro Extreme and Switzer Dynamics Pro Nitrous classes, the seventh of eight scheduled events in the PDRA's inaugural season will also feature its all-new Pro Boost division presented by Precision Turbo and Proline Racing Engines, along with Aruba Extreme Pro Stock, Pro Extreme Motorcycle, Top Sportsman, Top Dragster and two Jr. Dragster classes.
Additionally, for the first time the PDRA will stage a 16-car Mac-Fab Pro 275/28 Shootout for "small-tire" racers, as well as host a special appearance by several members of the Southeast Gassers Association featuring period-correct race cars from the 1950s and '60s. "I think this is going to be a very memorable and exciting event for the PDRA, our racers and our fans," said Bob Harris, the series race director. "This season has already delivered some amazing performances, including the quickest eighth-mile pass ever when we started the season back in April right here at Rockingham." Also, with only one more race to go after Dragstock XI, results from the Rockingham event could drastically alter the 2014 PDRA championship point chases. A maximum of 541 points are available for most PDRA classes at each event, with a 50-point bonus also on the table for setting a new elapsed time record.
Coming off his third PDRA win this season at the most recent event in Tulsa, OK, past world champion Bubba Stanton holds a nearly 800-point lead in Pro Extreme over Brandon Snider in second place, followed by Jason Scruggs, Mick Snyder and Tommy D'Aprile in the top five. Meanwhile, Frankie Taylor, who made an unmatched 3.48-seconds pass during the season opener at The Rock, will still be looking for his first win of the year.
After scoring five wins in the first six races, Jason Harris has absolutely dominated Pro Nitrous, with only class rookie Lizzy Musi breaking Harris' streak when she beat him in the final round two months ago at Richmond, VA. Accordingly, Harris has a practically insurmountable grip on the championship with Musi second and PDRA co-owner Tommy Franklin third. It's a two-man race at the head of the list in Pro Boost as Todd Tutterow leads teammate Kevin Rivenbark by just 116 points, with Joe Baker poised to strike from third if either of the leaders falter. Tutterow won the season opener at Rockingham, while Rivenbark has emerged victorious at the two most recent PDRA events in Richmond and Tulsa. With three wins so far, Cary Goforth appears well on his way to securing a third Extreme Pro Stock championship with a 759-point advantage over John Pluchino, who won earlier this year at Memphis and again at Tulsa. Close behind Pluchino is fellow New Yorker John Montecalvo, who also has an outside chance of overtaking Goforth. Pro Extreme Motorcycle leader and two-time past champion Eric McKinney has won half of the six races held so far, with teammate Ashley Owens a distant second after winning at Tulsa.
Despite not yet winning a race, class rookie Dan Ferguson remains clinging to the top of the Magnafuel Top Sportsman standings, but two-time winner Dylan Stott is only 120 points back heading into Rockingham, with Bruce Thrift another 70 points behind Stott. The points race is nearly as tight in STT Safety Equipment Top Dragster, where leader Travis Harvey, who won the first Rockingham race this year, holds a 215-point advantage over Danny Payne, with Jeff Mandell only five points short of Payne. Friday's action at Rockingham will begin at 10 a.m. with a test session lasting until 4 p.m. for all classes, followed by the opening round of qualifying for all classes at 6 p.m. that evening. Three more complete rounds of qualifying are scheduled for Saturday, beginning at 11 a.m. Final eliminations for all classes are scheduled to start at 10 a.m. on Sunday, making this a rare three-day race schedule for the PDRA. Complimentary tickets to the PDRA's Dragstock XI are available at many retailers and commercial outlets in the Rockingham Dragway area, or can be printed for free from the PDRA web site at http://www.pdra660.com/free-tickets/2014/dragstock. Parking is $20 per vehicle daily. (Photos by Ian Tocher; Click to enlarge)