Ryan Rakestraw began his drag racing fame early, winning the 2007 ORSCA Modified Street Championship while driving for Scott Taber. He continued driving for customers on occasion for a few years, but he truly began developing his skill and passion for tuning when he teamed up with Keith Berry.
"When Keith started, that thing was my baby and everywhere it went, I went," remembered Rakestraw. With Berry's turbo-powered beasts, Rakestraw was able to learn more about that side of power management in addition to the nitrous setups he was used to. "When Keith's car started coming along – and Todd's car – I wanted to learn more about the turbo side of it. I've always worked on them and built them, but wanted to learn more of the power management and fuel injection and stuff like that. I learned a lot watching over the shoulder of Derek and Steve and Jamie Miller and all those guys for years.
"It came to a time where Keith decided we'll just do this on our own. So right about the middle to beginning of 2014 is when I started doing Keith's car full time. We still talk with all the Pro Line guys, whether it be Jamie or Josh or Steve or Eric, whoever is up there. We still talk. It's always a team effort."
Keith Berry's accomplishments over the last few years need no introduction. And Rakestraw's part in that success earned him numerous bids in this year's 30 Under 30 nominations. But beyond his association with Berry, Rakestraw has set himself apart as a respected entrepreneur.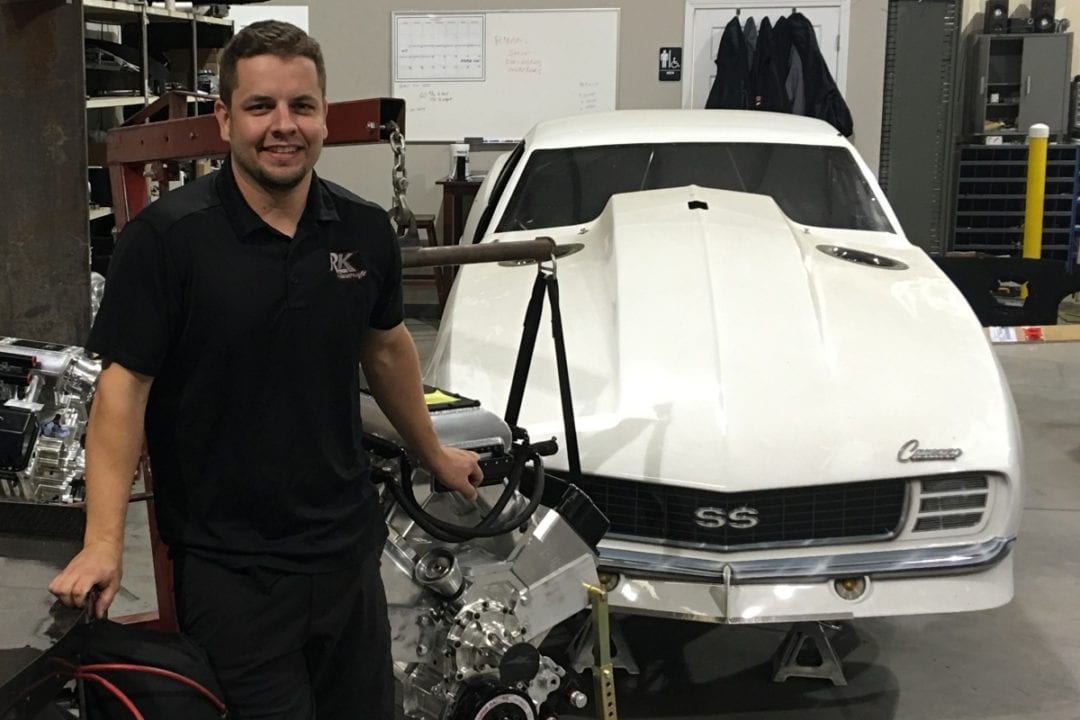 He worked for Bell Chassisworks for years and noticed a niche in the industry begging for another business. In September of 2013 he started RK Racecraft with a small two-bay garage. The startup company took cars from rolling chassis to finished product, ready to race. Under the mentorship of Pro Line's Eric Dillard, Rakestraw continued to grow the business, hiring additional help and moving to a 5,000-square-foot shop.
"We do all the turnkey work for the NHRA Pro Mod stuff out of Pro Line and all the drag radial stuff. We keep seven to eight cars here at all times. We stick the motor in it, hang the turbos and complete the kit, all the plumbing and wiring. Basically, we take the chassis and turn it into a turnkey car. We crank them, set them up, figure out the Racepaks, stuff like that. When they leave here, they're ready to do a burnout."
RK Racecraft also handles light chassis work, including wreck repairs. Although Rakestraw had to step back from Berry's operation to focus on work, he still makes it to several events a year and talks business regularly with Dillard.
"Me and Eric probably talk about business every week still," added the Georgia native, who puts the biggest emphasis in his company on quality and a strong work ethic. "You learn from your mistakes, but talking things through with somebody like Eric can point you in directions that'll keep you from making the mistakes maybe they learned from.
"But business is always going to be a struggle to a certain point. Anytime you're dealing with somebody's hobby instead of their necessity, it's hard to make money at it. I mean, we do good here, but if you're doing something that somebody has to have, it's always a lot easier to make money than doing something somebody doesn't need. Even though drag racing is like a drug, at the end of the day you're still working on somebody's hobby. But if it wasn't a challenge, it wouldn't be fun."