Caleb Cox saw the movie Jerry Maguire and thought he wanted to be a sports agent. He was working on a Sports Management degree at Indiana State while his football career wound down. With less than a year to go he needed an internship to complete his degree but no football teams were hiring so the lifelong Brownsburg, Indiana resident listened to his father, a U.S. Nationals attendee for over four decades, and reached out to the local NHRA drag racing teams.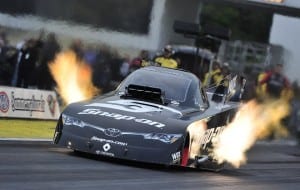 His resume was passed from Tony Pedregon Racing to Cruz Pedregon Racing in 2013 and Cox took a chance hitting the road with the team as assistant team manager for the duration of the season to fulfill his final college assignment. Once the season wrapped up Cox walked away from racing and landed what he thought was his dream job with a downtown Indy sports agency. After a few months of shuffling paper and looking up stats he realized he missed the adrenaline rush of being around a nitro car, standing on the starting line, and being a part of a team.
A phone call from Cruz Pedregon at the start of the 2014 season busted Cox out of his office and had him standing on the starting line in uncommonly cool Florida conditions for the West Palm Beach test session. The test session was not successful for the team but Pedregon saw something familiar in the 22-year-old and offered him the job as team manager.
Four years later as Cox describes it, "I haven't crashed the bus and the team is still going strong." In fact, Cox's relationship with his boss and two-time Funny Car world champion continues to grow every day. The pair travel throughout the season together and when they are not on the road they talk daily about all facets of the team's operation. In the highly competitive world of Funny Car racing on the NHRA Mello Yello Drag Racing Series, Cox, along with Pedregon, navigate choppy seas with minimal budgets but a lot of heart.
The pair share many common traits including similar personalities and an almost hyper-competitiveness. Both are pursuing their dreams and helping people along the way. In addition to his daily Team and General Manager duties with Cruz Pedregon Racing, Cox is also CEO of Showtime Motorsports, his own team he is slowly and methodically building. His broad base of business experience, team management skills, and the competition side have him focusing on a move to the driver's seat eventually. Cox hopes to make his first exhibition pass in a Nostalgia Nitro Funny Car mid-season in 2017.
Cox has been taking all this information and building his own model off of what he has learned from Pedregon as well as drivers like Richie Crampton and Del Worsham. All these people are passing on knowledge so Cox can succeed and he is making the most of their experience continuing to learn the inner-working of the race car from his CPR teammates as well as broadening his marketing and PR skills through conversations with other NHRA and team reps. Very few young professionals on the NHRA Mello Yello Series spend as much time working in the pressroom, getting their hands dirty in the pits and then offering input in the staging lanes on the way to the starting line as Cox.
He likens the past five years to putting a puzzle together. Before you put the next piece in you have to make sure it fits. It is a building process. He knows you don't just jump in the ring with Ali because you think you can box.
"I take every little thing that I have learned and just try to apply it each day. I am trying to get one percent better each day. Eventually I will succeed and move on to the next part," said Cox. "The business part has taken a while. The management part has taken a while. I am learning a bit more under the car thanks to the crew guys. Going into the driving aspect with more knowledge like that is like laying out a successful blueprint."
Story by Elon Werner
This story originally appeared in Drag Illustrated Issue No. 115, the 30 Under 30 Issue, in November of 2016.