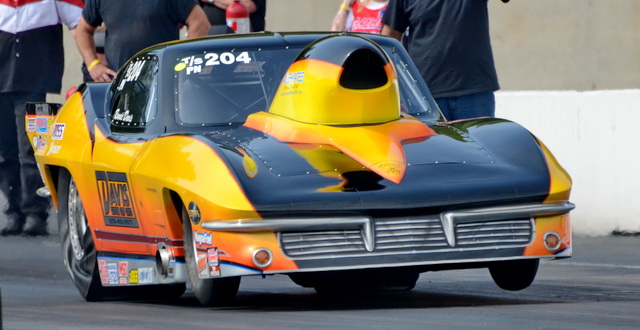 It's always a bonus to race close to home and that's the case this weekend for veteran Top Sportsman racer Ronnie "The King" Davis as the Suwanee, Georgia-based golf cart dealer heads to nearby Atlanta Dragway for the 33rd annual Summit Racing Equipment NHRA Southern Nationals.
"We always like coming to Atlanta Dragway. I've been racing here since the track opened (1976) and won a bunch of races over the years, but not yet in Top Sportsman," Davis said. "I've been in two Top Sportsman finals in Atlanta, but finished runner-up both times, so obviously I'd like to finish one position better this weekend."
Davis will be driving his black-and-gold colored, Tommy Mauney-built '63 Corvette fitted with a nitrous-injected Roush Yates 822-cubic-inch engine at the national-event Southern Nationals. He's also on a quest in 2013 to win a third NHRA Division 2 title to go along with five previous IHRA championships. Davis competed early this year in NHRA divisional races at Gainesville, FL, and Cecil, GA, but bowed out early from both with torque converter troubles.
That was sorted out by mid-April at South Georgia Motorsports Park, where Davis qualified number one for the ADRL's eighth-mile Top Sportsman class with a 4.07-seconds pass at 182.75 mph before the event was rained out. He followed up with another top-qualifying performance just last weekend at historic Bristol Dragway in Tennessee, where he ran 4.11 at 178.92 to lead the X-DRL Top Sportsman field before that event also was pre-empted by rain. Unfortunately, wet weather may also become a factor for this weekend's (May 3-5) quarter-mile NHRA race at Atlanta Dragway.
"Right now it looks like we're going to get rained on at some point this weekend," Davis observed. "Hopefully it won't last long, though, and we're able to get this race in. I'm feeling good, the car is running good, and I'm determined to make a good showing here at our home track. We always have a lot of fans drop by the trailer and wish us luck in Atlanta, so I'd really like to do well for them, too."
In addition to competing in NHRA Div. 2 Top Sportsman, since its inception in 2002 Davis has sponsored the class through his business, Davis Golf Carts, a full-service dealer of stock and customized carts for home, business and racing use.
(Photos by Ian Tocher)