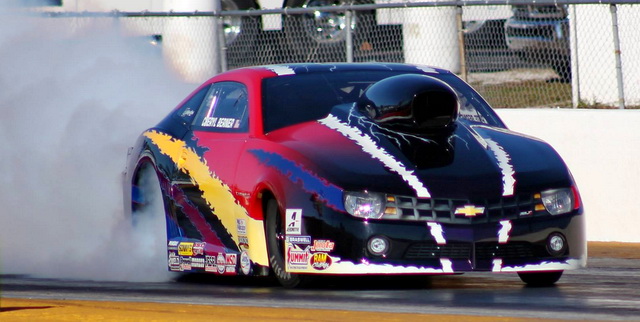 This year, Pete Berner Racing will look a lot more like it did when Berner won his 2006 and 2008 world championships. After a four-year absence, the International Hot Rod Association (IHRA) welcomes mountain-motor Pro Stock back to its lineup and Berner is thrilled to return to where his beloved class took root.
"I'm really excited to get back to the origin of Mountain Motor racing with the new IHRA," Berner said. "We'll be racing and working with many old and new friends. IHRA is heading in a great direction.
"We hope to work closely with Scott Gardner and his team to build the mountain-motor Pro Stock class and the organization as a whole. Gardner is a visionary and door car enthusiast with the personality to lead IHRA forward with great success."
However, while Berner says hello to his former racing home, he also says goodbye to a major sponsor.
"Summit won't be with us in 2014. I am grateful for their four year sponsorship and the friends I made over the course of our tenure together. We developed long-lasting relationships with the folks at Summit, and although we have enjoyed their partnership over the years, Cheryl and I are just as enthused about our race season as ever," Berner insisted.
"We're ready to get back to our winning ways. In this sport, age doesn't count you out. One look at John Force will tell you that. We're as hungry as ever and not done winning championships by any stretch."
Another change for Berner is to welcome new crew chief Adam Drzayich, perhaps best known for his seven-year stint with NHRA Pro Stock star Warren Johnson.
"Adam is a great fit for our team," Berner said. "He brings enthusiasm and expertise. He's very smart and articulate in what he does. Joining RV (crew member Rick Varnold) and Jerry (Janota) and Mike (Slaviero), our engine guys, we have a great team assembled that is ready to turn on the W's.
"The past two years have proven to be a challenge. We never made a run that was all this car had; despite that we almost always qualified in the top three. Our struggle has never been with engine power or with this RJ Camaro. We just haven't been able to optimize the two together," Berner elaborated.
"I honestly haven't been able to tell Jerry [Janota, engine builder] that we need more power because we haven't used all we have. We've had more power than we can use and this Camaro is as trick as we thought it would be. All along the car has felt smooth and wanted to go fast. We are looking forward to having the combination produce the results we know we're capable of."
A recent test session for Berner shone the light for a brighter–and quicker–future.
"Thanks to Rick Jones (RJ Race Cars), Pat Norcia (RAM Clutches) and Adam, we made great strides in testing and feel confident to make this car do what we expect of it. Up until recently only a few cars have been able to accomplish what we did three years ago at E-town. We have significantly more horsepower now and we are finding the magic to use the power we have. We've been maintaining in our engine program, but I hope to give Jerry notice shortly that we've exceeded power available and see what else he has up his sleeve.
"We expect big things for 2014. The key is getting the confidence back in our program. To be successful we have to have confidence in everything we do."
The driving forces of the IHRA are clearly making strides in the right direction, including a recent announcement for a Nitro Jam Drag Racing Series (NJDRS) television package. The series coverage will still highlight the cars and speeds that fans love, but will work within the setting of an innovative reality show format that focuses on the characters of the NJDRS and brings out the personality of professional drivers.
"I want to personally thank the IHRA for obtaining TV coverage for us," Berner stated. "Our teams are full of personality and human interest. Mountain-motor Pro Stock racers are rich in diverse personalities. Dean Goforth is a perfect example. The story of how he became a self-made man is incredible. Kevin Bealko has another amazing story. These are the people that you look up to, not only in racing world, but in all walks of life. These stories need to be told; they will really draw fans back to the sport of drag racing. We need to be better about telling our stories and letting driver personality show through. This reality TV coverage is a great step in that direction.
"I'm looking forward to all that this season holds for us. In more ways than one, we're getting back to the roots of our racing, focusing on the people and stories that helped create drag racing as we know it. It's going to be an extraordinary year."
(Photo courtesy Pete Berner Racing)