After runner-up appearances in Sonoma and Seattle, Deric Kramer was able to seal the deal in his American Ethanol Chevrolet Camaro at the 37th annual Lucas Oil NHRA Nationals. On his way to the winner circle at Brainerd International Raceway, he defeated Vincent Nobile, Alex Laughlin, Jason Line, and Tanner Gray.
Kramer came into raceday as the No. 6 seed and had his eyes on the win after coming up a little short in the final round at the last two races. In his first round matchup against Vincent Nobile, Kramer was .002-seconds quicker with his clutch foot than Nobile and by .001-seconds at the finish line, Kramer took the holeshot win with a 6.636, 207.37 to defeat Nobile's 6.635, 206.20.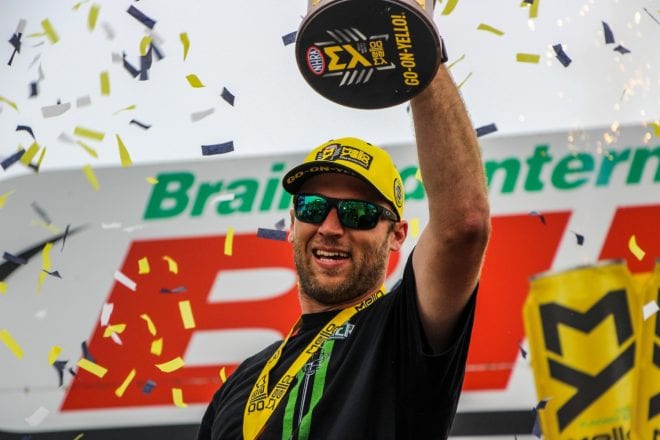 Second round, Kramer had lane choice over Alex Laughlin, who was wheeling Kramer's former Dodge Dart at this weekend's event. Kramer showed why he has continued to be one of the leading leavers in the Pro Stock category when he had almost .027-seconds advantage on the tree over Laughlin. The green and black American Ethanol Chevrolet Camaro clocked in with a 6.641, 207.24 and advanced to the semifinals on a holeshot over Laughlin's 6.637, 206.32.
"It was really cool to see our old Dart make some good laps this weekend," Kramer said. "We always knew we had a fast car when we drove it, but we just didn't have the smoke to make it light up the scoreboard, so it was cool to see it run really well this weekend."
In the semifinals, Kramer lost lane choice to engine builder and fellow KB Racing teammate Jason Line. The duo left almost identical at the starting line and it was a stellar 6.640, 206.99 that was the ticket to the final round for Kramer as Line slowed to a 6.673, 206.83.
"I wouldn't be here if it wasn't for Jason [Line], Greg [Anderson], and everyone on the KB Racing team," Kramer admitted. "They've really given me the horsepower that I was missing and I'm completely comfortable in the setup we have going the last few races. I wouldn't be here without them [KB Racing] and I mean that honestly. My hat goes off to those guys for all they have done for our team this year."
In his fifth final round of the season, Kramer reacted almost telepathically when he had a .002-second reaction time. His competitor, Tanner Gray, had a .002-second reaction time as well but it was on the red side of the tree and the win light automatically turned on in Kramer's lane. Kramer drove straight down the boulevard with a consistent 6.652, 207.56 while Gray shut off early with a 7.131, 152.61.
"There are no free shots in Pro Stock," he added. "You have to go up there and have to be competitive. If you're not competitive on the tree and on the track, you aren't going to win out here; you're going to go home. If we can continue to be good on the tree and on the track, hopefully some more win lights turn on for us throughout Indy and the Countdown [to the Championship]."
Kramer leaves Brainerd International Raceway in the No. 6 position in points and has officially clinched his spot in the Countdown to the Championship heading into the last race of the regular season in two weeks at Lucas Oil Raceway at Indianapolis.