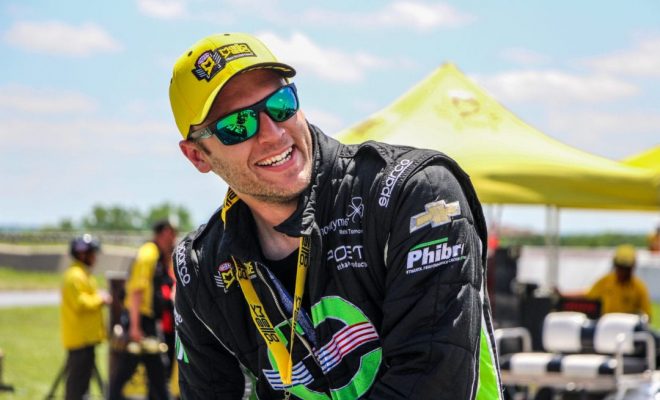 News
Deric Kramer Inks First Pro Stock Victory
By
|
For the first time in his Pro Stock career, American Ethanol Chevrolet Camaro driver Deric Kramer experienced the sweet taste of victory this afternoon when he raced to his first Pro Stock title at the 30th annual Menards NHRA Heartland Nationals presented by Minties at Heartland Motorsports Park. Kramer defeated Will Hatcher, Matt Hartford, Jason Line, and Erica Enders on his way to the winner circle.
Kramer came into raceday as the No. 1 qualifier and had a first round matchup against Will Hatcher. Notably, Hatcher made his Pro Stock debut this weekend in the Dodge Dart Kramer drove prior to the 2018 season. After waiting on Mother Nature to cooperate for nine hours, the persistent raceday rain finally subsided in the early evening and first round was contested at 7:30 p.m. At the starting line, Kramer held over four-thousandths of a second advantage over Hatcher but both drivers got out of the groove down track. Kramer coasted to the finish line with a winning 7.594-second pass at 135.40 mph to Hatcher's close-call with the wall and a 7.616, 145.20.
NHRA made the decision after first round to continue eliminations first thing on Monday morning.
In the second round, the Michael Hiner-led team raced Matt Hartford for the first time in eliminations. Once again, Kramer had over four-thousandths of a second advantage over his competition at the starting line and capitalized on that advantage all the way to the finish line. Kramer clocked in with a holeshot victory of 6.621, 208.91 over Hartford's 6.604, 208.65.
For the semifinals, the black and green machine lined up against fellow KB Racing-powered driver Jason Line. Proving his driving was no fluke in the previous two rounds, Kramer was .006-seconds on the tree and punched his ticket to the second final round of the 2018 season and his career when he ran a 6.600, 209.49 over Line's 6.580, 210.11.
"Any time you can put your engine builder on the trailer is a good day," Kramer laughed. "All kidding aside, it's always good as a driver to know you did your part, especially when you win on a holeshot. The KB Racing guys give me some great power and it's a pleasure to race with them. I know I've got a great team with great power and it is always fun to race against Jason, Greg, and Bo."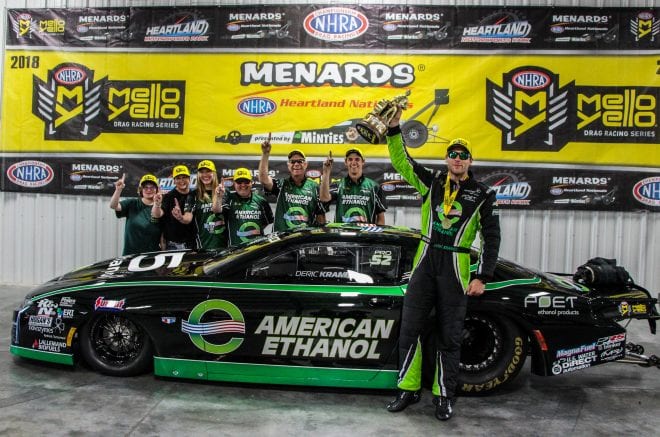 In the final round, Kramer took a .009-second reaction time over two-time NHRA Pro Stock World Champion Erica Enders straight to his first Pro Stock victory when he stopped the clocks at the finish line with a 6.615, 209.36 to Enders' troubled 7.409, 143.58.
"That win felt great," Kramer smiled. "We've been working a long time for this and I can't thank my sponsors enough for all the support they've given us. American Ethanol, Poet, Novozymes, and everyone that supports our team is part of the reason we are here celebrating the win today. This first win leaves me a little speechless, actually."
Comments
comments