The Northeast Outlaw Pro Mod Association (NEOPMA) was set to crown two event winners this past weekend at Cecil County Dragway's Strange Engineering Outlaw Street Car Shootout, as rain had postponed the completion of the series' early June race at Cecil County. While Derek Ward was able to race to his first-ever NEOPMA victory in that race, more rain showers forced track officials to postpone the final round of the July race to the Yellowbullet Nationals at Cecil County over Labor Day weekend.
"Bad weather continues to interrupt our 31st anniversary season, but our racers and the track officials at our host tracks have been resilient," said John Mazzorana, founder and president, NEOPMA. "We have to thank Jim Halsey [track owner] and the whole Cecil County Dragway team for their efforts to complete this race. Between the summer heat and the thunderstorms, they really had their work cut out for them. Even on a hot track surface, our teams were able to lay down some impressive numbers."
NEOPMA started the weekend with two qualifying sessions, which also included the final round from the June 2-3 race. During the second session on Saturday, longtime NEOPMA racer Derek Ward in his screw-blown '69 Camaro squared off against two-time and reigning series champion Mike Decker Jr. in his screw-blown Decker's Salvage Camaro. Ward was first off the starting line and laid down his quickest pass of the weekend, a 3.67-second blast at 207.27 MPH, to defeat Decker and his 3.719.
"That win was very rewarding," said Ward, who thanked his team, as well as Mike Sawyers, G-Force Race Cars, Resolution Racing Services, and MSR Performance. "We've been working hard for the past few years, trying to improve the program. We got the new car out this year with a new motor and it's paying off. When I first started [with NEOPMA], I had my '68 Camaro with a roots blower. We weren't really in the top part of the field. I tried a bunch of different applications, then I went back to the screw blower and it's really paying off the last year or so."
The top five drivers in qualifying represented three of the power adder combinations in NEOPMA competition. Johnny Camp, back from a crash earlier this season, qualified No. 1 in his ProCharged "Back in Black" '20 Camaro with a 3.660. Just thousandths of a second behind, Matt Deitsch Jr. fired off a 3.669 at 204.76 in his Musi-powered '69 Camaro to qualify No. 2. Ward's 3.670 from the June final round put him third. Decker was fourth with his 3.691 at 201.73. Kevin McCurdy took the No. 5 spot in one of two ProCharged Hard Racing '68 Camaros with a 3.712 at 200.53.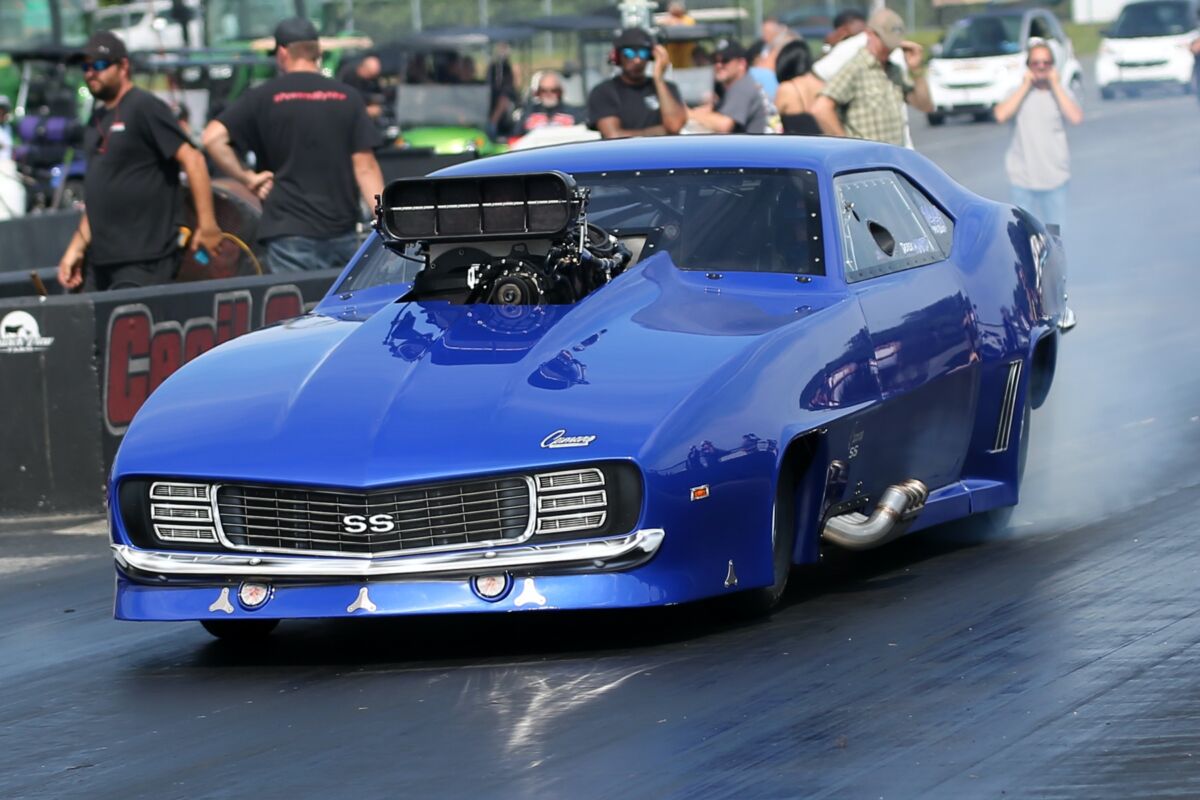 Ward's success continued in eliminations for the July race. He started with a 3.944-second win over Fredy Scriba's 5.054 in the nitrous-fed "Sorcerer" '69 Camaro. Ward stepped up to a 3.716 at 205.38 in the second round to again defeat Decker and his 3.753. The Maryland native then dipped back into the 3.60s with a 3.697 at 205.88 to upset No. 1 qualifier Johnny Camp, who lifted to a 3.983.
Ward's opponent in the final round will be McCurdy. He defeated teammate Tyler Hard in the opening round, running a 3.755 at 199.73 to Hard's 3.867. McCurdy won the next round on the starting line when Matt Deitsch Jr. went red by .019 seconds, throwing away a 3.755, while McCurdy charged to a 3.783 at 198.50. The past NEOPMA champion sealed up his spot in the final round by running a 3.737 at 199.05 on a single in the semifinals.
Ward and McCurdy will settle the final round when NEOPMA returns to Cecil County for a third time this season for the famed Yellowbullet Nationals, Sept. 1-3.
"It's not a big deal to wait," Ward said. "Hopefully we have a good day like we did on Saturday. I know Kevin is a good racer and competitor, so hopefully we can get another win and we'll keep trying from there."
Before the Yellowbullet Nationals, though, the series will head back to New York's Empire Dragway for the Empire Northeast Outlaw Pro Mod Challenge V, August 18-19.
For more information, visit www.NEOutlawProMods.com.