Del Holbrook and his Big Pulley No Power Ford Mustang Cobra Jet secured their second No. 1 qualifying position of the season Saturday at the Pep Boys NHRA Nationals at Maple Grove Raceway.

Holbrook, who is in his rookie season driving in the Flexjet Factory Stock Showdown class, earned his No. 1 position in the third and final qualifying session on Saturday. Coming into the session sitting in the No. 14 spot, Holbrook handled his Cobra to a stout 7.642-second pass at 181.20 mph to top the competition.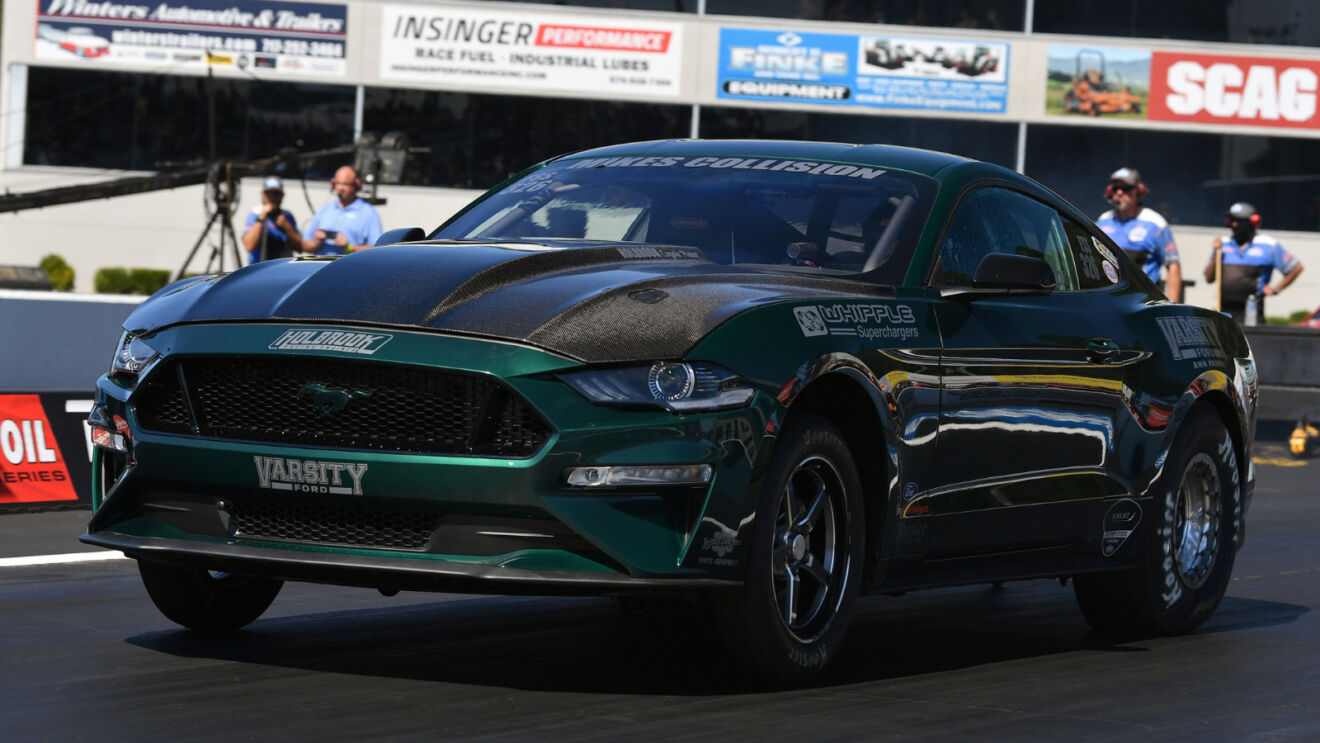 "I knew the conditions were out there to run well, but I didn't think we really had the shot to go No. 1. I was really kind of surprised at the top end. But the whole ride I'm like, 'This is going to be a good one.' It felt fast but I didn't think it was going to be that good," Holbrook said. "This is my first time here at Maple Grove Raceway, so racing in front of packed grandstands is awesome. It's a nice atmosphere around here, and it's going to be great getting to race eliminations in front of so many people."

Holbrook opened qualifying on Friday with a 7.858-second run at 176.07 mph before improving to a 7.797 at 178.57 later in the evening. He'll match-up against No. 16 qualifier Carl Tasca in the first round of eliminations.

"I mean, it's always cool to be number one, but at the end of the day you really want to qualify and then get into the winning mindset for eliminations," Holbrook said. "You have to be ready when it is time to race. I am looking forward to the first round."
Sitting No. 2 after also having a jump in performance in the third session is veteran racer Mark Pawuk and his Empaco Equipment Dodge Challenger Drag Pak. Pawuk started qualifying with a 7.816 at 178.35 before improving to a 7.797 at 178.97. Ultimately, it would be a 7.667-second run at 181.67 mph on Saturday that would land him No. 2 and set up a first-round match up with reigning world champion and defending Pep Boys Nationals Flexjet Factory Stock Showdown winner David Barton.

"We had a new motor we put in for this weekend. It looked really good, but it just didn't seem to accelerate. We made two decent looking runs yesterday, but the car just didn't pick up. We ended up going over to David Barton's shop last night until 1 a.m. in the morning and we put the motor in we ran in Indy," Pawuk said. "I need to do a better job of driving, but I got the car under me to do well. I'm happy with my crew and with Barton Racing. David Barton has been a huge asset to this program along with Michael Viaro and my son Kyle. NHRA did a really nice job of prepping the track."
Due to impending weather, Flexjet Factory Stock Showdown action at the Pep Boys NHRA Nationals at Maple Grove Raceway continues with eliminations beginning Saturday and continuing as needed on Sunday.