Alexis DeJoria claimed the victory in the first Mission #2Fast2Tasty NHRA Challenge as part of the NHRA Arizona Nationals, defeating J.R. Todd in the Funny Car final round of the bonus event on Saturday in front of a sold-out crowd at Wild Horse Pass Motorsports Park.
In the Mission #2Fast2Tasty NHRA Challenge, Doug Kalitta (Top Fuel) and Troy Coughlin (Jr.) also picked up wins in the bonus event in Phoenix. Kalitta (Top Fuel), Bob Tasca III (Funny Car) and Cristian Cuadra (Pro Stock) all qualified No. 1 at the second of 21 races during the 2023 NHRA Camping World Drag Racing Series season.
DeJoria went 3.914-seconds at 324.51 mph in her 11,000-horsepower Bandero Premium Tequila Toyota GR Supra to knock off Todd, claiming the bonus purse and bonus points for the Countdown to the Championship playoffs. The win also took place at the site of her first Funny Car victory, which came in 2014 at Phoenix. She knocked off Matt Hagan to reach the final round of the Challenge and then easily drove past Todd when he went up in smoke to start the celebration.
"It's really incredible to be able to do this here at this track. It really just makes even better memories of this track," DeJoria said. "They just keep coming here. The track was a little tricky this weekend, so to make it down the track was a big deal. It feels really good to get that redemption and give that (bonus) check to my team. We'll see what happens tomorrow, but today we're going home with a win."
Tasca claimed the No. 1 spot with a stout run of 3.898 at 329.50 in his 11,000-horsepower Ford Motorcraft/Quick Lane Mustang, giving the veteran his 10th career top spot. He was the only driver to make a run in the 3.80s in qualifying, giving Tasca plenty of confidence heading into eliminations. He'll open raceday against Jim Campbell, racing for his first win of the year.
"Hats off to (crew chiefs) Todd (Okuhara) and Aaron (Brooks) and the whole team. They're very different than anyone I've ever raced with," Tasca said. "You saw all of the cars struggling, but they don't care what anyone else runs. They just focus on what they believe we can run. I love racing here and it's great to see a sellout crowd. It's an iconic place and I've had so many great memories here."
DeJoria finished second in qualifying and Blake Alexander took third after going 3.927 at 322.50.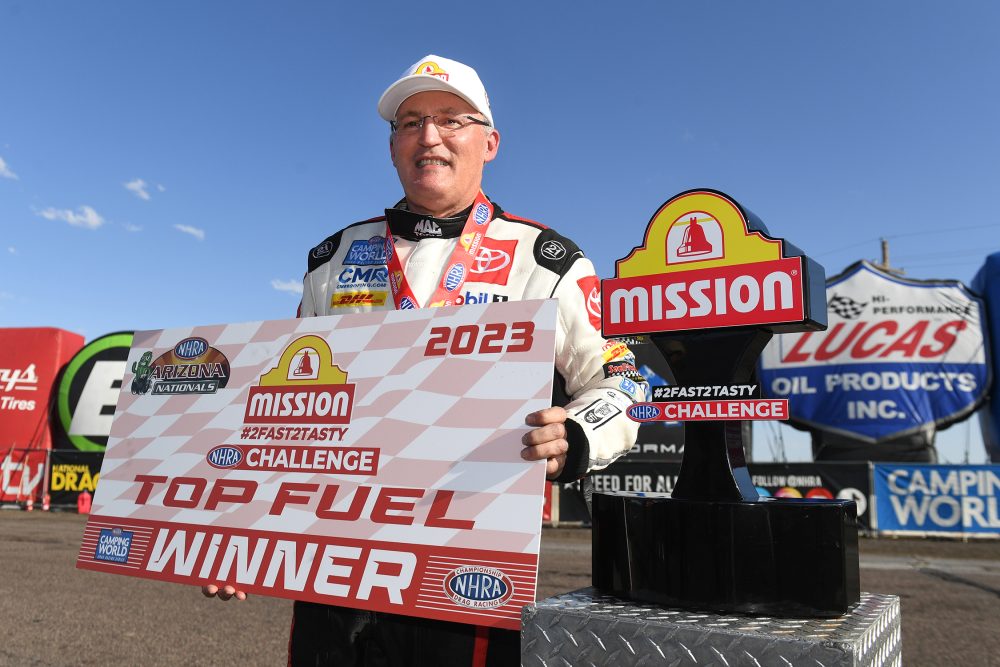 In Top Fuel, Kalitta is on the verge of a stellar weekend in Phoenix, enjoying another great day at Wild Horse Pass Motorsports Park with his victory in the Mission #2Fast2Tasty NHRA Challenge. The veteran earned the win over Mike Salinas in the bonus event with a run of 3.868 at 294.82 in his 11,000-horsepower Mac Tools dragster. Kalitta also sewed up the No. 1 qualifier spot with his stellar Friday run of 3.679 held up, earning his 52nd career top spot.
He'll open eliminations against Rob Passey, aiming for his milestone 50th career win, but grabbed plenty of momentum with his Challenge victory, which included getting past Steve Torrence in the semifinals on Saturday.
"We certainly appreciate the opportunity to run this race and it's such a cool challenge," Kalitta said. "Fortunately, I got to the end and the win light was on, so that was good and we're super happy. We're definitely looking forward to tomorrow, but it's going to be a dogfight like it always is. But we're looking forward to getting after it and let's see if we can get a double-up."
Salinas qualified second with a 3.689 at 335.73 from Friday, while Austin Prock's 3.696 at 330.31 gave him third.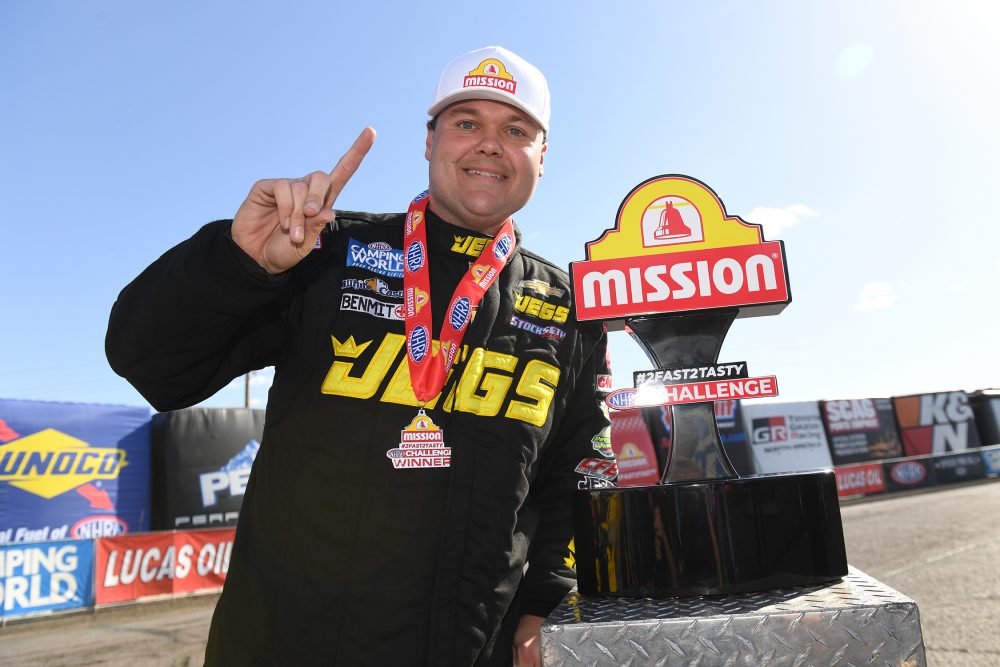 In Pro Stock's first Mission #2Fast2Tasty NHRA Challenge, Troy Coughlin Jr. kept his early-season hot streak going, beating Greg Anderson in the final round with a pass of 6.572 at 208.78 in his JEGS.com/White Castle/Elite Motorsports Chevrolet Camaro. It follows his victory in Gainesville and Coughlin, who also knocked off Dallas Glenn in a Gatornationals rematch, couldn't be more thrilled with his quick start.
"What an honor to be the first winner of this. I can't say enough about my group right now," Coughlin said. "Cloud nine is an understatement right now. They've got this car flying and it's just a tribute to my guys and how hard they work. I wish we could race every day, so let's keep this going."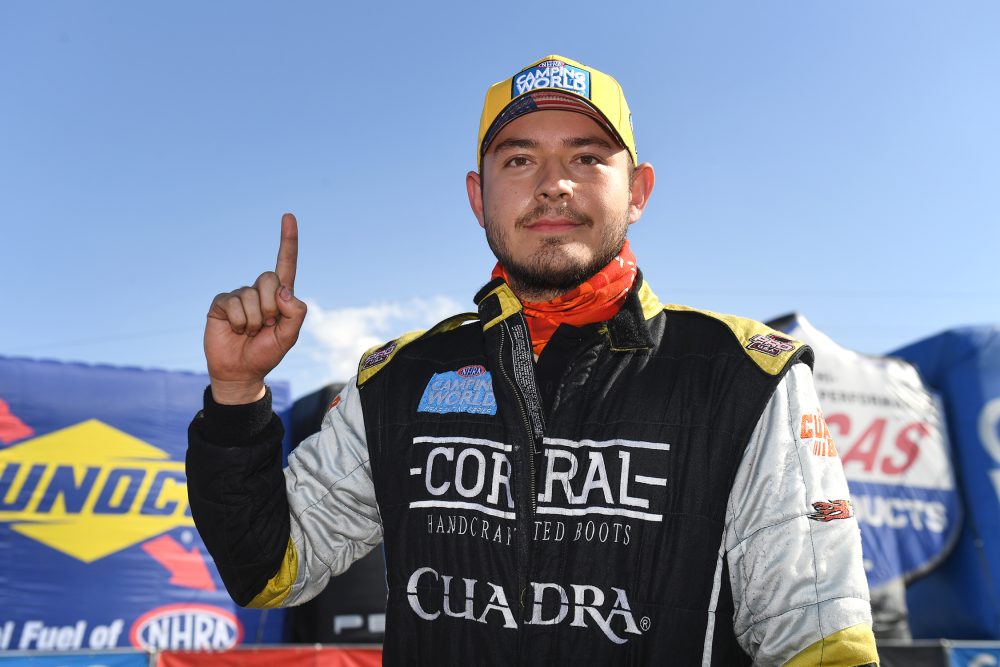 Qualifying also included a historic moment, as Cristian Cuadra kept the top spot, becoming the first Mexican driver in NHRA history to qualify No. 1, as his 6.552 at 210.24 in his Corral Boots Ford Mustang held up from Friday. It gave Cuadra a special moment as he now looks to pick up his first career victory, opening eliminations against Alan Prusiensky.
"It's crazy. Everything starts with a dream," Cuadra said. "I was a kid and saw my dad racing and I wanted to be in that spot. You meet the people at Elite Motorsports to help make the dream come true. My heart wants to go out of my chest and I feel really, really happy. That's why we're here. We want to make history for our country. Now my next goal is to try and get a Wally."
Eliminations for the NHRA Arizona Nationals begin at 11 a.m. MT on Sunday at Wild Horse Pass Motorsports Park.