Girl power reigned supreme as Alexis DeJoria (Funny Car, above near lane)) and Erica Enders-Stevens (Pro Stock) raced to victories Sunday at the SummitRacing.com NHRA Nationals at The Strip at Las Vegas Motor Speedway. It marked the second time that two female drivers have earned victories at the same NHRA event. In 2012, Courtney Force and Enders-Stevens made history as the first pair of females to win the same race at Pacific Raceways near Seattle.
Tony Schumacher (Top Fuel) also was a winner at the fourth event on the 2014 Mello Yello Drag Racing Series schedule, snapping a 15-race winless drought for the U.S. Army-backed driver.
Coming into her third full-time season in Funny Car, DeJoria had only appeared in one career final. The 2014 season has changed the fortunes for her Patron XO Cafe Toyota Camry team as she outpaced Robert Hight with a 4.026-second pass at 309.98 mph. It's the second win of her career following her breakthrough victory in Phoenix earlier this season, coincidentally also over Hight.
"This was definitely a grudge match [with Hight] coming off our win in Phoenix," DeJoria said. "I was just in shock when we won there. It was gratifying and intense. Today my team gave me a good car and got me down the track first. I really appreciate them so much and all they give up to help this team go racing."
DeJoria defeated Matt Hagan, Tony Pedregon and Cruz Pedregon to reach her first final in Las Vegas, the home headquarters of her primary sponsor.
"It was a good day at the office, especially with the Patron Spirits company located right here in Las Vegas," DeJoria said.
Hight, appearing in his third final to start the season, piloted his Auto Club ford Mustang to the final with victories over Jeff Arend, Paul Lee and Ron Capps. Hight's second round win over Lee was especially surprising. Many had expected Hight and 16-time Funny Car world champ John Force to face off but Force was ousted by Lee.
DeJoria departs Las Vegas third in points and holds the most wins so far during the season. Despite losing in the final, Hight takes over the points lead.
Enders-Stevens had a successful weekend in Las Vegas, sweeping the K&N Horsepower Challenge and taking today's Pro Stock title. After defeating Dave Connolly to win $50,000 on Saturday, Enders-Stevens took out Larry Morgan, Steve Kent, Chris McGaha and Jason Line to secure her seventh career victory at the controls of her Elite Motorsports Chevy Camaro.
After struggling to find sponsorship and only being able to race a partial schedule last season, Enders-Stevens is thankful for the opportunity that team owner Richard Freeman presented her for 2014.
"I have a different mindset," Enders-Stevens of her new attitude this year. "It goes back to the people [I'm around] – for the first time since I raced with my family as a kid, and then in the sportsman ranks, I'm having fun again. As a driver, it adds a lot of pressure when you have the fastest car, but I like that."
With that win, she became the third winningest female driver in a pro class behind only Angelle Sampey and Shirley Muldowney. She leaves Las Vegas as the Pro Stock points leader, becoming the first female in history to lead the point standings in the factory hot rod category.
"It certainly is very important to us, it keeps us going on this 24-race schedule," said Enders-Stevens, who earned $100,000 during the weekend which also includes a $25,000 Sweep Bonus from NHRA.  "This is storybook. We've gone a few years without sponsorship; there were definitely more lows than highs. It would have been easy to quit. This is definitely a highlight. Next to winning a championship, this is probably the coolest thing in the world."
Line was going for his second victory of the 2014 season and second at Las Vegas. The driver of the Summit Racing Equipment Chevy Camaro defeated Deric Kramer, Dave Connolly and teammate Jimmy Alund en route to the final.
In Top Fuel, Schumacher beat points leader Doug Kalitta in the final round with a performance of 3.797 at 326.16 in his U.S. Army dragster. It was Schumacher's 73rd career victory and his eighth at Las Vegas.
"The final round was fantastic, I could hear him the whole way," said Schumacher, who was racing in his 126th career Top Fuel final. "It was important for us to get this win. There's a lot of pressure early in the season to get a win and get into the Shootout for a chance to race for $100,000. I love the pressure. We're a high-pressure, adversity kind of team."
Schumacher advanced to the final with early round wins over Troy Buff, Spencer Massey and Antron Brown.
"I'm not angry that we hadn't won in a long time," Schumacher said. "I was disappointed, but I understand that you have to make leaps and bounds.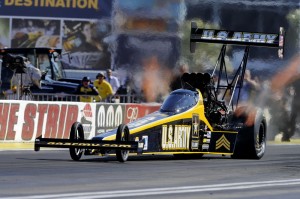 "Kalitta is running great, Antron (Brown) is running good, the Alan Johnson [Al-Anabi] cars are going to be bad to the bone pretty soon. We have to keep forcing the issue."
Kalitta has had the best start to the season in Top Fuel and continued that by reaching his third final of the year. With the win in Gainesville and the two runner-up finishes at Pomona and Las Vegas, Kalitta increased his points lead over Brown to 73 points.
The NHRA Mello Yello Drag Racing Series continues April 11-13 with the NHRA Four-Wide Nationals at zMAX Dragway near Charlotte, N.C.
(Photos courtesy NHRA/National Dragster; NHRA.com; Click to enlarge)
LAS VEGAS — Final round-by-round results from the 15th annual SummitRacing.com NHRA Nationals at The Strip at Las Vegas Motor Speedway, the fourth of 24 events in the NHRA Mello Yello Drag Racing Series:
TOP FUEL
ROUND ONE — J.R. Todd, 3.822, 323.74 def. Richie Crampton, 3.837, 312.57; Tony Schumacher, 3.808, 320.13 def. Troy Buff, 3.857, 310.27; Doug Kalitta, 3.844, 320.58 def. Steve Faria, 4.070, 249.26; Antron Brown, 3.758, 322.19 def. Mike Strasburg, 3.996, 305.01; Steve Torrence, 3.785, 326.63 def. Terry McMillen, 3.826, 301.33; Spencer Massey, 3.805, 320.43 def. Clay Millican, 4.212, 207.91; Bob Vandergriff, 3.824, 313.00 def. Brittany Force, 7.525, 68.56; Shawn Langdon, 3.796, 321.88 def. Khalid alBalooshi, 3.810, 319.45; QUARTERFINALS — Kalitta, 3.837, 322.42 def. Vandergriff, 3.842, 316.97; Schumacher, 4.869, 220.69 def. Massey, 12.908, 68.25; Brown, 3.774, 326.48 def. Langdon, 3.873, 300.80; Torrence, 3.804, 324.83 def. Todd, 3.800, 321.96; SEMIFINALS — Kalitta, 3.785, 325.37 def. Torrence, 4.941, 178.66; Schumacher, 3.812, 327.43 def. Brown, 3.875, 300.46; FINAL — Schumacher, 3.797, 326.16 def. Kalitta, 3.814, 321.12.
FUNNY CAR
ROUND ONE — Robert Hight, Ford Mustang, 4.082, 314.02 def. Jeff Arend, Dodge Charger, 4.768, 170.97; Ron Capps, Charger, 7.856, 82.57 def. Tim Wilkerson, Mustang, foul; Jack Beckman, Charger, 4.125, 308.78 def. Tommy Johnson Jr., Charger, 8.354, 80.00; Courtney Force, Mustang, 4.106, 310.05 def. Jon Capps, Chevy Impala, foul; Paul Lee, Charger, 4.132, 300.60 def. John Force, Mustang, 4.137, 302.96; Tony Pedregon, Toyota Camry, 4.171, 291.32 def. Del Worsham, Camry, 4.545, 211.39; Alexis DeJoria, Camry, 4.071, 305.08 def. Matt Hagan, Charger, 4.998, 185.36; Cruz Pedregon, Camry, 4.757, 207.91 def. Chad Head, Camry, 5.050, 232.79; QUARTERFINALS — R. Capps, 4.133, 311.63 def. Beckman, 4.135, 311.27; C. Pedregon, 4.104, 297.94 def. C. Force, 4.144, 308.43; Hight, 4.086, 316.82 def. Lee, 4.312, 269.40; DeJoria, 4.125, 307.37 def. T. Pedregon, 4.604, 190.59; SEMIFINALS — DeJoria, 4.090, 309.34 def. C. Pedregon, 9.007, 82.23; Hight, 4.073, 315.86 def. R. Capps, 4.133, 310.84; FINAL — DeJoria, 4.026, 309.98 def. Hight, 4.083, 315.42.
PRO STOCK
ROUND ONE — Jimmy Alund, Chevy Camaro, 7.821, 194.18 def. Vincent Nobile, Camaro, 8.110, 178.10; Shane Gray, Camaro, 6.647, 207.91 def. V. Gaines, Dodge Avenger, 7.498, 148.59; Steve Kent, Camaro, 6.673, 206.54 def. Allen Johnson, Dodge Dart, 6.782, 207.43; Jason Line, Camaro, 6.645, 207.37 def. Deric Kramer, Avenger, 6.705, 206.29; Dave Connolly, Camaro, 6.657, 207.59 def. Matt Hartford, Avenger, 22.863, 24.93; Chris McGaha, Camaro, 6.621, 207.69 def. Rodger Brogdon, Camaro, 6.702, 206.67; Jeg Coughlin, Dart, 6.697, 207.88 def. Mark Wolfe, Ford Mustang, 12.622, 68.35; Erica Enders-Stevens, Camaro, 6.645, 207.66 def. Larry Morgan, Mustang, 6.693, 206.80; QUARTERFINALS — Alund, 6.689, 206.92 def. Coughlin, 6.653, 207.82; Line, 6.652, 207.72 def. Connolly, 6.654, 207.91; Enders-Stevens, 6.626, 208.39 def. Kent, 6.674, 206.86; McGaha, 6.644, 207.69 def. Gray, 6.649, 208.46; SEMIFINALS — Line, 6.645, 207.98 def. Alund, 6.647, 208.10; Enders-Stevens, 6.618, 208.65 def. McGaha, foul; FINAL — Enders-Stevens, 6.612, 208.78 def. Line, 6.633, 208.23.
LAS VEGAS — Sunday's final results from the 15th annual SummitRacing.com NHRA Nationals at The Strip at Las Vegas Motor Speedway. The race is the fourth of 24 in the NHRA Mello Yello Drag Racing Series:
Top Alcohol Dragster — Joey Severance, 5.269, 269.78  def. Johnny Ahten, 5.588, 259.91.
Top Alcohol Funny Car — Nick Januik, Chevy Monte Carlo, 5.631, 256.65  def. Jay Payne, Ford Mustang, DQ.
Competition Eliminator — Lou Ficco Jr., Pontiac GXP, 7.008, 195.17  def. Clint Sallee, Dragster, 6.780, 199.79.
Super Stock — Peter Biondo, Pontiac Firebird, 9.862, 133.96  def. Andrew Durham, Dodge Challenger, 9.638, 135.82.
Stock Eliminator — Peter Biondo, Chevy Camaro, 10.672, 115.74  def. Ryan Mangus, Camaro, 11.562, 101.97.
Super Comp — Steve Williams, Dragster, 9.049, 171.14  def. Sheldon Gecker, Dragster, 9.036, 168.83.
Super Gas — Trevor Larson, Chevy Corvette, 10.296, 143.00  def. Steve Parsons, Corvette, 10.044, 170.11.