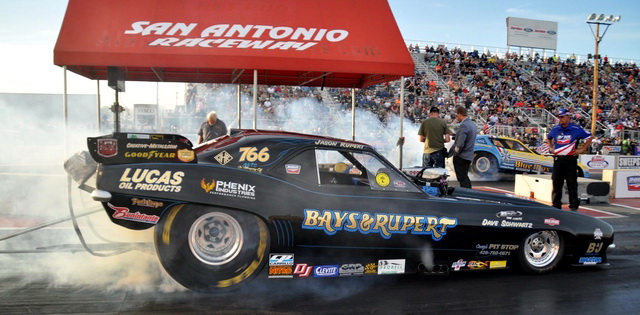 It was a night of big numbers and record runs as the stars of the IHRA Nitro Jam Drag Racing Series produced a memorable and historic night in front of yet another capacity crowd at the IHRA San Antonio Nationals presented by Good Vibrations Motorsports at San Antonio Raceway.
John DeFlorian erased a half-decade old record in Mountain Motor Pro Stock on his way to picking up his first career IHRA victory and Jason Rupert (above) won his second-straight Ironman in Nitro Funny Car to the thrill of the overflow crowd during the second stop of the 2014 IHRA Nitro Jam season. They were joined in the winner's circle by Randal Andras (Nitro Harley), Ron Hope (Nitro Altered) and Elaine Larsen (Jet Dragster).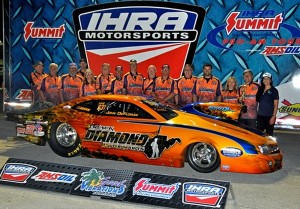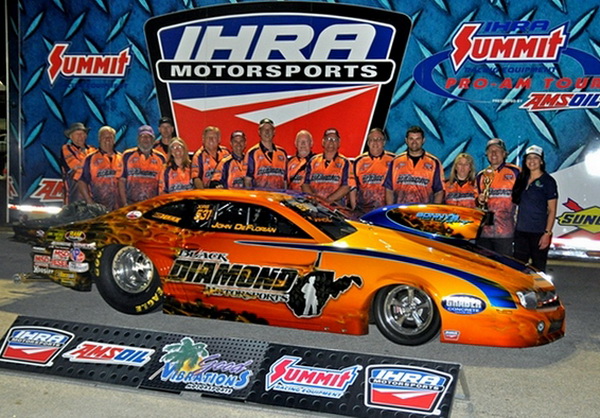 DeFlorian obliterated the IHRA speed record in Mountain Motor Pro Stock, a record that has stood since the fall of 2008. The record, which stood at 223.95, was topped on two separate occasions by the Arnold, Missouri native, ending with an outstanding 226.70 mph pass in the final.
The run not only gave the driver of the Black Diamond Motorsports Camaro the record, but it also helped propel DeFlorian to his first victory in IHRA competition as he bested Cary Goforth in the final. DeFlorian overcame a slight starting line disadvantage as Cary Goforth in the Goforth's Casing 2013 Chevrolet Camaro got the jump, but DeFlorian battled back on the top end with a 6.224-second elapsed time at 226.70 mph to take the win, just ahead of Goforth's equally stout 6.299, 224.22.
"This weekend has been absolutely dynamite. I have never raced out here before, so when we rolled in here the other day I kept thinking, 'Man, this is going to be a lot of fun.' They told me the crowds would be spectacular and boy they weren't kidding. What an amazing place to race," DeFlorian said. "Getting to race here is a treat and getting a win here is just amazing. We are so excited to get the win. I used to race IHRA years ago, but I never could get a win. Now, I can take this amazing trophy and record home with us."
DeFlorian had a rather mistake-free day in his bright gold ride, posting laps of 6.291, 6.250 and 6.224 during the afternoon and evening hours with wins attached to those numbers over Kevin Bealko, Scott Hintz and Goforth. And it was destined from the beginning that DeFlorian and Goforth would meet in the final.
The pair qualified first and second on Friday and remained welded together throughout the afternoon, with Goforth at one point flirting with the other half of the IHRA Pro Stock record with an outstanding 6.189 in round one. The loss was Goforth's first round loss in the new car.
"The battle between Cary and I goes way back, a lot longer than people realize. We have been racing each other for years, trading records and wins back and forth. It is something each team likes to brag about and go after and to come away from here with the win and the record is pretty amazing," DeFlorian said. "We felt like we could get after it, but I never dreamed we could come out here and put down a number like that. I was thinking maybe 225 tops. To set the record and get the win against a great team like the Goforths just makes this even more special."
The other half of the storybook evening at the San Antonio Nationals belonged to Jason Rupert who won his second consecutive Ironman in IHRA's premier Nitro Funny Car class.
Sitting behind the wheel of the Bays and Rupert "Black Plague" Camaro, Rupert rocketed to the top of the charts on Friday and remained there throughout the weekend. Rupert recorded round wins over Ronnie Young, Greg Jacobsmeyer and John "Bodie" Smith on his way to his second IHRA victory of the season, once again saving his best stuff for the final with a very fast 5.764, 252.38 pushing the California native past Smith in the "Jungle Jim" Vega and into the winner's circle.
Smith had the jump on the line with a narrow starting line advantage, but gave that advantage up on the top end. Smith crossed the line with a 5.883, 242.98 pass.
"When you look at these cars, all of them are just so competitive. We are lucky to have the great help and great team that we have to make this all happen," Rupert said. "Today we knew we were going up against a Paul Smith-tuned car, so when you are racing that guy you had better not be bashful at all. I knew we could run a good number, but I also knew they could run a good number. We just had to be on our game and thankfully we put it all together on that last run."
While his car was on a rail throughout the weekend, Rupert received one lucky break in the semifinals when his car went up in smoke just after the hit of the throttle. Seemingly out of it, Rupert received a break when his opponent also ran into trouble allowing Rupert to coast to the line and into the final.
Rupert defeated Mark Sanders at the IHRA season opener in Tucson one week ago, giving him two wins in a row in the ultra-competitive class that produced a 5.968 bump on Friday.
In other nitro action, Randal Andras collected the win in Nitro Harley over Jay Turner in an upset-filled bracket.
Andras qualified near the top of the field in second, but Turner saw two poor runs turn into a spot in eighth on the ladder. But with the bike turned around, Turner upset No. 1 qualifier Mike Scott in round one and stringed together one win after another to set up the final between two of the fastest bikes on the property.
With an Ironman on the line, Andras got off of the line first and held that advantage throughout with a 6.468, 217.92 to Turner's 6.499, 209.40. Andras also had wins over Ron Gledhill and Steve Dorn to reach the final.
In Nitro Altered, Ron Hope overcame a pair of challenging runs to take the win in the "Rat Trap" nostalgia machine, recording wins over Ron Maroney and Mike Hilsabeck to collect the hardware. In the final both Hope and Hilsabeck ran into trouble, but Hope found enough traction at the top end to blast across the line with a less-than-stellar 8.008, 161.12 to take the win.
Finally, in Jet Dragster Elaine Larsen had two tremendous passes of 5.746 and 5.707 – both at over 270 mph – to take the win. In the final Larsen and Dawn Perdue put on a tremendous show ending with a 5.707 to a 5.774 in favor of Larsen.
Next up for the IHRA Nitro Jam Drag Racing Series North American Tour is a trip to Bradenton Motorsports Park for the IHRA Southern Nationals April 11-12 and watch for the series on MAV TV coming this fall.
(Photos courtesy IHRA; Click to enlarge)
Marion, Texas – Professional class round-by-round results from the 2014 IHRA San Antonio Nitro Jam Nationals presented by Good Vibrations Motorsports at San Antonio Raceway.
Nitro Funny Car
Round 1 – Greg Jacobsmeyer, 6.058, 238.10 def. Mike McIntire Jr., 6.352, 216.66; John Smith, 5.883, 244.03 def. Tim Boychuk, 6.284, 192.14; Mark Sanders, 6.325, 235.97 def. John Hale, 6.357, 238.73; Jason Rupert, 5.810, 244.96 def. Ronnie Young, 6.019, 229.24; Semis – Smith, 5.849, 245.90 def. Sanders, 6.017, 248.76; Rupert, 6.584, 167.54 def. Jacobsmeyer, 16.389, 68.15; Final – Rupert, 5.764, 252.38 def. Smith, 5.883, 242.98
Pro Stock
Round 1 – Todd Hoerner, 6.312, 220.59 def. Pete Berner, 6.338, 219.19; Scott Hintz, 9.874, 122.45 def. John Konigshofer, foul; John DeFlorian, 6.291, 224.44 def. Kevin Bealko, 6.294, 223.44; Cary Goforth, 6.189, 223.55 def. BYE; Semis – DeFlorian, 6.250, 223.21 def. Hintz, 8.550, 110.51; Goforth, foul (.006) def. Hoerner, foul (.018); Final – DeFlorian, 6.224, 226.70 def. Goforth, 6.299, 224.22
Nitro Harley
Round 1 – Mike Pelrine, 6.672, 219.51 def. Rickey House, 9.693, 96.19; Steve Dorn, 6.839, 176.96 def. Alvin Kobernusz, 7.148, 158.83; Randal Andras, 6.456, 212.67 def. Ron Gledhill, 9.317, 95.79; Jay Turner, 7.309, 145.49 def. Mike Scott, foul; Semis – Turner, 6.408, 223.99 def. Pelrine, 6.651, 193.97; Andras, foul (.007) def. Dorn, foul (.013); Final – Andras, 6.468, 217.92 def. Turner, 6.499, 209.40
Nitro Altered
Round 1 – Ron Hope, 7.489, 191.90 def. Ron Maroney, 7.473, 144.05; Mike Hilsabeck, 6.555, 201.70 def. Jim Maroney, broke; Final – Hope, 8.008, 161.12 def. Hilsabeck, 10.742, 81.26
Jet Dragster
Round 1 – Elaine Larsen, 5.746, 272.89 def. Kat Moller, 7.185, 114.59; Dawn Perdue, 5.841, 238.85 def. Marisha Falk, foul; Consolation – Moller, 7.103, 158.34 def. Falk, foul; Final – Larsen, 5.707, 271.58 def. Perdue, 5.774, 256.70